A girl's wardrobe cannot be complete without a different variety of denim jeans. In older times, jeans were recognized as the uniform of sailors and workmen due to its high durability and resistance to any type of weather conditions. But today it has become the most popular casual wear. Here we will discuss denim and 13 beautiful styles of denim jeans for girls.
Jeans is Universal
Be it a girl or a boy, man or a woman, young or old everyone prefers to wear jeans due to its comfort-ability and low maintenance. When it comes to jeans certainly it needs to be a denim jeans as all the jeans are made up of Denim fabric.
What is Denim?
Before we more further lets discuss a brief history of Denim. This rough and tough cloth was invented in 1873 by the duo of Jacob Davis and Levi Strauss. The history of its origin is quite interesting.
'Denim' is a French word Serge de Nimes, which refers to the city of Nimes. The word Jean comes from French word Genoa, Italy. The first denim trousers were made here. The term 'Jeans' were formerly used to denote a lighter cotton fabric which is different from regular trouser. In US, people started using jeans since the late 18th century.
Denim is a twill textile made up of cotton through which the weft passes under two or more warp threads. It is a sturdy piece of cotton and twill weaving distinguishes it from regular cotton weaving. To make blue jeans, denim was initially colored blue with Indigo dye.
Different Names and Cuts of Denim Jeans for Girls
Jeans have become a staple of many closets. A good pair of jeans must be tough, durable, stylish and should last for a long time. Not to mention it should be well fitting on your body and look good. When you are purchasing a jeans you should keep in mind some important things like fit, comfort, style and fabric.
Now-a-days jeans come in a wide variety of styles and colors than in the past – thanks to the technology development in the textile industry in recent years. A girl must know that which style and cut of jeans will suit her and which type of jeans to be worn on different occasions.
You have to take a lot of trials and tribulations when you want to discover your perfect jeans cut according to your body figure and personal style.
Learn how to steal the off shoulder dress style for the season from celebrities…
Follow Our Tips To Choose The Right Jeans for You!
1. Ultra Low Rise Denim Jeans (Brazilian)
Sort of Sexy jeans this is, you know? This type of jeans sits very low on your hip, 3-5'' below your belly button. If you have toned abs or you just want to show off your butt crack, then only wear these jeans. Needless to say this is not to be worn on official events or your daily office going. But you can definitely flaunt off when you are on vacation or are partying out.
2. Low Rise Jeans
If you want to create a visually longer waist then this is a popular choice to be considered. This jeans sits low on your waist, 2-3'' below your belly button (which look fine in most of the cases, eh?) When you wear these jeans there is a chance that your butt crack may peek whenever you bend so be aware of this. It works well on girls with short rise. Again not recommended for official outings but can be worn with confidence during leisure times.
3. Mid Rise Denims (Regular)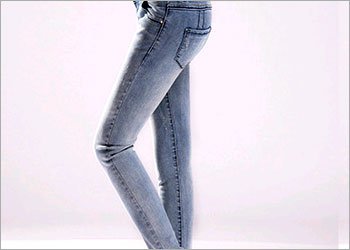 If you have fleshy or wide hips then this is a good choice. These jeans sit just a few inches below your belly button. This is the type regularly worn by many and is the first choice for many occasions including official ones.
Let us learn all the mixing and matching denim fashion to create some amazing looks…
4. High Rise Jeans Styles
This type of denim jeans for girls fits on natural waistline and looks good when you wear it with a tucked–in blouse. If your waist is thick or short wear it with a skinny belt. In order to have a lean upper body look you can choose high waist jeans in the dark wash and wear dark colored tops on it. However this type of jeans look somewhat outdated and you may be labeled as 'old-fashioned' if you flaunt it off. You can surely wear it on retro style parties.
5. Boyfriend Jeans
This name may sound funny. But the reason behind this name is that these jeans have the loose, baggy cut that gives it a look as if you have taken them right away from your boyfriend's wardrobe (don't laugh!). Its shape is such that it gives you a tight fit around your hips and is slightly loose and relaxed at the legs. It looks good on thicker thighs and legs.
6. Straight/ Cigarette Jeans


If you are a bit hesitant of skinnies but like to wear a pair of jeans that fit snugly on your body then this is the right choice. In this pattern, the legs are straight and narrow and do not go wide at the ankles. The straight leg cut balances out the hip and these jeans is a good option for curvy girls.
7. Boot Cut Jeans
These jeans look good on all body shapes as it streamlines the body frame giving it a long and lean look. It is loose at the leg and wide at the leg opening. It is not a good choice for a petite (neither skinny nor plus size) as the wide leg opening tends to swallow up your body frame. It will remind you of the olden times of 70's and 80's when this fashion was in trend.
8. Flare Jeans
This denim jeans for girls have a wide, flared opening from your knees and down. If you want to have a 70's look you can wear these jeans with a turtleneck sweater. Make sure that the leg sits snugly around your thighs if you are petite or have short legs.
9. Wide Leg Jeans
This denim jeans for girls is featured with wide opening from thighs and down. It looks great when paired with a fitted top. If you are short then do not go for this type of jeans and even if you want to then choose the skinniest and fitted wide leg jeans and wear it with high heels.
10. Skinny Leg Jeans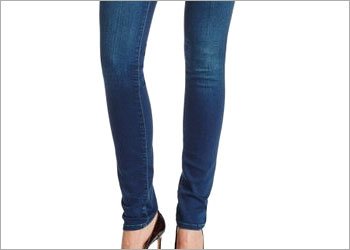 These jeans look pretty on slim and lean shapes. It is tight jeans which sit snugly around your legs. It can be worn by anyone if styled in conjunction with the shape of your clothes. However, if you are self-conscious about your hips then opt for straight leg/ cigarette jeans as skinny emphasizes curves and at times may make you feel conscious.
Look into the different styles to wear leggings and leggings fashion for all new trends this season…
11. Capri Jeans
This type of denim jeans for girls look more modern and stylish too – especially if you have fair legs to flaunt off. In this pattern of jeans, the hemline is just below the knee or often above or on the calf. If you are short, pay special attention to how it looks on you as hemlines which fall right on the widest part of your legs can overpower your short body figure.
12. Cropped Jeans
It covers three-fourth of your legs and can make your legs look longer and leaner. It looks stunning with a pair of high heels. Never flare this leg cut at hem unless you are going to wear them at home.
13. Cuffed Jeans
This denim jeans for girls have the same length as Shorts, Cropped or Capri but still referred as jeans which are folded at the leg opening. Take extra precautions if you have thick ankles as folds can make them look bigger. To get the maximum leg slimming effect pair this jeans with heels.
Now that you are aware of the various types of denim jeans for girls and their usage its time to select which one suits your body type. Be careful about the selection however as if wrongly chosen jeans type may spoil your otherwise attractive look. Hope you liked this article and will consider these tips while shopping for a new denim jeans to compliment your wardrobe and your dressing style.
If you really liked our tips on denim jeans for girls then why not share them with your friends on Social Media? Also please give your valuable comments and feedback in the comments section below. Cheers!
Related Posts