Our eyes are the window to the world and you definitely want them to be bigger and beautiful. But if nature has not blessed you with the Disney princess eyes then you should learn to apply right makeup for small eyes to make them look bigger. Below are some easy and super simple steps to help you get started.
Makeup for Small Eyes
Step 1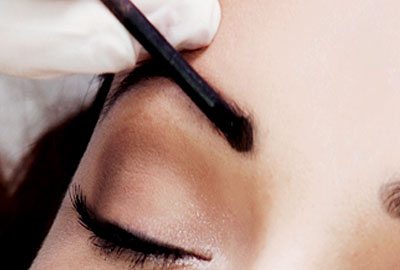 To start with make sure you trim your eyebrows. A well-groomed eyebrow really defines the actual tape of eyes. Prime your eyes so that the makeup last very long. This can also be done by sprinkling primer on the lids towards the eyebrows. You can also use powder or concealer because they are as effective as a primer.
Step 2
The second step in eye makeup for small eyes is to choose the eyeliner colour. Choose a colour that will be able to bring out your eye colour such brown for blue eyes, blue or black for brown eyes, dark plum for green eyes and purple for hazel eyes.
Step 3
Start by applying eyeliner to the inside corner of the upper lids and feather the liner towards the outer corner using soft and short strokes. This is done to avoid drawing a solid and thick line. You need to make sure you are as close as the lash line.Towards the outer corner of the eyes, fan the liner out slightly to the end.
Step 4
Once you let you eyeliner set, put on the shimmery white powder (not the glitter one) on the inner side of your eye lids on the eyebrow bones and also below the outer corner of the eyes. This would attract the lights into your eyes and will make them stand out.
Step 5
Use a curler to curl your eyelashes. You can also attach fake lashes to give more defined makeup for small almond eyes. Get your mascara and start with the base of the lashes and wiggle it to the sides as you move up. The trick is simply to avoid thick and bunchy eyelashes and always wait for the first coat to dry before applying the second coat. That way there will be no flakes and no clumps.
Step 6
Always remember, when you apply mascara to your lower lashes less is best. The second coat is not needed because it may turn out to be way more clumpy.
There is not much we can change in our natural size and shape of eyes but clever makeup tips for small eyes always create an illusion of bigger eyes. So why waiting? Let us learn some tips on makeup for small round eyes.
Makeup for Small Round Eyes
1. Groom The Eyebrows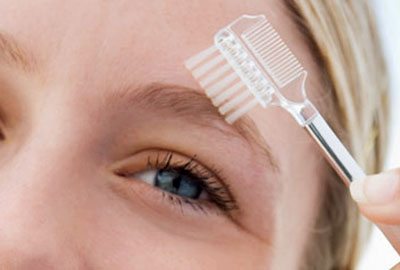 There is a huge difference between groomed and properly groomed eyebrows. Your eyebrows give the definition to your natural eyes so it is important that you keep them neat and well shaped. So, pluck, pencil and brush them.
2. Conceal Your Dark Circles
What could be worse them someone pointing out to your dark circles than your eyes. They not only make your eyes look smaller but also take away the attention from them. Banish them with concealer unearth your eyes and always go for a shade that's lighter than your normal skin tone.
3. Lighten The Inner Eye Corners
This one is a very important tip to make your eyes looks big. Apply white liner to the inner corner of eyes and smudge it for a little obvious look.
4. Use The Eyeliner Tactfully
While using eyeliner on small eyes, be little careful and draw a line from the base of your upper eyelashes. Allow it to wing out from the corners and pull it outward. Leave the part where you normally use eyeliner on your bottom eyelid because this will make your eyes look narrower.
5. Curl Your Lashes
When you curl your eyelashes it makes your eyes appear bigger and wider because you lifted your lashes and more can be seen. It's a quick and a simple trick and also used by professional to apply makeup for small eyes.
6. The Nude Effect
Choosing a nude eyeshadow colour will create a background frame and will only highlight your eyes making them look bigger than usual. Focus the center of the upper lashes.
7. Bid Puffiness Goodbye
We all have had those days when we oversleep or do not sleep and out eyes go narrow due to puffiness. So, simply bid goodbye to puffiness by sleeping sound and if for something you could not, splash cold water on your eyes and bid good bye to puffiness and use brighter shades while applying makeup or small almond eye. The swollen skin will make them look very small.
8. Sleep Enough
Sleeping is the beauty's best friend. More you sleep, more relaxed your eye muscles get and you wake up with shiny bright eyes every day. Sleep well and always draw dark curtains to have a sound sleep.
9. Wash Your Face With Cold Water Often
Washing your face with cold eyes also freshen up your face and eyes and make them appear bigger. Make sure you don't use warm water because that can hurt your eyes and cause dryness to your skin. Place cold teabags over the eye bags to tighten the skin around the eyes as the tannins are present in tea.
10. Apply An Eyelid Primer
While applying makeup for small hooded eyes, use a primer beforehand. Primer helps in allowing the eyeshadow and power to firmly stick on the outer edges. In order to make your eyes look large, make sure you do not apply darker colours around the inner corners especially the duct area. Your eyes may end up looking narrow otherwise.
11. Don't Neglect The Bottom
For girls with small eyelids, applying black eyeliner to the bottom part of your eyes is not recommended. Simply apply one coat of leftover mascara from upper eyelid. Use a colour like champagne cream colour to the centre of bottom lashes. Blend it gently. It will open up your eyes further.
Conclusion
You definitely don't need to go overboard with black eyeliner or eyeshadows to get bigger eyes. Simple colours with right tricks are all that is needed while doing makeup for small eyes. Are you still thinking? Give it go and see for yourself.
Related Posts