Lipstick is one such essential item that you will find in every women's bag. But how well you know your little friend is a question that not many can answer. If you are among those girls who has just started with the college and have experienced struggles with how to apply lipstick to brighten up those puckers or if you are someone who has still not figured out the right way to flatter your lips, you have hit the right page. Forget about re-applying your lipsticks after every hour just because you could not get it right at the first place because we introduce you through the steps on how to properly apply lipstick and look fabulous.
As we all know that lipstick can make your face look fresh and bright and depending on your skin tone, choosing a right shade for your lipstick helps in giving the final touch to your makeup with beautifully enhanced lips. To get those perfect lips of celebrities like Angelina Jolie and Sonam Kapoor on the red carpet, let us learn few simple steps that you can follow at home and easily learn to apply lipstick like a professional. This way you can spend hours talking or enjoying a party without needing to reapply or worry about your lipstick coming off. There are many how to apply lipstick tutorials on youtube but if you watch few of them you can also end up getting confused by different techniques used by the professionals. To keep it simple, you can learn how to apply lipstick perfectly with pictures through this articles. So, follow the lead and we are sure that by the end you will master the art of applying lipstick forever.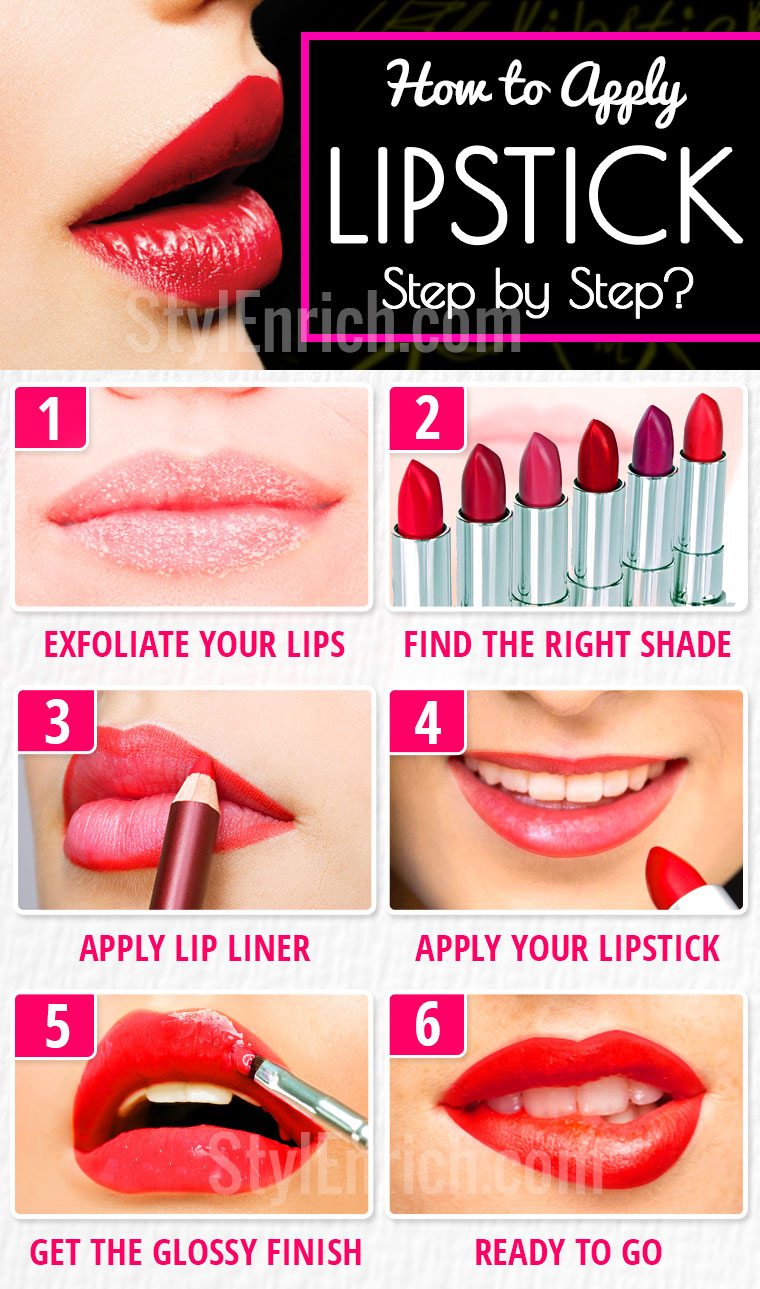 How To Apply Lipstick Perfectly?
1. Prepare Your Lips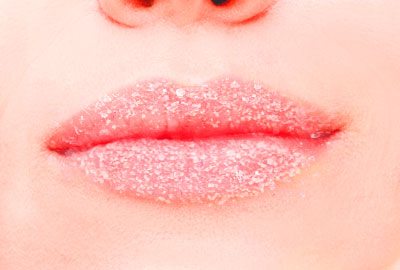 Always remember to start with a  good base before applying lipstick because if you have dry or flaky lips, the lipstick won't stick for long and will look really bad. Therefore, exfoliate your lips using a homemade scrub of honey or sugar mixture and gently massage over your lips to remove the dead skin. If you want to skip the homemade scrub you can also use your regular face scrub but make sure you go use gently on your lips to remove the dead skin. Rinse off the scrub and you will end up with smooth and softer lips. Seal the moisture with a lip balm and allow it to sink in for a while and remove the extra balm with a tissue.
The process of scrubbing and moisturising your lips should be followed on regular basis not just before applying the lipstick because if you take care of your lips regularly you would not have to prepare your lips every time you want to apply lipstick. It is very important to keep yourself hydrated for healthy skin and hair. Exfoliate your skin and lips at least twice a week. Now that you understand how to prepare your lips before the final application, get ready for the application steps on how to apply lipstick step by step.
2. Finding The Right Lipstick Shade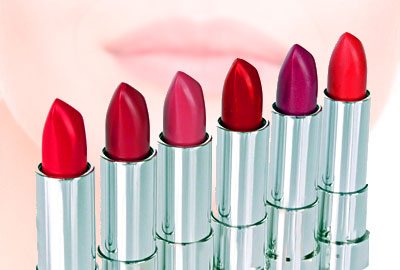 First of all, you need to find a good shade that would suit your skin tone. To understand your skin tone, try using lipstick on your arm and see if your veins look visible with pale wrist which means you have a cool skin tone. In case your veins are not much visible, you have warmer skin tone. You can also visit a cosmetic store to ask and a professional should be able to guide you there. One of the best way to find out the correct shade for your lips is to keep experimenting.
Once you understand you skin tone, remember a universal rule, that for cooler tones it's always a safe choice to go for pink and red undertones and for warmer skin tone, yellow and orange undertones, nude pink and caramels will look great. However, as mentioned before, if you are not sure, feel free to go to a makeup professional to get the final suggestions. Do not buy any lipstick that doesn't enhance your features.
Let's See How to Choose Lipstick Colors for Your Skin Types?
3. Shaping Your Lips With Outline
Most of the times girls apply lipstick directly on their lips and finish their makeup before going out and later on they look for the restrooms to fill in their lips because the lipstick does not last longer. It has happened with almost every one of you, isn't it? So, to keep away from the dilemma and have your lipstick last for longer time, the basic step of how to apply lipstick like a pro is to fill in your lips with a good lip liner.
Take a nude or matching lip liner and apply it to the sides of both upper and lower lips and make an outline of your lips with soft strokes.
The matching liner or nude lip liner will help in preventing the contrast between your lipstick shade and liner shade and blend both to give one strong base colour. DO NOT use a dark lip liner with a lighter shade of lipstick because it will look completely horrible. Once you outline your lips, fill in the rest of lips with the same liner to hold the lipstick colour for long.
4. Apply Your Lipstick
How to apply lipstick perfectly depends on what you find easy. Most of the women apply lipstick directly on their lips from the stick, whereas some prefer to use brushes to apply lipstick. It's completely your choice what you find easy and right for yourself. Here, we will take you through all possible options for how to apply lipstick on your lips using all the methods.
a. Using a Lip Brush
After outlining the lips, use your lip brush and dab it on your lipstick. Swipe it all over the lower lips starting from the centre and slowly moving to the corners of the lip line. Now apply the lipstick on the upper lip following the same procedure. Use different coats to intensify the colour as per your choice. If you are looking for lighter shade a single coat would work perfect, but if you want to go for deeper tone, apply multiple coats until you get the right shade. Also, make sure that the brush you are using is clean and dry.
b. Using Lipstick Directly From The Tube
Simply apply your lipstick from the centre of lips to the outer line and rub your lips together to evenly merge the lipstick colour on both the lips. Fill in your upper lip and repeat the step until both the lips look fuller.
c. Using Liquid Lipstick
If you are following the current online makeup trend, Kim Kardashian's youngest sister Kylie Jenner's liquid lipsticks are on rage and why not? they are quirky, sexy and comes in amazing colour palettes. Liquid lipsticks are bold and long lasting and don't come off easily. But these lipsticks can easily dry out lips if you do not keep your lips moisturised properly. The process of how to apply liquid lipstick is very simple and can let your colour last for the entire day.
d. Use Your Liquid Lipstick Brush
Apply the first coat to the corners of your lower lip and then fill in with few swipes. Once again press your lips together to distribute extra colour to the upper lip. Now apply the liquid lipstick to the outer corners of upper lips and slowly fill in the rest of the lip area. For more deep and intense look, you can do multiple coats.
We bring here 5 Make Up Brushes that Your Vanity Kit Needs!
5. Types of Finishing
a. Matte Finish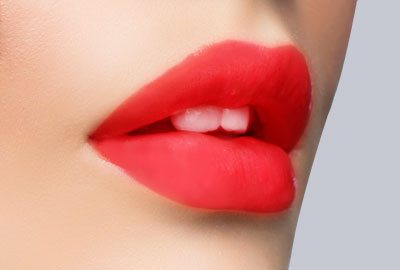 Everyone love matte looks these days and while your lipstick at first can look glossy and shiny, you can easily achieve the matte look by blotting the lips on tissue or paper towel. Simply take a tissue and hold it between your lips and wrap your lips around it. Blot, apply and repeat to extend the stay of your lipstick and get a fine matte look. Matte lipsticks give you sophisticated and elegant look with fleshy looking lips.
b. Glossy Finish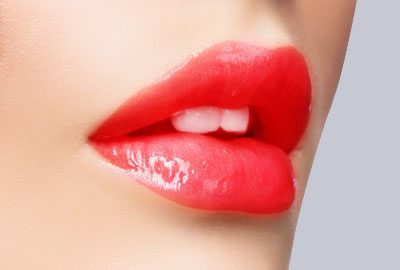 While the matte effect is here to stay for long, you cannot rule out the glossy lips for the weddings and festive occasions. To get the glossy finish after you are done applying the lipstick as per the above-mentioned steps, apply a small amount of lip gloss on your lips from the centre of your lower lip and rub your lips to spread it across the rest of lips.
6 Clean The Extra Lipstick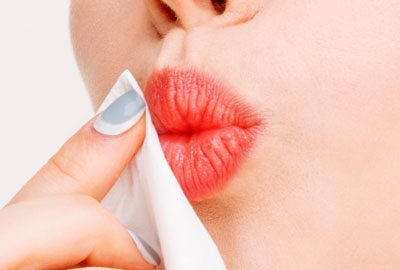 Take a final look into the mirror and if you see your edges are not clean enough, use a cotton swab and some cream to clean the area.You can also apply concealer to cover the rough edges and get the clean look.
7 Additional Corrective Techniques
We understand that no one has enough time to follow the steps on how to apply lipstick on regular basis, but if you understand the process properly once, it would not take you more than 2 to 3 minutes to get the perfect lips. Here are few techniques to use lipsticks as per your lip shape and little extra information:
For Thinner Lips: Draw a lip line little outside your natural lip line and fill the lips with your favourite colour. This will help your lips look more fuller.
For Fuller Lips: It is advisable to use natural or nude lip liner and draw the liner inside your natural lip line. By doing this it would give a thinner look to your lips.
Enhance The Lip Bows: Draw a curve on your upper lip with lip liner and softly blend it with lipstick to get the bow lips.
Corner Slips: If the corners of your lips are droopy, it will make you look sad. Use lip liner to slightly build up the corner with upward strokes.
Always remove any stain of lipstick from your teeth to avoid looking unprofessional and tacky.
For extra plumpness use a highlighter in the middle of upper lips and blend it with lipstick using your fingers.
8 Removing Your Lipstick
When you comeback after a long day, you surely want to remove all your make up. It is very important that before you retire for the day, you keep your face clean and devoid of any make up remains. So, use an oil based make remover with the help of cotton and wipe off your lipstick gently. You can also use tissue wipes to remove lipstick from the lips. Wash off your face and apply moisturizer or lip balm to your lips to leave your skin soft and hydrated.
Worried about dark lips and are always in quest of dark lips treatment products? Go for the amazing home remedies for dark lips are very simple to adopt…
Conclusion
The key is simply to practice and experiment with colours, shades and techniques. Keep the basics simple and do not overdo the application. Always make sure that you use a good quality lipstick and lipliner. So, no matter if you are just a fresher or someone who wants to perfect the art of how to apply lipstick, following these steps once or twice should make you a pro in achieving those perfect lips.
If you don't have time for makeup, just by knowing how to apply lipstick perfectly you can achieve a different look in few seconds and lipsticks are handy and fits perfectly in every type of bag you want to carry.  Now all that's needed is a place and a special someone to go with and yes, DON'T FORGET TO POUT.
Related Posts