Some Interesting Facts About Red Lip Color
Red color lipstick is considered to be the best selling lip color among the beauticians that gives a complete smoky appearance.
Some brands today even use fish scales for preparing red lipstick, that is referred as pearl extract in the ingredient list.
In the ancient Egypt, both men and women use to wear red lipstick, that was considered as a symbol of their status.
In Greece, the red color of the lipstick was popular for recognizing prostitutes, and was avoided by the high society women.
According to a research, women with red lipstick were observed more by men than other women with different lipstick shades or bare lips.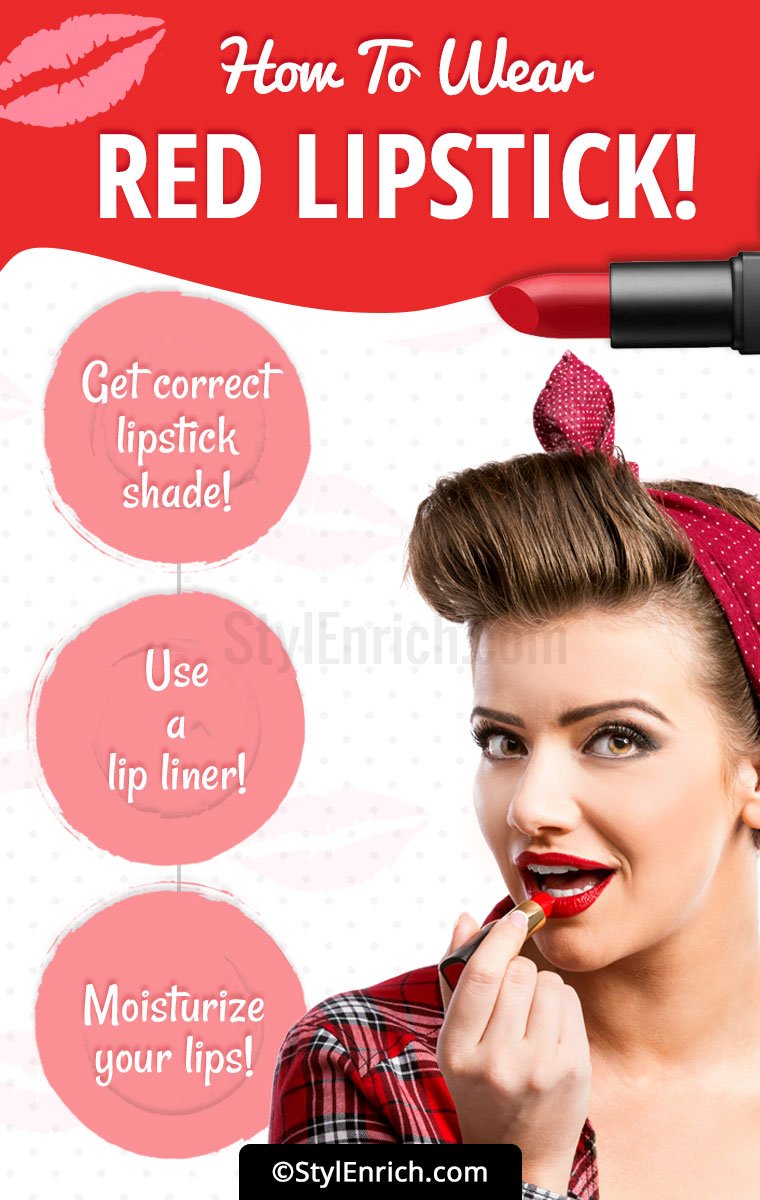 Red Lipstick – The Center Of Attraction For Men And Women
Since years, red lipstick has been adopted by a large group of women to adore their beauty to a new level. Gone are the days when red lipstick was visible on in cocktail parties or special events. Whether moving for a simple outing, going on a date, special occasions, or even while dressing for a perfect official look, red lip color has been worn by the women for getting that attractive look. Versatile, classic and elegance are the words that would come out of the viewer's mouth while having a glance of any women with red lip color, as it gives a killer look with a bold statement. However, before heading towards that shade, it is better to gather adequate red lipstick tips for avoiding any kind of blunders that would spoil your image. The tips include the selection of the shade, its application with other makeup tips, use of the similar liner, and much more.
Here are some secret Red Lipstick Tips that would help you in getting that wow look by wearing red lip shade.
How To Select Red Lipstick Shade?
Yes, selecting the perfect red lipstick for your contrast is definitely a tough job. Just simply step to a beauty shop and look for lipstick in red. You would surely go crazy while selecting the perfect one from the bundle of similar color shades. Hence, to get the perfect lipstick, you need to know some basic points. Here are some secret tips that would help you out in solving your confusion.
1. Know Your Skin Tone
Yes, while selecting the lip color, the skin tone plays an important role. The skin tone is primarily classified into three categories, that is dark, fair and wheatish. Hence, it is necessary to select the red lipstick makeup according to the tone of your tone for getting that blooming look.
For the women having fair skin tone, go for red lip colors that are coral or orange in shades. Such colors would provide your skin with the best compliment and would provide the required highlight to your lips. The brighter tone would surely give you that desired look, however, you can also go for pink undertones too.
Having wheatish skin tone! Pure red is what you are looking for. For the women with skin tone from wheatish to medium, pure red or the one with pinkish base would suit you for making you the best beauty in town.
Finally, comes the women having dark skin tone. If you are one among them, shades like maroon, berry-based shades or fig based shades would be your perfect companion. These shades give a complete look to the women who are dark to dusky in beauty.
2. Undertone Lipstick Mapping
Not only the tone of your skin, but the undertone is also important when it comes to selecting that suitable lip color. Similar to the skin tones, the undertones are also classified in two different categories like warm and cool.
If you are having cool undertones, your skin would have a slight pink tone, with veins that are blue on the inner wrist portion. If this is condition of your undertones, go for red lipstick tutorial that would contain pink and blue undertones. This would give your lips proper outlook.
Now comes the women with warm undertones. Such women have slight yellow tones on their skin and their veins appear to be green in color. Hence, for getting that glooming look, select warmer shades that come with orange and yellow undertones.
Thus, next time, while selecting any red lip color, check your skin tone and undertone, for making a perfect purchase.
What Are The Available Textures Of Red Lipstick?
Aware of your skin tone and undertones! Now is the time to select that perfect lipstick which comes in various textures, and would also match your makeup. Here are some of the popular textures of red lip colors that are popular among the women.
Lacking adequate time for final touch-ups! Creamy red lipstick is what would fit the best in your collection of lipsticks. The red lip colors with creamy textures not only provide you with a good moisturizing but also give you that desired color and outlook. They are also popular for getting that finishing look with a soft and semi look. Such lip colors in red are also popular for keeping your lips hydrated and conditioned with long-lasting color.
Looking for that translucent outcome! Sheer red lipstick would provide you it. They not only give you perfect lips, but also that lips that are natural looking. The texture of such sheer lipsticks is similar to the lip balm that can be used very easily and with utmost comfort.
Want to have that long lasting lip color! Matte red lipstick tutorial is the best you should carry out. They come with that rich look with intense pigment which would also last for a long time. They are ideally selected by women who are not looking for any kind of touch-ups in the mid of any event. They are creamy and are loved when applied for long hours effect.
Want to have that glossy and shining lips for special occasions! The gloss red lipsticks have widely opted lip colors for special occasions and events. They give a lift to your look that comes with the intense shining texture which also depends on the pigment it carries.
If you are trending, you might be in touch with the latest liquid red lipstick. The liquid lip color combines the impact of a balm, gloss and desired color. If you are looking for quick coloring of your lips, and don't want to spend hours on your makeup, liquid red lipstick is something you need to carry in your shopping cart, that would provide you with shine and care.
Hence, before stepping into any store for getting your red lipstick, go through the kind of textures they avail you with and make a proper study of the texture your lips are looking for.
Red Lipstick Tips For Pulling Perfectly On Your Lips
While applying red lipstick, a common mistake committed by the beginners is avoiding other important make up aspects, which ends up the glow and the charm of the red lip line. Here are few tips on how to apply red lipstick that would complement your overall look, and mostly your lips for that magical texture and smile.
1. Look After The Rest Part Of Your Face Too
While applying lipstick, it is not only the lips you would need to highlight. The complete effect of the red lipstick would emerge out only if you have also paid keen attention on the rest part of the face, which matters to a great extent. Red lipstick gives you a bright and bold look, and hence, to match up with its boldness, you must keep the other portion of your face much cinch and fresh. Along with the red lip color, you can accompany makeups like slight application of concealer and a smooth coating of mascara. If you are preparing for any vintage appearance, keep you face simple, and only concentrate on your lips and eyes for that wild look.
2. Make Sure You Use A Lipliner
The red lipstick tutorial would be incomplete without the use of lipliner. Lining of the lips while applying lipstick would provide you with that long-lasting effect of the color on your lips. The lipliners also protect your lipstick from breakouts, giving you a smooth look. In case you are looking for a liner that would provide your lips with a broad look go for a red color lipliner that would match your skin tone. You also need to fill the lips completely to have that proper application on your lips. The lipliners not only protect your lips but also help them in gaining a perfect shape. Also, make sure while applying lipstick you don't color your teeth which would bring negative remarks to your outlook.
3. Get The Correct Red Lipstick Shade According To Your Eyes
Yes, while selecting a red lipstick shade, the color of your eyes also has an important role to play. If your skin tone is cool and you are having green or blue eyes, go with the red lipstick shades that come with blue tone on it avoiding the orange ones. This would give you a flattering effect uplifting your face outlook to a great extent. The ones with a warm skin tone, along with brown and golden eyes should go for red lipsticks that come with orange or brown bases. It would be advisable to try some shades at the time of purchasing that would complement your makeup too.
4. Try Blending For A New Touch To Your Lips
A new trend emerging in the lipstick tutorial is the blending effect given to the lips. This technique helps in getting that perfect look for your lips and your lip color. While thinking of blending with red lipstick, apply bright red lip color on your lips and give them a darker shade in the center. This would give our lips a large and complete look.
For those trying red shade or blending for the first time, you can try combining red lip shade with classic pink shade and even nude lipstick. This would add some charm to your regular look. You can slowly increase the portion of the color according to your makeup until you reach to complete red shade.
5. Don't Forget To Moisturize Your Lips
Just as your skin gets wrinkles as you age, the lips also get thinner and somewhat dark if proper care is not taken. To avoid such problems, and also to exfoliate your lips, use some moisturizers in the form of lip balms before you apply the lipstick on your lips. For exfoliation, you can also use an old brush on your lips before moving to bed, after which you also need to moisturize them with the help of balm. This would provide you with those perfect lips ready for getting that red charming look on it.
6 Look After Your Dressing Too!
Along with the makeup, you also need to work out on your dressings while selecting red for that perfect lipstick. If you are going with red lips on gaudy dresses, you are definitely moving to the wrong path. Instead, try going as simple as possible with white tees, chubby sweaters, or a simple black gown etc. Also, combining red lipstick with red pants would surely make your look go down. Hence, while going with red and bright lipstick, make sure your dressing is simple and sophisticated to give a compiling look completely.
Along with all these, you should also work on the time you would be wearing the red lip shade, as it also holds an important phase for that mysterious look. Again, merely dressing and makeup is not enough for the red lipstick, and hence, make sure you carry out yourself with required confidence, a perfect smile on your face, well cleaned white teeth and a lifted head that would add to the beauty of your red lipstick.
So, what are you waiting for! Grab the opportunity and find yourself that elegant look combining with the correct red lipstick.
Related Posts