You cannot deny the fact that once in a while you wish that you could groom your hair into an absolutely amazing style without damaging them with heat or chemical products.  We all have at some point of our lives struggle with this because not everyone is blessed with naturally straight or curly hair. On top, heating irons and chemicals sometimes are an absolute pain. But did you know there are simple hacks to get easy hairstyles with no heat and products? If hair damage, arm aches, frequent burns are some of the regular struggles you suffer from, we are glad to share with you different ways to get easy hairstyles without any heat or styling products.
We take you through 13 oh-wow-no heating product hairstyles. These are easy hairstyles and can be done anywhere, anytime in just a few minutes. A happy deal for a healthy and stress-free life for your hair. Isn't it?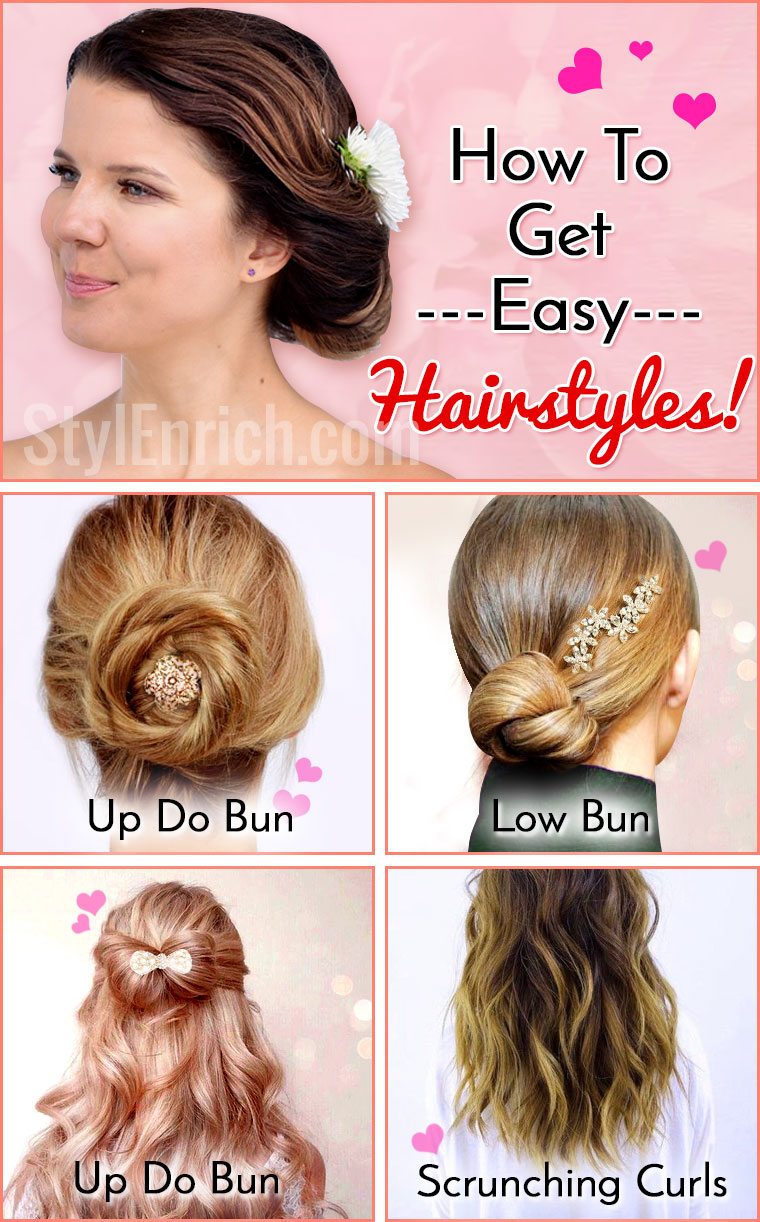 Different Ways to Get Easy Hairstyles
1. Out of Bed Look
If you are someone with slightly curvy or naturally wavy hair, then there are not many efforts you need to put for this out of bed hairstyle. But then there are girls with straight hair who need styling products for an out of the bed look. But not again, simply make few braids on your wet hair before going to sleep or till your hair are dry. When you wake up in the morning, open your broads and the side part your hair and pin it up to one side for a messy yet sexy hairstyle.
You will love to know Why is a Wide Tooth Comb Good For Hair?
2. Low Bun
This hairstyle is quite simple and you surely don't need any product for this. To start with making a middle parting and enclose your hair into a bun at the back of your neck and secure it with few bobby pins. Let few strands from front loose for a chic and classic look. Complete the style with a plump pout, high heels and a frock dress.
3. UpDo Bun
If you have been scrolling through the fashion magazines for 2016, you will recognize this style instantly because it rocked. From streets to runways to red carpets, up-do buns were seen glamorizing the fashion word. One of the reasons for its huge fan following is the time it saves. Simply divide the section of your hair to place it in a bun at the top of the head. The hairstyle screams "cool" from college to party for its perfection.
4. Pretty Fishtail
If you are bored of those French braids, maybe it's time you learn to make the fishtail braid to upgrade your personal style. After all, experimentation is the key. They are quite easy and you can learn to make the fishtail braid here within few minutes. A loose fishtail makes you feel easy and breezy and goes perfect with the summer dress or bohemian look.
If you are looking for prom makeup ideas, then we will guide you on how to look beautiful in your prom...
5. Braided Bun all the way
Make a ponytail, high one especially for this. Divide your ponytail into two parts and make a bun with the top part.  Now, braid a normal plait with the first section and wrap around the bun. Tada! You very first braided bun. Perfect for a date or an evening drinks with your friends.
6. Sexy High ponytail
High ponytails are smart and sexy and at the same time give volume to the crown area. Make a high pony and backcomb the ponytail for bombshell volume. Secure your pony halfway the shaft with few bobby pins. Adding little amount of natural oil before making a pony will add shine and keep it frizz free.
7. Change the Partition
You may have your favourite parting all the time but irrespective of the length of your hair, for a change make a partition from the middle of your head. Allow your tresses to flow carefree. A centre partition helps in defining your facial features and can change your look completely. This can give you a makeover from your usual boring side partition. Flaunt the hairstyle to work, college and also for a party with bare minimum effort.
8. Rocker Chic Style
If you are planning to go to a concert and want to carry a RocknRolla hairstyle, do a side parting and secure few strands. Add random braids and you are ready with a sassy look. The style is very easy, very prominently seen on girls during the gigs and liver concert.
9. Scrunching Curls
If you do not have curly hair, you don't need to feel sad, because there is always a solution to everything. Wash your hair and use volumizing shampoo and conditioner. While your hair is still damp, start scrunching your hair upwards and let them dry for a while. You will get soft waves all over your hair. Another way to get quick curls is made braids on damp hair and then secure it with a hairband. Make a bun before going to bed. When you wake up in the morning, run your fingers through the hair for soft curls. Scrunch more to get volume and your dream of having curls would come true.
Learn here How to Manage Curly Hair Naturally!
10. The Hair Bow
The hair bow style is as simple as you tie a lace. Brush your hair and take two strands above the ear on both the sides. Tie both the sections and cross them at the back of the head. Tie a small bow with your hair and with the help of bobby pins, secure your hair box.
11. The Twisted Ponytail
Want to bring a twist to your boring pony. For better texture, take two sections of hair to either side of the ear and twist them. Tie both the sections in a low pony along with rest of the hair. This cute hairstyle is perfect for an evening date or for brunch.
12. Low Ponytail Bun
This is a perfect hairstyle both long or short locks. To start with, place your hair into half ponytail near the nape of the neck. Now gather and roll up the hair starting from the ends. Once you roll your hair till the neck, pull your hair up and tuck it in and secure with bobby pins.
13. Get Your Accessories Game On
Sometimes you have to forget all about the hairstyles and you just need to elevate a regular hairdo with an accessory. Yes, you heard it right. Create a simple low bun and leave few strands on purpose for a little ethereal vibe. Add accessories like ribbons, barrettes, climbs or tiara. Place a glittery headband or one with the flower or little bow. Cute bobby pins to secure those buns and ponytails. Your head is your background, be your own artist.
Well, there it is! You don't always have to subject the hair to excessive heat, chemicals and damage them anymore! Most of the easy hairstyles mentioned above can last up to two to three days. Try them and spruce up some straight heads, some curly heads and some easy breezy ponytails and buns.
The best ways to get nice, non-damaging, no heat, long lasting easy hairstyles. Let us know which one you tried and is one of your favorite. If you know any of your own hacks for no heat- no product hairstyle, feel free to share with us in our comment box.
Related Posts