For all the lovely and cute ladies who are willing to get flattering hairstyles for round faces, many options are available that can skillfully mask the facial width and make them look thinner.  Let me assure you that you are going to look stunning and wonderful.
Looking good is not a crime, and as your hairstyle is most important aspect of your feature, you need to choose the one that suits you the best.
We all come into this world with different face shapes, figure, height and weight and it doesn't make you any less special if you don't fit in with the imposed media standards. However, on the other hand, it is also true that everyone desires to look good. So, you need to choose the style that suits you best.
Let's see how to make Homemade DIY shampoos which have better effects and results than cosmetic treatments…
Let us discuss some of the stylish haircuts and hairstyles for round faces for different hair types.
What Hairstyles to Opt For, If You Have a Round face?
Some women feel shy for their round face and having chubby cheeks. The asymmetrical haircuts are most appropriate for a round face. They give the round faces a slightly thinner and angular look especially if one wishes for a slightly messy and layered look.
In case, you have thick hair as well as a round face, go for flat-ironed and waves hairstyle with a rounded end.
Asymmetrical bang and harmonious hair deviate the attention from your figure to the awesome haircut.
The Simplest tip to follow here is, if you need to conceal something, accentuate something else to draw the attention.
Let us see which foods that are good and healthy to eat in order to achieve beautiful and gorgeous hair.
Tips to Choose Right Hairstyles for Round Faces
Straight bang is not the hairstyle for round face and thin hair because it creates a horizontal line that will widen your face visually.
 Avoid short and sleek hairstyles, if you are a plus-sized woman.
Irrespective of the style you are opting for, leave the elongated locks on the side of your face, it will give your face a cute oval look; making it look slimmer.
Any diagonal that crosses your face will make it look thinner visually. So, go for elongated side bangs.
Go for a bouncy haircut as any additional volume added on the top will virtually elongate and slim down your face.
Lastly but most importantly; don't refrain from a change in your style.
Have a quick look, in the reasons for Hair Loss.
Haircut Ideas for Round Face for Different Hair Types
If you want a short haircut for round face, and you have thick hair, whether brunette, blonde, or black try the sassy short haircut, or you can also go for a pixie cut, one of the most popular short hairstyles that look stunning on a round face if styled properly.
The short haircut with black hair gives the classiest look with the combination of pronounced texture and statement colour.
For a short hairstyle for round face, a bob cut especially a shoulder length; when paired with beautiful silhouette provide the desirable slimming effect.
If you have the most common and wide-spread medium length hair go for a bob with longer front tresses and layered cuts. The flat-ironed Bob works most brilliantly for women and girls with round faces, side parting and long side swept bangs cover the side of your face and make it look slimmer.
Curls on medium length hair for round face will make your hair look fluffy, while they teased the roots.
The angled bob for a shoulder length hair with the streak of colour is styled with a full side sweep to feature the graduation of the layer. For any hairdo, if applying gel, remember lock stick side of your face.
If you have beautiful long hair, go for layers with loose locks, they look flattering with a round face. You can also go for straight tresses as it will make your face seem narrower and also create a vertical line right next to the cute full face, will elongate your face visually.
Waves and curls also help in concealing the fullness of the face but remember it shouldn't be in excessive volume on the sides.
Some of the Hairdos and Hairstyles for Round Faces
1. Curled Bob
This cute and funky hairstyle will be a revamp for your look. Curled bob with a deep bang will distract the attention from broad cheek and draw it to a cute chin area. It goes well with an ash pair and brunette hair colour and works astonishingly with brown and yellow undertones.
2. Messy Up Do
Ladies with round face mostly look very feminine and cute, but they simply need some visual alteration and the use of the right hairstyle to achieve that jaw-dropping gaze they deserve.
A round face may have absolute misfit in the choice of flattering hairstyles, but it doesn't mean that you should go for boring old looks instead; you must be bold and try the latest ones. Therefore, this messy up-do is exactly the hairstyle that will make you look super chic and elegant at the same time. It will distract the attention from anything that you want to change about your appearance.
3. Wavy A Line Hairstyles For Round Faces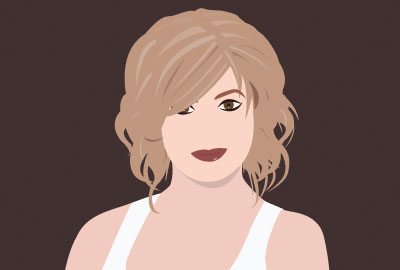 If you are a girl with a round face, and you wear a floral print dress with a simple braid, you may risk looking very plain, and mostly girls try to avoid looking too plain. So, to escape from such situation, one can try this chic wavy down do bouffant.
This hairdo instead of making you look dull adds some aristocratic flair to your looks. With its A-line elongated silhouette, it will look incredibly flattering with a round face you can also introduce a cute braid to your hairstyle.
4. Wet Look Scrunched Hair
If you have a thin and light hair with round face, this hairstyle can prove to be a lifesaver. The excess thick locks especially if supplemented with a wet effect, add volume to fine hair.
5. Scrunched Wave
They are universally acceptable as effortless and flattering. Your hair will look spontaneous, a bit sexy and messy both. Have an asymmetric style of front locks of this hairstyle. You simply need to let it fall on the side of you face. It will provide you with the desired slimming effect.
6. Layer and Loose Waves
Blunt is not always the right choice for round face ladies as it draws attention to the width across the cheeks. However, it doesn't mean that you have to avoid it altogether. This hairstyle could still work for you, go for loose and messy waves with highlights, it will give your face a cute oval look.
Here are some prom makeup ideas that work wonders for your much-awaited occasion!
Conclusion
All you Ladies out there, you are different and unique in your way. The most important thing is to feel that you are a beautiful and wonderful woman. The right hairstyles for round faces will strengthen that feeling and also your self-confidence. So, all round face beautiful ladies with curves can re-discover their beauty from a new angle and perspective. This article tries to put together some excellent tips and different hairstyles for round faces. It will help you achieve that scintillating look and make a right impression on people around you.
Related Posts