Hands are the most exposed part of your body and prone to more damage. Damage to hands can be caused due to sun exposure, excessive stress related to physical chores at home or environmental pollution. Damage comes in the form of ageing sooner than usual and the first symptom of ageing is wrinkles. Most often we give importance to our face and take good care of it, however we tend to neglect our hands. But we must aware of home remedies for wrinkled hands too.
Hands are equally exposed to damage as much as the face is and it is important to take good care of it to avoid early signs of ageing. Are you suffering from wrinkled hands which are a result of age, excessive stress or sun damage? There are many chemical and cosmetic treatments available to treat wrinkled hands, however they are not safe to use in the longer run. Have you ever considered home remedies for wrinkled hands? Yes, there are several effective and useful home remedies for Wrinkled Hands.
You must read this article to know home remedies for dry cracked hands…
Home Remedies for Wrinkled Hands
1. Olive Oil
Olive oil is an age old therapy and excellent cure of wrinkled hands. It moisturized and nourishes your skin from deep within. Apply olive oil daily either before bed or before a bath and massage it well on your hands. The oil will penetrate deep into the skin and remove the existing wrinkles. Olive oil also prevents new wrinkles from forming.
2. Banana
Banana is rich in Vitamin A, B and E and minerals like iodine, zinc, iron, potassium and magnesium. These vitamins and minerals help in rejuvenating the skin and remove wrinkles on hands. Mash the bananas along with milk to make a pulp and apply it hands. Allow to dry and wash with warm water. You can also combine bananas with honey and avocado for best results on wrinkled hands.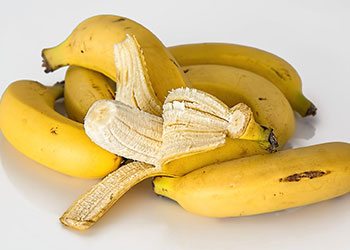 3. Sugar, Milk and Lemon
Lemon, sugar and milk are the best treatment for ageing hands. First squeeze out lemon juice and mix along with sugar to form a grainy mixture. Apply this mixture as a scrub on your hands and massage gently in a circular motion. Lemon helps in de-tan and removing age related spots whereas sugar acts a scrub and removes dirt and dead skin cells. After the lemon and sugar scrub, soak your hands in milk for 15 to 20 minutes. The fatty acids and anti-oxidants in milk reduce the appearance of wrinkles and prevent new ones from forming.
4. Rice Powder Therapy
Wondering how to get rid of wrinkles naturally? Have you ever tried the rice treatment? Yes, rice helps to remove wrinkles on hands. Prepare a homemade pack using milk, rice powder and rose water. Apply this pack on your wrinkled hands and allow to dry. Later rinse with lukewarm water. Use regularly twice a week to effectively remove wrinkles.
5. Pineapple
Pineapple is a wonderful cure for wrinkled hands. Pineapple is rich in Vitamin C which helps to remove wrinkles on hands. It also moisturizes and tones the skin. Mash the pineapple into a pulp and apply on hands. Keep it on for 20 minutes until dry. Rinse with cold water and follow with a moisturizer. Regular usage helps remove wrinkles and stop new ones from forming.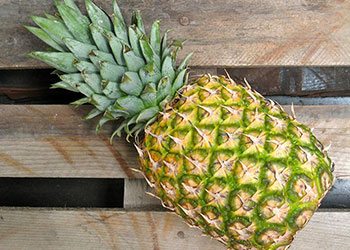 Are you on the lookout for Organic ways to brighten up your face? Let's have a look on some of the real beauty benefits of Pineapple...
6. Watermelon
One of the best treatments for wrinkled hands is watermelon. Watermelon is rich in water content and provides hydration and moisture to the skin. It penetrates deep into the layers of the skin and rejuvenates the skin by promoting new skin cell formation. Cut a slice and rub the fruit on your wrinkles hands. Leave on for 10 to 15 minutes. Wash off with cold water. Do this daily for effective removal of wrinkles.
Additional Important Tips
1. Exfoliating and Cleansing
Exfoliating and cleansing is a very important remedy to remove hand wrinkles. Incorporating them in your daily regime will get rid of existing wrinkles and prevent new ones from forming.
2. Scrubbing
Using a natural scrub helps remove dirt and dead skin cells. The scrubbing therapy is a wonderful cure for wrinkles hands. Scrubbing also promotes new cell generation.
3. Moisturizing
Dry skin leads to dehydration and ultimate death of skin cells. Skin needs constant moisture to look fresh and young. Moisturizing regularly is one of the best home remedies for ageing hands. Often while washing our hands we lose the moisture and oil that maintains the pH of the skin. This leads to a imbalance and causes pre-mature ageing. Moisturizing your hands regularly after washing helps retain the moisture in the skin and keep it looking young.
4. Wear Gloves
Hands are the most exposed part of the body which is also prone to stress and manual work. After applying a hand lotion, make sure you wear gloves before starting any physical chores at home. This will stop existing damage and prevent new wrinkles from forming.
5. Avoid Sun Exposure
Sun exposure is one the major reasons for wrinkled hands. Try to avoid frequent sun exposure or make sure to use an active sunscreen before stepping out.
Wrinkles on hands can begin as early as twenties due to stress and environmental factors. If ignored, can lead to premature ageing. Since your hands are the most observed part of your body, it is important that you take good care of them. Wrinkles if caught early can be treated effectively with the above mentioned natural home remedies. It is important to note that along with these natural home remedies it is also essential to incorporate lifestyle changes that work in the longer run to prevent early ageing.
Home remedies for dry cracked feet that help you in the best possible way…
So what are you waiting for? You no longer need to worry about your wrinkled hands embarrassing you. Follow these simple home remedies for wrinkled hands regularly and confidently flaunt your beautiful young looking hands!!
Related Posts