Stuffy nose is a great problem among all of us as it is the harbinger of respiratory problems such as sinus or even cold.  In biological terms, it is mainly caused due to the swelling of the coating tissues which may block the nasal passage.  Well, if you want to know how to get rid of a stuffy nose fast, reading this article would do a plenty of good to you as we have curated some of the best home remedies for treating the stuffy nose problems.
If you are stuck on the question as to how to get rid of a stuffy nose, then we have the perfect solutions for you. Take a read through the blog to know about the remedies which you can find in your home itself.
How To Get Rid of A Stuffy Nose?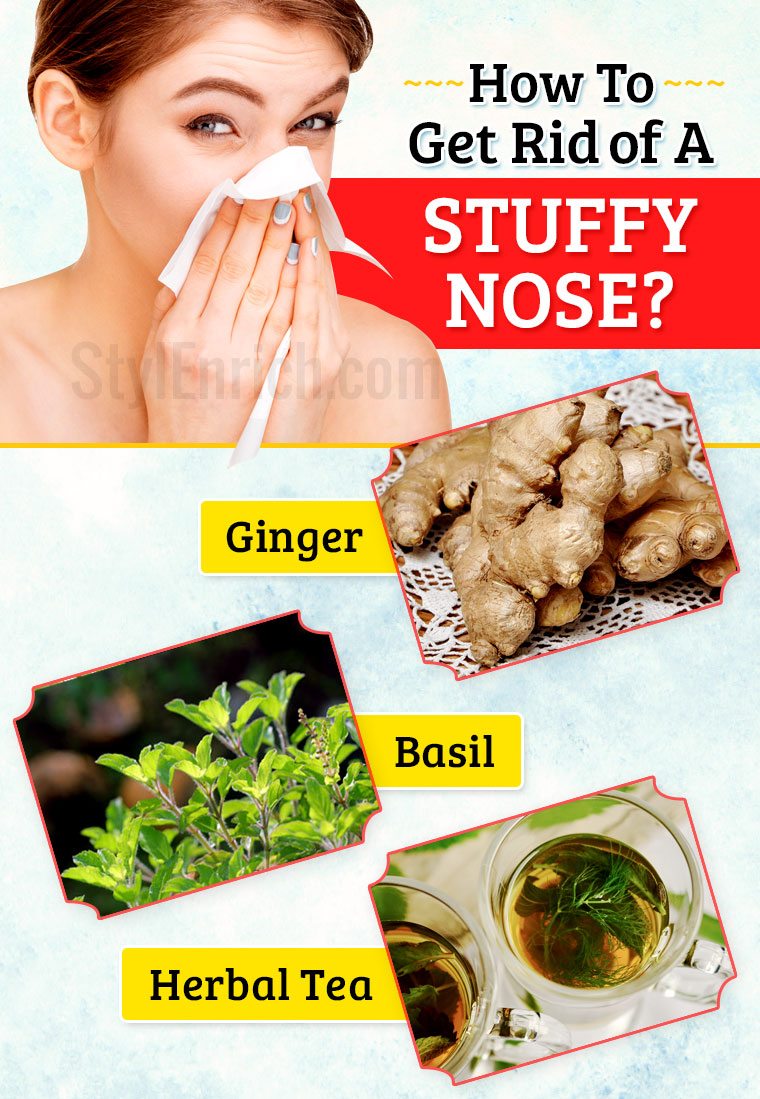 1. Make Use of Basil Leaves
Basil is an effective home remedy to treat stuffy nose and can help in removing all the nasal problems. For using this, you can prefer to chew three to four basil leaves day and night until you start feeling comfortable or you can even use them with tea. Better remember to wash them properly before the final use.
2. Use Ginger as a Remedy
Ginger root is anti-inflammatory in nature and can prove beneficial when you have a congested nostril.Consume hot ginger tea for some relief or as an alternative, you can boil the root in water for some time and then apply it on your forehead by soaking a piece of cloth in it.
3. Smell The Aroma of An Essential Oil
One of the best home remedies for stuffy nose is to inhale the eucalyptus plant oil or peppermint oil smell which can open your senses in no time. While using these oils, you can boil a few drops of them into the water and then take in the aroma for at least 15 minutes to ease nasal problems.
4. Mustard Oil for Nose Clean Up
Mustard oil produces a strong action on the nose and can be used to clean the stuffed up nose completely. You just need to pour some oil on your fingers and then apply them in the nostrils. Continue with the process for two to three times in a day until you start getting positive results.
5. Honey As An Effective Medicine for Nasal Issues
Honey can be commonly found in the homes and out of the many therapeutic properties that it possesses, honey is also beneficial during the time of treating a stuffy nose.  It is advised to take two teaspoons of honey every day and night or consume it with warm water or milk in the morning. Regular consumption of this remedy would cure several health problems along with the stuffed nose as well.
6. Steam to Clear Up a Stuffy Nose
Many of you might not know but steam is a perfect solution for treating respiratory issues like influenza, sinus, frosty and even a stuffy nose. Use thyme and mint for this purpose as they have antibacterial properties which can help in cleaning up the nose to some level. For this treatment, take three teaspoons of dry peppermint leaves and the same amount of thyme and add them to boiling water. Now, cover your head with a towel and lean towards the bowl of this mixture to inhale in the steam. You can continue doing this treatment for two to three times in a day until you feel some benefit in your health.
Opt for this remedy twice in a day, once in the morning and once in the night before you leave for sleeping to help you with the treatment for nose clogging.
7. Herbal Tea as a Nose Cleaning Up Option
Since herbal tea contains essential elements like chamomile, peppermint, ginger, rosemary and blackberry, it becomes easier to solve your problem of how to get rid of a stuffy nose. Instead of your regular milk tea, try replacing it with the herbal tea and you are bound to see exceptional results in your health and nasal problem treatment. The unique combination of all these herbs with their individual benefits and therapeutic properties is an outstanding home remedy to get rid of the stuffy nose without incorporating any medicines from outside.
8. Use Lemon Juice for Nose Stuffed Up
Just a pinch of salt, black pepper powder, and two teaspoons of lemon juice can do wonders if you use this mixture for cleaning stuffed nose. Apply this solution near the nasal area for the treatment and avoid getting it closer to the eyes as it may cause severe itching. This procedure might cause a tingling sensation at first but there is no need to worry as it won't give any negative results.
9. Fenugreek Seeds for Opening Sinus Cavities
You always find measures as to what to do if you have a stuffy nose, without even taking notice of the best ones in your kitchen itself. Fenugreek seeds are one such effective remedy which can thin down the thick mucus fluid and clear the nasal section and prevent swelling in the veins. For taking this measure, heat the fenugreek seeds in water for some time and then drink it up. Doing the same on a regular basis will surely garner positive results. So make sure you are up with this treatment every time you face a stuffy nose situation.
10. Try Consuming Hot Soup
Wondering how to get rid of a stuffy nose overnight? Taking in hot soup is the perfect answer to this question. Mix your favorite vegetables and lentils or preferably consume the chicken soup so get rid of the stuffy nose problems way too fast. It is advised to consume the soup for at least two to three in a day for achieving the favorable results fast.
We bring here the benefits and cabbage soup diet recipe that you can easily prepare.
11. Be Aware of  Your Diet
The first that should be the priority while you wish to know how to get rid of a stuffy nose is taking the correct diet during such a problem as it is the most essential of all other treatments. Grainy food products such as those with wheat, etc., and other dairy food items should be strictly avoided while you have a stuffy nose. Moreover, it is also said to eat spicy food as it would cause a running nose which will eventually break out the mucus and give you relief.  Just ensure that you drink lots of water so as to help you with the mucus discharge.
Stuffed nose makes an individual helpless completely as you feel dizzy and unenergetic throughout the day and brings in health problems such as cold along with it. Medicines can have their side-effects but home remedies will always stand apart as being most natural ways to cure nasal problems.  Moreover, drinking water is highly recommended during such times as it helps in thinning the fluid and drains it. This write up was purely meant to enlighten you about the home remedies which can answer all your issues regarding how to get rid of a stuffy nose. So, now you wouldn't have to reach out to a doctor or take a chemically packaged medicine for treating a stuffed nose. All you need to do is to search out the finest ingredient which is available in your home itself.
Related Posts