Plagued with those red big zits on your face? Do you wake up in the morning to see those nightmarish pimples on your cheeks or forehead? There are hundreds of people like you who undergo the traumatic experience of being bothered by pimples or acne. Statistics reveal that 8 out of 10 people suffer from pimple prone skin and are subjected to this torture. Let's know the causes of pimples the simple solutions on how to get rid of pimples fast.
Worried about redness on your face? Here are Homemade Masks and Home Remedies for Pimples And Acne that You Must Try!
Causes of Pimples
Pimples are a skin inflammation or a skin injury in which the oil glands (sebaceous glands) get infected with bacteria. Due to this inflammation, the surrounding skin around the infection region swells up and gets accumulated with puss. Pimples can occur anywhere, but mostly appear on the face, back, neck and arms. The primary reason for pimples is due to excess sebum production by the sebaceous glands.  The excess oil secretion traps bacteria and contaminate the region on the skin.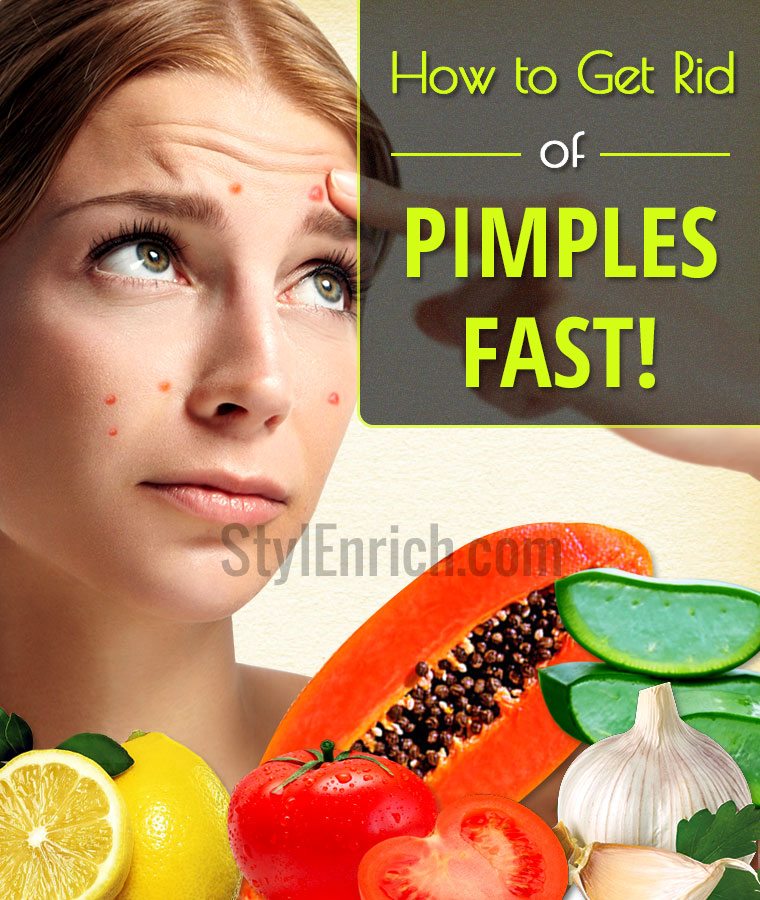 Are you worried of the acne and pimples having on your face? Here are homemade face mask for acne and pimples…
How to Get Rid of Pimples With Simple Ways
Wondering how to get rid of pimples fast but in an efficient manner? Although there are several prescribed pills, creams or lotions available in the market, there are some natural home remedies for pimples that help you get rid of pimples sooner and in a more effective manner. Following are some simple remedies to get rid of pimples soon.
1. Honey
Honey is known to a natural disinfectant and an effective method for acne treatment. It helps fight the bacteria that gets entrapped in the oil glands and enables effective removal.  Simply dab some raw honey on the affected areas using sterile cotton and leave it on for 30 minutes. After drying rinse with warm water. Repeat this process twice a week to get rid of pimples fast.
2. Toothpaste
Surprised? Yes the toothpaste you use for your teeth everyday can also be used to treat pimples overnight. Apply some toothpaste over the affected area and leave overnight. It is best effective when followed by ice remedy. Avoid gel toothpaste and apply the normal white toothpaste available in the market.
3. Lemon Juice
An incredible approach to get rid of pimples is to dab on some lemon juice on the affected area. The citrus extract acts as a germicide and kills the bacteria entrapped within the skin. It also acts as an astringent and removes excess oil present on the skin. Lemon juice also helps get rid of spots caused by pimples. Use a sterile cotton swab to dab on lemon juice on the affected areas. Leave overnight and wash off with cool water. You can combine it with cinnamon powder for tenacious pimples.
If you do not know how to get rid of pimples & acne with home remedies, let us find out the remedies for acne to diminish them from the roots…
4. Garlic
Garlic is a fast and consistent approach for acne treatment. Garlic has anti-bacterial and anti-fungal properties that help clear pimples overnight. The high sulphur content in garlic also helps in effective healing of pimples to avoid further damage to the skin. Rub a freshly cut garlic on the affected area and leave on for 5 to 10 minutes. Rinse with lukewarm water and repeat this process several times in a day. Eating garlic regularly also helps in blood purification.
5. Aloe Vera Gel
Aloe Vera is known to be one of the fastest remedies to cure pimples. Aloe Vera has anti-bacterial properties that helps reduce swelling and redness of the affected regions. Simply dab on the gel and allow to dry. It has a pleasant and cooling sensation on the skin. Aloe Vera gel also helps get rid of spots caused by acne. Aloe Vera plant can be grown easily indoors and the gel can be extracted. If you want to choose a simpler way, you can just purchase the readily available gel in the market.
6. Papaya
Papaya is one of the excellent home remedies for pimples. Papaya helps eliminate dead skin cells from the surface. It contains a powerful enzyme called "papain" that stops the formation of pus and brings down the inflammation. Mash a fresh papaya and apply its pulp on your skin. Leave on for 30 minutes and wash with warm water.
7. Tea Tree Oil
Tea Tree oil is a wonderful therapy for skin breakouts, pimples and severe forms of acne. It has mitigating properties that reduce the swelling and inflammation in pimples. Tea tree oil also has anti-bacterial properties that help combat acne causing bacteria. It also helps clearing whiteheads. Using a sterile cotton ball, dab tea tree oil on the pimple affected area and leave on for 15-20 minutes. Repeat this procedure several times in a day.
8. Tomatoes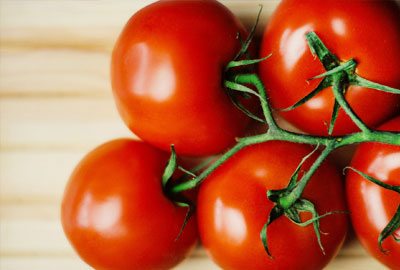 Another astounding ingredient from your kitchen is tomatoes. Tomato helps remove excess oil from the skin. It contains lycopene that works like an anti-oxidant and fights cellular damage and reduces the reddening of the pimple affected area. Apply fresh tomato juice or scrub a slice of tomato on the pimple affected area. Leave it on for 1 hour and wash off. Tomatoes are also effective in removing blackheads and helps in whitening of the skin.
How to get rid of pimples & acne Naturally from easily available ingredients in our kitchen? Here are very effective home remedies…
9. Baking Soda
Baking soda has surprising anti-septic properties and is a well-known home remedy to clear pimples effectively. It eliminates excess oil and sucks up the bacteria and fungus causing acne. Baking soda also stimulates new cell generation. Baking soda can be mixed with water to form a paste, and apply on affected areas of the skin. Leave on for 30 minutes and rinse of with lukewarm water.
10. Honey and Cinnamon Face Mask
Cinnamon and Honey serves as a wonderful homemade face mask for pimples. Cinnamon and honey both have anti-bacterial and anti-septic properties that kill the bacteria causing acne and prevents from further recurrence.  Mix cinnamon powder and honey to make a gel like paste and apply on complete face. Leave it on for 15-20 minutes until dry. Rinse off with warm water and follow up with a toner or astringent to prevent excess oil secretion. This DIY face mask for acne is a wonderful method to get rid of pimples overnight.
Pimples and severe forms of acne no longer need to be a nightmare for you. If you are constantly troubled with pimples and are looking for a quick yet effective remedy to cure pimples fast, follow these simple home remedies that help you on how to get rid of pimples fast. Wake up to see a clear glowing skin!
Related Posts