The tiny zits called acne not only steal your flawless charm but also strip your confidence. So, are you ready to fight them out? If you do not know how to get rid of acne with home remedies, we are here to suggest them for you. We have some simple ways to prevent acne on your skin. These are the best home remedies for acne. They are time tested and most of the times, prove their mettle.
What are you then waiting for? Let us find out the causes of acne to diminish them from the roots. And then, these clear skin remedies will take care of the rest.
What are The Causes of Acne?
The most understandable cause of acne is excess oil secretion from oil glands.
Sometimes, the growth of bacteria takes place when sebum accumulates in clogged skin pores.
The improper diet including lot of foods high in glycemic.
Oil-based makeup, especially when you forget to remove it before sleeping.
Stress is also one of the biggest factors causing acne.
10 Ways to Get Rid of Acne with Home Remedies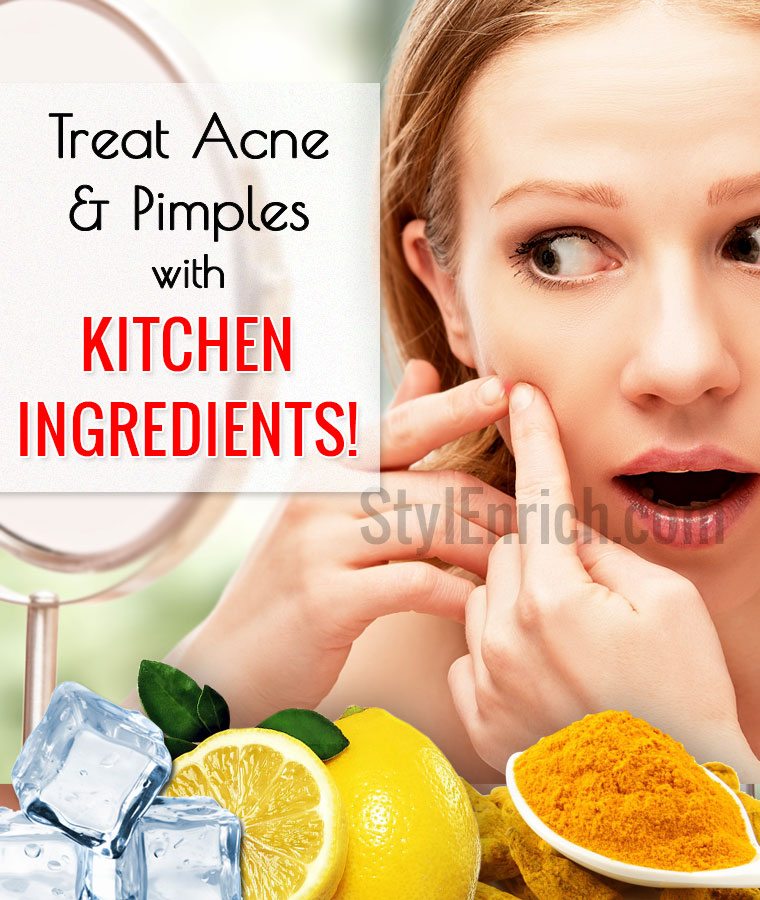 Here we will discuss some simplest and best ways to get rid of acne with home remedies. Interestingly, most of these items are already lying idle in your kitchen and it's time to put them into some use.
You may also read Amazing home Remedies for Acne Scars…
We have compiled our list of 10 best natural remedies that will teach you how to get rid of acne with home remedies forever –
1. 'Ice Therapy' for Preventing Acne
Sounds so simple, isn't it? Here we go –
Just wrap some cubes of ice or crushed ice in a cotton cloth. Hold it on the acne-affected areas of your skin for some time.
This remedy helps to prevent inflammation and swelling. Ice also opens up the skin pores by removing accumulated oil from it.
2. Tea Tree Oil Remedy to Cure Acne
This sweet smelling oil is a natural anti-bacterial formula that prevents the growth of acne.
To apply it, dab a cotton swab in undiluted tea tree oil. Now, apply it gently to the affected areas.
Leave for few hours before washing off.
This home remedy is not meant for those with sensitive skin, so please use carefully.
3. White Toothpaste Home Remedy Can Also Work for Pimples/ Acne
Apart from whitening your teeth, toothpaste can help to clear your skin from acne. However, never use gel toothpaste on the acne.
Apply white toothpaste on the acne. Preferably leave for overnight. Wash it off early morning to experience the difference.
This remedy works well soon after ice therapy.
4. Lemon or Lemon Juice is a Natural Remedy for Treating Acne
You must have heard about this remedy to prevent acne from your Granny. Yes, it is that old!  The citric acid content of lemon fights out acne causing bacteria fast.
Use a cotton swab to apply lemon juice on acne. After some time, wash it properly with lukewarm water.
You can also try lemon and cinnamon mask for this purpose. Just mix one teaspoon of lemon juice with the same quantity of cinnamon powder. Apply it on acne and leave for 1-2 hours.
5. Honey is a Great Natural Remedy for Acne Treatment
Honey is a simple home remedy for pimples. Your little buggers will surely fade away from strong antibiotic properties of natural honey.
Apply some honey to the affected areas and leave for some time. It may cause irritation. So, be cautious.
Alternatively, you can use honey and lemon mask to fight acne. Mix equal quantity of both ingredients. Apply it on the acne affected parts of the skin.
Here, the word of caution is that lemon juice and honey may sometimes, cause skin irritation. If that happens, wash them immediately with water.
6. Apple Cider Vinegar Remedy for Acne Treatment
This is also one of the most effective clear skin remedies.
Take undiluted apple cider vinegar and mix it with water in the ratio of 7:3 (Vinegar: Water).
Use a cotton ball to apply this vinegar on acne. After few minutes, wash them thoroughly with lukewarm water.
7. Turmeric is a Great Home Remedy for Acne Treatment
We all have this exceptional home remedy in our kitchen, isn't it?
Take one teaspoon of clean and pure turmeric powder and mix it with a little water.
Apply this smooth paste on acne using a cotton swab. You may feel a burning sensation.
Leave it to dry for few minutes or so and later on, rinse thoroughly with warm water.
If leaving for overnight, wash your face more properly as turmeric may leave its tinge on your skin.
8. Steam Can Also Work for Pimples
Again, it is a simple home remedy for pimples. Steam helps your skin to breathe and opens up the clogged pores.
Take hot water in a large vessel. Keep your face at a tolerable distance from it.
Repeat the process again and again till the water cools off.
Wash your face with lukewarm water.
Apply any oil free moisturizing cream or lotion.
9. Natural Home Remedy of Papaya for Acne Prevention
If you relish the taste of papaya, you'll love its ability to fight acne. This natural home remedy has an enzyme called papain that prevents acne and inflammation.
Peel the papaya and mash it properly to make smooth paste.
Apply this paste directly on acne
Leave it for few minutes and rinse properly with lukewarm water
Pat it dry and apply any oil free moisturizer.
10. Aloe Vera Works Great on Pimples
Due to its immense anti-inflammatory and anti-bacterial properties, aloe vera is also an effective remedy for acne.
Apply fresh aloe vera gel on your acne affected skin.
After 15-20 minutes, wash it properly with lukewarm water.
These are some simple but effective ways to get rid of acne with home remedies and control. Use them for bursting out acne from your skin.
How about sharing these useful tips with your friends on Twitter, Facebook and Google+?
Related Posts