The mesmerizing fragrance of rose can make anyone feel great! Rose is also known as a token of love. Most of the people are in love with this beautiful flower for its fragrance. But the story doesn't end there. While most of the people love this flower for the beauty or just for the fragrance, many are unaware that this beautiful flower can also enhance your beauty! Many famous actresses have rosewater included in their beauty regime. Since times immemorial rose is being used by women throughout the world for enhancing their beauty! So what are you waiting for? Let's know about the benefits of rosewater.
Rosewater is one of the best ingredients you can ever include in the skin care routine. It does not just soften the skin but also gives you a healthy and natural glow. If you are not aware of the benefits of rosewater this article is for you. Read on!
Benefits of Rosewater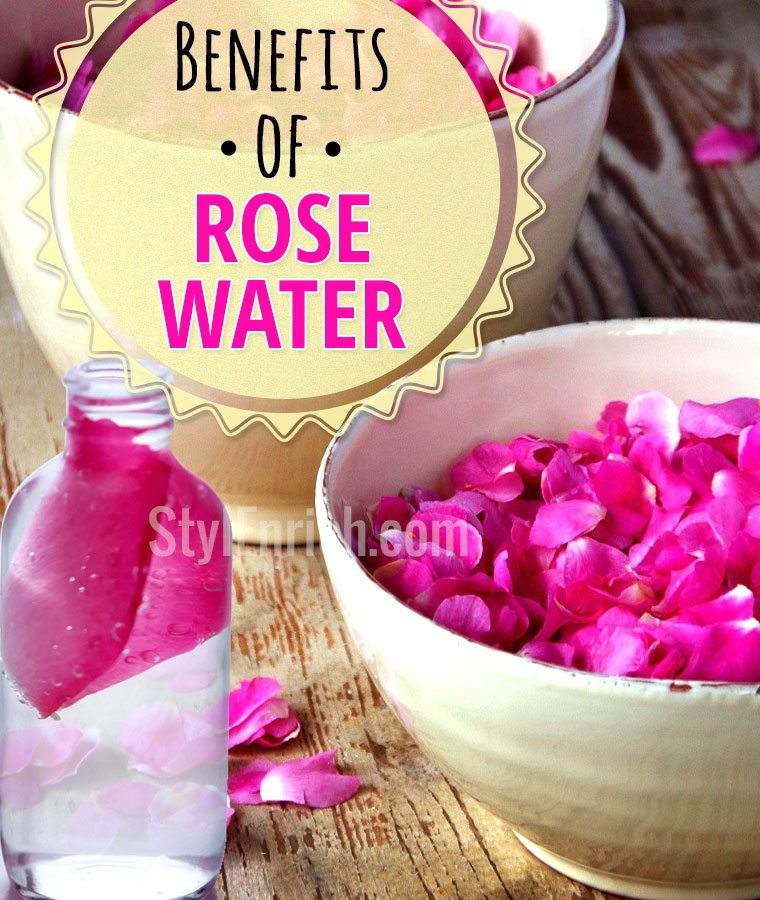 1. Benefits of Rosewater as a Natural Coolant
Rose water can be used as a natural coolant for your body. If you have developed heat bubbles leading you to red rashes, you can use rose water to treat your skin.
2. Prevents From Aging
Rose water keeps wrinkles and fine lines at bay. Thus it prevents your skin from aging and revitalizes it.
You must try these 10 natural anti aging masks that really work positively…
3. Maintenance of pH Balance
For a healthy and beautiful skin, it is very important to have the requisite amount of pH balance. Rosewater helps in maintaining the pH balance of your skin that is neither excessive nor deficient!
4. Fights Skin Related Diseases
Rose water if used on a regular basis fights many skin diseases effectively like eczema and dermatitis. It also helps in fighting acne and scars on the face.
5. Removal of Dead Skin Cells
Rose water effectively removes the dead skin cells that are present on your skin. It has antioxidant properties that strengthen the skin cells and helps to regenerate skin tissues.
6. Amazing Moisturizer
A lot of moisturizing creams out there can leave your skin with more rashes and patches. You can use rosewater as a moisturizer which not just hydrates but also revitalizes the skin making it smoother. Who would resist a smooth skin!
7. Healing Powers
Rose water has natural healing powers in it that heal scars. You can use rose water toner or a rose water spray on your face and skin to get rid of cuts, wounds, and scars.
8. Rosewater Toner
If you are worried about different skin tones and want an even skin tone, rosewater is a tailor made remedy! With its anti-bacterial properties, it helps in developing an even skin tone. You can apply it on a regular basis for a beautiful looking even skin tone.
9. Nourishment for Your Skin
Water also works wonders for nourishing your skin. It has a lot of moisturizing properties that enhances the quality of your skin. You can part ways with rashes and patches by using rose water.
10. Benefits of Rosewater To Prevent Dark Circles
When you are using Rosewater for face, you can use a rosewater spray to apply it near your eyes to get rid of dark circles. Puffiness also can be kept at bay by spraying rosewater around your eye region.
11. Natural Cleanser for Eyes
Using rosewater as a regular eye drop can cleanse your eyes from dirt particles. It also cools down the eyes and acts as an effective cleanser.
Let's know 5 Fantastic Ways to Use Beetroot for Skin and Hair!
Amazing Rose Water Uses for Skin
1. Fights Acne
If you are suffering from acne and want to get rid of them, you must be looking for rose water. Using rose water treat acne has been an age old practice that has taken a backseat these days due to expensive skin treatments. Nevertheless rose water remains a recommended ingredient to fight acne.
How to Use Rosewater to Fight Acne?
You will have to mix one tbsp of lemon juice with one tbsp of rosewater and let it cool in a freezer.
Apply the mixture on the face and let it stay for around 40 minutes. Later you can wash it off with lukewarm water.
Repeating this for 2 to 3 weeks will show you results.
Let's see how to make rosewater at home in easy way!
2. Rosy Lip Stain
Rosewater may also be used as a lip stain for dry and undernourished lips. The harsh lip stains that you get in the market often leave your lips dried up and craving for moisture. Never bother! We will tell you how to prepare your own lip stain with rosewater.
Rosewater Lip Stain Procedure
Cut a big sized beetroot into tiny pieces and let it dry in the hot sun.
Once it's dried up you can grind it into fine powder and add 3 to 4 tbsp of rosewater and voila! Your lip stain is done!
You can apply this mixture evenly on the lips for soft and pink lips! Part ways with heavy cosmetics and brace yourselves with this natural DIY!
3. Facial Toner
The majority of the toners available in the market contain alcohol and harmful chemicals in large quantities. Using these toners will drain you from the moisture content leaving your skin dry and with ugly patches all around. Rosewater can be used as a natural toner that not only hydrates your skin but also adds a glimpse of natural glow and shines to your face!
How Do I Get Started?
It is very simple trick! You just need to have smooth cotton balls and rosewater to do this.
You need to apply cool rosewater on your face or your skin using the smooth cotton balls.
For best results, you can do this immediately after you're done cleansing the face.
Rosewater closes the open pores which gives your skin a natural bounce and a pleasant rosy fragrance.
4. Effective Body Spray
Sunburns are a common problem to a lot of people. Sunburns lead to skin rashes which not just spoils the beauty of your skin but also causes itching. Rosewater is a top remedy to get rid of these sunburns and itching rashes.
How Do I Do It?
Take around 250 ml rosewater in a small cup and add 12 to 15 crushed tulsi leaves to it.
You can store this mixture in a spray bottle and preserve it in a refrigerator.
Everytime you feel your skin was exposed a lot to the hot scorching sun, you can grab this spray bottle and spray the mixture all over your body to get rid of sunburns and red patches all over!
Those were some of the top benefits of rosewater. The best part being rosewater is very easily available and also affordable. The price you pay is totally worth the benefits it offers! Include rosewater as a part of your daily skin care routines for a healthy and glowing skin!
Related Posts