Facial hair is a very sensitive topic and women who suffer from excessive hair end up with low esteem and low adequacy feeling. Many women feel ugly about the body hair and take various measures to remove them especially on the face. Keeping that in mind, today we will talk about 10 best home remedies for how to get rid of facial hair. While everyone has some hair on their body, some have coarse and thicker and noticeable hair on their faces. Facial hair is mostly found on upper lips, sideburns, chin and sometimes on the jawline. Some girls even have them on their cheeks which can cause embarrassment and emotional distress.
There are various ways of getting rid of unwanted hair, and these methods can vary from relatively painless methods to painful techniques like electrolysis. But we will focus on home remedies which are little slow but definitely effective for a long run. So with a little bit of patience and determination, be ready to remove facial hair like a master. Let's Go!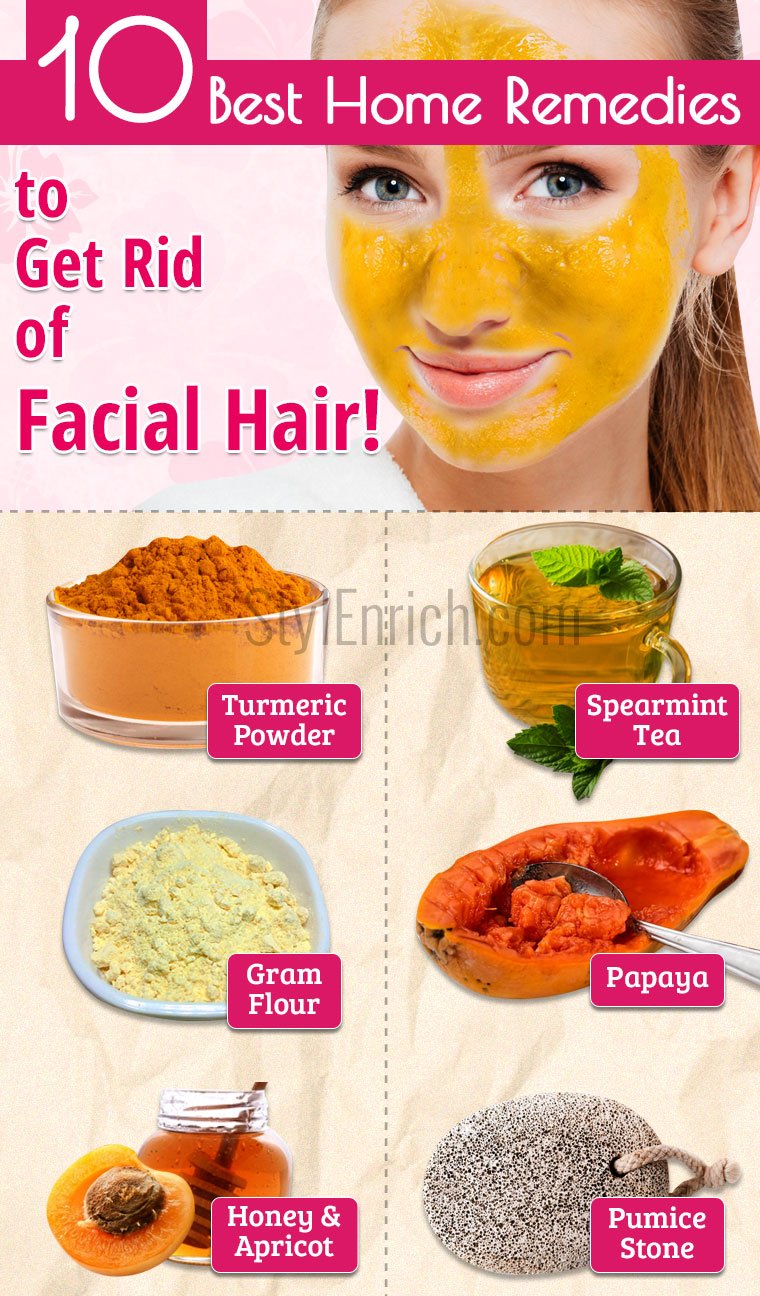 How To Get Rid of Facial Hair Using best Home Remedies?
1. Turmeric Powder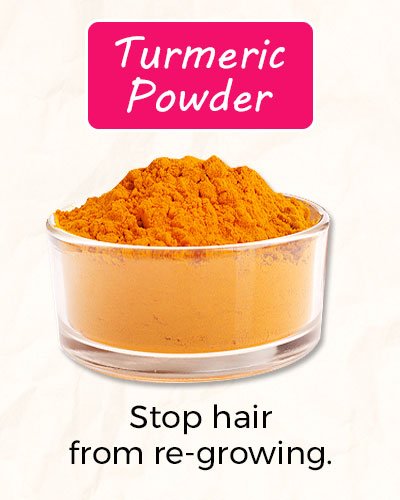 Turmeric powder along with few other ingredients can work well for the hair removal. It has antibacterial and antiseptic properties which help in preventing the skin infections. The powder tends to slow down the facial hair growth at first and with frequent use for a long time, it can eventually stop hair from re-growing. Turmeric has been used in Indian and Chinese beauty and medicine system for very long time and is known for its amazing healing properties.
A paste of yogurt and turmeric applied on regular basis can effectively reduce the hair growth. The method is specifically effective if it is started at an early age.
Get here simple home remedies that help you to remove upper lip hair without any side effects.
2. How To Get Rid of Facial Hair Using Sugar Wax?
The natural version of the wax used by beauty salons for the removal of facial hair is safer and much better for skin than the regular wax. The sugar wax is made by heating lemon, sugar, water and honey until the mixture turns brown. The concoction is used while it is hot by applying a thick layer of sugar wax on your skin. Waxing strip of muslin cloth is used to place over the wax and the strip is pulled in the opposite direction of hair growth.
Sugar when mixed with fresh lime juice and honey is also used for the removal of unwanted hair from your face. Another natural wax one can use is honey wax. The mixture is made the same way but sugar is replaced by honey.
3. Spearmint Tea
In some women, the excessive hair growth is due to the production of the male hormone 'testosterone'. In such cases, the spearmint tea is the best natural remedy for how to get rid of facial hair. This method has been tested during the old times and confirmed the scientists regarding the reduction in the testosterone level in women.
Take 1 cup of hot water and soak the spearmint tea for some time. Drink two cups of spearmint day on the daily basis as it is known to reduce the testosterone level in women and thereby helping to reduce the excessive growth of facial hair.
4. How To Get Rid of Facial Hair Using Egg White?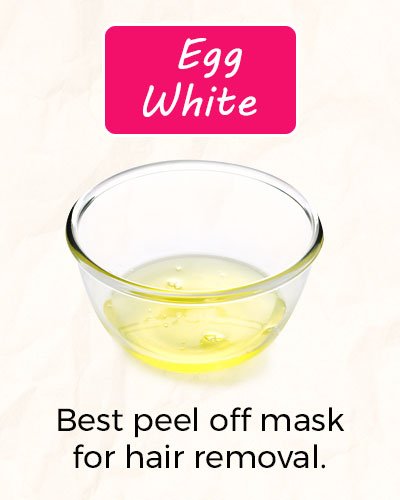 Egg white is also widely used for removing the facial hair by women. The egg white is mixed with cornflour and sugar and the mixture are then applied to the area with excessive growth. Apply a layer of the mixture and then let it dry. Once it gets dry, do not immediately peel off the mask because it will end up pulling your hair from the face. Instead, rub the mask with wet cloth or fingers. You can also use this mask as a scrub and a cleanser. With the regular use, you will see the reduction in the hair growth.
5. Gram Flour
Gram Flour, along with the importance of our food holds importance in the natural beauty treatments as well. Another hair removal method is a paste of gram flour, lemon juice, turmeric and fresh cream.
Take all the above-mentioned ingredients in a bowl and mix it. Once the mixture has dried, dip a cloth in warm water and massage in circular motion and clean it off. The regular use of this method will slowly start to show the results.
6. Phytoestrogens in Your Diet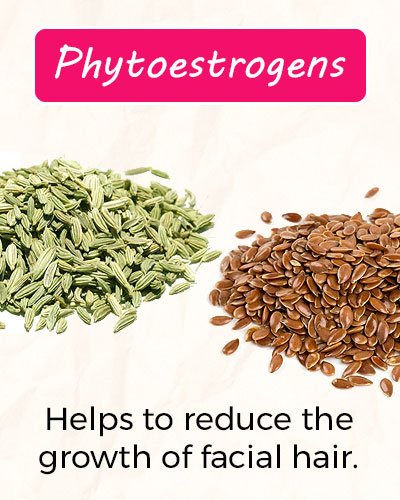 The planned product known for mimicking the female hormone 'estrogen' action is known as 'Phytoestrogens'. The female hormone estrogen discourages the facial hair growth. Some of the foods rich in Phytoestrogens are fennel, licorice, alfalfa and flax seeds. Cooking your meals using these ingredients will help you reduce the growth of facial hair over the course of time.
7. How to Get Rid of Facial Hair Using Papaya?
Papaya contains an enzyme called Papain which helps in dilating hair follicles and further cause the hair to fall. The mixture of raw papaya, turmeric along with little milk will work great to reduce the unwanted growth of facial hair. Besides, papaya also has bleaching properties and works well in bleaching the fine hair on the face. People with sensitive skin can also use it without any fear of side effect. Apply this mixture once a week for few months to see the effect.
Let's see the papaya treatment which can give your skin an amazing glow…
8. Potatoes and Lentils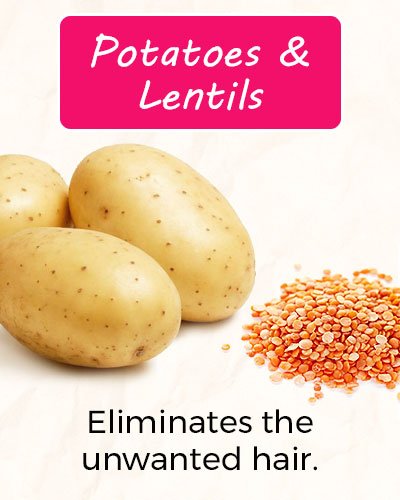 Potatoes have various skin benefits. A large amount of catecholase present in potatoes is known for lightening the skin tone. Potato juice is used as a powerful hair removing agent when it is used in combination of honey and lemon juice. It makes skin smooth, bright and leaves it well moisturized. In Ayurveda, it has been known as a popular method for the removal of hair.
Crush yellow lentil juice, lemon juice, and potato juice and mix well. You can also add honey for more benefits. Apply the juice mixture on your face and you will see that it not only eliminates the unwanted hair but also give your skin a very nice glow.
9. Honey and Apricot
Apricot is a great source of antioxidants and honey gives amazing antimicrobial properties. This mixture is recommended for people with dry skin. Grind few almonds and add one tablespoon of honey to it. Apply the paste on your face and let it dry. The mixture would help in removing the extra hair from the face. Use it thrice in a week to see the best results. Also, not recommended for people with oily skin as can lead to the breakout.
10. Pumice Stone
Last but not the least, a pumice stone. Don't get worried with the harsh pumice stone because this option is only recommended for people with normal skin type. Scrubbing your face gently with the pumice stone can lead to slow but effective results in the reduction of unwanted face hair. The use of pumice stone for sensitive skin is not recommended at all.
There are thousands of other techniques & solutions on how to get rid of facial hair but then the secret if regularity and patience. You cannot expect result in one single night of trying these methods. The natural home remedies may take time but are much better and safe then commercially available options. So, say goodbye to your biggest nightmare and be ready to face the world with confidence. Apart from trying these natural remedies to get rid of facial hair, it's important that you focus on internal energy and the beauty. Feel confident in your own skin and remember looks fade with time, personality does not. Try and be remembered for who you are than how you look.
Besides that trying to improve your looks is always an option worth trying and let us know in our comment box about which home remedy you have tried for hair removal and if it has worked or not. We would love to hear from you!
Read more – How can we use coffee scrub for the body and face?
Related Posts