Nothing beats the stylish stride that a good pair of high heel offers. High heels give a longer appearance to your legs and your overall stature look slimmer. Thus, when you choose the right high heels your complete appearance looks more polished and sophisticated. However, many times these high heels can cause discomfort and the hurt can be awful. This is because the high heels come in varied designs such as spindly heels, pointy toes or narrow silhouettes, which do not suit every foot. So what to do if you want to wear high heels, but get rid of the discomfort? Here are some of the guidelines on how to choose comfortable right high heels that do not hurt –
What is the Right Size of Your Foot?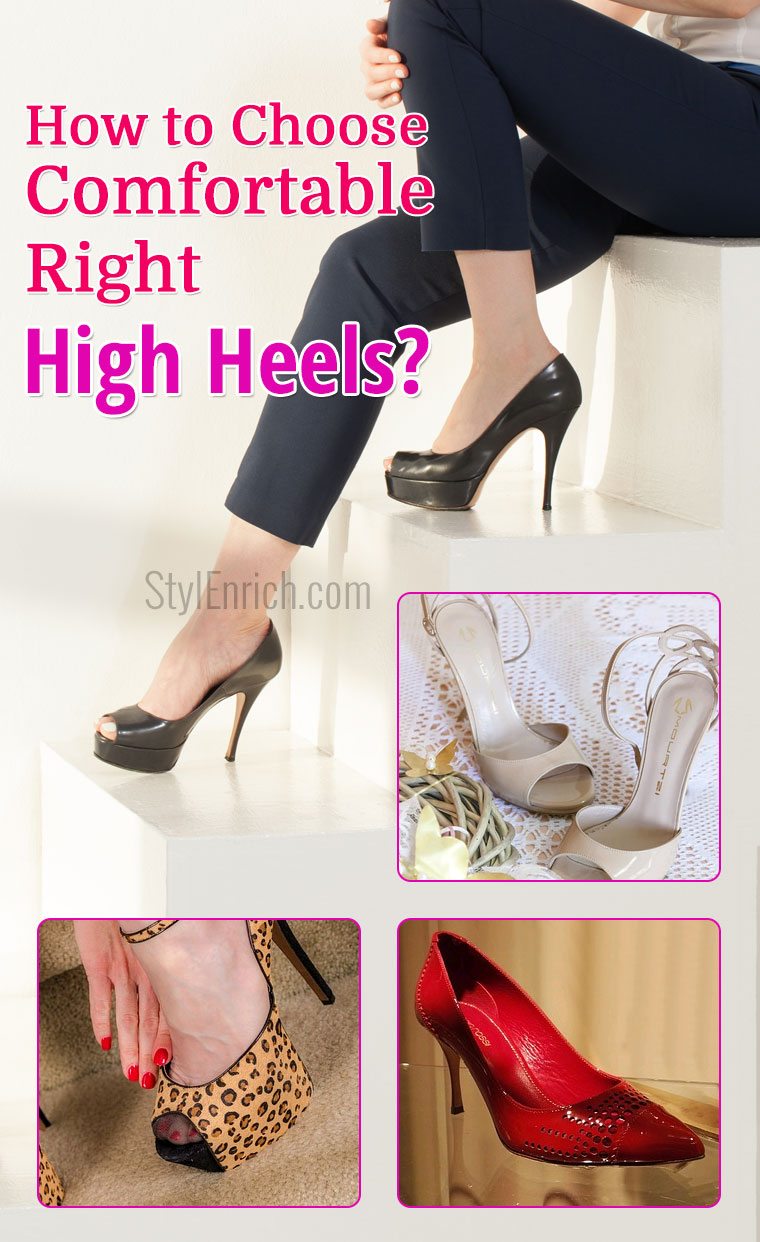 It is simply obvious that you should know the size of your foot while buying any type of footwear. Surprisingly, your feet have a tendency to grow larger as you age or they can grow wider or larger even during pregnancy. That is why, podiatrists recommend measuring your feet every time you are buying high heels or any type of shoes. Moreover, it is better to go up one size with high heels for getting a comfortable fit.
Look into the different styles to wear leggings and leggings fashion for all new trends this season.
Comfortable Right High Heels
Round Toes are the Best
Round toe never go out of fashion simply because they are the best and provide you with more comfort. Although the fashionestas prefer pointed toes, you should use them occasionally for a very special event or else regular use can lead to joint pain, big toe pain, crunched toes and even initiate the bunions. With the round toes, your toe can comfortably lie flat and spread wide naturally. So even if you cannot think of swearing off the pointy toes, make sure that you alternate them with the round toed high heels for better comfort and less pain.
Not Too High
Limiting your choice of heels to one or two inches is one of the best decisions. If you have been wondering as to how to choose comfortable right high heels, then always, make sure that you do not wear high heels that are beyond two inches to avoid pain and ensure good foot health. Three or more inches put a lot of pressure on your bones and ball in the front of the foot and hence are certainly not a good buy.
Width is Important
When you measure the size of your foot, also measure the width of your feet. Sometimes the cause of discomfort is not the toe, but the width. Usually the fashion shoes come with a medium width. But in case you have wide feet you should not wear the standard medium width high heels. Some brands offer the scope of stretching the shoes to make the toe box wider. Make sure that you ask the shoemaker to stretch the shoe for you so that it matches the width of your feet.
Lastly but not the least, if you are wearing the high heels for the first time, you should go through the high heels buying guide to make a smart decision and make your experience of wearing high heels free from discomfort and pain.
We bring here 10 Home Remedies for Shoe Bite That are Very Effective!
Hope you loved our tips on Comfortable Right High Heels and if you really do, please share it on Facebook, Twitter and Google+.
Related Posts