Grapes! Merely hearing this word would turn your mouth watery right! Whether it is green grapes, purple grapes or red, they always have given delicious tastes with many benefits to the hair, skin and health of the human beings. However, not only the grapes but also the tiny seeds derived from the grapes are also equally beneficial. The grapeseed oil for hair is derived from the seeds of the grapes only. Grow your hair beautiful.
The grapeseed oil is succulent and carries a nutty taste with no odor to smell. In many regions, grapeseed oil is still used as a cooking oil due to the linoleic acid it carries which is good for the health. However, the oil should not be consumed for a long period to avoid disorders like nausea, dizziness, blood pressure etc. Also, the people who have allergies with the intake of grapes, should avoid using grapeseed oil also.
Benefits of Grapeseed Oil for Hair


1. Helps in the Hair Growth Process
Grapeseed oil is rich in Vitamin E, linoleic acid, minerals and proteins which make it perfect for those who are willing for quick hair growth. All these nutrients cultivate the roots and scalp which leads to a healthy growth of hair. Hence, grapeseed oil for hair growth would surely give you great hair which is strong and healthy from its roots.
2. Grapeseed Oil For Scalp Moisturizer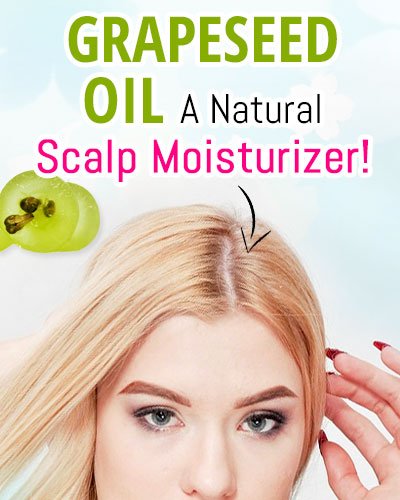 Hate oiling your hair! You will surely love after you use grapeseed oil once. Grapeseed oil is a natural scalp moisturizer for you. It helps to regain the lost shine and smoothness. Grapeseed oil is light and hence, it doesn't roll down to your shoulders after application. It is not also too greasy for an awkward look. The oil doesn't contain any type of filth smell which would irritate your surroundings when applied. The oil also works on the split ends. So, give your hair a natural conditioner and scalp a moisturizer by applying grapeseed oil.
3. Say Bye-Bye to Dandruff
Dandruff not only damages your hair and scalp but also hinders the growth of hair. There are people complaining about dandruff even after paying visits for the costly treatments at the salons. The reason why dandruff reappears after the treatments is that they are temporary solutions. This problem is widely faced by the people with dry scalp.
Good news is that now we have a permanent solution to your dandruff – the grapeseed oil. Regular usage of grapeseed oil for hair is surely going to bid a final goodbye to dandruff due to the nutrients it carries. It keeps your hair oily and prevents your scalp from dandruff by moisturizing it.
4. Grapeseed Oil Prevents Hair Loss
Hair fall is a common problem. Losing some hair is natural, but when you find the floor with too many hairs, you are definitely going to go crazy. The Vitamin E present in the grapeseed oil helps in the prevention of hair loss. When applied to the scalp, the antioxidants help the scalp cells to relax which leads to decrease in the hair fall. If the reason behind hair loss is brittle hair, grapeseed oil will do wonders to your hair giving you healthy hair with controlled hair fall.
5. Works the Best for Sensitive Scalp
Are you having a sensitive scalp! Having fear in using any kind of oil for your hair! Your solution is right here. Grapeseed oil is hypoallergenic. This means it is the best oil for the people who have a sensitive scalp. The regular application of grapeseed oil would surely help you to get rid of all the hair problems you might be facing giving your hair natural shine with strong roots. But make sure you are not allergic to grapes. If so, it is better to see a doctor prior using it or simply avoid it.
How to Apply the Grapeseed Oil for Better Results?
The grapeseed oil is a slow winner. It takes a time to see the effective results of the oil after applying it regularly. One of the main benefits of grapeseed oil for hair is that the oil doesn't carry any smell or color. It is gentle to the hair due to which it is also preferable for the people who have applied any color before using grapeseed oil for hair.
So, how do I apply grapeseed oil to my hair for impressive results? Follow the below steps for applying grapeseed oil for hair.
The primary step is to decide whether you are willing to apply it solely or going to mix it with other essential oils. Yes, grapeseed oil can be applied simply also. Or can be mixed with other oils preferably lavender and rosemary. If applying alone, take some oil in a bowl. If using other oils along, take a drop of other oil with 4tbsp of grapeseed oil. Mix both the oils well.
Heat the mixture or the grapeseed oil alone. For this, you can place the bowl in a container containing hot water in it. Make sure you don't overheat it.
Wash your hair using a shampoo to remove all the dirt and oily grease from it and also to clear the scalp.
Take the heated grapeseed oil. Make sure the warmth of the oil is bearable to your scalp. Take the oil on your fingertips and apply it to the scalp. Make sure you cover the roots. Apply it from the roots to the end.
Let's know all about hot oil treatment & how to do hot oil treatment for hair at home!
After applying the oil, let it saturate to the roots. Now massage your scalp using your fingertips. The massage helps not only your scalp but also the hair and the roots.
Wait for twenty minutes allowing the hair to absorb the oil properly. Damp a towel into hot water. Cover your head with the towel.
After 20 minutes, rinse the hair using warm water. Now use cold water and repeat the rinsing.
Use this treatment twice a week for fruitful results. Allow the hair to dry completely before you use a comb on it. The wet hair is fragile and hence, would break up easily.
You can also use grapeseed oil with cypress essential oil, lime and egg yolks. For this mixture, take 4tbsp of grapeseed oil, 5 drops of cypress oil, juice of half lime and 2 egg yolks. The application method after mixing the ingredients well remains the same.
Other Treatments Using Grapeseed Oil
Grapeseed oil consists of oligomeric procyanidin, a rich flavonoid. It is a strong antioxidant which is a strong competitor of Vitamin C. Its consumption helps to decrease the radicals in the body that are free. Grapeseed oil is also the best in controlling the cholesterol and hence, it's beneficial for the people having cardiac problems.
Grapeseed oil is also a great mender of broken blood vessels and capillaries. This helps the blood to circulate accordingly. It also helps to reduce the effect of varicose veins, hemorrhoids, arthritis, and to reduce the swelling of the patients who have faced any kind of surgery. It also helps to reduce the pain of the surgery.
The grapeseed also works as an antioxidant for the cancer patients surviving from cancers like breast cancer, prostate cancer, stomach cancer, colon cancer and lung cancer. It is also recommended to patients suffering from any kind of allergies, skin problems, and asthma.
The grapeseed oil is the widest used oil for skin problems also. The oil is used in the formation of several lip balms, natural moisturizers, sunscreen lotions etc. It has the capability to moisturize the skin and tighten it too. The grapeseed oil is also spotted effective on skin problems like sunburns, stretch marks, premature ageing, wrinkles and fine lines for an ever youth look to your skin. The grapeseed oil is also used in several spas for body massage carried through aromatherapy.
Conclusion
Henceforth, if a quality grapeseed oil is selected and applied in a correct manner, it is surely going to give your magnificent hair with amazing and thick hair growth. Try the healthy therapy once, and you will surely make it your routine suggesting it to others. The oil doesn't have any harmful side effects in an application unless you are allergic to grapes. But yes, if you are thinking to consume it, make sure you know the necessary treatment and precautions to be carried. So, why use the harmful chemicals to damage your hair on long terms? Use grapeseed oil and give a natural and long lasting effect to your hair.
Related Posts