Watch Making of this Unique DIY Organizer from Cardboard
Organizers are very important in every home. We need them very often to store useful materials like stationery and jewellery, etc. We often end up purchasing them. However, have you ever thought that a beautiful organizer can be made from materials which are available at home itself. Still wondering over it? Well, here we are going to make a very useful organizer and that too from old and waste cardboard.
This organizer is both a utility item and a home décor as well and is our best out of waste craft idea!
Things Needed
Cardboard
Pencil
Divider
Cutter
Glue Gun
Velcro
Decorative Lace
Artificial Flowers
Procedure:
Step 1: Let's take two cardboards of size 3*5 inches and draw markings on it. Now draw an arc shape on the lines and cut it accordingly to get the required shape.

Step 2: Now take two cardboards of size 3.5*5.5 inches and 5.5*10 inches.
Step 3: Now remove the outer layer of the cardboard and fold it. Apply glue and stick the pieces together to form the organizer.
Step 3: Take a Velcro and stick it on the organizer which will act as the closing/opening point for it. Now take a decorative lace and stick it on the edges of the organizer for a beautiful look.
Step 4: Take another decorative lace and stick it on the flap portion of the organizer. Let's take some artificial flowers and stick it on the flap portion for a nice decorative look.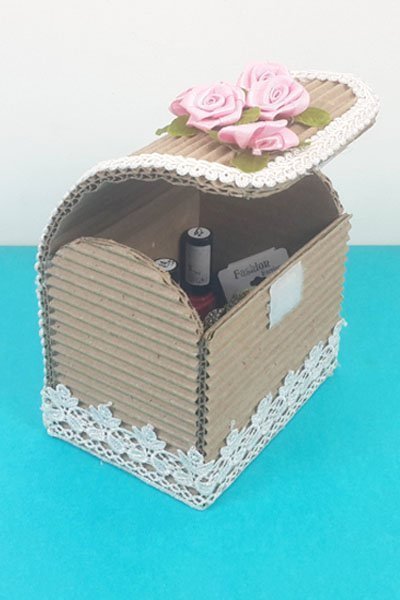 Wow! Your beautiful DIY cardboard organizer is now ready.
This is an easy to make and beautiful organizer. It looks amazing and can be easily made at home. You can keep many things inside it and can also use it as a home décor. Also, you can make multiple such organizers and gift it to your near and dear ones. Just keep some chocolate or small stuffs in it and it will make a great gifting option.
Hope you will enjoy making this craft. In case of any suggestion or feedback, please share the same in the comment section.
Happy Crafting!
Related Posts