Are you looking for a Portrait Rangoli Drawing tutorial? You have come to the right place. In this Rangoli tutorial we will show you how you can draw a realistic human face with Rangoli, also called as Sand Art!
A human face is a treasure box of thousands of expressions. I have laid my hands on capturing the face of my uncle using Rangoli colors, and I have noticed it quite a few times that he resembles and I often get light glimpses of Salman Khan in his face. Well, he modestly laughs it off but I thought of making a human portrait of my uncle using latest Rangoli Design Idea and sharing it with you people.
Now I need your help confirm my doubts of my uncle resembling Salman Khan! Also, instead of the regular colors I have opted for a much more tricky yet expression-capturing way to draw him! I am using colored sand and using the technique of Sand Art.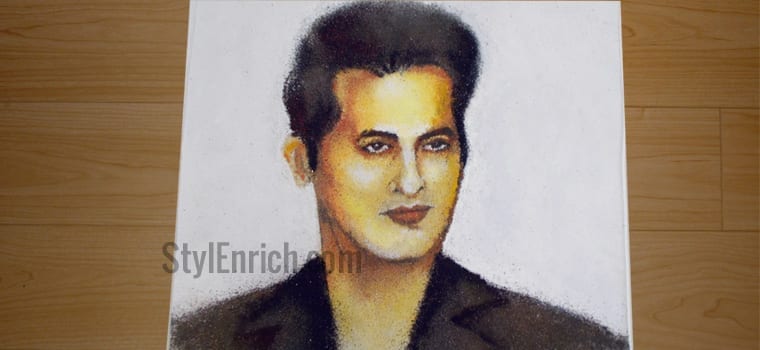 Material Required
Pencil
Colored sand in colors of: Light Green, Dark Green, Blue, Navy Blue, White, Mustard yellow, Orange
Procedure For Portrait Rangoli Drawing
Step 1-
Clean the surface where you plan to create the portrait.
Step 2-
With the help of a pencil draw a rough sketch of the desired human figure you wish to create a portrait of.
Step 3-
Create an outline of the face structure of the desired portrait.
Step 4-
Mix and combine colors with white to achieve the desired skin tone and using Navy Blue give depth and definition to the details and features of the face, hair and other features.
I have tried to encompass as many details of my uncle in this human portrait, thinking of the times he would look like Salman. So guys, what do you think? Doesn't this Rangoli Design Idea look impressive? Does my uncle look like Salman? Is my doubt right?
Try on a different Rangoli this Diwali!!
I would love to hear it from you, your comments, your feedback on the Human Portrait.
Related Posts