Protein is a very important and essential nutrient for human body. Especially those who want to build the rock solid muscles and flawless biceps, protein shakes would simply work magically on their body! Either for bodybuilding or for weight loss, to stay fit and healthy we require the perfect balance of workout and diet to achieve the desired target.
If you are a fitness freak and want to build awesome muscles, you need to consider the protein shakes to get your workouts more beneficial. There are different kinds of protein such as whey protein, soy protein, egg white protein which have different impacts on your body and would help in building up monster muscles. If you are on a muscle building session and require some of the most powerful homemade protein shakes for muscle building, here we present you the most promising and cool recipes which you must try!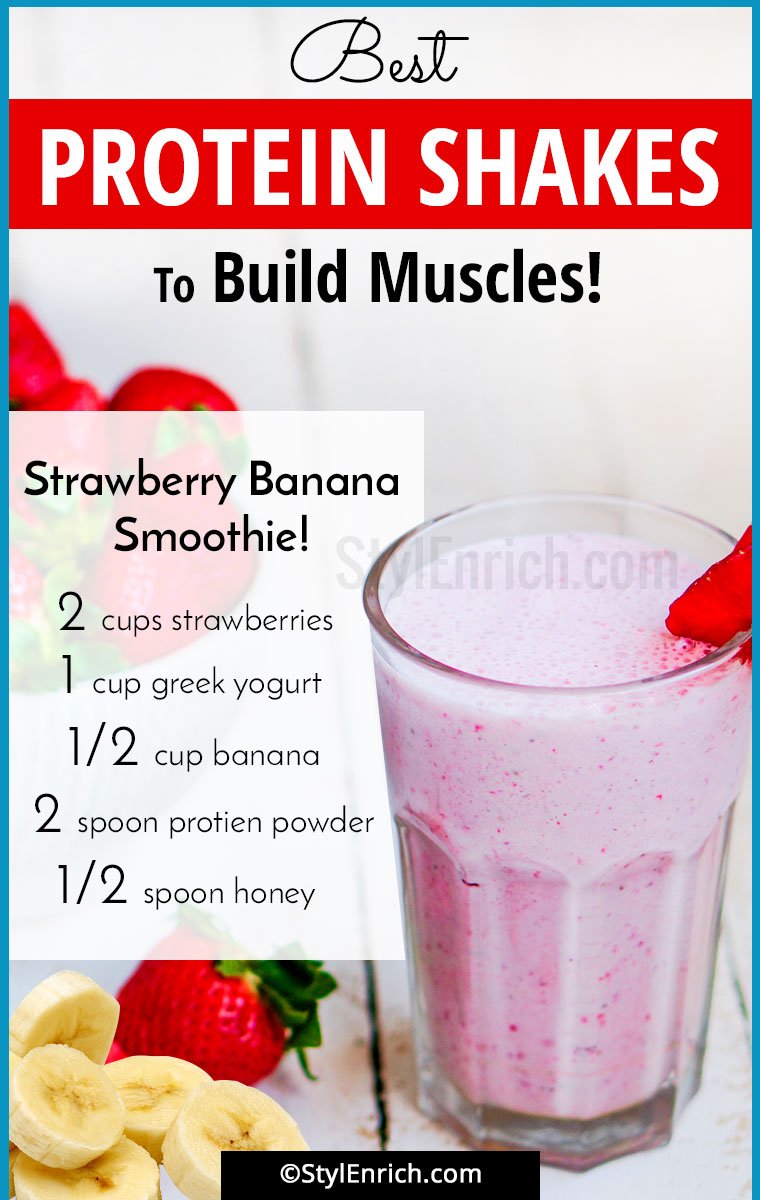 Why You Need Homemade Protein Shakes For Muscle Building?
There are amino acids in your body which can develop with protein rich foods. If these acids become few and less in your body, your muscles would start weakening and would lose its density. There are various facts and reasons of eating protein rich food for muscle building which is presented right here.
The amino acids are tiny elements which build your muscles which are produced by protein rich foods.
The amino acids heal the muscles, prevents it from losing its density and makes the muscles stronger.
The protein consists of nitrogen, carbon, hydrogen and oxygen. In these contents, your body will get into the proper anabolic state which would, in turn, help you in building cool muscles.
The whey protein gets completely absorbed by the body (100%) and this would also get digested quickly and get you all the energy you require.
Muscles are purely made from the protein and this makes it important to consume more amount of proteins to get healthy muscles.
Also the people who require maintaining the gained muscles would need to consume lots of protein rich diet to prevent muscle density loss.
The body does not store protein like the other nutrients and thus, you would need the fresh and new supply of proteins every time, thus you need to consume lots of protein to gain muscles every day!
How Much Protein Should You Consume?
The consumption of protein depends on the age and gender and also the factors like body weight, workout routine, lifestyle etc must be considered. Here is the ideal intake of protein you should consider.
For an adult male, the protein intake must be between 50-90 grams
For an adult female, the protein intake must be between 40-75 grams
Balance your protein and car intake to prevent water weight loss and to gain muscles while keeping your body strong and healthy!
Let's Know about Tasty Health Drinks for Weight Gain…
Should You Consume Protein Supplements For Muscle Building?
Supplements are quite amazing and healthy options to consider.  If you are a vegetarian or eat less protein on the average you should be eating daily, the protein supplements can help in maintaining the levels of protein in your body. Consider the amount of protein and consult your dieticians in any special cases.
Is There Any Specific Time To Drink The Homemade Protein Shakes For Muscle Building?
Yes, the time and amount fop protein shake you drink for muscle building surely matters. The function of protein shakes is to generate muscle and to prevent muscle loss and injuries. In such cases, you can drink the protein shakes in 2 segments.
You can consume your favorite protein shake before one or one and half hour before the workout. This would get you lots of energy and strength for your high-impact muscle building workout.
You can consume the second set of protein shake after 15 minutes of workout or immediately after the workout to repair and heal your muscle. This also prevents injuries and muscles issues.
Here are some amazing homemade protein shakes for muscle building!
Best Protein Shakes Recipes
1. Delicious Pumpkin Smoothie
If you love pumpkins, this smoothie would make your workouts more interesting and delicious before or after a workout session, this extraordinary smoothie would simply get you lost in the delicious world of taste and ecstasy! This protein shake is extremely healthy and beneficial for building muscles and each of its ingredients contributes in muscle building! Try this high impact recipe and build rock solid muscles soon!
Ingredients-
Low-fat vanilla powder, pumpkins, cocoa powder, spinach, water and ice.
Recipe-
Get a blender and add 1 cup chopped spinach.
1 spoon of vanilla powder and half spoon of cocoa powder.
Half cup of pumpkins and add water as per the requirement.
Blend these awesome ingredients and prepare a delicious and thick smoothie.
Add ice cubes and drink this refreshing smoothie before or after your workout to get desirable muscles!
This is an amazing smoothie with whey protein which can get you adequate amount of protein content and also would make you feel full after your workouts. This smoothie gets you around 250 calories and 30g of protein with each serving!
2. Yummy Banana Chocolate Smoothie
Chocolate is one of the most delicious and tasteful ingredients we love to have. Bananas are extremely rich with protein which would make your muscles more stringer and built up. You would need to add some peanut butter to make you smoothie more valuable and significant for muscle building! Try this treat of the banana chocolate smoothie after workouts and fall in love with it!
Ingredients-
Bananas, peanut butter, whey milk chocolate wonder, plain yogurt, water and ice cubes
Recipe-
Add 1 slices bananas into a blender
Mix 2 spoons of milk chocolate whey protein powder
Add 2 spoons of low fat natural peanut butter
Half cup of plain yogurt and water
Blend these ingredients and prepare a thick smoothie
Add some ice cubes and drink this refreshing and muscle building smoothie after workouts!
This is one of the most delicious homemade protein shakes for muscle building which can make your workout sessions more interesting and beneficial. For building enviable muscles, nothing would work as this absolutely delicious smoothie! This smoothie would get you around 500 calories and 61 grams of protein. To cut down the calories, use low fat products and balance your carb-protein intake!
3. Yummiest Berry Shake
If you love the adorable berries and the tangy and frutilicious taste of these little ingredients, here is an awesome berry shake filled with tons and tons of protein to brighten up your taste buds.  With nuts, yogurt and spinach, this amazing smoothie would get you awesome strength and cool muscles. Try this cool smoothie and stay hydrated after your workouts!
Ingredients-
Berries, walnuts, spinach, yogurt, whey protein powder, flaxseeds
Recipe-
Slice down 1-2 cups of fresh berries.
In a blender, add these berries and one cup of chopped spinach.
Add half cup of low fat yogurt.
Also mix 1 spoon flaxseeds and walnuts.
With required water, blend these ingredients and prepare a thick smoothie.
Enjoy the delicious and mesmerizing taste of this smoothie and build adorable muscles.
This recipe is extremely delicious and filled with all the necessary ingredients which you would need. From protein to vitamins, this smoothie would get you all the required minerals to build a flawless body!
This smoothie consists of around 500 calories, 60gram protein and 54gram carbs. Use low fat yogurt for low calorie content and whey protein powder for 100% absorption of protein powder in your body!
4. Refreshing Coconut Milk-Banana Smoothie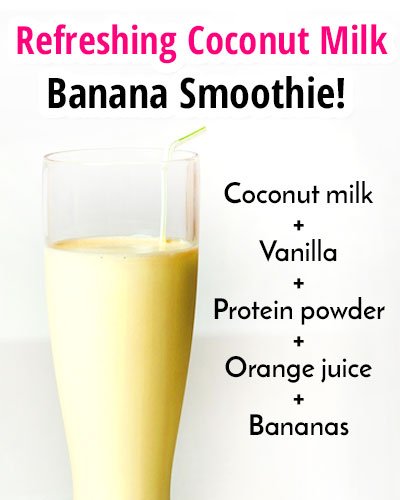 If you love the tangy flavor of orange juice and the nutritious benefits of coconut milk, here is an ultimate smoothie recipe which you must try. This cool smoothie prepared from bananas, orange juice and coconut milk consists of numerous nutrients and valuable minerals which your body requires for building muscles. Enjoy this mouth-watering protein smoothie post your workouts!
Ingredients-
Coconut milk, vanilla protein powder, orange juice, bananas
Recipe-
Get one cup of coconut milk in a blender.
Add 2 spoons of vanilla flavored protein powder in the blender.
Get 2 large spoons of orange juice.
Slice half banana and add into this mixture.
Blend all these ingredients and prepare your thick and lavish smoothie.
This is a tangy, sweet and milky smoothie which would get you cool results.
If you are looking for a cool smoothie who can get you numerous minerals, this is the one with refreshing taste and awesome nutrients.  This smoothie has around 450 calories, 55 grams of protein and fibers in a small amount. For better metabolism and cool digestion, go for this smoothie and get numerous benefits!
5. Fruity Protein Smoothie
If you love the refreshing and tasty fruit smoothies, here is an interesting and protein rich combination of homemade protein shakes for muscle building which would get you awesome flawless body. If you are a bodybuilder and want to build quick muscles with some delicious smoothies, you can try this one post your workouts and build desirable muscles soon! Here is the recipe for this refreshing fruity smoothie.
Ingredients-
Apple juice, orange juice, mangoes, pineapples, yogurt and vanilla protein powder
Recipe-
Get a blender and add 1 cup of sugar-free apple juice
Mix 1 cup of orange juice and 2 spoons of vanilla powder
Add half cups of pineapple and mango juices
Mix these ingredients with half cup yogurt and blend
Try this extremely delicious smoothie and give your body a cool treat after much hard work in the gyms!
This is a tangy, sweet and yummy smoothie which can help you in aiding muscle building and would also make you feel fresh and hydrated post workouts. This smoothie consists of around 600 calories and around 60gram protein. You can sue the sugar free juices for best nutritional value and get more protein!
Let's know Top 10 Foods To Eat Before Workout!
6. Almond Protein Smoothie
Almonds are filled with amazing nutrients and would can use in homemade protein shakes for muscle building. The almonds smoothies are low in calories and get you uncountable benefits. Gaining muscles does not mean you need to gain fat too! You can have some awesome fat free and low-calorie smoothies to build extremely strong muscles and to get flawless body! Here is a recipe of nourishing almond smoothie which would make you feel thirsty right now!
Ingredients-
Almonds, chocolate protein powder, coconut, vanilla almond milk
Recipe-
Get some low-fat vanilla almond milk in a blender.
Add 2 spoons of chocolate protein powder.
Slice some almonds and place in the blender.
Prepare a thick and stunning smoothie out of these ingredients.
Garnish with shredded coconut and make it taste delicious.
Drink this soothing and cool smoothie for awesome muscles and low-fat drink.
This is one of the most nourishing and nutritional homemade protein shakes for muscle building which are low in calories and would get you a handsome amount of protein. Revitalize your body after a heavy workout with this awesome smoothie and you would feel fresh, hydrated and extremely joyful after consuming this smoothie. It consists of around 300 calories and 30-40 grams of protein!
7. Strawberry Banana Smoothie
We are simply in love with the refreshing and tangy taste of strawberries. These amazing berries would fill you with protein and vitamins giving your workouts a natural boost! Your body would require some nutrient rich drink after heavy workouts which you can get with this awesome smoothie! Try this refreshing fruity and delicious smoothie and kick start your workout regime with a bang!
Ingredients-
Strawberries, Greek yogurt, bananas, whey protein powder, honey
Recipe-
In a blender add 2 cups of strawberries.
1 cup o plain or flavored low-fat Greek yogurt.
Add half cup of sliced bananas.
2 spoons of whey protein powder, any flavor you like.
Add half spoon of honey for sweetness.
Blend these ingredients and prepare a thick and nutrition rich smoothie for a healthy post-workout hydration!
If you love the combination of fruits and ingredients which can get your body a low-calorie muscle building benefits, this is the smoothie you can try. The calories in this smoothie are under 400 and the amount of protein is around 40 grams. Go for this smoothie and fill your diet with some enriched drinks!
Here are all the amazing and delicious smoothie recipes and details about the importance of homemade protein shakes for muscle building which would make your workouts more effective. Along with your workout regime, complement these smoothie recipes and get the most out of your workouts!
Related Posts