Every one of us loves the beautiful garden spaces of our home studded with some mesmerising plants and flowers.  Garden is the space which it gives you peace after a day full of work and hectic schedules.  It gives you small pieces of memories and peaceful time reminding you of your family, friends and close ones. Adding beautiful flowers and plants to your favourite garden space not only enhance the beauty of home but it also gives you numerous health benefits, it helps you in building new ideas and much more. Hence we bring here useful plants for home.
Plants have strong and immense air purifying properties which makes air pure and breathable. Transform your garden into a lush full and blissful heaven with these glorious plants and flowers. Try some cool changes in our garden space by adding these beautiful flowers and useful plants for home which can give you uncountable benefits and lovely fragrances. I'm sure you are going to love them!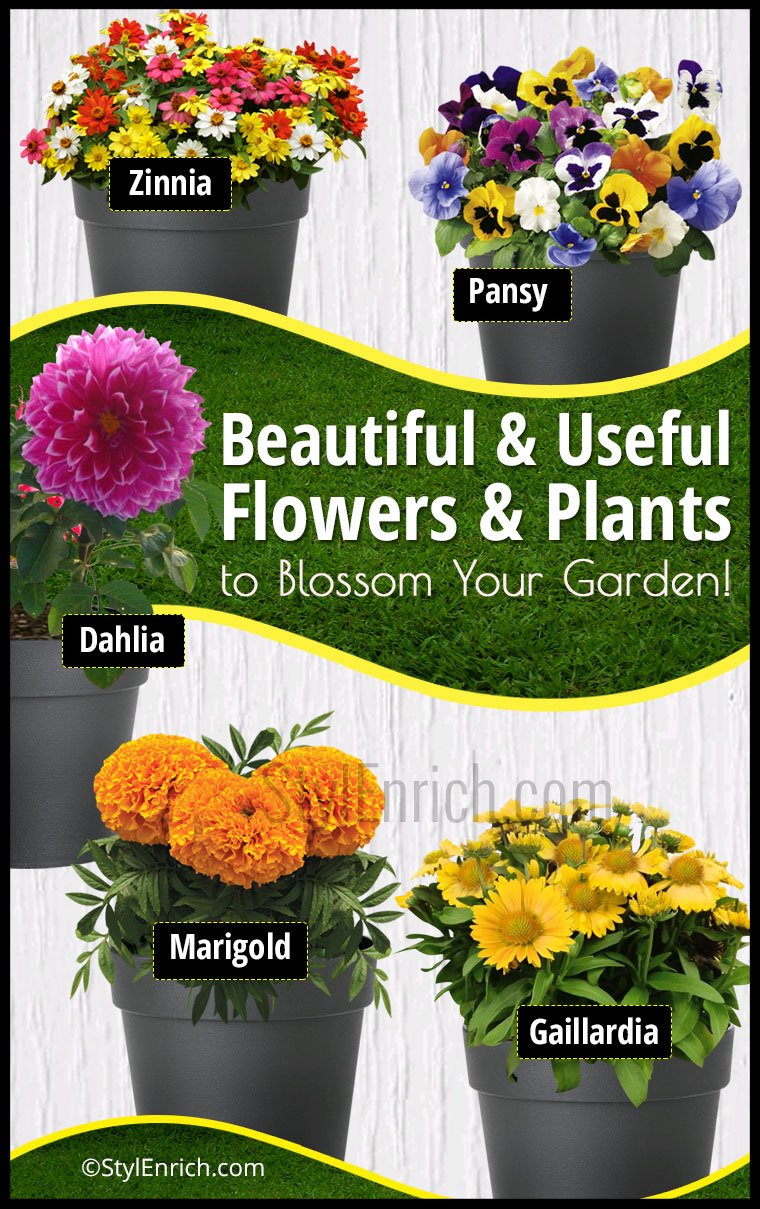 Useful Plants For Home And To Blossom Your Garden!
1. Pansy
Pansies are also known with different names like Bird's Eye, Heartsease, and Love- in-idleness etc.  They have amazing healing and blooming properties. Here are some amazing features and benefits of planting pansies in your garden.
This plant is available in lovely and beautiful colours like yellow gold, orange, purple, violet, red, white, and the dazzling dark purple shades.
Pansies grow well in summers up to 9 inches in length. It grows by steps with stem, roots, flowers and seeds.
This amazing plant is used as herb in preparing tea and salads as it consist of high Vitamin C, Minerals, tannin and essential oils.
It is an easy task to grow and maintain pansy plant. It is also used to cure many harmful diseases like arthritis, lungs, stomach and breast cancer.
You can use it in various drinks such as tea and as a healing juice with honey and lemon juice for high blood pressure and epilepsy.
Wondering how to grow Aloe Vera at your home? See here the details…
2. Zinnia Plant
Zinnia is beautiful plant popular as garden flower, available in amazingly attractive and eye-catchy colours! This mesmerizing plants form the daisy family and its charm will make you go crazy! Here are some amazing facts and benefits of planting Zinnia plant in your garden.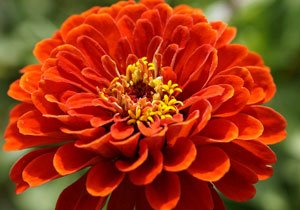 The zinnia plants can stand hot and humid temperatures and make your garden look flawless.
They are available in yellow orange, purple and red shades while making your garden look sun kissed shiny at the times of sunrise and sunsets!
Zinnias are easy to grow and easily can be grown using seeds. They can resist insects and would make your garden beautifying paradise.
If you love the stunning butterflies roaming around your gardens, the zinnia plants attract butterflies and would make your garden look heavenly beautiful!
If you have a vegetable garden, the zinnia plants would bets complement your garden and you won't need a separate place to grow your favourite flowers!
Also if you are concerned about the insects which can damage your vegetation, this plant would attract a lot of birds which would eat up the insects and bugs!
Thus with vibrant shades and numerous benefits, this plant comes with lots of benefits for your garden!
3. Marigold Flowers
The marigold is one of the most beautiful and useful plants for home which can transform your garden into a dreamy world! This plant is available in such numerous variations and types which would simply make your day when you have a look at your garden every morning! Here are some amazing things which would make you addicted to these plants.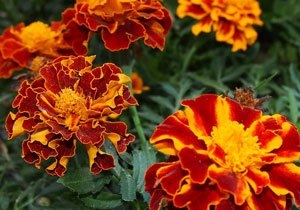 The beautifying marigolds cab grow up to 2 m length
They blossom in orange, white, golden and yellows colours with the natural red highlights
The marigolds generally don't have great fragrance but looks adorable in the gardens
These plants are generally planted with tomatoes to fight the insets and bugs while preventing the vegetation
The amazing shade of this flower is as a added colour in ice creams, juices and such edibles
These plants and flowers are widely used in decorations at festive celebrations and weddings
Marigold is used in treating various skin issues like eczema, dermatitis, rashes, blemishes and much more
Also its herbal properties can heal swelling and pain in several areas
Eye infections and inflammation can also get battles with this flawless flower
If you are worried about your skin and sun burns, use this flower for herbal soothing benefits
Marigold tea is amazingly delicious and herbal which would get your body fit and healthy
General infections and disease like cool, cough and fever can would never affect you if you consume this herbal tea
If you plant this amazing flower in your garden, you can use it on many ways and make your garden look gracious with its stunning shades!
Amazing Health Benefits of Banana Flowers that you must know…
4. Bee Balm
You must have seen these stunning and glorious plants in some salad dressings and gardens. The bee balm plants are extremely beautiful and eye pleasing. This plant not only looks adorable in the gardens but also it has some medicinal and herbal benefits which you would surely like to know. Here are some facts and uses of bee balm plant.
This plant is used in food flavouring and garnishing.
The bee balm plants have incredible fragrance and is an aromatic plant which would freshen up your garden as never before.
The leaves of this plants are used in preparing herbal tea.
This plant is a cool anti septic ingredient which can heal various infections, gas issues, cold and cough problems, nausea and sleeping disorders.
Inhaling the aroma of this plant can get relief in painful throat, inflammation in the throat and such issues.
The aroma of bee balm plants would fight mosquitoes and prevent them to enter your house!
The leaves of this plant can get you relief in sun burns and similar issues.
This plants amazingly attracts the butterflies and birds which can fight the insects which damage your farm.
At this amazing plant to fight gum issues and infections!
These are the cool benefits of this plant which makes it in this list!
5. Gaillardia
Gaillardias are beautiful and divine plants which would simply transform the look of your garden. These amazing plants have pretty natural shades which make it look extremely pleasing and eye catchy.  Form the sunflower line, this beautiful flower looks mind boggling! Here are some amazing facts and interesting things about this beautiful blanket flower you need to know!
They are grown with beautiful lengthy green leaves and in various shades like orange, red and yellow
The shades and highlights in the flowers can vary in peach purple and bright red shades
The gaillardia plants can length about 30 inches
There are beautiful names given to the variations of this flower based on their colours like oranges and lemons, fanfare, Ariziona sun, tokajer and much more
They are used for decorations and also they attract beautiful butterflies to fight bugs and insects
These plants require high sunlight and beautifully drained soil to grow and stay maintained
If you want to make your garden look heavenly, this plant is a must to include!
6. Vervain
If you are looking for a bunch of aesthetic flowers and useful plants for home which can grace your garden, go for these beautiful vervains for a classy garden. Found in some extremely lucrative and gorgeous shades like pink, purple and blue, these flowers would simply melt your heart! Here we present you some of the coolest herbal benefits of vervain you must know!
Vervain tea is quite popular in America and Asian countries. It is used as a healing herb and thus a fresh brewed cup of vervain tea is going to make you feel awesome.
If you are looking for a soothing rink, the vervain tea would calm your senses and get your mood pleasant instantly.
Also if you are suffering from insomnia, sleeping disorders, stress, anxiety and similar issues, drink this herbal juice for quick results.
This herb would get all your stomach issues solved within few consumptions.
This anti inflammatory ingredient would make you feel relaxed while suffering from cold, cough and fever.
This is a cool detox ingredient which can help in reducing the toxic substances and get you a flawless fit body.
The plants have strong and sharp aroma and they blossom during springs and summers.
There are numerous species of vervain among which the gardening vervain is used specifically for garden plantation.
The vervain plants are generally considered as holy and pure plants.
Thus if you are looking for a beautiful and refreshing plantation, go for this amazing option.
7. Dahlia
We simply love this bushy and fluffy flower which can enlighten and bright up your garden as never before. These pretty useful plants for home have several uses and look amazing in the gardens. These are the common garden plants which are found in numerous gardens all around. If you are considering having this beautiful plant in your garden here are some amazing things you need to know!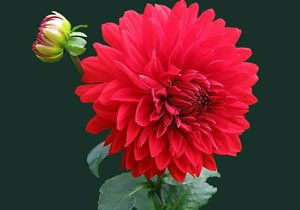 Dahlia plants are generally found in Mexico and Colombia
Generally these flowers are used to dye fabrics with amazing shades
This plant is generally used for cooking and garnishing purposes
On ice creams, yogurts and such delicious edibles, this plants has its extracts and look taste awesome
The dyes available from this beautiful flowers are golden, and yellow
If you want to blossom up your garden in summers, go for this amazing plant which would make your garden look lavish and simply mesmerizing!
8. Lavender
If you are a lover of fresh aromatic and stunning lavender shades, this is a beautiful plant which you need in your garden. This amazing plant can be complemented with other various useful plants for home and get your garden a flawless look. Here are some tips and benefits of lavender for your garden.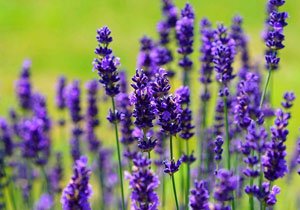 Lavender plant are amazingly aromatic and can refresh the entire garden with its mesmerizing fragrance.
Rich purple deep blue, red, pink and beautiful white are the shades of lavender which you can consider.
Lavenders are generally complemented with roses which together makes a lavish garden look.
The mesmerizing fragrance and heart melting shades of these plants would make your garden look adorable.
Lavenders are generally complemented with sunflowers, hot pokers, santolin and such amazing flowers.
The lavender plant is extremely easy and quick to grow.
The lavender plants are insect, mosquito and bug repellents.
The famous lavender essential oil is an amazing oil which can be used for skin, hair and body.
You would feel relaxed, calm and extremely peaceful while breathing in your garden with these beautiful plants.
The deep small of lavender oil would make you feel asleep soon and help in dealing with sleeping issues.
The famous lavender tea is an amazing anti bacterial tea which can solve stomach issues, bacterial infections and other aches.
For a relaxing spa bath, go for this ingredient and you would feel relaxed all the day long.
This aromatic and refreshing plant would brighten up your life with numerous benefits and would make your garden look as a paradise! Go for this plant and make people envy of your adorable garden!
Thus here are some of the most amazing and refreshing useful plants for home which you can get in your garden. These useful plants for home with dazzling shades, beautiful companions of vegetation, aromatic elements which would never fail to make your home look precious! Along with the stunning benefits for gardening, many of these plants are medicinally used as herbs for treating various bodily issues! Go for these flourishing plants and make your garden filled with some worthy and natural beautifying elements!
Related Posts