Are you one of those individuals who struggle every morning in-front of the mirror unable to decide what colored clothes to wear today? Its true that your clothing color creates a huge impact on your overall personality by defining the body traits. What colors you wear tell many things about your character and your mood. Choose Right Colored Clothes and your personality will look very different! Most of the times the colors are chosen for the reasons like –
Because you like the color.
You do not have that color dress in your wardrobe.
People say you look good in that color.
Just because somebody has gifted you that dress that is too expensive.
To know what colors look good on you, let's see how to choose clothing color…
Isn't it true?
Most of the times choosing the Right Colored Clothes according to your skin tone and hair color, and personality is never given any importance. It is a fact that if you wear the colors of your choice you will look and feel more confident and appealing. You can look at your best by wearing flattering colors. Selection of best clothing colors can make your skin glow and eyes sparkle by pulling up your entire look.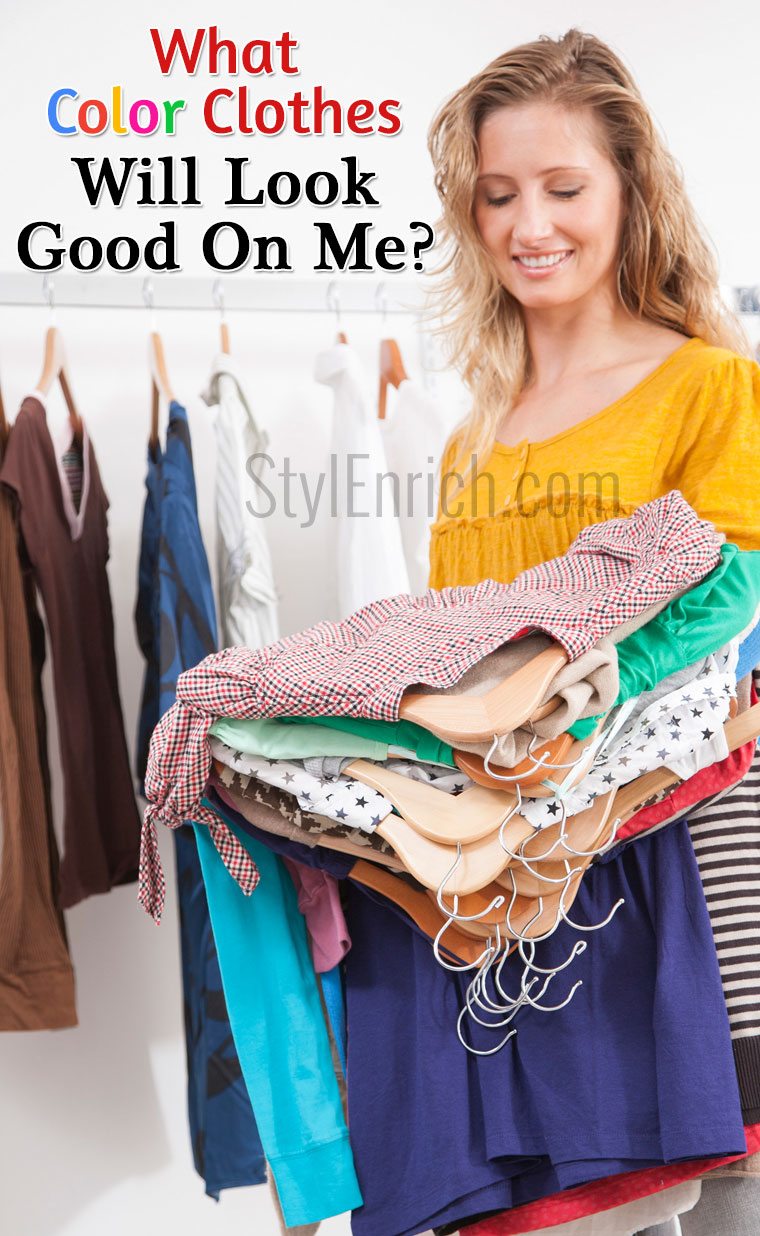 Impact of Choosing the Right and Wrong Colors on You
When You Select Right Colors
Your hair, eyes and skin will glow.
Less make up is required as it will help in reducing the imperfections.
It will make you appear bright and alert.
You feel more cheerful from inside and that will reflect in your performance and behavior.
When You Select Wrong Colors
It gives a drained look to your hair, eyes and skin.
Highlights imperfections.
It will fade your face into the background.
You will feel less confident and your appearance will be gloomy.
Check out this color selection guide and choose which color is right and looks the best on you.
You will love to find here the best dresses for wide hips females…
Choose the Right Colored Clothes as per the Color of Your Hair
You have to take into consideration this fact that the color of your hair plays a vital role in choosing your right colored clothes.
1. Black Hair
Black is the most common hair color and hence while choosing the clothing colors for this hair shade becomes little tricky. Shades of Royal Purple, True Red and Emerald Green and Silvery Pastel Shades looks great with this hair type.
2. Brunettes
You can wear a wide variety of colors which include Greens, Chocolates, Blues, Oranges, Pinks and Brown.
3. Blondes
Bright shades of Yellow, Oranges and Rusts as well as Tans and Taupe, will look good on you.
4. Redheads
Colors like Brown, Orange, Taupe, Ivory and Green look good on redheads.
5. Grey Hair
Bright colors work well on people with Grey hair. You can choose your right colors from the wide variety of Red, Rose, Plum, Purples, Berry, Bright Blues, Clear Greens and Bold Golds. You also have an option to select from Black and Navy Blue but avoid colors like Beiges and Tan, Greys and Pastels.
Choose the Colors According to Your Underlying Skin Color
Your underlying skin tone plays a major role in determining the right color of clothing for you. In order to find out your skin tone color, just pinch your skin at the earlobe or the back of your hand or the tip of your finger. The skin color which you are able to see by applying this method is your underlying skin color.
1. Cool Colors
If your underlying skin tone appears as blue, pink, red-violet or rosy tones then you will look best in cool colors.
2. Warm Colors
If your underlying skin tone appears as peach, golden, bright warm red or coral tones then warm colors are the ones which will look good on you.
Compare a Number of Colors Against Your Skin
Though a wide variety of colors are available to choose, the right color is the one that matches to your hair color and skin tone. But you would also like to choose from a range of colors which are based on the tone of your skin. Wearing colors according to your skin tone not only gives you the needed glow but also helps you use the right makeup. The good news is it is not that difficult a job to identify your skin tone.
Your skin tone can be basically divided into 2 categories.
1. Warm Skin Tone
You have a high amount of Melanin (skin's natural color providing pigment) and most likely you fall under the olive–to–yellow skin tone, who tan easily but do not burn and are like those of the women from African –American descent or Indians. They are women with a deep ebony skin and can easily pull off espresso and bronze shades easily. They are very close to people with an olive like undertone.
2. Cool Skin Tone
Contrary to the warm skin, this type of skin burns easily in the sun as it has lesser melanin and thus making it sensitive to the sun. They often have redness signs and flush easily.
How to Check Skin Tone?  – A Short Test for Skin Tone Identification
Take a variety of different colored fabrics.
Now stand in front of the mirror which is kept in the natural light.
Now hold all the colors one by one against your hair and skin.
Observe each color carefully.
Choose the colors which give you a healthy look sparkle in the eyes and your skin seems to glow.
Avoid the color which gives you an unhealthy, tired, washed-out, pale or swallowed look.
What Colors Look Good on Me?
Knowing which colors look good on you can be a dilemma. Sometimes when you shop, you pick an outfit that you like but when you try it on, your heart does not allow you to wear it. We give you the ultimate guide for suitable colors for you.
We give you here some important wardrobe essentials for building a wardrobe in a way you never did!
The Right Colors to Wear If You have Fair Skin
Pick –
Colors like Olive, Beige, Brown, and Bright Green adore your skin tone. If you have peach undertone flaunt colors like Cobalt blue, subtle red or light pink. Burgundy, wines, berries, wild purple and black give a striking contrast to your skin.
Toss –
Metallic silver, very light shades and neon hot pinks and neons in pink, fuchsia and green are a NO!
The Right Colors to Wear If You have Medium/ Olive Skin
Wondering how to wear the right colored clothes according to your skin tone? If you are blessed to have a medium or Olive skin tone. Most of the colors match with your skin tone so you have a wide range of colors to choose from.
Pick –
Any shade of bright red, orange or pink will help you enhance and bring out the bronze of your skin. Don't fear away from wearing Crisp white. Rich and opulent shade of Bright dark green Electric blue, scarlet look good on you any day. Warm colors like orange look good on you.
Toss –
Colors like black, brown, charcoal and gray won't look good on you. Avoid beige, camel and khaki too!
Knowing which colors look good on you and including them in your wardrobe creates an extremely significant impact on the way you feel and your overall look. When you wear colors that complement your skin tone, you feel your best and look your best.
Got some right colored clothes styling options to share? How about sharing this article with your friends on Social Media then? Please put it down in our feedback section and you never know, we may love your idea and give it place in our work, and give you credits!
Related Posts