If you still use the cosmetic products and swear on their amazing impacts, you must know about the proud Indian beauty secrets which the world follows now. Indian beauty care has always been about natural ingredients including herbs, flowers, vegetables, fruits and all such natural ingredients which would keep a woman glowing and mesmerizing forever! From fighting skin issues to preventing skin aging, these beauty hacks would simply redefine your beauty and make you look adorable as a princess! The traditional beauty hacks from Indian history are worth trying due to its multiple benefits and awesome natural ingredients. If you are still unaware regarding the beauty hacks which emerged and evolved in India and now people follow these hacks crazily, here are some promising ones you should know!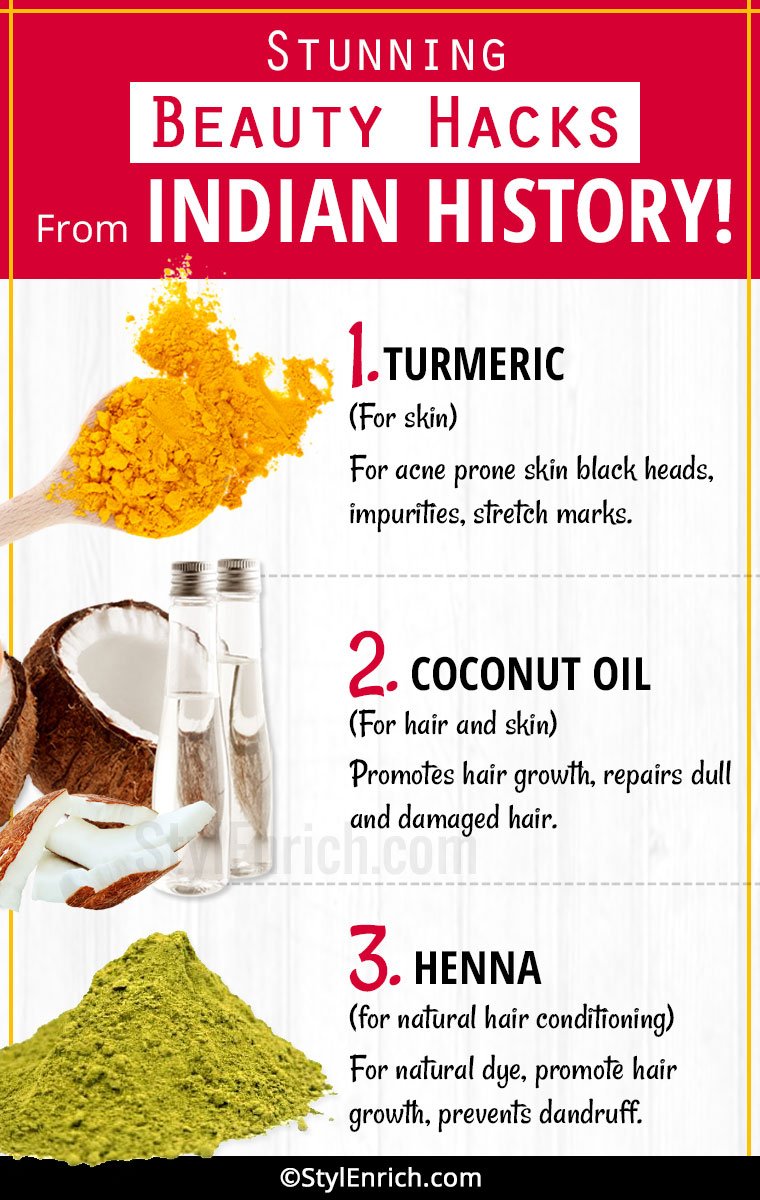 Beauty Hacks From Indian History
1. Turmeric Use For Skin
We all love this amazing ingredient which is grown as an herb and used in uncountable ways. From food to skin, from hair to healing processes, turmeric powder is simply a master of all the beauty benefits! Turmeric is a healing ingredient with anti bacterial, anti septic, healing and anti biotic properties which can make your skin desirable and enviable as never before. There are face masks prepared from turmeric to fight various skin issues and for a flawless complexion! Here are some awesome turmeric uses and benefits which would make you swoon over this magical ingredient.
Beauty Hacks Of Turmeric
Turmeric is used since eras for fighting extreme greasiness, acne prone skin, acne marks, and pimples.
Turmeric is an amazing ceasing ingredient which is used in various scrubs to fight the dead skin, black heads, hidden dirt and impurities
Turmeric powder is applied on face as an anti-aging treatment which prevents wrinkles, saggy skin and other signs of aging
Turmeric powder is miraculous in fighting stretch marks
For glowing skin, brighter complexion, even toned skin and gorgeous glow on the face, turmeric powder is applied!
2. Coconut Oil For Hair And Skin
Indians can extract some uncountable uses fro coconuts. Consider it coconut water, coconut milk, coconut pulp or coconut water; we have coconuts giving us miraculous benefits everywhere! Coconut oil was used in India since long where princesses and queens used this magical oil for various skin and hair treatments. With nourishing, conditioning, hydrating and cleansing properties, this cool oil is used for hair growth and skin care regularly. Coconut oil is filled with omega 3 fatty acids, enzymes, nutrients and minerals which can make the skin and hair glorious! Here are some awesome applications and uses of the king of all oils coconut oil Indians love!
Beauty Hacks Of Coconut Oil
Coconut oil is used in massaging the hair for promoting hair growth and nourishing the scalp.
Coconut mask is used for preventing premature graying of hair and to make the hair more stronger, shinier, thicker and lengthy.
Coconut oil is used as a stunning moisturizer which can repair dull, dry and damaged skin in a go.
Women loved the coconut oil bath for detoxification.
Coconut oil is applied on the face for fighting skin aging and to make the skin firm and tighter.
With several other ingredients, coconut oil is used to deep condition and moisturize your hair.
3. Henna For Natural Hair Color And Conditioning
Henna powder is one of the most amazing and awesome ingredients which Indian women love to use. With its miraculous benefits over the hair, this cool hair brightening and conditioning element would never fail to charm you! Previously when artificial colors were not available women used to dye the hair with henna for a bright burgundy, red and oranges shade. Also, this amazing ingredient extracted from plant would make your hair super smooth! From hair packs to hair dye, henna is used in numerous ways for hair which you must consider!
Beauty Hacks Of Henna Powder
Henna is used as a natural dye which can be used with different ingredients for hair dying. Shades like burgundy, red, orange, brown etc can be achieved while using henna powder with ingredients like coffee, tea, lime juice and beetroot.
Henna mask is used to promote hair growth as it conditions and nourishes the hair scalp.
Henna makes the hair stronger, longer and bright with every use.
Henna masks can prevent scalp issues like greasy scalp, oiliness, scalp acne, dandruff etc.
Henna powder would make the hair strong from the roots and would prevent brittle hair and hair dryness.
4. Fuller's Earth
Indians swear on this amazing ingredient which can get multiple benefits over the skin and hair. This is a natural earthy element consists of natural minerals and ingredients which can revitalize your skin, nourish your hair and get you beautiful benefits! For a flawless and stunning skin and hair, this ingredient is used widely by women. Here are some uses which would get you addicted to it!
Beauty Hacks Of Fuller's Earth
Fuller's earth makes the skin free from greasiness, stickiness, pigmentation and oily skin.
Fuller's earth absorbs oil from your skin and makes it super smooth, radiant and refreshing.
This is an amazing ingredient which can make the scars and marks get disappeared.
Fuller's earth is used in beauty baths to enhance the skin beauty and for detoxification purposes.
This ingredient also brightens the skin and get you even toned complexion.
Fuller's earth is used to fight scalp issues, to promote hair growth and to make the scalp clean and clear.
You can also use this amazing powder to fight skin aging and get a blissful instant glow!
You may love to read about the benefits pf Queens Flower.
5. Rose Water And Rose Petals
We have always heard about the Indian queens using rose water and rose petals for multiple benefits. Lying in the lavish bathtubs, Indian women enjoy the freshness and glory of rose water. Roses are extremely beneficial for skin and would never fail to enhance the beauty at a new level! Rose water is an amazing and traditional beauty hacks from Indian history which women rely on!
Beauty Hacks Of Rose Water
Rose water is widely used as a skin toner which can get you fresh, even-toned and bright skin forever. It is paired with sandalwood powder frequently to get a mesmerizing glow!
For fighting acne, pimples and dry skin rose water or mask is used which would fight such issues and sooth your skin.
For sparkling and beautiful eyes, rose water is applied under the eyes and on the eyelids.
For repairing dry, undernourished and dull skin, rose water masks and rinses are used.
Women love to have a bath with the tub filled with cool rose water and rose petals for amazing glow on the skin.
To sooth your senses and to make your skin adorable smooth, this is the ingredient you can rely on!
These are some beauty hacks from Indian history which we always love to use. We have treasure of beauty secrets with some miraculous ingredients which can work wonders on your skin and hair while making you look picture perfect. Try these beauty hacks and look admirable forever!
Related Posts