Bursting some myths about cleaning bathtub
Myth 1: Using bleaching powder for cleaning the bathtub is the best way of cleaning.
Fact: Bleaching powder only kills the germs and whitens the tub, but it doesn't work on cleaning the grime and dirt on the tub surface.
Myth 2: Vinegar is only used for hardwood, stone and marble finishes and not the bathtub.
Fact: Vinegar is an amazing cleaner for bathrooms or says bathtubs. It not only removes the stains but also brings out its original color.
Myth 3: One can use a single product for the bathroom and the bathtub too.
Fact: This is a widely carried out mistake. The cleaner used for the bathroom tiles cannot be used for cleaning the surface of the bathtub as both come with different germs, bacteria, etc. Where one needs a strong cleaner, the other needs a mild one.
Myth 4: When using strong cleaners, you can wash the bathtub instantly.
Fact: While cleaning the bathtub, even the strongest or effective cleaner or product needs some time to work on the germs and stains of the bathtub. So, allow it to rest for minimum of 5 minutes before you properly rinse the bathtub.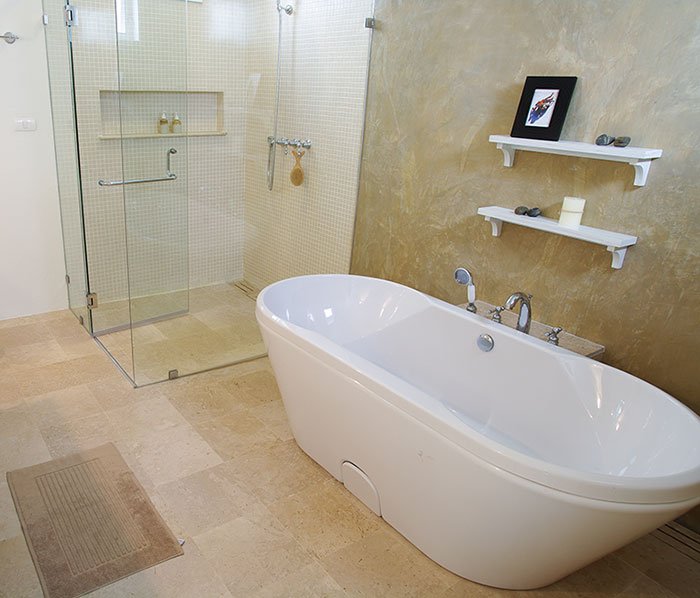 So How to Clean Your Bathtub?
What if you are given a lovely bathtub to relax after a tiring day? Awesome right! But just as the bathtub is used for relaxing and getting rid of the dirt and bacteria on the body, it is also important to clean the bathtub regularly for maintaining a hygiene routine. But is cleaning the bathtub quite simple? Just make a search on how to clean bathtub and you shall come to know that cleaning the bathtub includes much more than simply washing it with some products.
Yes, cleaning the bathtub not only means giving it that original white shining color, but also includes removing the stain, dirt, bacteria, mineral deposit, limescale, and other harmful particles for having a hygienic bath.
Are you also looking for some quick tips on how to clean the bathtub stains or drain? Let's today learn about it.
You may also like to learn how to clean a Cast Iron Skillet.
How often should you clean the bathtub?
Most of the people think there is no such requirement of washing the bathtub as when one has a bath it gets cleaned itself. However, that's not the truth. The frequency of the time period to wash the bathtub depends on various factors like its usage, number of members in the family, number of kids, and much more. A bathtub used by 3 to 4 people would require more cleaning sessions compared to the bathtub with a single user. Hence, on average, the bathtub needs to be cleaned once in a week.
Methods to clean bathtub?
When it comes to how to clean a stained bathtub or even a dirty bathtub, here are the various processes that would help you out with quick and effective cleaning. For cleaning the bathtub in a normal way, you would require things like a tile cleaner, grout brush, bathroom cleaner or all-purpose spray, cleaning sponges or clothes, and on an old toothbrush or cleaning brush.
So, have you got all these things handy? Put on your gloves and carry out the process below:
1. For normally cleaning the bathroom:
If your bathtub is acrylic, make sure you don't damage it by scrubbing it with the wrong brush.
Make sure you don't allow any kind of moisture in the bathtub while you clean it.
2. How to clean bathtub stains
While looking for how to clean a stained bathtub, the initial few steps remain the same. When it comes to working on the stains, here is what you need to do.
The paste can also be left on the stains for more than 30 minutes if they are quite strong ones. However, if you are looking for the removal of hard water stains, this process wouldn't be much effective. While looking for how to clean bathtub having hard water stains, you need to use ingredients like white vinegar and baking soda along with paper towels for deep cleaning. For the bathtubs containing rust stains, a mixture of lemon juice and borax powder would work miracle.
3. How to clean bathtub jets
The bathtub jets basically need cleaning when a spa is carried out in the bathtub. The process of spa leaves back tremendous of dirt that gets deposited in the jets. So, here is how to look after the jet cleaning.
One important thing to look after while cleaning the jets is not to rinse it. This would give your bathtub a sparkling outlook.
Some precautions you need to look after
While working on how to clean bathtub, here are some of the things you need to keep in mind for effective results without any damage to your bathtub.
So, are you ready to clean your bathtub? Do share your cleaning tips with us in the comments below.
Related Posts