Sandalwood is widely known for its wonderful aromatic fragrance. It is used generously in everyday life starting from auspicious occasions, in perfumes and incense sticks, in talcs and sunscreen lotions, and also in soaps. We have a wide variety of sandalwood for skin products in the market. However, the majority of these are applied for a getting a good aroma.
Sandalwood is rich in various nutrients for getting a healthy skin.  As we are not much aware of its use in skin care routine, we will learn about in detail now.
The nature of a sandalwood tree is semi-parasitic. It means that it readily takes in all the minerals from the surroundings. As a result, it becomes rich and fortified with essential nutrients.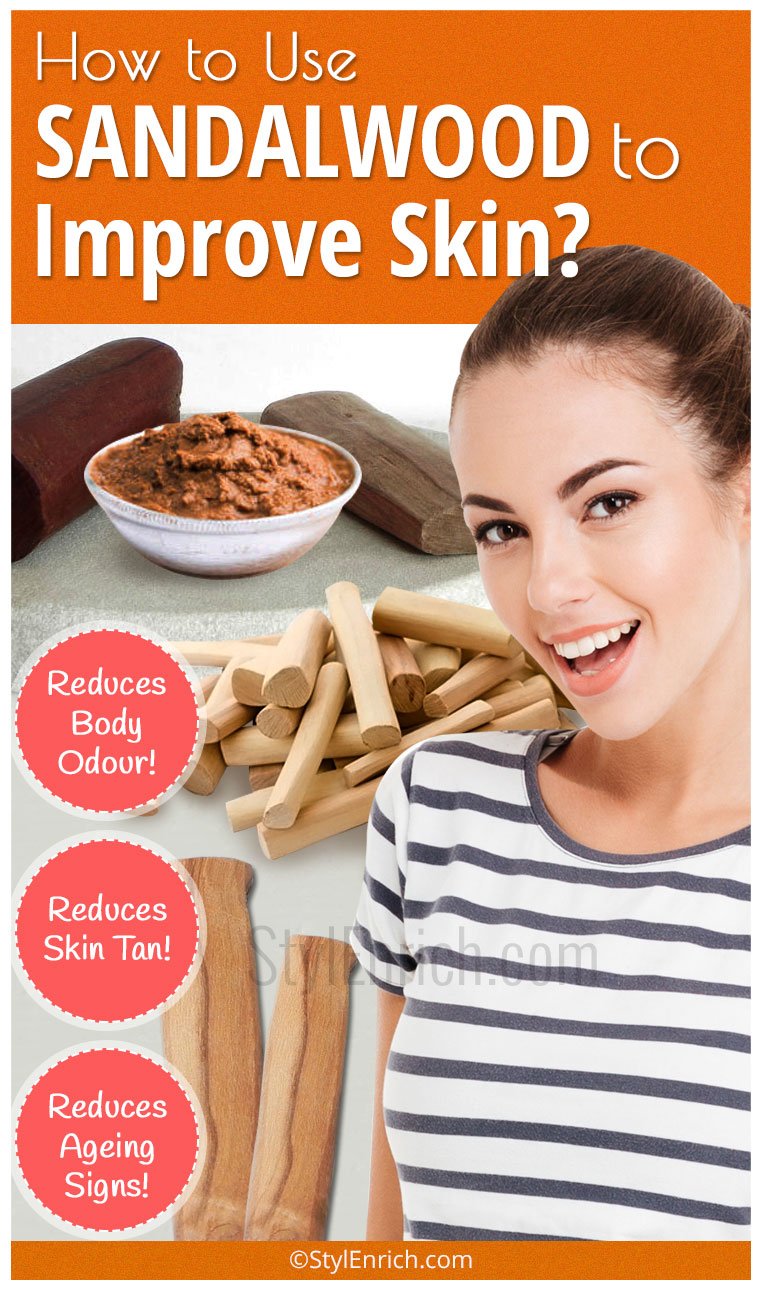 Properties
Potassium
Santalol
Essential oils
Oleic Acid
Uses
Also known as Chandan in India, sandalwood can work a miracle on your skin.
It is better to note that one should go for sandalwood powders and oils that are in authentic in nature. In the market, one can find that there are many sandalwood-related products that are fake and sold at reasonable prices. Sandalwood products are always expensive. Even if a particular product is expensive, one should check its authenticity before buying.
The significant elements of sandalwood are that it is antiseptic, anti-inflammatory and imparts a cooling effect on the person. It's strong and pleasant aroma will make you free from stress and worries.
Let us now go through some of the uses of sandalwood for skin care.
Sandalwood For Skin Care
1. Get a Flawless Skin
The majority of us are nervous about our growing acne, blemishes, acne spots and blackheads. Due to the sedentary lifestyle and busy schedules, we ignore a balanced diet and fitness regime. As a result, skin eruptions take place. It is embarrassing to check and hide those stubborn pimples. Sandalwood works wonderfully on the pimple-prone skin. It makes an effort to get rid of stubborn pimples after applying over a period of time.
2. Reduces Irritated Skin
In summer, itching, redness and irritation of skin is common due to scorching heat and resulting sweat. The cooling properties contained in sandalwood will soothe the skin irritation in no time.
3. Sandalwood For Skin Disorders
People suffering from skin disorders such as dermatitis or eczema need to apply sandalwood regularly. If you also have the problem of prickly heat or boils during summers, then sandalwood is the best solution to get rid of it.
4. Increases Skin Hydration
Rich in moisturizing properties, sandalwood offers sufficient hydration to the skin. It does not make the skin dry and stretched. In summers, you need to get rid of oiliness and sweat accumulating on the skin's surface. Sandalwood works effectively by balancing sweat and moisture on the skin. It removes the sticky content from the skin, keeping intact the necessary moisture. In case you have a problem of dull skin, then sandalwood for skin care is always recommended.
5. Reduces Skin Tan
Skin tanning is another common malady during summers. Our face and hands are the exposed areas that get easily tanned. Though it is difficult to remove this suntan, one can take suitable precautions beforehand. Sandalwood helps in lightening suntanned complexions and uneven skin tones. It also helps in removing freckles and dark spots resulting out of prolonged suntan.
6. Reduces Aging Signs
The common signs of aging are fine lines, wrinkles, dark spots, etc. Sandalwood is also known for youth-enhancing elements. Hence, it needs to be applied to decrease the signs of aging.
7. Reduces Body Odour
Another dreading problems in the scorching heat of summer are body odour. As we tend to sweat more during summers, it mixes with the oil and other dead skin cells, giving rise to body odour. It is embarrassing. It is not possible for us to carry and use deodorants all the time. However, application of sandalwood on the body while having a bath can reduce it.  Sandalwood's enchanting fragrance gets blended in the skin.
8. Stress-Free Agent
Sandalwood relieves a person out of stress, worries and tension. The mesmerizing fragrance leads to a stress-free mind. As we all know beauty lies in a stress-free and pleasant mind, it would be one of the best choices to use sandalwood in beauty care routine.
Applications
1. As A Regular Face Pack
We always look for a face pack that will lighten our skin tone and removes pimples, blemishes and acne spots. This is one of the simplest face packs for skin care.
Mix equal portions of sandalwood powder, multani mitti and water to get a smooth paste. Apply it on the skin and leave it for nearly 15-20 minutes till the pack gets dry. Wash the face with water. This will definitely help you in getting even skin tone and removing those stubborn pimples.
2. As An Acne-Removal Face Pack
Stubborn pimples are difficult to go away. Even if they go after taking their sweet time, they leave embarrassing spots on our facial skin.
Take equal proportions of sandalwood powder, turmeric powder, and water. Add a pinch of saffron to it for extra fairness. Apply this paste and leave it for not more than 10 minutes. This will work on your pimples and acne spots effectively.
3. For Prickly Heat
In case you face a problem of prickly heat or boils during summers, then make a paste of sandalwood powder and rose water and apply on the affected areas. It will soothe your skin.
4. As A Tan Remover
Mix 1 spoon of sandalwood powder with half teaspoon of almond powder and rose water. Apply this pack on your face as above to get rid of uneven skin tone, dark spots and freckles.
5. For Removing Body Odour
Instead of using chemical-based talcs and deodorants available in the market, one can apply sandalwood paste on your skin. It will not only calm down the skin irritation but also help you in getting rid of body odour. Your skin will gain a mesmerizing fragrance of sandalwood powder. It also decreases the amount of sweat and oil secreted by the skin during the summers.
6. For Reducing Dark Underarms
Frequent use of underarms hair removal creams, razors or waxing can cause constant friction on the delicate skin. Bleaching of underarm skin is not advisable at all as it can worsen the condition. Apply a paste of sandalwood powder mixed with rose water on the affected areas for 15 minutes and wash it off. Regular use of this pack can fade away those dark areas.
7. For Removing Acne Spots, Dark Spots, Blemishes And Freckles
Sandalwood powder can be mixed with coconut oil and lemon juice to form a paste. Apply it on the affected areas of facial skin and leave it for 5-7 minutes. Wash it off with water. This will not only reduce the unwanted dark spots but will also hydrate the skin with sufficient moisture.
Thus, sandalwood is like a boon during summers for skin care. It is better to keep a packet of sandalwood powder or a bottle of sandalwood oil handy during summers. It is a must for daily skin care regime during the summers.
Use of sandalwood is not limited to its aroma. The orbit of its use in beauty care regime is very wide. So, now need not worry about suntan, body odour and prickly heat during summer seasons because sandalwood for skin care is available!
Related Posts