Short hair has always been picked for getting that cute look on the face. They are also the best choice for the women who cannot manage long hair every day in the hassle of life. There are some people who would simply love to go with the short haircut styles, there are others who love it because of the number of hairstyles it comes with. From normal to party wear and occasional events, there are a number of cute hairstyles for short hair.
Here are some of the cute and easy to go with hairstyles you might love to carry.
Cute Hairstyles for Short Hair
1. Half Up French Braid
Image credit – http://bmodish.com/wp-content/uploads/2016/03/cute-woven-braid-short-hair-bmodish.png
This is a trendy hairstyle that can be made out easily and quickly. The hairstyle looks the best for bob cut hair when you want to keep your hair on the backside that doesn't disturb your face at all. For additional cuteness, you can also add some flicks or strands on the forehead, or make it messy.
2. Dutch Accent Ponytail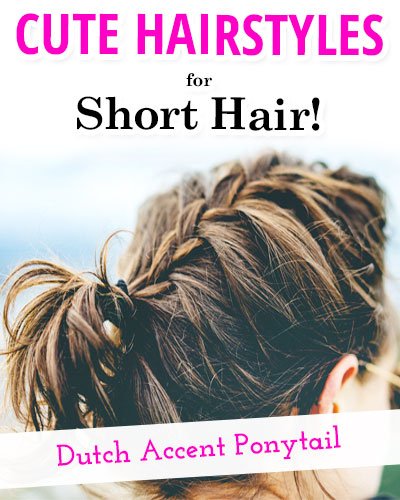 This simple hairstyle suits the short hair of any length. The ponytail is carried on the lower portion on the back side. The hairstyle is made by forming a braid on the sides and merging it with the complete ponytail. This helps the hair from falling on the forehead and is best carried on summers.
3. Side Twists Half Up
Image credit – http://images.more.mdpcdn.com/sites/more.com/files/styles/slide/public/s11_twisted_half_up.jpg
Super quick hairstyle, for occasional and routine wear, the side twists half-up hairstyle is popular among the messy hair looks for weddings. The hairstyle is simply carried out by twisting strands from the sides and gathering them on the backside of the head. The hairstyle can be decorated with other hair accessories further.
4. Side Braid With a Low Curly Bun
This formal hairstyle is also carried out for casual looks on any kind of western dress. The hairstyle comes with a side braid and a low bun which gives an astonishing look. You can also add further locks to your sides with curls. The hairstyle can be given a neat and messy look for a pretty look.
5. Simple Knot At the Nape
This wedding popular cute hairstyles for short hair can be achieved with tucking and backcombing which is much prettier for the thicker hair. When given some bouncing curls, the hairstyle makes wonders for marriage functions. The hairstyle is made with both clean and messy style according to your face cut as this style suits every face.
6. Knotted Updo
Image credit – http://2.bp.blogspot.com/-CcV6LS_-Ti0/Ug1GMOZOhJI/AAAAAAAAM5g/xnO0L5U6PxA/s640/Freckled_fox_hair_tutorial_hairstyle_easy_knotted_updo_8.jpg
This casual looking hairstyle with simple and cute knots gives an adorable look to the wearer. The hairstyle is easy to be carried out by forming three ponytails and twisting them into updos. You can also make this updo by twisting the ponytails into each other on the lower head section. The front hair can also be given flicks, strands, etc.
7. Simple Tucked Updo
Image credit – https://i0.wp.com/therighthairstyles.com/wp-content/uploads/2015/05/2-easy-bridal-updo-for-short-hair.jpg?w=500&ssl=1
Want to have this hairstyle? Simply take top layers from above your ears and fix them with an elastic. Make a lower ponytail out of the remaining hair and past the end portion of the ponytail through the centre top section of the elastic. Place a pin and you are ready to move out with a charming look. You can remove light strands from the sides too.
8. Curly Chignon and a Bouffant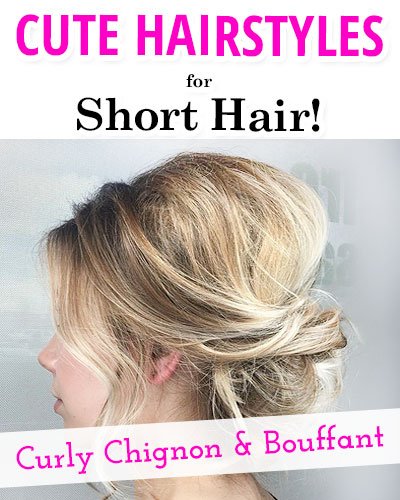 This is a secret way to steal the hearts of various in parties and similar occasions. The hairstyle is also popular for corporate events. For getting this dazzling hairstyle, you simply need to get that chignon with a curly touch and tease the roots of the hair for a bouffant. The women are also seen with side strands with a forehead curvy look.
9. Wavy Bobs With Two Side Braids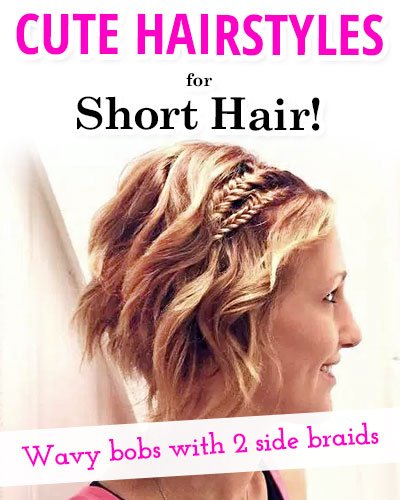 Image credit – https://i1.wp.com/therighthairstyles.com/wp-content/uploads/2014/07/11-red-wavy-bob-hairstyle-with-two-braids.jpg?w=500&ssl=1
This hairstyle may come with simple braids, but the waves add to the beauty of the look when carried. The hairstyle is made with simple braids that can be made on one side or both the sides, that can be loose, tight, messy, etc. The braids don't need any kind of rubber bands to tie up the braids as they can be interlocked with the wavy curls behind.
10. Braided Mohawk For Bob Haircut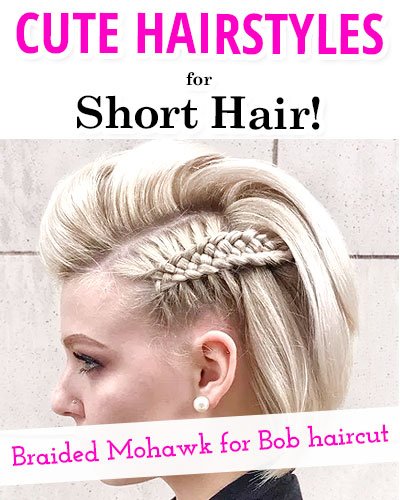 Image credit – https://i2.wp.com/therighthairstyles.com/wp-content/uploads/2014/07/4-bob-hairstyle-with-pompadour-and-side-braids.jpg?resize=500%2C500&ssl=1
The braided Mohawk hairstyle for the women with bob haircut is considered to be one of the soft, edgy and feminine braided looks. The hairstyle looks the best on women having an oval face shape or a flat one. The hairstyle is made by moving all the hair on one side and making the tight braid with few clean strands on the other side with firm partitions.
11. Curly Quads for Short Hair
A sensual look is achieved with this hairstyle. This simple to make hairstyle is designed by simply giving curls to your hair and combing it one side using fingers to give it volume and a messy look. The hair is left open and can be carried out for every kind of occasion or merely for outings on holidays. If you are looking for a quick hairstyle, you can make curls and leave it hours before moving out.
12. Clumsy Short Spiked Hair
Link –http://www.short-haircut.com/wp-content/uploads/2014/12/Cute-Easy-Hairstyles-for-Short-Hair_9.jpg
The spiked hairstyle is mostly adopted by the busy women who don't have enough time to spend on the hair. The hair in this hairstyle is trimmed similar to the spike cut hairs, which are further dressed with fingers for giving it desired volume. The clumsy hairstyle is the best for corporate events, official looks, and also for personal events, best carried on jeans or formals.
13. Top Knot for Short Hair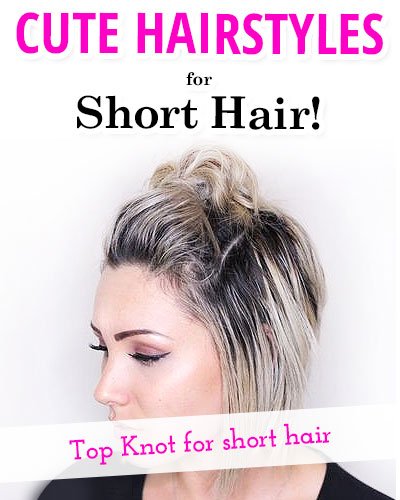 Image credit – https://i.pinimg.com/736x/fd/51/a6/fd51a6bef79be04bf48a925d0a0e2bea–short-shorts-top-knot.jpg
Want to give your hairstyle some height? This is the most prominent hairstyle that would suit you if you are having a diamond shape or oval face cut. The hairstyle is made by taking some hair from the top and sides to form a knot on the top of the head, while the remaining hair is left open. With highlights or dual shades, the hairstyle would give a chic look over casuals.
14. Loose Formal Updo With Curls
Image credit – https://i0.wp.com/therighthairstyles.com/wp-content/uploads/2017/05/7-loose-curly-updo.jpg?resize=500%2C523&ssl=1
This glamorous hairstyle is highly inspired by the 20's hairstyles. The hairstyle is themed mostly for parties and the highlight is the curls which come with either full or lower half folds. The hair is given curly folds that are tied into an updo and is also decorated with other hair accessories when carried for weddings. It is also the best for official events.
15. High and Half Updo
This hairstyle is mostly carried out for routine wear. It is both clumsy and messy where the hair is divided into two different portions, where the top part is given a loose and messy updo, while the lower portion is left free. For adding to the beauty of the hairstyle, you can add forehead flicks, curly side strands, and hair accessories.
16. Simple High Ponytail
High ponytails have been the best hairstyle when you are running out of time. The hairstyle is also carried out by the sportswomen that helps them in focusing on the game. For getting the hairstyle, one simply needs to comb all the hair forming a pony high on the head. Using a rubber, tie the pony tight. Take a strand of the hair and wrap the rubber with it, fixing the end of the stand with bob pins. There you are with a funky and pendulum ponytail.
17. Simple Side Braid
Want to return back to your school days? Here is a hairstyle that would surely remind you of your looks that time. The hairstyle is made with a single braid that is formed on the right side of the face. The hair in this hairstyle is divided from the front in two sides, where the side with much hair is bounded into a braid till the desired length. Carry this hairstyle in winters or summers during vacations over casuals for a completely younger look.
18. Inverted Bob Hairstyle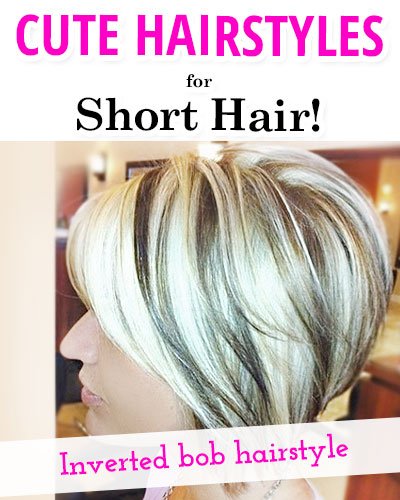 Image credit – https://i.pinimg.com/736x/89/ff/9d/89ff9d37662ffdb6fe199f72129831f1–inverted-bob-hairstyles-short-hairstyles.jpg
Looking for a sexy appearance for parties but worried about your bob cut? Here is the best hairstyle designed for your kind of hair. The hairstyle is given inverted bob ends by using a hair drier where the hair is parted from the sides. For more decorations, you can also use high lights for your hair giving a unique and modernized look.
19. Around Twisted Updo
Image credit – http://rossanoistanbul.com/wp-content/uploads/parser/Quick-easy-updos-for-short-hair-10.jpg
Want a quick updo using a headband? Here is how you can get this smashing look. Simply wear the flexible headband and wear it above the head. Remove the flicks from inside and start twisting the hair from inside the headband continuing till the end. Dress the flicks using fingers properly. Fix the ends of the hair using hairpins inside the headband.
Let's Know How To Make A Fishtail Braids Step by Step?
20. French Role for Short Hair
French roles have always been the best when looking for an occasional hairstyle that can be made quickly. The prime step to this twisting hairstyle is by giving a puff like look to the face on the top, while the rest of the hair is then rolled inwards for making that perfect role. The role is fixed using black pins and it can also be decorated using hair accessories.
So, are you also baffled by your hair and thinking to experiment something new? Take a look at the best hairstyle from above and get ready for a new look.
Read Next – How to Part Your Hair to Suit Your Face Shape?
Related Posts