Nobody wants to look old. But wrinkles will not spare you. It is not only age that cause wrinkles on the skin, but the pollution, negligence towards the skin care and environmental effects like sunburn, etc. are also responsible for skin damage and untimely wrinkles. Wrinkles are those signs of aging that start appearing with age. There are certain factors we can not avoid like going out for work and exposing our skin to sun and harsh environment, but we can minimize its impact on your skin with proper skincare. If you are suffering from the skin problems like wrinkles and fine lines, then this article is for you. We are going to show you how you can make a 100% DIY wrinkle cream all by yourself.
In order to get rid of fine lines and wrinkles, various creams are available in the market, but these are really expensive, and also contain chemicals and preservatives, which can do more damage than good to the skin. Wouldn't you be happy to find out some easy DIY Wrinkle Cream recipes that you can make at home and use on your skin? These are not only effective and cheap but are also completely safe for your skin.
So lets explore these skin care cream recipes –
How to Make DIY Wrinkle Cream at Home?
It is not at all difficult to find the ingredients for making the natural anti-wrinkle cream at home, and these will help in softening up the fine lines and wrinkles on your face, and leave your skin moisturized and fresh.
1. Anti-Wrinkle Cream Using Coconut Oil, Beeswax and Almond Oil
Most of the ingredients used in this DIY wrinkle cream are really effective and work well on the complexion and texture of the skin.
Ingredients-
Coconut Oil – 2 tbsp
Beeswax – 2 tbsp
Almond Oil – Quarter cup
Shea Butter – 1 tbsp
Vitamin E oil – ½ tsp
Any essential oil – few drops
Process-
Take a jar and put the ingredients in them.
In a pan, heat water till it starts boiling.
Place the jar inside the pan. Do not cover the jar.
Let the jar remain there till the ingredients are melted completely. Keep stirring occasionally.
After the melting process is over and the mixture is suitably mixed, pour it into a small jar.
Let it cool down so that the cream starts hardening.
Your homemade wrinkle cream is ready
Apply this cream twice a day, in the morning and night. All the ingredients used in making this cream are readily available in the market. The sweet almond oil makes the skin soft and revitalizes it. It also improves the complexion and the tone of the skin. The coconut oil has antioxidant properties, which is really effective for anti-aging. The Shea butter and beeswax have anti-inflammatory properties, which work wonders on the skin. And, the Vitamin E is always regarded as being good for the skin.
2. Anti Ageing Cream from Jojoba Oil, Apricot Oil and Rose Water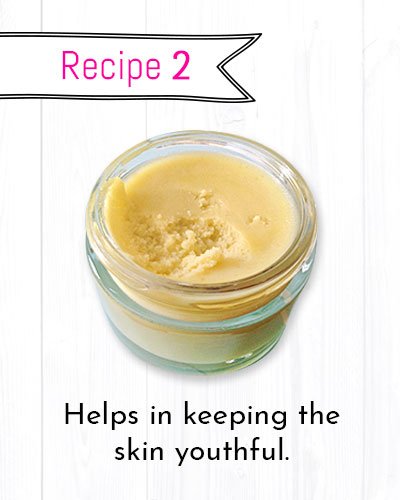 This is another recipe for a homemade anti-wrinkle cream, specifically for anti-aging and dark circles. The main ingredients include rosehip seed oil, which has fatty acids that help with moisturizing. It also has anti-oxidant and beta-carotene properties that help in keeping the skin youthful. Then, there is Vitamin A, which helps in regeneration of cells and fosters the collagen, while increasing the elastin levels. The other important ingredients are coconut oil, jojoba oil, apricot oil, rose water and carrot seed oil. These can help in firming up and smoothening the skin.
Ingredients-
Coconut oil – 1 Tsp
Jojoba oil – 2 Tsp
Apricot oil – 1 Tsp
Rosehip oil – 1 Tsp
Rose water – 2 Tsp
Beeswax – 5 Tsp
Carrot seed oil – 5 drops
Process-
Take a jar and put the ingredients in them, except rose water.
Take a pan of water and heat it till it starts boiling.
Place the jar, uncovered, inside the pan.
Let it remain there till the coconut oil and beeswax is completely melted.
Once the melting is done and the mixture is combined, pour the mixture into a small jar.
Allow it to cool down and then add rose water to it.
Once the cream becomes hard, you have your natural wrinkle free cream.
3. Yogurt, Lemon Juice Wrinkle Cream
Here is a recipe for another DIY wrinkle cream, which is really easy to prepare. This is one wrinkle cream that works wonders.
Ingredients-
Yogurt – 2 Tsp
Lemon juice – ½ Tsp
Dark Organic oil – ½ Tsp
Vitamin C Capsule – 2
Honey – 1 Tsp
Process-
Take a bowl and mix yogurt, honey and lemon juice and mix it thoroughly.
Make a hole in the Vitamin E capsule to remove the liquid from that and mix that too in the mixture.
Use this mixture to massage on the face and neck. Let it remain for about 20 minutes and then wash off with water.
4. Calendula oil and Beeswax DIY Wrinkle Cream
All the wrinkle creams work best during the night. So, here is another recipe for a night cream for anti-aging. This uses the frankincense essential oil, which is a natural wrinkle reducer and is useful for removing the wrinkles. And, the lemon in this recipe is useful for clearing the skin and in improving the circulation. It is also effective in restoring the skin tone, along with brightening the shallow skin.
Ingredients-
Calendula oil – 30ml
Sweet almond oil – 45ml
Frankincense oil – ½ tsp
Beeswax – 20gm
Lemon essential oil – ¼ tsp
Calendula flowers – a few
Process-
Take a container and put the calendula flowers in them.
Pour a glass of boiling water on them and allow it to cool.
When this infusion cools down, use a strainer to strain it and then keep it inside the fridge.
Take a pan and melt the beeswax.
Add the sweet almond oil and calendula oil to it, and stir it with a spoon.
Add 2 tbsp of the infused water to it and continue to stir.
Remove the pan from the gas stove but continue to stir till it comes down to room temperature.
Mix the lemon essential oil and the Frankincense oil to it and give it a stir.
Keep stirring the mixture till it becomes cool and hard and then stores it in a jar.
Use this cream to massage your face, eyes, forehead, and neck.
Try to use up this cream within 15 days.
5. A Quick Short Recipe for DIY Wrinkle Cream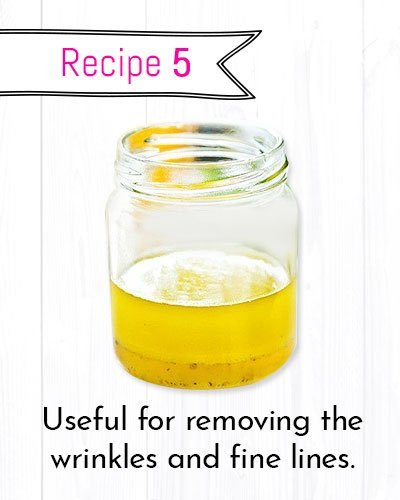 This recipe is another homemade face cream for wrinkles. This is not only useful for removing the wrinkles and fine lines from your the face but is also effective remedy on dried hands and cracked heels.
Ingredients-
Honey – 1 Tsp
Sunflower oil – 1 Tsp
Lemon juice – ½ tsp
Process-
Take a bowl and mix all the ingredients.
Massage this on your skin and let it remain for about 5 to 10 minutes.
Rinse it off with water.
These were some of the DIY wrinkle cream recipes, which are quite easy to prepare and contain no preservatives. Store them in the refrigerator and use them in 15 days.
Read more – How to Get Rid of Forehead Wrinkles Naturally?
Related Posts