If you love to wake up in the midnight just for few scoops of the mouth watering desserts hidden in your refrigerators, you are just one of us! The delicious brownies, pancakes, waffles, ice creams, cakes and such extraordinary recipes can get anyone addicted! The sweetness and taste of these amazing desserts can make us forget the nutrition content. We are all aware of the calorie rich content of these desserts but we always forget to consider it! So, let's see here some amazing high protein dessert recipes.
There are some yummy high protein dessert recipes and nutrient rich if you are on a diet. If you haven't heard if protein rich desserts yet, here we have some extraordinary dessert recipes which you can consume without any guilt! These recipes would help in quenching your cravings for delicious desserts and will fill you with nutrients!
High Protein Dessert Recipes
1. Dazzling Milk Chocolate Protein Cake
I simply love this delicious and mouth watering dessert due to its high protein content. The inclusion of milk and some high protein ingredients in your desserts can make it extremely healthy!
If you love milk products and amazing baked milk cakes, add a twist of milk and cocoa to this dessert and consume this low fat high protein dessert with this cool recipe!
Ingredients You Would Need
5 spoons cocoa powder
Half cup apple sauce (low calorie)
1 spoon vanilla extract
1 cup almond milk
2 cups crushed and rolled oats
1 cup chocolate protein powder
1/4th cup sweetener
Half spoon baking soda
Few almonds, raising and chocolate chips
How To Make Delicious Milk Chocolate Cake?
Combine all the ingredients in given quantity.
Add these ingredients in a blender and blend them and prepare a smooth mixture.
You can place this batter in a cake dish or in the little cup cake containers.
Garnish your batter with few chopped almonds, raisins and delicious chocolate chips.
Place these ingredients in the oven and let it bake.
For Topping
Any dessert is incomplete without the frosting and toppings so here we have some delicious and low-fat toppings which you can load your cake with!
For topping you can add some low fat whipped cream, peanut butter or Greek yogurt and enjoy this mouth watering cake at nights!
Add some cherries berries and such amazing delicious and you would get addicted to this extraordinary dessert!
2. Delicious Chocolate Peanut Butter Protein Cups
This is such a crispy, crunchy and marvelous recipe which will make you feel hungry instantly. This recipe is a perfect combination of peanut sand chocolate which can never go wrong!
Within just an hour, you will get delicious cups filled with protein, minerals and different nutrients! Add your favourite peanut butter in your dessert and prepare healthy recipe!
Ingredients You Would Need
Half bowl chocolate chips. White or brown
2 large spoons vanilla protein whey
3 spoons peanut butter
Half cup powdered peanut butter
Half cup vanilla almond milk
How To Make Yummy Peanut Butter Cups?
Take a bowl and add vanilla almond milk, vanilla whey. Mix these ingredients until they become smooth.
Now add the peanut butter and mix well. Keep mixing these ingredients until you get a smooth batter.
Meanwhile, place a pan on stove and let all the chocolate chips melt.
Now, add this melted chocolate in the baking cups and place it in the freezer for 20 minutes until they get hard.
Now, place the peanut butter on the chocolate cups. Press the butter to get it covered by the melted chocolate from all the sides.
Also, top the cups and butter with melted chocolate and let it into the freezer.
Let it freeze for 30 minutes and grab some cups chilled, delicious and pleasing!
These nutritional and low-fat peanut chocolate cups would make you feel full and would boost up your taste buds! Also you can store these cups in your refrigerator and make your guests enjoy the taste of this delicious dessert!
3. Mouth Watering Strawberry Banana Muffins
If you love those tasty and delicious muffins which melts beautifully in the mouth, here is a muffin recipe which would simply get you addicted to it! This is a unique and smooth muffin which would get into your mouth and burst into stunning different tastes!
Especially if you love the saucy, juicy and yummy strawberries, this muffin would just get you crazy!
Ingredients You Would Need
2 fresh ripe bananas
2 spoons baking soda
2spoons flaxseeds
Half cup wheat whey protein
Half cup Greek yogurt
1 cup fresh juicy strawberries
1 egg
Half cup vanilla or almond milk
How To Make Strawberry Banana Muffins?
Preheat the oven 350 degrees and set your muffin tray with flour.
Take a bowl and add the bananas. Mash the bananas until they become smooth and easily blend able. Now add the egg, yogurt milk and vanilla extract in this bowl.
Keep mixing the ingredients until they turn into the easy and smooth batter.
Take a bowl and add all the dry ingredients in this bowl. Add the wheat flour, flaxseeds, roasted and crushes, protein powder, baking soda and pinch of salt and mix these ingredients well.
Mix the ingredients of both the bows and mix it smoothly. Now add the crushed berries into this dough mixture and slightly blend with hands.
Pour the mixture into the tray and in every muffin, place a toothpick to make sure it is completely baked.
When the muffins turn slight brow, fluffed and when the toothpick comes clean when you remove, get all the muffins out.
Eat this banana and strawberry muffin and fall in love with this delicious homemade high protein dessert recipes!
4. Healthy Cinnamon Oatmeal Protein Roll
This is an amazing and magically healthy recipe which consists of oatmeal and the tasty cinnamon spice! This extraordinary recipe would fill you with nutrients and would increase your protein intake with few calories. This amazing and quick recipe can enrich your dessert time with the spicy and sweet flavour! Thus, try this extraordinary healthy recipe and add value to your desserts!
Ingredients You Would Need
Half cup rolled oats
1 cup water
4 spoons sweetened cheese cream
1 spoon vanilla extract
2 spoons vanilla whey protein
1 spoon cinnamon
1 spoon coconut sugar
How To Make Cinnamon Oatmeal Protein Rolls?
Take a pan place the oatmeal.
Add water and half spoon vanilla extract and boil these ingredients.
When the oatmeal is little cooked, reduce the flame.
Take the oatmeal off the flame and let it get into normal temperature.
Now add the cinnamon, vanilla and protein powder in the oatmeal. Add little water and mix it till it gets thicker.
Take a bowl, add some cream cheese and vanilla extract and mix it thoroughly.
Add the oatmeal cinnamon mixture in this paste and mix well.
Eat this mouth watering dessert with some chocolate syrup on the top and enjoy your night time snack!
5. Yummy Pumpkin Protein Bars
If you crave for the protein bars, here is a delicious pumpkin protein bar recipe which would satisfy your hunger for the nutritious protein bars with a twist of pumpkins! This is an awesome recipe which you can try as a healthy substitute for your high-calorie desserts. This would crave your hunger and would make you feel delightfully full!
Ingredients You Would Need
Half cup organic honey
Half cup unsweetened apple sauce
1 spoon crushed cloves and cinnamon
1 small spoon baking soda and powder
Hals spoon salt
Half spoon vanilla extract
4 eggs whites
3 raw pumpkin sluices
2 cups oats flour
Half cup almond milk
Half cup walnuts
2 spoons protein whey
How To Make Delicious Pumpkin Protein Bars?
If you want to make the protein bars delicious and crunchy, keep the oven pre heated at 350 degrees.
Get your tray and tousle it with flour or spray.
Combine all the ingredients except milk, walnuts and protein whey.
Mix the ingredients to make a soft, smooth and easy batter.
Now add the chopped walnuts, protein whey and almond milk and mix again.
If you love the spicy and fresh taste of cinnamon, make a two layer protein bar.
For this, spread the batter in the tray, sprinkle some cinnamon powder and add smoother layer of the batter.
Place it in the oven and while it gets backed, you enjoy your favourite show on the TV!
After 30 minutes, remove the tray, cut the protein bars and grab these delicious low-calorie protein rich bars every time you feel hungry!
For Toppings
If you want to turn it into a lavish dessert, you just need some topping and these delicious protein bars would turn into a mouth watering dessert
Take some Greek yogurt, add some honey and cinnamon powder and place this yummy topping on the bars!
You would love this unique dessert which would increase your protein intake daily!
6. Tasty White Chocolate Raspberry Cookies
If you want a sweet, tangy and delicious dessert with amazing protein content, here are the cookies which you would love to keep grabbing! These amazing cookies are simply awesome and delicious which you must give a try once!
Within just 20 minutes, these mouth watering cookies would fill your tummy with nutrition rich dessert!
Ingredients You Would Need
3 cups delicious oat flour
2 spoons vanilla protein powder
2 spoons sweetener of your choice
Half cup sweetened almond milk
Half cup brown rice syrup
Half cup peanut butter
Dried raspberries (you can also use cranberries)
How To Make Delicious White Chocolate Raspberry Cookies
First ting in the preparation of these cookies is setting the baking tray! Spread some flour or spray in the tray.
Take a bowl; add the vanilla whey protein, oat flour, sweetener and little salt. Mix these ingredients.
In another bowl, add some peanut butter, brown rice syrup and place it in the microwave.
When this mixture gets melted, add this in the mixture you prepared earlier.
Now add almond milk spoon by spoon in this mixture and keep mixing.
Keep mixing until thick and amazing dough is prepared. Now add the white chocolate chips and berries on the dough.
Cut the dough into beautiful round shaped cookies.
Place these round cookies in the baking tray and let them get baked.
When the cookies get crunchy, fluffed and golden brown, take them out of the tray, let it get refrigerated in the fridge and serve!
This is such an amazing recipe which would make you fall in love with desserts and cookies forever!
7. Amazing Raspberry Chocolate Chip Brownies
Brownies are one of the most loved and highly consumed desserts. These tasty and nutritious brownies can boost the dessert moods as no other desserts! However, if you are concerned regarding the calorific value and nutritional content in the brownie, this is cool nutrient rich option!
This brownie consists of some delicious ingredient with low fat and high protein elements which would never fail to act as a healthy substitute for the brownies you consume!
Ingredients You Would Need
Half bowl oatmeal
2 spoons cocoa powder
2 large spoons vanilla or chocolate whey protein
Unsweetened apple sauce
2 spoons coconut oil
1 cup Almond or chocolate almond milk
4 spoons Chocolate chips
1 spoon honey
Few raspberries
1 egg
1 spoon Vanilla extract
How To Make Raspberry Chocolate Chip Brownies?
Preheat the oven at 350 degrees.
Spray and set your baking tray with spray or flour.
For the batter, get a blender and add oatmeal in it. Blend until you get fine flour.
Now, get a bowl and add the flour into the bowl. Also add protein powder and cocoa powder in this bowl. Mix it nicely and let it aside to set.
In another bowl, add some apple sauce, egg, honey, almond milk and vanilla extract. Mix these delicious and aromatic ingredients and prepare a thin smooth batter.
Now add both the batters and prepare a thick, smooth and fluffy batter which has to be baked.
Let this mixture set aside and place a pan on your stove.
Add the chocolate chips and let them melt. Also add some coconut oil and let these ingredients get mixed and heated.
Pour the mixture into the pan and add some raspberries and chocolate chips on the mixture.
You can also add this mixture in the oven or can cook it until the brownies gets smooth and gathered correctly.
Cut the huge batter into amazing brownie bars! Serve these awesome brownies for desert and fill your tummy with nutrient rich desserts!
For Toppings
If you think that desserts are incomplete without toppings, here are some mouth watering desserts which you can consume and feel awesome!
Crush some almonds, get some sliced coconuts and cashew nuts and garnish your amazing brownie with these delicious and attractive toppings! This is the best way to have your cookies!
8. Tasty Protein Cheesecakes
If you are a diehard lover of cheesecakes, here is a protein rich cheesecake which would get you addicted. This delicious and extraordinary cheesecake with protein and low fat content is simply enough to rock your dessert sessions.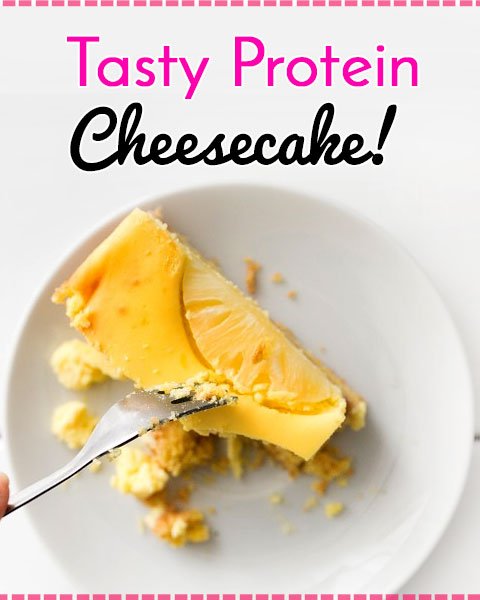 With the splash of cinnamon, delicious taste of cream cheese and healthy Greek yogurt, this nutritional cheesecake would make you feel satisfied without any guilt! Healthy Greek yogurt, this nutritional cheesecake would make you feel satisfied without any guilt!
Ingredients You Would Need
2 crescent rolls
3 large spoons sugar
2 spoons cinnamon
3 large scoops cream cheese
2 large scoops Greek yogurt
2 large eggs
2 scoops whey protein (vanilla flavoured)
1 spoon baking soda
1 spoon vanilla extract
How To Make Protein Cheesecakes?
Preheat the oven for 350 degrees.
In a baking tray, place the crescent sheets also spray some flour or baking spray.
Take a blender and add cream cheese, Greek yogurt, vanilla extract, eggs, protein powder, baking soda and salt.
Keep mixing until the mixture gets blended, soft and fluffy.
On the tray and the crescent dough, place the cheese cream mixture.
Spread it nicely in the entire tray and also again put a layer of crescent sheet on the cheese.
In a bowl, add some crushed sugar and cinnamon. Sprinkle this tinted and delicious mixture on your rolls and bake it for 30 minutes.
When the upper layer gets crunchy and golden brown, remove the tray, cut the cheesecakes and enjoy the marvellous taste of this dessert.
This is such a juicy and mouth watering dessert dish which would make your taste buds jump from excitement.
These are some amazing dessert recipes which are full of nutrients and would not disturb your diet schedules! Munch on these mouth watering high protein desserts and give yourself a guilt free treat!
Related Posts