Being a mother is a beautiful feeling and moms-would-be nurture every moment of it. Once the baby is born the new moms indulge so much in caring for the baby that they completely ignore themselves. It is a life changing event to become a mother and so is equally important to take skin and hair care after pregnancy.
On the occasion of mother's day, we convey our respect to each and every mother and bring to you some simple home tips which can be followed easily post pregnancy. It will make you look great and feel great because you are special.
Let us first discuss the various skin and hair problems that a woman faces during and post pregnancy & basic tips for skin and hair care after pregnancy.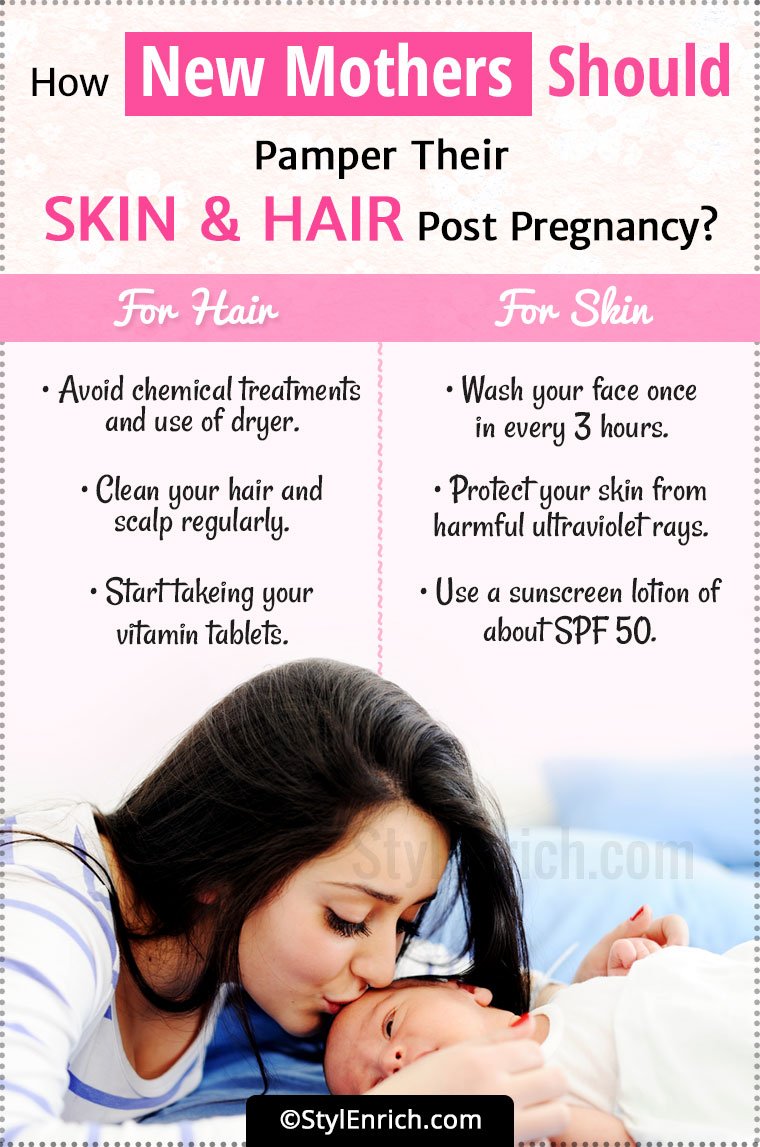 Skin And Hair Care After Pregnancy
1. Hair Loss
This is very haunting for new mothers because there are 2 shades to it.
During pregnancy, you would have witnessed luscious locks and thanks to the iron tablets and rising hormonal levels which promote hair growth.
Post pregnancy the body experiences stability in the hormonal levels; hence there are chances that you will experience hair loss for at least 3-4 months.
2. Skin
Undoubtedly, your skin demands a little bit more attention post pregnancy. Women love their skin and pamper it in the best possible way. However post delivery life changes completely and so does your skin. The most common skin problems could be-
a. Pigmentation
While most of the women would have never experienced pigmentation before pregnancy, it does appear during pregnancy and slowly fades away post pregnancy. The simple reason is the rise in the estrogen and progesterone level in the body.
b. Acne
Acne is mostly observed in the mother's post-pregnancy. There is a substantial increase in oil secretion which may result in acne breakout. Also, changes in hormonal levels can lead to further breakouts.
c. Stretch Marks
Stretch marks are one of the worst nightmares for any new mom. It is the most difficult skin problem post pregnancy to get rid of. There is substantial expansion and contraction of skin during and post pregnancy which results in ugly stretch marks.
d. Puffy Eyes And Dark Circles
This is mostly caused due to the sleepless night. Thanks to the new born baby!! This is one condition which new moms will definitely experience post-pregnancy.
Therefore, there is the demand of skin and hair care after pregnancy and you need to spend at least some time on yourself along with your baby to restore the damaged skin and hair.
Simple Tips To Take Care Of Your Hair
Well, the first good news is hair loss is a temporary thing post delivery and soon you will regain hair growth. Hence nothing much to worry about!!
Follow the simple tips below and get normal hair growth and shine.
1. Always Eat Healthily
Doctors would have advised you several eating habits which should be followed during your pregnancy. The most important of all is eating healthy and taking the right diet.
Follow the same routine. It is equally important to eat healthy even after becoming a mother. Your body undergoes drastic changes post pregnancy and nutrition is required equally for the mother and the child.
Include a lot of antioxidant fruits like strawberries, blueberries, orange, lemon, apples, banana etc. in your diet.
Similarly, protein is essential hence switch to eggs, milk and lean meat.
Overall opt for a wholesome diet which includes rice, dal, vegetables, fruits and legumes which will balance the essential nutrients in the body.
2. Clean Your Hair and Scalp Regularly
Cleansing is a mantra for healthy hair. Therefore clean your hair 2-3 times in a week to keep your scalp clean.
Use a mild shampoo to clean your hair followed by a conditioner. It restores the shine of your hair.
How To Make A Simple Hair Pack At Home?
Ingredients Required
Amla powder
Methi Powder
Shikakai powder
Reetha powder
Neem powder
One full egg
Procedure
Take one spoon each of amla, methi, shikakai , reetha and Neem powder and soak it in a container by adding sufficient quantity of water.
Leave it overnight for it to soak well.
Next morning, break and empty the contents of one full egg into the container and mix well.
Apply the pack in your hair using a hair brush and leave it for 30 minutes.
Rinse thoroughly and allow your hair to dry naturally.
It is important to give your hair an oil massage the previous night as oiling helps to provide shine and strength to the hair.
All these ingredients are easily available in the market and it will take very less time to apply in your hair. You can use this method once or twice in a week and see the difference with every passing week.
3. Avoid Chemical Treatments
During youth, all women like to color and highlight their hair. Also, they opt for hair curling, straightening and exposing their hair too much to dryers and all. These processes are harmful to the hair and can have very damaging effects. In case you really want to color your hair, it is always better to adopt natural ways of coloring hair.
Henna is one of the best ways to get your hair the burgundy tint. It colors the hair naturally and also conditions and nourishes the hair deeply. You can color once every month with Henna and feel good about it.
It is ideal not to opt for these methods post pregnancy as it can result in severe hair loss. Also, it may result in loss of natural and essential oil from the hair thereby making your hair dry and rough.
It is better to go for hair trimming once every three months as it will promote hair growth and does not have any negative effect.
4. Vitamin Supplements
Undoubtedly, the body becomes extremely weak after pregnancy. Hence as recommended by doctors, do take in your vitamin tablets as and when advised. This will restore strength as well as stop hair loss. It will also fulfil the body's need of essential vitamins. Therefore along with your daily diet, take your vitamin pills sincerely.
Simple Tips To Take Care Of Skin
Just like the hair, you need to take special care of the skin. Different women face different issues with their skin post pregnancy. Some of the common problems observed are acne, pigmentation, dark circles and stretch marks.
1. Acne
Acne is a common problem which most of the new moms face. This is due to the rise in the estrogen levels and the hormonal imbalance which is the main cause behind it.
Wash your face once every 3 hours with normal water.
Use a face wash at least two times in a day to get rid of oil and dirt sitting on the face.
It is also good to scrub your face once in a week to open up the pores and allow the skin to breathe. Follow it by rubbing ice cubes on the face to close the pores.
Apply a face mask 2 times in a week to get rid of acne.
2. Pigmentation
Pigmentation appears on the skin and the face. Some areas look darker and patchy than the rest of the skin. This gives an uneven tone to the skin.
Usually, pigmentation fades off post delivery but still if you notice them then follow the simple home tip to get a flawless skin.
Ingredients
Fuller's Earth
Yogurt
Potato
Procedure
Soak fuller's earth (Multani Mitti) in water.
In a container, grate potato and extract the fresh juice of it.
Add a tablespoon of fresh yogurt and mix well.
Now add the soaked fuller's earth and make a smooth paste.
Apply the paste on the pigmented area and leave it to dry.
Wash off with normal water.
Repeat the method 2 times in a week to see a reduction in pigmentation.
To prevent further pigmentation, it is better to stay in home and protect your skin from harmful ultraviolet rays. The harmful UV rays are considered to be one of the primary reasons for developing pigmentation on the skin.
Wear-protected clothes and cover your face with a scarf.
It is also important to use a sunscreen lotion of about SPF 50, if you are staying in the sun for more than 15 minutes.
3. Stretch Marks
This is one of the common problems every mother faces post delivery. Some stretch marks remain life-long if not paid attention immediately. They usually appear in the buttocks, breast and thighs.
Once you know that you are pregnant, the most advisable thing to do is to start applying any oil like olive oil or coconut oil on the areas which are likely to develop stretch marks.
Consult your doctor and regular exercise as this helps to reduce stretch marks.
Go for a jog or a walk which helps in proper circulation of the blood in the body.
These days anti-stretch mark creams are easily available in the market. Consult a doctor and use these creams to reduce the stretch marks.
4. Dark Circles
It is obvious that your kid will give you sleepless nights and you have to be at the baby's service all the time. However, these may result in dark circles and puffy eyes.
Dark circles are mostly caused due to lack of sleep. Try to get short naps as and when possible to complete your sleep. The baby mostly sleeps at odd hours; you can also adjust your sleeping hours accordingly.
Drink plenty of water as it will help to reduce dark circles substantially.
You can also keep some cucumber slices or potato slices on your eyes and rest for some time. The juices will help to reduce puffiness and dark circles in your eyes.
Also drink fresh juice, coconut water, lemon water and water to keep you hydrated all the time.
Apart from the skin and hair care after pregnancy, there are some basic tips that new mother should know.
Basic Tips
Stick to the basic skin care routine of cleansing, scrubbing and moisturizing to get a great skin even post pregnancy.
Apart from skin and hair care after pregnancy, you can also dress well. It is now time to get rid of big maxi and frock dresses and switch on to your normal stylish dresses and foot wears which will boost your confidence and make you look good.
Also using minimal makeup will brighten your face and skin and you look flawless like you used to be.
Baby Care Tips For New Mothers
It is a true fact that no matter how much beauty tips a new mom can try but she looks even more beautiful with her baby. Therefore parenting is equally important as pampering a new mother.
Don't miss these important tips for new mothers!
Here we share some simple yet beautiful tips for the babies as well.
1. Hold Your Baby
You might have heard that holding the baby frequently will spoil him/her. However, it is a myth. Both baby and the mother feel very special and safe when the baby is in the mother's arm. After all cuddling and loving your baby is the best gift for a mother.
2. Take Help From Your Partner
Babies are not just a mother's responsibility. Your partner should also be an equal part in parenting the baby. Make your partner feel the parenthood by holding the baby, making the baby sleep. He should equally enjoy being a father.
3. Check For Leakage
Although diapers are available in the market but still check for the leakage from time to time. It makes the baby feel very uncomfortable.
4. Shun The Baby Wipers
Why, why and why? Why user baby wipers when you can wipe the baby butt using a clean wet cloth. It is more hygienic and also prevents rashes on the soft butt.
5. Learn to Sterilize
Babies are very sensitive and are more prone to catch the infection. Therefore it is better to sterilize baby bottles and other items which they use. This can include plates, spoons, bottle lids etc.
Conclusion
We have discussed some very essential routine and methods which are basic to good skin and hair care after pregnancy. It nourishes you from within and the same reflects on the skin. Motherhood is definitely an occasion to celebrate but do not forget who you are and even the girl inside you needs special care and attention.
Hope you have found this article useful. In the case of any suggestion or feedback, please share the same in the comments section below.
Related Posts