Being a mother is a beautiful feeling and moms-would-be nurture every moment of it. Once the baby is born the new moms indulge so much in caring for the baby that they completely ignore themselves. It is a life changing event to become a mother and so is equally important to take skin and hair care after pregnancy.
On the occasion of mother's day, we convey our respect to each and every mother and bring to you some simple home tips which can be followed easily post pregnancy. It will make you look great and feel great because you are special.
Let us first discuss the various skin and hair problems that a woman faces during and post pregnancy & basic tips for skin and hair care after pregnancy.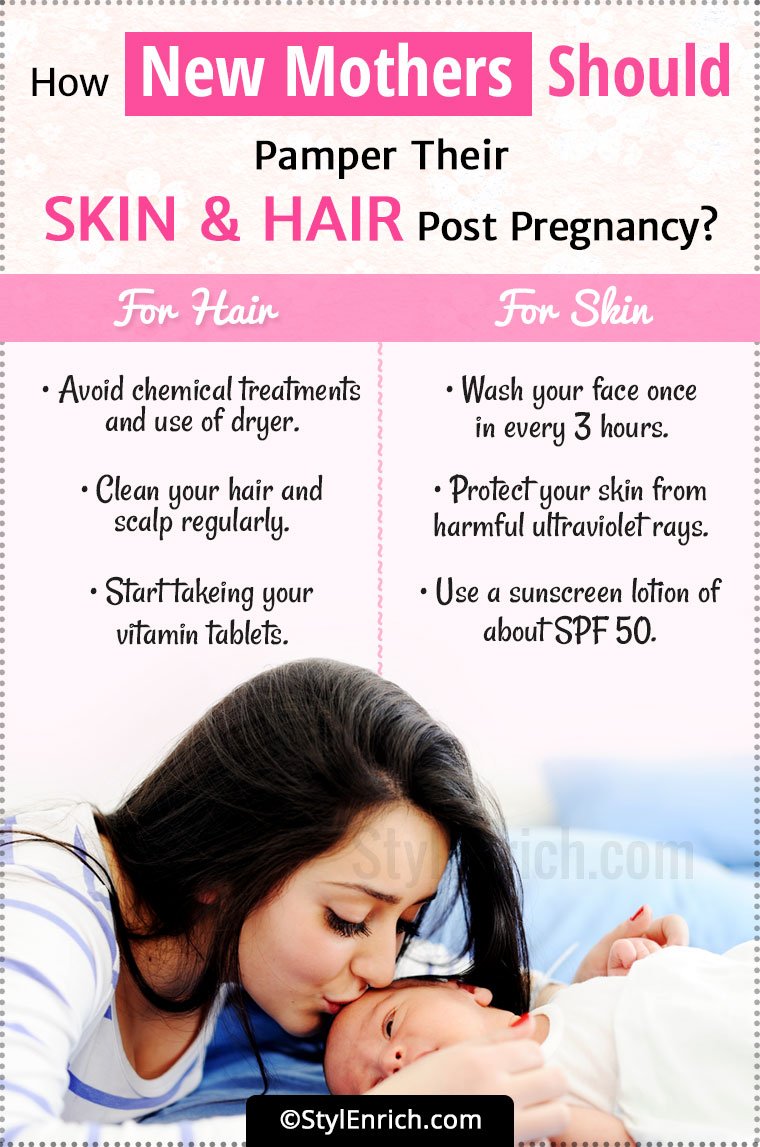 Skin And Hair Care After Pregnancy
1. Hair Loss
This is very haunting for new mothers because there are 2 shades to it.
During pregnancy, you would have witnessed luscious locks and thanks to the iron tablets and rising hormonal levels which promote hair growth.
Post pregnancy the body experiences stability in the hormonal levels; hence there are chances that you will experience hair loss for at least 3-4 months.
2. Skin
Undoubtedly, your skin demands a little bit more attention post pregnancy. Women love their skin and pamper it in the best possible way. However post delivery life changes completely and so does your skin. The most common skin problems could be-
a. Pigmentation
While most of the women would have never experienced pigmentation before pregnancy, it does appear during pregnancy and slowly fades away post pregnancy. The simple reason is the rise in the estrogen and progesterone level in the body.
b. Acne
Acne is mostly observed in the mother's post-pregnancy. There is a substantial increase in oil secretion which may result in acne breakout. Also, changes in hormonal levels can lead to further breakouts.
c. Stretch Marks
Stretch marks are one of the worst nightmares for any new mom. It is the most difficult skin problem post pregnancy to get rid of. There is substantial expansion and contraction of skin during and post pregnancy which results in ugly stretch marks.
d. Puffy Eyes And Dark Circles
This is mostly caused due to the sleepless night. Thanks to the new born baby!! This is one condition which new moms will definitely experience post-pregnancy.
Therefore, there is the demand of skin and hair care after pregnancy and you need to spend at least some time on yourself along with your baby to restore the damaged skin and hair.
Simple Tips To Take Care Of Your Hair
Well, the first good news is hair loss is a temporary thing post delivery and soon you will regain hair growth. Hence nothing much to worry about!!
Follow the simple tips below and get normal hair growth and shine.
1. Always Eat Healthily
Doctors would have advised you several eating habits which should be followed during your pregnancy. The most important of all is eating healthy and taking the right diet.
Follow the same routine. It is equally important to eat healthy even after becoming a mother. Your body undergoes drastic changes post pregnancy and nutrition is required equally for the mother and the child.
Include a lot of antioxidant fruits like strawberries, blueberries, orange, lemon, apples, banana etc. in your diet.
Similarly, protein is essential hence switch to eggs, milk and lean meat.
Overall opt for a wholesome diet which includes rice, dal, vegetables, fruits and legumes which will balance the essential nutrients in the body.
2. Clean Your Hair and Scalp Regularly
Cleansing is a mantra for healthy hair. Therefore clean your hair 2-3 times in a week to keep your scalp clean.
Use a mild shampoo to clean your hair followed by a conditioner. It restores the shine of your hair.
How To Make A Simple Hair Pack At Home?
Ingredients Required
Amla powder
Methi Powder
Shikakai powder
Reetha powder
Neem powder
One full egg
Procedure
Take one spoon each of amla, methi, shikakai , reetha and Neem powder and soak it in a container by adding sufficient quantity of water.
Leave it overnight for it to soak well.
Next morning, break and empty the contents of one full egg into the container and mix well.
Apply the pack in your hair using a hair brush and leave it for 30 minutes.
Rinse thoroughly and allow your hair to dry naturally.
It is important to give your hair an oil massage the previous night as oiling helps to provide shine and strength to the hair.
All these ingredients are easily available in the market and it will take very less time to apply in your hair. You can use this method once or twice in a week and see the difference with every passing week.
Please click here to know more about hair care after pregnancy…