You have spent more than a decade sharing, gossiping, consoling, travelling, laughing and crying with that one person who you call your best friend. While she has taken the most important decision of her life to settle down and the date for her weddings bells is round the corner, your dilemma on how to choose the wedding gifts for your best friends has also begun. Picking up "Shagun" is a story of bygone years because times have changed and after all, you are not going to your relatives wedding, but one and only your best friend's wedding.
Picking up gifts for others is still little easy, but if it's for your best friend, the task needs more personalised approach. So, while you are finding yourself the perfect dress and shoes for the wedding, we take a little burden off your mind and help you in deciding some brilliant wedding gifts that will give you creative awakening within minutes. Get ready to be appreciated for your choice of worthy gifts to make your best friend feel more special. Here are 10 unique, thoughtful and best wedding gifts for your best friends.
Best Wedding Gifts for Your Best Friend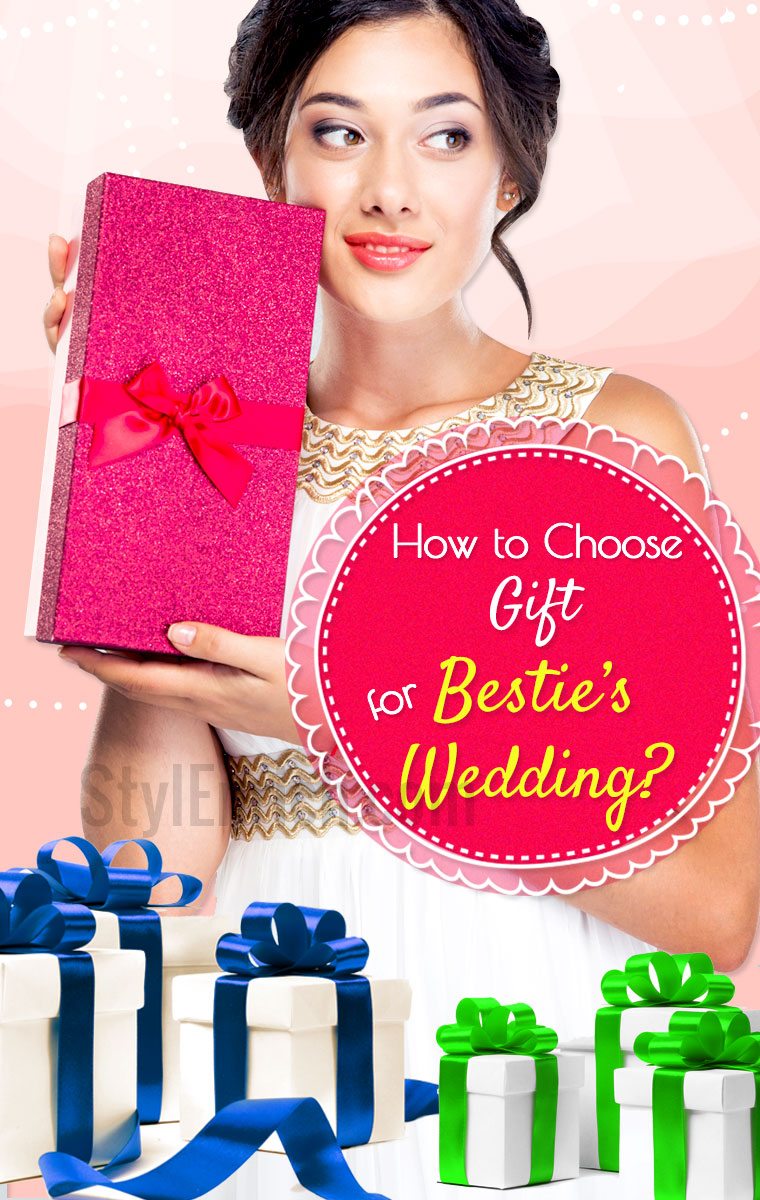 1. Bring in the Vacation Surprise
The first year of the wedding for your best friend would be an exhausting period with continuous introductory phases of meeting relatives, learning new ways of living in a new family and celebrating all the  festivals as a bride of the house.  Even during the wedding, your sleep deprived best friend  would be overly exhausted and by the end of it, she would surely be wishing for someplace to relax in quiet for some time. The best way to show some besties love is to plan a mini vacation and gift the newly wed couple a quick surprise weekend getaway. What will make this getaway even better if its is already paid off? There are many gift vouchers available at travel companies such as Trip Advisor, Make My Trip etc. Book a special trip or vacation for your bestie and gift her with little alone time with her husband. We bet she would always appreciate this thoughtful gift.
2. Tasty Dinnerware Set
With a new life comes new furniture, new house, new crockery and everything new. Isn't it? While your friend will be opening all of her gifts and will definitely receive many crockery items, your choice needs to stand out. Forget about the old crystal or plastic dinnerware set and look for new quirky collections from stores like Home Centre, Chumbak and Fab furnish. Each one is stacked with amazing kitchen products and these stores also have some of the most beautiful luxurious collection of decor and diners. You can also customise the dinner set with their initials or with Mr & Mrs Tag for little-personalised touch.
3. Beach Kits and Emergency Kits
If you are still thinking about how to choose the wedding gifts for your best friends, simply try to figure out if your lovebirds are planning a beach honeymoon. If yes, prepare yourself to put up a beach basket for "Just Married couple. Pack customised beach towels reading "Just Married", funny luggage tags, Mr & Mrs initials on bathrobes. Pack a couple of sexy bikinis for your best friend to flaunt off and add some beach trunks for her beau. Put some beach essentials like sunblock, flip-flops, sunglasses, hat and some chocolates. Add a small handwritten note for the good luck. While they are away for their honeymoon in a foreign land many things could go wrong as well. So in addition to the beach kits, prepare them for the best and the worst and stock up on few essentials from blotting tissues, copies of passports, bandaids and emergency items. Gifts are not just for fun, it should be thoughtful, worthy and always unique .
4. A Nameplate
Let's say you are little low on budget but at the same time, you want your best friend to remember your gift for the lifetime. One of the unique and thoughtful gifts would be a nameplate of her new acquired last name for her new house and all other new household makes. You can get the nameplate in a wooden frame, fibreglass, stone plaque or fancy ceramic plates. Find out local engravers in your area or online who can give endlessly customised and fuss free quality work for your unique and personalised gift. Put your creative mind into the design or simply go for a minimal and classy look.
5. Thrilling Experience
If your best friend has always been an adventure lover and her beau is also the same kind, the idea of gifting wine glasses or a coffee maker would be little boring. Your choice of gift should satisfy the wild souls who will love you to have some fun out in the open. Gift them a thrilling experience ride and prove your years of friendship on how well you know your best friend. Paragliding, rafting, skydiving, scuba diving and bungee jumping. What do you say? Sound crazy? But don't you think its perfect for the couple with an adrenaline rush. These are some of the adventure wedding gifts for your best friends and they will have a lot of fun and surely remember it for long long time.
6. Traditional Yet Contemporary Jewellery
There is no another way to express your everlasting bond with your friend than the jewellery. It will alway do the wonder. Shower your goodwill wishes and blessing with Platinum jewellery or contemporary jewellery with certain precious stones. This is not only just a gift but a lifetime keeper of your affection and eternal love towards your best friend. A well-designed neckpiece for your bride friend and a well-crafted bracelet for the groom should be the way to show how much this friendship mean to you. Finding a good piece of jewellery won't be difficult with various trademark jewellers who also deal with customised jewellery.
7. Couple Spa
We all need those days of relaxation and long massages at least once in a blue moon to overcome stress and exhaustion of our fast pace life. You may think how is it related to how to choose the best wedding gifts for your best friends. Think again, wouldn't the newly married couple enjoy the rejuvenating and relaxed evening? Got the idea now. So, gift your best friend spa vouchers because after all, that's what the best friends are for. There are multiple fits of rage available with good spa services from higher range that covers the relaxation therapy and then there are budget friendly aroma massages for couples. In the cities, there are many outlets from O2 Spa, Thai Spa centres and Swedish spa and massage services where you can book the packages online. The rates can differ from place to place but since there are hundreds of options available, gifting such relaxed couple spa date would defiantly earn your rewards for being the best friend.
8. Bar Accessories
You can also go back in the past and steal some ideas when people use to gift expensive liquor and coasters for the bar assembly.  Prepare a collection of corkscrews, bottle openers, table coasters, ice buckets and peg measure. You can also add a set of crystal wine glasses, beer mugs and shots  with your best friend and her partner's initials depending on your overall budget. The whole idea is to keep it quirky, fun and ditch the boring styles. There are many barware stores who keep some new age and modern supplies of bar accessories for the gifting purpose. This not only raises the toast for your friendship but also raise the level of appreciation for thoughts you put in assembling the wedding gifts for your best friends.
9. Makeup Kit
Most of the girls spend fortune and lots of time to create a perfect vanity box with the best range of products. Share some love of vanity kit as a part of a wedding gift for your best friend. Concealers, foundations and blushes depend on skin complexion and are always brand specific, pick up few universal shades of lipsticks, nail paints and glosses. Add kajal pencils, mascara, makeup brushes, and cleansers in the kit. Brands like Sephora, Mac and Colour-bar stack amazing makeup kits with shade specific products.
We will tell you here How to do Indian Bridal Makeup to Dazzle Like a Star!
10. Handmade Collage
Have you ever thought of creating a childhood love story? Those memories of your giggles, laughs hugs, fights, playtime. Gift your sweetheart a journey to her past with lifetime memories through a handmade collage. Filter our some pictures of your kindergarten, her first date, blushing smiles, crazy hairstyles and put up a cute scrapbook or photo collage. There are many do it yourself ideas on Pinterest and youtube that you follow to create a scrapbook and frame some amazing memories. Ribbons, glitters, bows and stickers or some handmade paintings to add a little touch of your personal taste would be great. Keep it neat and creative as per the taste of your best friend. You are way past your class 5 projects classy, minimalistic and artistic is the way to put an amazing creation as the wedding gifts for your best friends. Frame the priceless moments in the photo frame and gift something to remember forever.
11. For The Sake of Art
How to choose the wedding gifts for your best friends also depends on the personality of your friend, their likes and their interest. Sometimes gifts can be for personal use and sometimes you can think of more worthy and useful gift items. We all appreciate art in some or other form. Since your best friend will be moving to a new house, you can gift her contemporary painting, statue, sculpture or any other craft items for the decoration purposes. Visit some home decor stores or simply look for a local handcrafted artist who can create unique sculptures and artsy items. This will not add to the beauty of the interior of your best friend's house but will always be a gentle reminder of your everlasting friendship.
Dos and Don'ts of Gifting
You definitely want to gift something special to your best friend who is getting married and at the same time, you do not want to go beyond your budget.
You also do not want to end up gifting something that they will never use or return or laugh at for rest of the life. Therefore, it is always better to stick to something of your best friend's interest.
Always include something for the groom as he is going to be an important person in her life and you surely want to look into that. Make sure you plan ahead and keep everything ready for the final day.
Don't underspend for your best friend because this day would come just once in her life and you surely want to let her know how special she is to you.
Do not postpone the gift. You may often hear people say that you have a year to give the wedding gift. We suggest that you do not delay it and give the wedding gift to new weds on time or perhaps before the final day itself.
Don't sweat the efforts because ultimately it's about two people and their commitment for lifelong than the gifts. Show some dance moves on the floor and bring joy for your best friend on her special day.
Conclusion
You best friend will be entering a new phase if life and while she will still remain your best friend, her life would revolve more around the husband and family life. So, apart from the happiness and blessings of people, one important thing that newly weds always need is a meaningful gift, not that they are looking for gifts only but since it is a custom to receive gifts, they will always desire for something thoughtful, something they would treasure for their lifetime. So, if you were under the dilemma initially the list of gifts that we have put together should help you narrow down the choices and come up with the best idea of your own to choose the wedding gifts for your best friends. Go ahead and take your pick.
Related Posts