Do you know – The lesser known facts about Herbal Teas for Weight Loss?
After water, herbal tea is the second most consumed drink in the world.
Herbal teas are not teas, they are infusions that are commonly called as "tisanes".
The less processed the tea leafs, higher are the anti-oxidants.
Tea first originated in China, and the word "tea" from the Chinese word "Te".
The concept of tea bags originated way back in 20th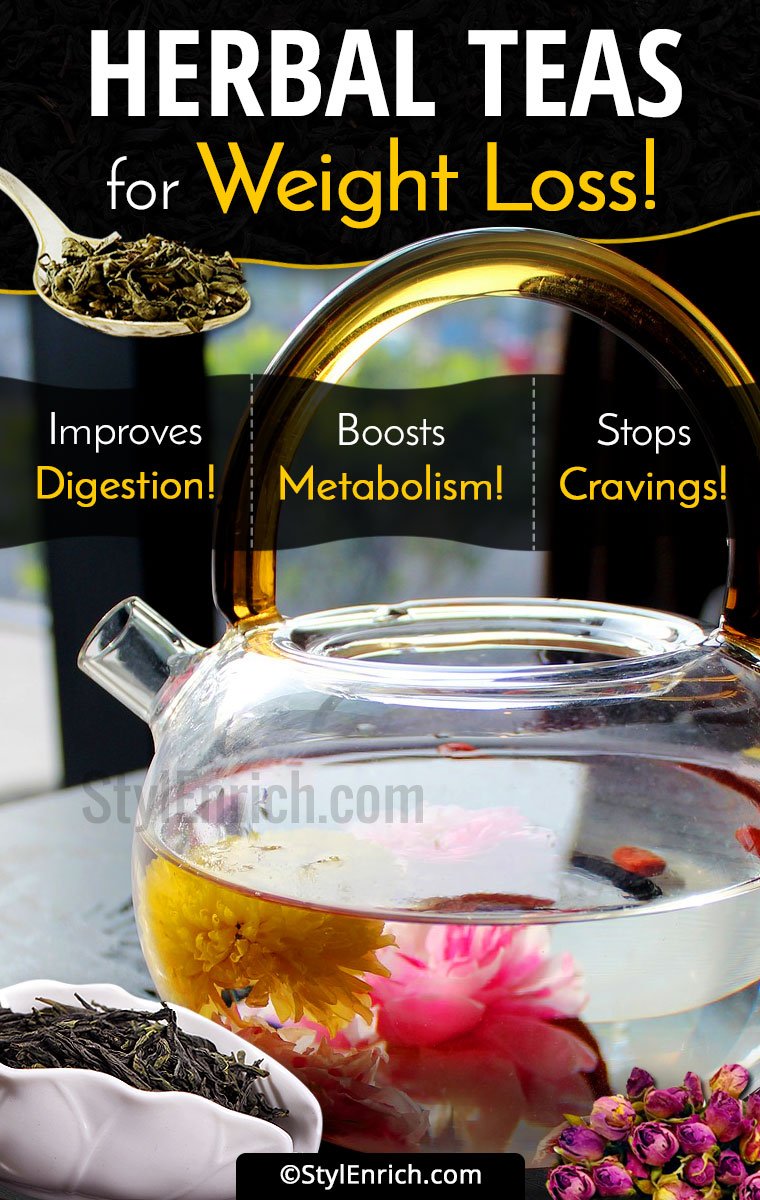 What do you do when you feel fatigued? What do you do when you want to refresh your senses? Drink a cup of tea. A cup of steaming hot tea can be the perfect solution for all the fat-related and stress-related problems. Yes, one tea can actually help in dealing with all the issues. It can not only help with colds and cough, but can also help you lose weight. With herbal teas for weight loss, one can lose weight in the most natural manner. Intrigued? Find out more.

Herbal Teas for Weight Loss
Though, all teas are good for the system, there are some wonderful herbal teas, which can actually be quite beneficial for your body. These have some magical properties and wonderful ingredients, which can bring down the hunger hormones, and lead to burning of more calories. These can definitely melt down the fat, which is stored in the fat cells. Other than that, these can also reduce the risk of diabetes and heart diseases, too. Given below are some of the amazing herbal teas for weight loss, which will surely benefit you.
1. Green Tea – The Metabolism Booster
Green tea is one of the best herbal teas for weight loss that is available in the market. It can boost your metabolism, by unlocking all the fat cells. You can drink it any time during the day, and can drink up to 4 to 5 cups of tea a day. In fact, a cup of tea before workouts can have blasting effects on the fat. This is because of the compound called catechins, present in green tea. It can trigger the release of fat from the fat cells.
Other than that, green tea also contains EGCG, which can speed up the metabolism of the body. This speeds up the capacity of liver to turn fat into energy. In fact, a person can burn up to 70 calories per day, with green tea. Green tea is also effective in raising the antioxidants level, which can not only boost the metabolism, but are also quite useful in burning the fat. While making this tea, remember to steep it for about 2 to 3 minutes in hot water. So, get up, do your workouts, and drink green tea for maximum benefits.
2.Oolong Tea – Another Metabolism Booster
Oolong tea is a floral herbal tea for weight loss, which also contains catechins. In fact, this tea is semi-fermented, and has a stronger effect, while compared to green tea. These help in promoting weight loss. This is because it boosts the ability of the body to metabolise lipids. This can reduce the cholesterol level, and directly attack the fat concentration in the body. Drinking this tea about 4 to 5 times a day, for 6 weeks, can help in losing up to 6 pounds. And, what's more, it helps in tackling the unrelenting belly fat too. While brewing the tea, steep the oolong tea for about 3 minutes, which will give you a full-bodied brew.
3. Mint Tea – The Cravings Stopper
You would be wondering how mint can actually stop the cravings. And, how would that help? Well, most of the fat that we gain is because we eat at odd hours, giving way to our temptations and cravings. Well, mint is something, which actually suppresses the appetite. In fact, people sniffing peppermint every couple of hours actually end up losing almost 5 pounds in a month.
Doesn't that sound wonderful? This is actually one of the best herbal teas for weight loss. So, go ahead and make yourself a cup of mint tea, and you would stop having cravings for fat-rich foods. Peppermint tea helps in soothing the digestive track, which can be useful for dealing with nausea, heartburn, and indigestion. Surprisingly, it can also help in early pregnancies, when morning sickness is rampant.
You can drink peppermint tea in rotation with green tea for maximum benefits. This will help you in speeding up the digestion process, and in burning more calories. You can drink the tea hot, or cold, depending upon the weather and your choice. This light and refreshing tea will be just the right concoction for your sullen mood. For preparing the tea, just take a tablespoon of mint leaves, either fresh or dried. Add these leaves to boiling water, and allow it to steep for about 4 to 5 minutes. Strain the liquid, and add honey, if required.
4. White Tea – Tea For Weight Loss
White tea is one of the best herbal teas for weight loss. It prevents new fat cells from getting formed. As white tea is usually dried in sunlight, in the most natural conditions, it is the least processed tea. Also, it contains a good amount of antioxidants and polyphenols, which are really good for the skin and the body. It can boost lipolysis, which means breakdown of fat, and can block adipogenesis, due to the presence of ingredients, which are present in human fat cells. These can help in keeping the waistline tight and toned.
5. Rooibos Tea – The Hunger Stopper
The Rooibos tea comes out of red bush leaves, which are grown exclusively in a region near Cape Town in South Africa. This tea has special compounds, which can help in regulating the fat-storage hormones. The flavonoids, known as Aspalathin, are really good for the belly. This compound can help in reducing the stress hormones, which trigger the fat storage and hunger. Once the hunger goes down, and the fat storing capacity goes down, the person will automatically start losing weight. This tea can also help in reducing hypertension, cardio diseases, and resistance to insulin, diabetes, and metabolic syndromes.
6. Chamomile Tea – The Stress Relieving Tea
Chamomile tea is the most popular tea in the world. With a sweet taste to it, this tea is rich in Magnesium, which can soothe and relax your nerves. A drink of Chamomile tea is the best therapy for stress. This is due to the soothing and sedative properties contained in them. It not only soothes your senses, but it also acts as an excellent herb for kids.
7. Raspberry Leaf – The Hormone Balancing Tea
Raspberry leaves make the best tea. It is high in nutrition, and is especially healthy for women. It has Potassium, Vitamin B and Magnesium. This can help in balancing the hormones, and is really good for your skin. When consumed during pregnancy, it can help in strengthening the uterus. When Raspberry tea is combined with Stevia leaves, it makes the tea naturally sweet. You can drink it hot in winters, and cold in summers. The tea can also help those ladies, who are suffering from menses, infertility or endometriosis.
8. Star Anise Tea – Promotes And Improves Digestion
Star anise is a fruit, which is a native of China. It is especially useful in treating digestive problems, like diarrhoea, stomach upset, nausea, etc. You only need to boil water and add the star anise to it. Steeping it in the hot cup of water for about 10 minutes, will give a perfect blend of tea. You can add honey or sweetener to it, but it gives maximum benefits, unsweetened. When you sip this drink slowly, you will find relief from stomach upset.
9. Rose Tea – Gives Relief From Constipation
Rose tea is one of the oldest available teas. It is made by mixing the buds of the tea leaves, with fresh roses. Wow, even the sound of it brings flavour and fragrance into our life, and soothes our senses, right? This tea has a tremendous therapeutic effect on the body. It not only clears the toxins, but it also beautifies the skin. It contains all the major vitamins, such as Vitamin A, Vitamin B3, Vitamin C, Vitamin D and Vitamin E. And, it can also fight against all kinds of infections. The best thing is that it helps in giving relief from constipation. When the bowel movement is right, one is able to lose weight fast and effectively.
How To Make Homemade Herbal Natural Tea?
Herbal tea are very easy to prepare, and do not require a long time. We give below some of the recipes for preparing the herbal teas for weight loss naturally, at home:
1. Lavender Tea
Lavender is an essential oil, and serves as a great ingredient for herbal tea. Lavender has a very soothing effect on people, and can actually beat the stress. One of the major reasons for weight gains is stress. Given below is the recipe for preparing lavender tea, which you can follow:
Ingredients-
Mint Leaves – ½ cup
Dried Lavender – 2 Tbsp
Stevia – 2 Tbsp
Process-
Mix all the ingredients, and store them in a container. While brewing tea, boil water and put 1 or 2 teaspoons of this mix, per cup. This will give you a very good concoction of tea, whenever you want. You can either have it hot, or cold, with ice.
2. Chai Tea
Chai Tea is one of the most beneficial herbal teas for weight loss. You can make it with raspberry tea leaves, and by using coconut milk, instead of using regular milk. Coconut milk has a lot of goodness, and nutrients, which can really help you in the weight loss. You can also add catnip or chamomile to it.
3. Stomach Soother Tea
This tea definitely holds good when you have stomach aches, or are suffering from digestive problems. This tea can give a calming effect and is also very easy to prepare.
Ingredients-
Mint Leaves – 2 tsp
Fennel Seeds – ½ tsp
Dried Ginger – A pinch
Process-
Boil water and pour it in a cup. Add mint leaves, fennel seeds and dried ginger to it, and let it steep for about 4 minutes. Now, strain the mixture so that the liquid gets extracted. You can add gelatin powder to it, so that you get a long-lasting soothing effect.
4. Kombucha Tea
This special herbal tea is really good, and is loaded with probiotics and vitamins. It is usually consumed cold, and requires special culture to make. It is sweet and tangy, and can also be made fizzy, just like soda. While drinking this tea, one will definitely find a boost of energy, and an increased mental clarity.
The herbal tea, which is supposed to be so good, can actually help in losing weight. Yes, not only is it a great energizer and refresher, but it can also help you lose the unwanted fat that you have been accumulating around. How does it do that?
A cup of tea helps in preventing arthritis, strokes, tooth decay, and also keeps cancer at bay. It is a natural tranquilizer, as it has some soothing properties. One can easily shed their excess weight, as well. This is because the tea has a very high level of compounds present in it, which helps in battling with the absorption of fat.
Tea For Better Sleep
As we discussed above, herbal tea has various benefits, and one of them is better sleep. When you mix equal measures of mint, chamomile and catnip herbs, you can get a drink which has natural soothing and relaxing properties. It is also great for kids, who feel relaxed, and are able to sleep better. So, you can drink this tea during nights, to get a wonderful sleep, and it will also help you in fighting with all your illnesses.
Herbal teas are the delicious way for improving the fluid intake, and for reducing weight. These teas have so many nutrients and benefits, without the added disadvantage of caffeine. There are a whole range and combinations of herbal teas present, which can suit everyone's palate. You can easily make these herbal teas for weight loss at home, without having to spend a huge lot of money on them. So, give your body an herbal detox, and make your way to the thinner and leaner you.
Related Posts