What are the various detox water recipes? We are totally conscious about our health and try our best to achieve and maintain an ideal body weight. As a matter of fact, we tend to maintain a healthy, well-balanced diet and improve upon the physical activity in order to achieve our goal. In this health regime, water also plays an important role as drinking water adds to no calories, improves the metabolism and fills in your stomach. Hence it's been mandatory to drink lots of water for a healthy lifestyle. That's when homemade detox drinks have been coming into the center stage as it not only helps in losing weight but also tastes good and helps in flushing out the toxins.
Detox water is the water infused with a combination of fruits, vegetables and herbs in cold water. It is easy to prepare and can be carried with you. Hence, the goodness of nutrients and taste will be always with you. Detox water tends to flush the toxins from your body and makes a point to boost the vitamins and minerals in your body thus promising a healthier and energetic you.
What are the ingredients required or methods to be followed to prepare perfect detox water?
The Preparation of Detox Water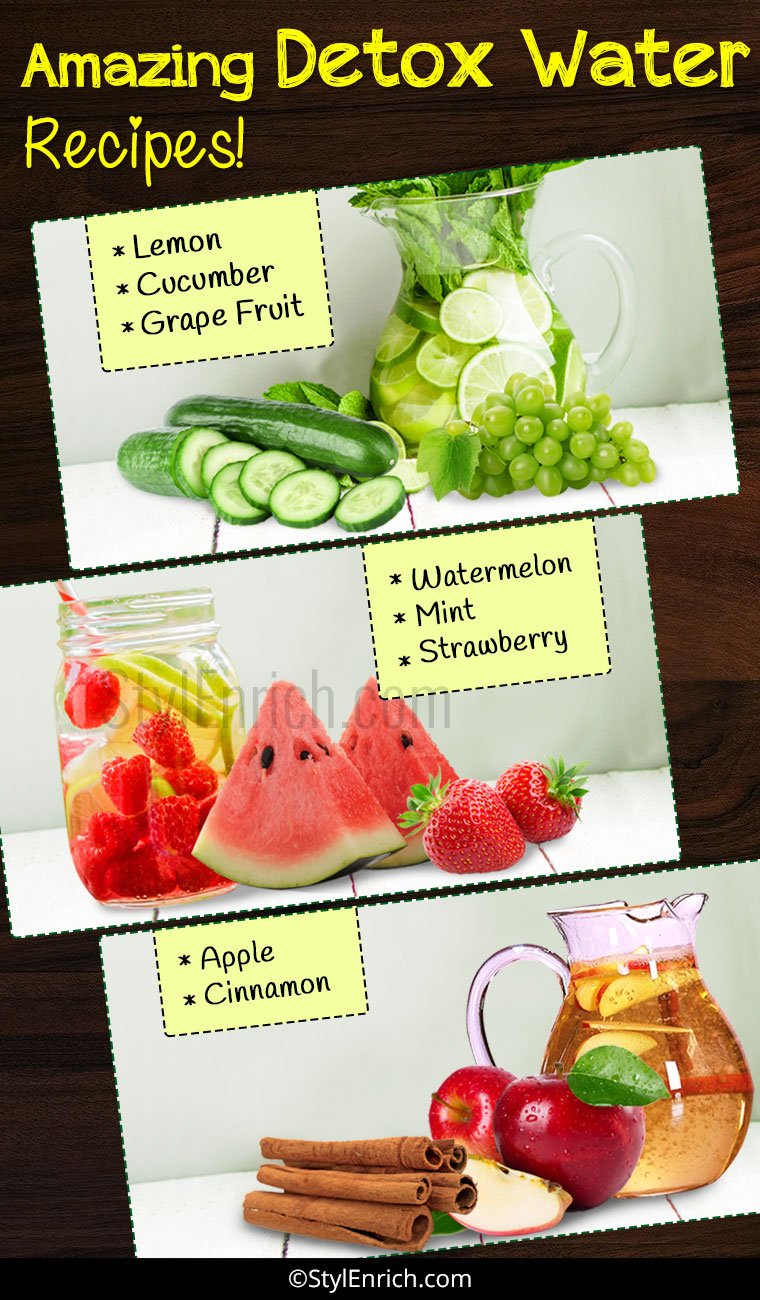 The ingredients of detox water may be different but the method of preparation is almost the same.
Place the ingredients in the bottom of the pitcher or jug or fruit infuser bottle.
Pour water into the jug till the top and place it in the fridge for a couple of hours.
The container containing the ingredients can be refilled about 2 times with water till it loses its flavor.
Hence spice the water up with fruits, lemon or water based veggies that not only can boost the taste but also flush out the toxin from our body.
The ingredients can be mixed and matched according to your taste and requirement. You can add digestive friendly ingredients like ginger or mint or diuretic food like cucumber or toxin flusher like lemon. The choice is immense and recipes are varied and easy to prepare.
Homemade Detox Drinks Recipes
Here are certain homemade detox drinks that you can prepare easily.
1. Lemon, Cucumber And Grape Fruit Detox Water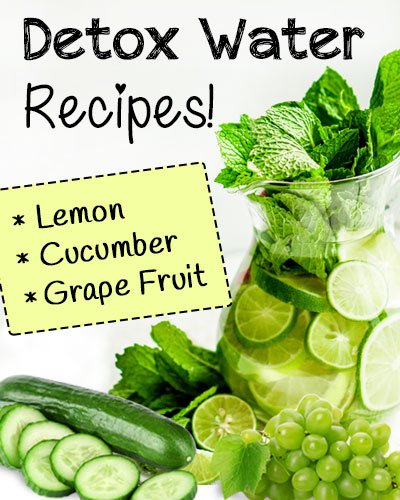 The presence of antioxidant that helps in flushing out the toxins and the promise of anticancer properties in cucumber are beneficial. Lemon contains Vitamin C, another antioxidant that has been beneficial to the immune system, cardiovascular health and skin. The addition of grapefruit consists of enzymes that can burn fat. The combination of sour and sweetness in the detox water helps to add the taste in the detox water.
Ingredients –
½ gallon drinking water
½ lemon, sliced
½ cucumber, sliced
½ grapefruit, sliced
½ lime sliced
Procedure –
Mix the ingredients in the pitcher. Refrigerate for 1 to 2 hours. Drink this water for at least 3 to 5 days if you want to improve your metabolism and cleanse your body.
2.
Watermelon, Mint and Strawberry Detox Water

Such homemade detox drinksare very delicious and quite appealing and tempting. Watermelon is refreshing and tasty and contains potassium that is essential for cleansing and is a diuretic due to the presence of citrulline. Strawberries contain high levels of antioxidants called polyphenols and Vitamin C and they are loaded with vitamins. Mint is also a digestion booster and adds to the flavor of the detox water. A perfect glass of refreshing drink, healthy and very easy to prepare.
Ingredients –
10 large strawberries, cleaned and sliced
½ cup watermelons, sliced
¼ cup mint leaves
6 cups of drinking water
Few ice cubes
Procedure –
Place strawberries, mint leaves and watermelon in the bottom of the pitcher. Place few ice cubes and pour the water till the top and keep the pitcher in the fridge for an hour for the flavors to infuse. Highly nutritious and refreshing. A needed drink for the sunny days.
3. Apple Cinnamon Detox Water
Apple cinnamon detox water has been a classic recipe which is being prepared since quite long. This detox water helps to boost your metabolism. Apples consist of flavonoids and Vitamin C and Vitamin B complex whereas cinnamon offers many health benefits like lowering cholesterol and fighting diabetes. This drink is perfect to be sipped all day long and is a perfect treat for health.
Ingredients –
1 Apple, seeds removed and sliced thinly
1 cinnamon stick, avoid powdering the cinnamon stick.
½ pitcher water
Few ice cubes
Procedure –
Place apple slices and cinnamon at the bottom of the pitcher. Now add ice cubes about halfway the pitcher and add remaining with water. Keep the pitcher in the fridge for 1 hour before serving. You can add few more slices of apple and cinnamon for better flavor.
4.
Detox Water For Flat Belly

This detox water contains strawberries, cucumber and basil leaves in water. Do you want to reduce the mid-section; this detox water is what you can rely on. Cucumber maintains the hydration level and is a boon to the skin. Strawberries maintain the sweetness level and help to speed up the digestion whereas basil is added for flavor and keep in check with the appetite.
Ingredients –
1 glass water
Few ice cubes
3 basil leaves, roughly chopped
1 strawberry, sliced
3 – 5 sliced cucumber
Procedure –
Combine and mix all the ingredients in a glass. Allow the water to sit for 5 minutes. Have it chilled.
Let's learn how to make flavored water...
5. Lemon, Ginger, Turmeric Detox Drink

This drink is different from other homemade detox drinks recipes as it needs to be consumed warm, preferably in the morning. The addition of turmeric and ginger in water act as anti-inflammatory agents and has anti-cancer properties. Cardioprotection and lowering the bad cholesterol are the advantages that you achieve when you add turmeric to the drink.
Ingredients-
2 ½ cups water, boiled
1 lemon, sliced
1 inch piece ginger, peeled and sliced
1/8th teaspoon turmeric, ground
Procedure –
Allow the water to boil. Now switch off the gas and add the lemon, ginger and turmeric into the water. Allow the flavors to infuse for 30 minutes. You can strain and drink this water at room temperature. But there is another option of not straining. You can put the ingredients into the boiled water and allow the flavors to infuse and drink this water once the water reaches the room temperature.
Read this super easy lemon water homemade weight loss drinks recipes to lose weight fast…
6. Aloe Vera Lime Detox water
Aloe Vera is a plant that is an official cleanser of the body. It protects the skin and is also good for hair. This Detox water is easy to prepare.
Ingredients –
1 tbsp. Aloe Vera gel
1 tbsp. lemon juice
A glass of water
Procedure –
Clean the aloe Vera leaf and cut the center with a knife and transfer the gel from the aloe Vera leaf to the glass. Squeeze the lemon and then add the juice and add water. Variation can be done with ingredients according to the taste of the individual.
7. Chia Fruit Homemade Detox Drinks
We have been telling about fruits and vegetables added to detox water, now why not add some nutritious seeds. Chia seeds are full of nutrients and antioxidants and rich source of Omega 3 and fibre. You must have normally added chia seeds to smoothies or porridges now why not add into the water and prepare a natural energy drink which can even be preferred by kids.
Ingredients –
A large jar or bottle of cold drinking water
Fruits like strawberries, lime and lemon, sliced
1 tbsp. chia seeds
Procedure –
Mix all the ingredients in a jar and shake well. Keep it in the fridge for 10 minutes and shake again. You can have this drink after few hours. You can bring a variety in fruits and change the flavor of the drink.
We know drinking water is essential for a healthy complexion and great body. Sometimes drinking water becomes monotonous and boring, hence why not make this procedure interesting by adding few ingredients in the water and make it refreshing and healthy. Detox water is better options than aerated and sweetened drinks. But there is no replacement for fitness workouts and diet regime. Detox water just contributes to the diet and workouts and help in achieving an ideal body weight. Thus just upgrade drinking water to these healthy, colorful and delicious homemade detox drinks recipes and feel the difference.
Related Posts