We all need to drink a lot of water for keeping our body hydrated and healthy. Water is the only natural liquid that has the most number of advantages. It helps in regulating the body temperature, lubricating the joints, and detoxifying our body. It also gives a lovely glow to the skin. You will also love to know here how to make flavored water with 10 interesting things.
Are you used to drinking a lot of water? In what form do you drink water? Do you like to drink a lot of hot water or the refreshing cold water? Well, even though, the doctor suggests drinking about 2-3 liters of water a day, it is sometimes not possible to drink water just like that, especially if you live in a place where you don't sweat and don't feel thirsty. Without any taste, the water doesn't seem to be an interesting drink at all. Well, to add some taste and flavour to it, we give a few things that can be added to water. Let's see and learn how to make flavored water.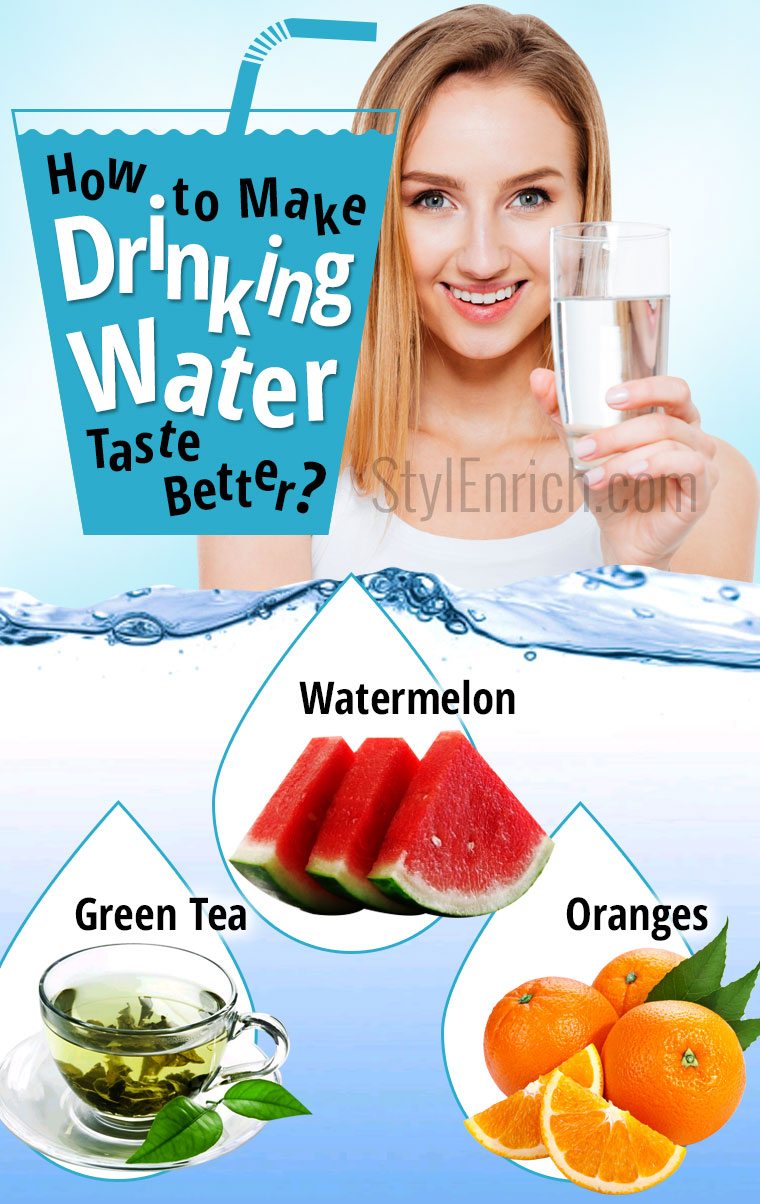 How to Make Flavored Water?
1. Lime n Lemony Drink
Lemon is one of the healthiest ingredients, which can not only give a nice tangy taste to the water but is also loaded with a lot of health benefits. It is often used in healthy flavored water recipes. It has a good amount of Vitamins, Iron, Potassium, Magnesium, and Calcium. It is also rich in fiber and pectin. It can help you in losing weight and boost your immunity system. You can either drink lime water just like that or can add some honey and ginger to it to make it a wonderful drink. Drinking it early in the morning on an empty stomach is supposed to be quite effective.
2. How to Make Flavored Water With Watermelon?
Watermelon is one of the best thirst quenching fruit. With water constituting about 92 percent of the fruit, it can be quite helpful in preventing dehydration. Rich with all the essential nutrients, it can keep the blood pressure in control and also be good for your eyes. Add watermelon to the water and keep it refrigerated. The cool watermelon juice will soothe you and your senses.
3. Cucumber
You can also add cucumber to water, to give it a nice flavour and to make it even more nutritious. With a good amount of Iron, Copper, Vitamin K and B6, along with fiber, carbohydrates, and other minerals, it can be quite helpful to you in your weight loss and can also prevent you from the aging process and cancer. So, just slice up the cucumber and add them to the water, and drink this flavoured water.
4. Cinnamon
Cinnamon is supposedly the most nutritional spice available. With its sweet taste and lovely fragrance, it has some really great properties, which can help in inflammations, clotting, and other problems. It can aid in weight loss and reduce the risk of heart diseases too. It is very easy to prepare cinnamon water. Just drop a small stick into the jug of water. You can either boil it and cool it and then drink it or you can drink it as it is.
5. Infusion of Herbs and Fruits
Making healthy flavored water recipes by infusing the herbs and fruits in a jar of water is also a good idea. Once you add the herbs in the water let it get settled for some time. The herbs can include fennel fronds, oranges, and other herbs. This will give a nice fragrance to the water and will give you a refreshing kick whenever you drink it. But, don't keep the water for more than 2 to 3 days and keep changing it.
6. Oranges
Peel oranges and add them to the water. This will give a tangy taste and will help in uplifting your mood as well. Loaded with all the essential vitamins, calcium, potassium, magnesium, phosphorous and fiber, this water can boost your immunity, and give a nice glow to your skin. It can also lower the cholesterol level and give protection from arthritis.
7. Green Tea
If you don't enjoy drinking plain water too often, you can try some variations in the form of Green tea. In fact, green tea is so soothing for the body and mind and can be the drink for your health. Its antioxidant, anti-inflammatory and anti-viral properties can save you from many illnesses. It will not only lower your blood sugar but will also help in boosting metabolism and in fighting with obesity, cancer, and cholesterol.
8. Use Flavoured Ice Cubes
For some people, drinking ice water is tastier than plain water. One can try experimenting with the ice cubes by adding different flavours to them. So, you could have cucumber ice, fresh fruit ice, or just mint ice. This will add coolness to the water and give you a refreshing and fresh drink.
9. How to Make Flavored Water Bubbly?
If you like to drink sparkling water, you can try drinking carbonated or bubbly seltzer. This will give you some added minerals along with refreshing taste. You can also add some fresh fruits to them or natural juice flavours to give a wonderful taste.
10. Pineapples and Strawberries
These are tropical fruits and have a distinctive taste. By adding some freshness to your boring water, these will not only help in giving you a thirst-quenching drink but will also enrich you with some nutrients like Vitamins A, Vitamin C, Thiamin, Potassium, Calcium, Manganese and phosphorous. These can reduce inflammations and give relief from joint pains, digestion issues, and immunity. Without adding a lot of calories, these can also provide the much-needed energy to the body. Your skin will be left glowing and your aging process would be slowed down.
So, with these tips now you know how to make flavored water. Decide on the quantity of water that you will consume in a day and make it a point to finish those bottles or jars. Relish the water that you drink as it is the best way to remain healthy. Drink water to your health and you would live a longer and healthier life, savoring each and every moment of it. You can definitely not find a cheaper and a better solution to enrich your life.
Related Posts