A smooth skin is something that everybody is fond of. Not just because it looks beautiful, but also because it feels good. A smooth skin is less prone to getting exposed to problems like blemishes, acne, enlarged pores or wrinkles. A dry and rough looking skin makes us look tired and boring. And that's the last thing we wish for, right? Let us admit! Here, we will bring to you how to get smooth skin.
We all are jealous of those people who flaunt a smoother skin. If you too are one among those who are hunting for some ways in which you can land a smooth skin, then this article is for you! Read on to grab some amazing home remedies that will leave your skin smoother than ever! You'll totally fall in love with your skin! Let's get started!
How to Get Smooth Skin With Top 5 Effective Home Remedies?
1. Lemon
Lemon is one amazing fruit that shouldn't be missed in your beauty regime. Lemon juice can help you in getting rid of various skin related problems like acne scars, lightening dark spots, fighting signs of aging and so on. Lemon has cleansing properties that will do magic for your skin and remove all the impurities in the skin. Especially, if you travel a lot in pollution-prone areas, lemon can do a lot to your skin to make it look younger and smoother. The citric acid content that is present in lemons will help in smoothening the skin by removing dead skin cells from the outermost layer of your skin. This will leave you with a younger looking smoother skin.
How to Get Smooth Skin Using Lemon?
For getting smooth skin on your face faster, you will require rosewater too along with 1 or 2 fresh lemons.
Squeeze the lemon juice into a small bowl. Add equal quantity of rose water to it.
Blend the mixture well and let it refrigerate for 10 to 15 minutes. Make sure you don't refrigerate it for too long as it might turn into semi-liquid and what we're actually pointing at is a liquid that should feel cold.
Apply this cold mixture of lemon juice and rose water on your face by dabbing it using cotton balls. Apply it evenly on your face and let it stay for 15 to 20 minutes.
Wash it off with mild water after 20 minutes. Repeating this procedure every day for about 2 weeks will leave you amazed with smoother looking skin.
2. Egg Whites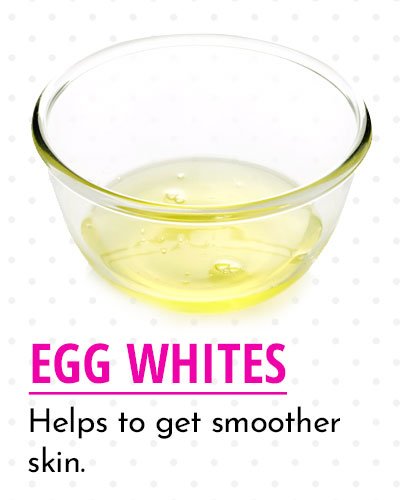 Yes! That's right! The egg is not just for those people who want to build some mass on their bodies but also works wonders who want to have smoother skin. There are special properties in an egg that will help you in getting smoother skin. Not just that, adding to that feature is that egg whites can also add a natural bounce to your skin. So, if you're worried about having too tightened or dry skin, an egg is something you should definitely try!
How to Get Smooth Skin Using Eggs?
Take a small bowl and crack open a fresh egg. Do not take the egg yolk into the bowl. What we want is only the egg whites part.
Add a pinch of turmeric to this egg whites portion. Stir it well until the egg white and the turmeric is blended into other really well.
Apply this semi-liquid mixture on your face and your skin. Let it stay for about 15 minutes. It might feel a tad bit annoying in the beginning due to the tightness that's caused. But then, no pain no gain, see!
After 15 minutes, wash this off by using Luke warm water. Clean it with a neat towel. Repeat doing the same procedure every day for at least a month to see noticeable results.
3. Aloe Vera
Aloe Vera is a common natural ingredient that you can find in many over the counter beauty products. Aloe Vera has anti-inflammatory properties that work wonders to fight many skin related problems like acne scars, signs of aging, redness on the face, dry skin and the like. Aloe Vera is also a proven method that could help you in getting rid of dry skin and land you a beautiful looking smoother skin. Good for you if you have the aloe vera plant at your home. If not, you can always buy the aloe vera gel that is available as the over the counter product in beauty care shops.
How to Get Smooth Skin Using Aloe Vera?
Extract the Aloe Vera gel from an Aloe Vera gel or the over the counter product gel. Add some lemon juice extracts and some honey to this mixture in approximately half quantities. That is, if you take 2 tablespoons of Aloe Vera gel, you can add 1 tablespoon of honey and lemon juice extracts.
If you have dry skin, you can also add some drops of rose water to the mixture.
Blend all the ingredients well and apply it evenly to your skin and face. Wash it off with Luke warm water after letting the mixture stay for 20 minutes.
Another simple alternative for those who are very lazy to take the pain of gathering lemon juice and honey is to simply apply the gel on your skin and face evenly. This will do the trick too! You need to repeat the procedure for at least 3 weeks to see noticeable results.
4. Tomatoes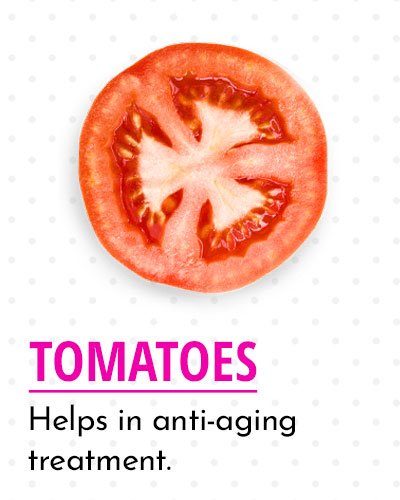 Yes! This ingredient that you probably use only in your kitchens has properties that can smoothen your skin! Tomatoes are natural skin toners. Especially for those who don't have a toned back, tomatoes can be of great help. Besides, it is famous for its smoothening properties. The juices that are present in tomatoes can be effectively used to smoothen the skin and also help in anti-aging treatment.
How to Get Smooth Skin Using Tomatoes?
Make a fine paste of 2 to 3 tomatoes by mixing them in a mixer. If desired, you can add a small cup of milk to it while you're mixing it in your mixer.
Apply this paste on your skin and face every day as soon as you are up from your bed. Let it stay for about 15 minutes before you can wash it off with mild water.
Repeating this procedure for a month or two should give you desired results and you will be left with smoothening skin with an even tone.
5. Honey and Turmeric
Honey is yet another natural skin care ingredient that will work wonders for getting smoother skin. Mixing honey with turmeric is the best combination for getting smoother skin. You will also notice that by following this trick, you'll have a glowing skin too! So, glowing skin is an add-on when you're doing this trick.
How to Get Smooth Skin Using Honey and Turmeric?
Take 1 tablespoon of natural honey. Add a pinch of turmeric to it.
Blend the mixture well into each other. You can also add few drops of rosewater to it for best results.
Apply this mixture on your skin and face every day.
Repeat this process for at least 2 to 3 weeks to see surprising benefits like smooth skin, glowing skin, and an even-toned skin.
My quick tip-
Do not forget to add rose water to the mixture although it's optional. Rose water will not have a direct impact on smoothening your skin, but however, it will enhance the benefits of honey and turmeric.
They were some of the amazing home remedies that will help you in getting smoother skin. Another most simple remedy that's hardly given any importance is drinking loads and loads of water. Drink at least 6 to 8 glasses of water every day. This will help in removing many impurities from the skin and help you in getting a clearer skin free of pimples and also give you smooth skin. This is the most underlooked remedy, but trust me, it works! Along with drinking lots and lots of water, try out those effective home remedies to get that smooth skin you would love to flaunt about!
Read more- Superb Skin Care Tips to Remove Uneven Patches of Skin Darkening!
Related Posts