Our hair plays very important role to boost up our confidence. Healthy hair enhances our beauty and personality. Today in this article we know about different homemade tricks to make our hair more beautiful. You must have heard about different hair products available in the market but today I am going to tell you about miracle fruit and that is Avocado.
Avocado hair mask can replace all your expensive hair treatments which contains chemicals and side effects. Avocado Hair mask can revitalize, moisturize and gives shine and luster to our hair. Let's see how this miracle fruit can be used as Hair mask with other natural ingredient.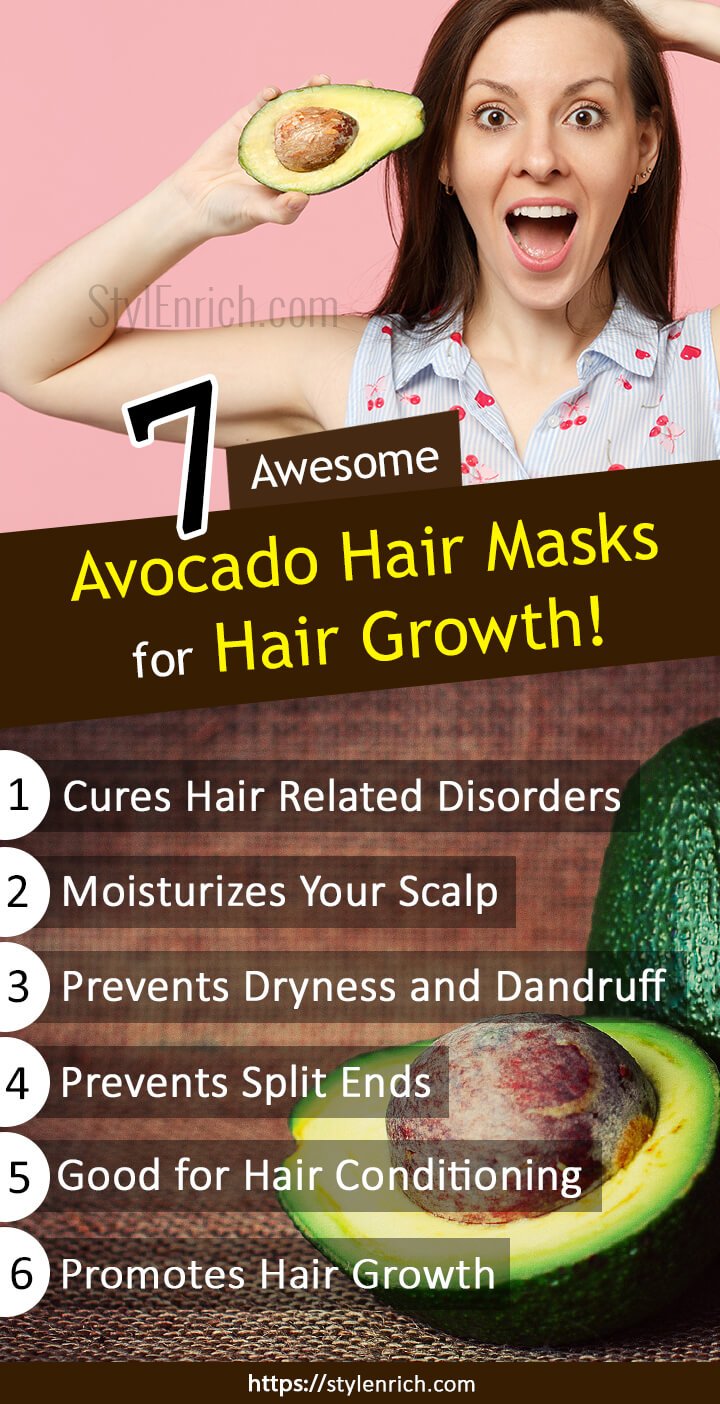 About the Avocado fruit
The avocado is a probable origin of south Central Mexico. The fruit is also known as avocado pear or alligator pear. The average tree produces more than 500 avocados a year. The thin green skin turns into dark black or purple when it ripens and have a thick pulp inside.
Nutritional Facts of Avocado
Avocado is packed with nutrient which is also called as nature's butter and is full of vitamins and minerals like riboflavin, niacin and folate. The minerals such as magnesium, potassium also give this fruit an excellent choice. The fatty acids like omega 3 is also present in avocado which helps to reduce cholesterol, triglycerides and Low density lipoprotein. 40 grams of avocado contains-
64 calories
6 grams of fat
4 grams of carbohydrates
Less than a gram of sugar
3 grams of fiber
Amazing Benefits of Avocado for Hair
Although Avocado fruit can be used in many recipes. It can be eaten as a salad or can be pureed to make smoothies with lime juice or tomatoes. The fruit which is packed with full of benefits is not only good for your health as well has a potential to make your skin and hair more gorgeous.
1. Cures Hair Related Disorders
Our hair strand requires Vitamin B for proper functioning of hair follicles. Diseases like Alopecia can be treated with Avocado hair mask as it contains vitamin B in it. The mask is also very helpful to cure patch baldness in males too.
2. Moisturizes Your Scalp
Avocado contains fatty acids which makes a layer on your hair shaft and retains its moisture.
3. Prevents Dryness and Dandruff
The oil from Avocado hair mask hydrates your hair strand from within and prevents its dryness.
4. Nourishes Your Scalp
Avocado fruit contains many useful minerals and vitamins like vitamin A, vitamin B6, vitamin D and vitamin E which gives nourishment to your scalp.
5. Prevents Split Ends
Vitamin E is one of the important antioxidant which is present in Avocado hair mask. Vitamin E prevents our skin and hair from free radicals and prevents the damage. The mask provide nourishment to hair shaft which also controls split ends.
6. Conditioning
Conditioning is one of the main basic step which is important for Hair care regime. Avocado coconut oil hair mask gives proper conditioning to each hair strands making it healthier and shinier.
7. Promotes Growth
Hair fall is one of the major concern when we talk about Hair care. Avocado Hair mask can treat the problem well by making the follicles to open so that new hair growth can take place.
Avocado Hair mask –The Hair Revitalizer
Does your hair look dull and rough? Do you find more hair on your hairbrush? Do you have unmanageable hair?  Do you have frizzy hair? If you are facing any of these problem,then its right time to incorporate Avocado in your beauty regime. Avocado Hair mask are quick solution to these problems. Often people spend lots of money on expensive hair treatments and hair spa but with some simple ingredients, you can prepare your own Avocado hair mask.
1. Avocado, Honey And Olive Oil Mask
Honey is very effective humectant, which means it is one of the excellent moisturizer when it comes to hair and skin. It is full of essential vitamins and minerals which is needed for healthy hair. The Avocado honey olive oil mask is very beneficial especially in colder months when your hair needs extra care. Honey also has anti- bacterial property which protects the scalp from infection. Olive oil can do wonder when it is mixed with avocado. Olive oil is an emollient that helps in conditioning your hair. Avocado honey olive oil mask improves the texture and gives extra shine and smoothness to your hair.
Ingredient
1 Ripe medium sized avocado
2 tsp olive oil
1 tspof honey
Shower cap
Preparation
Take out the Avocado pulp in the bowl with the help of spoon.
Add olive oil in it.
Make a smooth paste in the blender.
Now add honey in the mixture.
Mix it properly.
Application
Apply the mixture to each strand and scalp. Also cover the tip of your hair with the mixture. Cover your head with shower cap for 45 minutes. Rinse it properly and wash it with mild shampoo.
2. Avocado Egg Hair Mask
Avocado contains good amount of natural fats which helps in moisturizing your hair. The other ingredient is an egg which is considered to be natural conditioner. Egg is also rich source of protein and protein helps to strengthen your hair strands making it more strong and prevent it from breakage. Always remember to wash your hair with cold water after applying Avocado egg mask as hot water will coagulate the egg which would be difficult to take it off.
Ingredient
1 ripe avocado
2 Egg whites
1 shower cap
Preparation
Scoop out the pulp of ripened avocado.
Mix with egg whites in a blender.
Application
Comb your hair properly. Apply the avocado mixture from the root of your scalp to the tip of the hair. Cover your head with shower cap. Leave it for 45 minutes. Wash your hair with a mild shampoo.
3. Avocado Banana Hair Mask
Apart from Avocado, the important ingredient in this recipe is banana. Bananas are considered to be the superfood and are rich in antioxidants as they fight against free radicals which damages our hair. Bananas are rich in potassium which prevents hair fall and promotes hair growth. They are also rich sources of amino acids that protect our hair from environmental changes.
Ingredients
1 over ripened banana
1 medium size avocado
Preparation
Take out the pulp of avocado.
Peel the banana and mix it with avocado pulp using blender.
Application
Apply the Avocado Banana Hair Mask properly to each hair strands. Leave it for 1 hour. Wash your hair with mild shampoo.
4. Avocado Coconut Oil Mask
We have already come across the benefits of applying avocado as a hair mask but can you imagine what wonders it can create if you mix Avocado pulp with coconut oil. Yes, you heard it right. If, you are crazy about tropical fragrance of coconut oil then Avocado coconut oil mask is perfect choice for you. The dry hair makes your hair strand unmanageable and brittle. Coconut oil contains saturated fatty acids and lauric acid. The combination of avocado pulp and coconut oil heals dry and brittle hair and moisturizes the hair shaft from within.
Ingredients
1 ripe avocado
2 tsp of coconut oil
Preparation
Scoop out the pulp from avocado.
Add coconut oil in it.
Make it into fine paste using blender.
Application
Put the mixture all over your scalp. Leave it for half an hour. Wash your hair with mild shampoo or any cleanser.
5. Avocado Yogurt Hair Mask
Avocado yogurt Hair mask can be very beneficial for oily hair. The combination of yogurt and Avocado pulp controls the extra sebum secretion from the scalp and maintain the moisture content. Yogurt is full of proteins which our hair requires to grow. It also has natural conditioner in it which moisturizes our hair. The lactic acid of yogurt clears the dead cells from the scalp and help our hair follicles to grow.
Ingredients
2 tbsp Avocado pulp
2 tbsp of yogurt
Preparation
Combine both the ingredients together in a mixing jar.
Make a fine paste.
Application
Apply the mask onto your hair from the scalp to the ends. Give a nice massage to your scalp so that the mask covers all your scalp properly. Leave the mask for 30 minutes. Rinse as normal.
6. Avocado, Olive Oil And Oatmeal Hair Mask
The another mask which also works wonder for oily hair is Avocado olive oil and oatmeal hair mask. If you are facing problems related to dandruff, scalp inflammation and scalp itchiness, so this mask is appropriate for you. Oatmeal contains Beta glucan which helps in hair growth. Oatmeal also contains polysaccharides which helps in making your hair smooth and soft.
Ingredients
1 ripe avocado
1 tsp of olive oil
3 tsp of oatmeal
Preparation
Scoop out the avocado pulp in the bowl.
Mix olive oil in it.
Crush oatmeal into fine powder.
Add crushed oatmeal into avocado mixture.
Make it into fine paste.
Application
Apply the paste all over your scalp, from root to the tip. Leave it for 30 minutes. Wash your hair as you normally do.
7. Avocado Aloe Vera Hair Mask
Aloe Vera contains more than 75 nutrients which can be beneficial for our hair. Aloe Vera has proteolytic enzymes which helps in hair regrowth by stimulating hair follicles. The antifungal and antiviral properties of Aloe Vera is great to heal flakes and dandruff. It also gives relief from scalp itchiness and irritation as Aloe Vera has anti-pruritic properties. The Aloe Vera is rich in protein, vitamin and minerals gives nourishment to hair follicles. Avocado Aloe Vera hair mask helps to lock the moisture and prevents dryness of your hair. It also contains powerful antioxidants which protects the cells and stops hair fall. Regular use of the mask can be very effective and gives your hair a lustrous and shiny look.
Ingredients
2 tbsp of avocado pulp
2 tbsp of Aloe Vera gel
Preparation
Take out Aloe Vera gel from fresh leaf.
Now cut the edges of the leaf.
Slice the top layer of the leaf.
You can also get Aloe Vera gel which is available in the market.
Mix it properly with Avocado pulp so that there should be no any lump.
Application
Apply the mixture all over your scalp. Make sure to cover the tips properly.Let it dry for 40 minutes. Wash your hair using any mild shampoo.
FAQ (Frequently Asked Questions)
1. How often should we use Hair Mask?
Ans. Usually once in a week is recommended but if your hair is too dry and damaged, you can go for twice a week.
2. Which hair mask is good for oily hair?
Ans. Avocado Yogurt Hair Mask is good for oily hair. It controls the secretion of extra sebum from your scalp.
3. What water should be used to wash off hair mask?
Ans.Always use cold water(normal temperature) to wash your hair. Too cold or too hot water can be harsh and destroy the hair texture and smoothness of your hair strand.
4. Is it good to take raw Avocado for Hair mask?
Ans. Try to use well ripen avocado for your avocado hair mask. Raw fruit does not have soft pulp which is required for the preparation.
5. How to get rid of smell of an egg after using an egg mask?
Ans.Wash your hair with mild shampoo as you regularly do. Now, squeeze a lemon in half a liter of water. Rinse your hair with lemon water. Lemon will remove the smell of an egg and it contains vitamin c which will give extra shine to your hair shaft.
6. Can Avocado hair mask be applied on color treated hair?
Ans. Yes, you can apply Avocado mask on your color treated hair.
Tips For Healthy Hair
Do not use too hot or too cold water for washing your hair.
Do not rub your hair vigorously with towel as it results in breakage of hair strands and can cause split ends. Try to use any soft cotton cloth instead of thick towel.
Do not brush your hair when it is wet. Always use wide tooth comb to detangle your hair.
Avoid too much heat treatments, as it will only cause damage to your hair strands.
Oiling is very important in hair care regime. Oiling allows new hair follicles to grow and gives proper conditioning to your hair. You can make your own hair oil at home which will be free from all the chemicals. Avocado oil, Argan oil, Castor oil and Sage essential oil are some good options which you can go for. You can mix these oil together and have head massage to reap more benefits.
If you have brittle and dull hair it can affect your personality. Try to introduce these easy homemade Avocado Hair mask and bring new charm to your beauty. Gentle care and change in your lifestyle can give good results. So try your favorite Avocado hair mask and experience a new change in yourself.
Thanks.
Read Next – Amazing Avocado Nutrition Facts & Benefits!
Related Posts