Do you wish to add more taste to your bland meals? Or, would you like to enhance the taste of your meals? Pickles are the perfect accompaniments for any meal. With their tangy and spicy flavour, they enhance the taste of all dishes. In fact, when you have some nice pickles around, you would gulp down more quantity of food, even without realizing it. So, to make boring dishes interesting, pickles are the best side dishes. And, there are so many varieties of easy pickle recipe that one can easily make at home. From the ubiquitous mango pickles, lime pickles, green chilli pickles, onion pickles, garlic pickles, to fruits and vegetable pickles, you can pickle almost anything and everything. And, the older the pickle, the tastier it is, just like old wine.
Main Features Of Making Pickles
Even though there are lots of ready-made pickles available in the market, not all of them are healthy. Especially when you compare the market versions with the original home-made pickles, you will yourself find the difference. Given below are some of the main ingredients that go into the pickles.
Oil and salt are the most important ingredients. Salt adds the flavor to the pickles, and draws the moisture, and also stops the growth of bacteria in it. While, oil is the barrier, which prevents the ingredients from getting dry. Oil keeps the pickle moist. While people in north India use mustard oil for preparing pickles, the people in south India use more of sesame oil.
Varieties of spices go into making the pickles. All the spices that go into the pickle ensure that the pickle tastes awesome and outstanding. Also, these spices give the extra tinge to them.
Fresh vegetables and fruits, for making crunchy pickles. Depending upon the freshness of these veggies and fruits, the pickles become quite tasty.
Let us discuss some salsa recipes which can be easily prepared at home.
Process Of Making Pickles
Making pickles is a time-consuming process, and takes in a lot of time, but it is also quite simple and easy pickle recipe. You need to dry all the ingredients in the sun first and keep them soaked in spices and oil. Also, you will have to let the pickles remain in the sun for some time, so that the flavors are developed, and enhanced. The key to making pickles is having a lot of patience. As, the longer time you wait for the pickles to get done, the better tasting pickles you will get.
Given are some tips that you will need to follow before you jump into the process of preparing pickles.
Use only sterilized jar for storing the pickles, as they will keep the pickles fresh for a longer time.
Use fresh and seasonal fruits and vegetables only. The freshness of the vegetables will lend the crunchy taste to the pickles.
Don't be miserly with salt. You will need to add lots of salt to it, as it will help in drawing out the water from the vegetables, and help in preserving the pickles for a longer duration.
Use flavored vinegar, which will give a fantastic tanginess and taste to the pickle recipes.
Before closing the lid of the pickle jar, remember to wipe away the jar's rim.
All these tips will ensure that your pickles are preserved for a longer duration. Let's move towards the easy pickle recipe.
Easy Pickle Recipe That You Should Try Out
Even if you have never pickled before, the easy pickle recipe explained below, will give you a very easy method by which you can get into the process. From cucumbers to drumsticks, from strawberries to watermelon rind, you can pickle anything and everything. You only require your imagination, and your taste buds for giving you company. And, all the vegetables and fruits are available easily.
Have you wondered how to make homemade pancakes? Try out these delicious pancake recipes…
1. Recipe Of Lemon Pickle
Lime pickles are all-time favorites and can be had with almost any dish. With its natural sour taste, along with aromatic spices, this pickle will become the highlight of your meal. It can even make your bland dishes tasty.
Preparation Time: 5 Minutes
Cooking Time: 10 minutes
Resting Time: 30 days
Ingredients-
Sour Limes (washed and dried, and cut into smaller pieces) – 1 Kg
Salt – 1 and quarter cup
Whole Red Peppers – 1 Cup
Asafoetida – 1 Tsp
Powdered Sugar (Depends upon taste and choice) – ¼ cup
Ginger (Optional) – sliced
Process Of Making Lemon Pickles-
Take all the ingredients in a bowl, and mix them all together.
Transfer them all into a jar.
Keep the pickle under the sun for 30 days.
After 30 days, you will find that your lemons have turned tender and the pickle will be just right.
You can start using the pickle after they have turned tender, and eat them whenever you feel like.
2. Recipe of Mango Pickle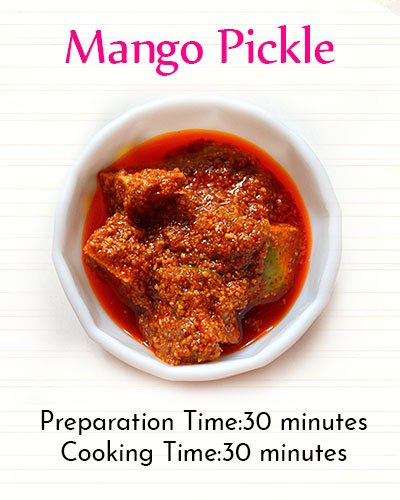 Even the thought of a mango pickle will make your mouth water, right? Mangoes are so awesome and they taste so good in any form. Be it raw mangoes, ripe mangoes, mango juice, mango shakes, cooked mangoes, or the very common mango pickles, mangoes are summer's delight.
Preparation Time:30 minutes
Cooking Time:30 minutes
Ingredients-
Mangoes (chopped into a smaller size) – 2 and ½ kg
Fenugreek seeds – 100 gm
Red pepper (Coarsely ground) – 50 gm
Onion Seeds or Kalonji – 60 gm
Fennel Seeds (Saunf) – 100 gm
Black Peppercorns – 2 tbsp
Turmeric Powder – 50 gm
Salt – 300 gm
Mustard Oil or Sesame oil – 1 and ½ liters
Process Of Making Mango Pickles-
Take a bowl and add all the spices to it. Mix them all together with a dry spoon
Now, add a half cup of oil to the spices, and mix them well. Use a little portion of this spiced mixture to also sprinkle the jar, so that the inside of the jar is completed covered with the mixture.
Now, take the cut mangoes, and rub them in this spice mixture. Try putting a layer of mangoes inside the jar, and sprinkle the spice mixture on top of that.
Try to keep alternately adding layers of mangoes and spice mixture till all your mangoes get over. Now, put the remaining mixture of spices and oil on top of the mangoes.
Pour the remaining oil into the jar, until the entire content is covered and soaked in oil.
Keep this mixture in the sun for about 7 days, and then store them.
After a period of 7 days, when you open the jar, you will find the mangoes to be quite tender and soft.
Serve them with rice or parathas, and just see how quickly the food goes in.
Have you been thinking of giving your kids some tasty snacks? Click here to get Sumptuous Lasagna Recipes…
3. Green Chilli – Easy Pickle Recipe
Green Chillies are packed with nutrients and are the best way to add spicy flavor to the dishes. They are rich in Vitamin C and are also good for the eyes. They can be prepared very easily and can add that definite kick to even the simplest Indian meals.
Preparation Time: 10 minutes
Cooking Time: 2 hours and 30 minutes
Ingredients-
Chopped Green Chillies – 1 Kg
Salt – 1 cup
Mustard Oil – ½ kg
Red Chilli Powder – 1 tbsp
Turmeric Powder – 1 tbsp
Finely ground ginger – 200 gm
Finely ground garlic – 250 gm
Cumin Seeds (Roasted and ground) – 100 gm
Mustard Seeds (Roasted and ground) – 200 gm
Sugar – 1 cup
Tamarind – 200 gm
White Vinegar – 3 cups
Process Of Making Green Chilli Pickle-
Take the green chillies and put them in a bowl. Now, add salt to green chillies, and keep them for about 2 hours. This will marinate it nicely.
Take vinegar, and soak the tamarind in it, for about 2 hours.
Extract the pulp from the tamarind after 2 hours. You will get a thick paste out of it.
Take a large vessel, and heat the mustard oil in it. Add turmeric powder and red chilli powder to it.
Now, add garlic and ginger to it, and give it a good stir.
Keep stirring the mixture for some time.
Now, add the mustard powder and cumin powder to it.
Pour the pulp of tamarind and vinegar into this mixture, and mix them well.
Add sugar to this mixture, and cook them on a low flame for some time.
Finally, add the green chillies, and cook them for about 10 to 15 minutes on a low flame, till the oil gets separated.
The pickle is ready to be served. It will taste good with any of your choice dishes.
4. Recipe of Gooseberry Pickles
Gooseberries have a definite sweet and sour taste, which can really tingle the taste buds. It has a good amount of Vitamin C, and is also a very healthy fruit. Pickles made out of them, are quite tasty, and good, and can really give that kick to the sensory organs. So, just give yourself the goodness of health and taste, and get a bag full of gooseberries, and get started.
Preparation Time: 10 minutes
Cooking Time: 45 minutes
Ingredient-
Gooseberries or Amla – 1 Kg
Salt – 350 gm
Mustard Oil – 1 cup or 250 gm
Mustard Seeds – 1 tbsp
Chilli Powder – 1 tbsp
Asafoetida – 2 tbsp
Process Of Making Gooseberry Pickles-
Take some water, and boil gooseberries in it, till they become tender. It will take around 15 minutes for that.
Drain them in a strainer, till they are completely dried, and drained.
Take a pan, and heat some oil in it. Now, add the mustard seeds, chilli powder and asafoetida to it.
Mix them well, and add gooseberries and salt to it.
Stir fry the gooseberries till the mixture is mixed well. Your gooseberries should be completely coated with the spices.
Allow them to cool down, and then store them in a clean jar.
Your pickle is ready to be served. And, you can have them with whatever dish that you want.
Top Tasty Snacks Recipes That Can be Made During Diwali!  
5. Recipe for Summer Sweet Pickles
This is a very popular and easy pickle recipe. It will give you a fantastic way to have sweet pickles, which will satisfy your sweet tooth. With fresh cucumbers as the main ingredient, this pickle is healthy and good, and it is relished by people from all age groups.
Preparation Time: 10 minutes
Cooking Time: 20 minutes
Ingredients-
Apple Cider Vinegar – 1 cup
Salt – 1/8 cup
White Sugar – 1 cup
Ground Turmeric Powder – ¼ tsp
Mustard Seeds – ½ tsp
Cucumber – 1 kg
Sweet Onions – 2
Process Of Making Summer Sweet Pickles-
Take a small saucepan, and heat it on a medium flame. Now, put apple cider vinegar, sugar, salt, turmeric powder, and mustard seeds to it.
Bring them all to a boil. Keep cooking it for about 5 minutes.
Slice the onions and cucumbers. Put the vegetables loosely in a canning jar.
Pour the hot boiling liquid on top of the vegetables, in the container.
Keep the pickle refrigerated for about 24 hours.
The pickle will taste sweet and delicious and will go well with all kinds of meals.
Keep the pickle refrigerated.
These were some of the easy pickle recipe, which can be easily tried at home. You only need to have some patience, and the exact ingredients, to make the pickles. Without the added preservatives that are found in the ready-to-buy pickles, the homemade pickles are organic, fresh and pure. And, you can pickle almost any vegetable of your choice. In fact, you can preserve all the summer fruits and vegetables by pickling them.
So, go for easy pickle recipe and prepare pickles with all the ingredients that are quite easily available. You will never miss your summer vegetables and fruits, as you will get to eat them the whole year long. A hit with kids and elders alike, these pickles will add a sense of delight to your food table. Give them a try and prepare a variety of pickles, so that you get to eat them in variety, without getting bored. After all, pickles add an extra taste and flavor to every dish that you have. Give your taste buds a yummy treat with these delicious easy pickle recipe.
Read more – Homemade Spaghetti Sauce Recipe That You Will Love to Learn!
Related Posts