What are Alkaline Foods?
Alkaline! We generally use the term when referring to batteries, right? Well, people all around the world are talking about Alkaline foods! So for those who are just being introduced to the word, let us see what High Alkaline Foods are.
When referring to our body, Alkaline helps in maintaining the pH balance. We all know that the pH balance is essential in controlling the acidity level in our body. That is, high levels of acid lead to many health issues and this has to be kept in balance by including High Alkaline Foods in our diet.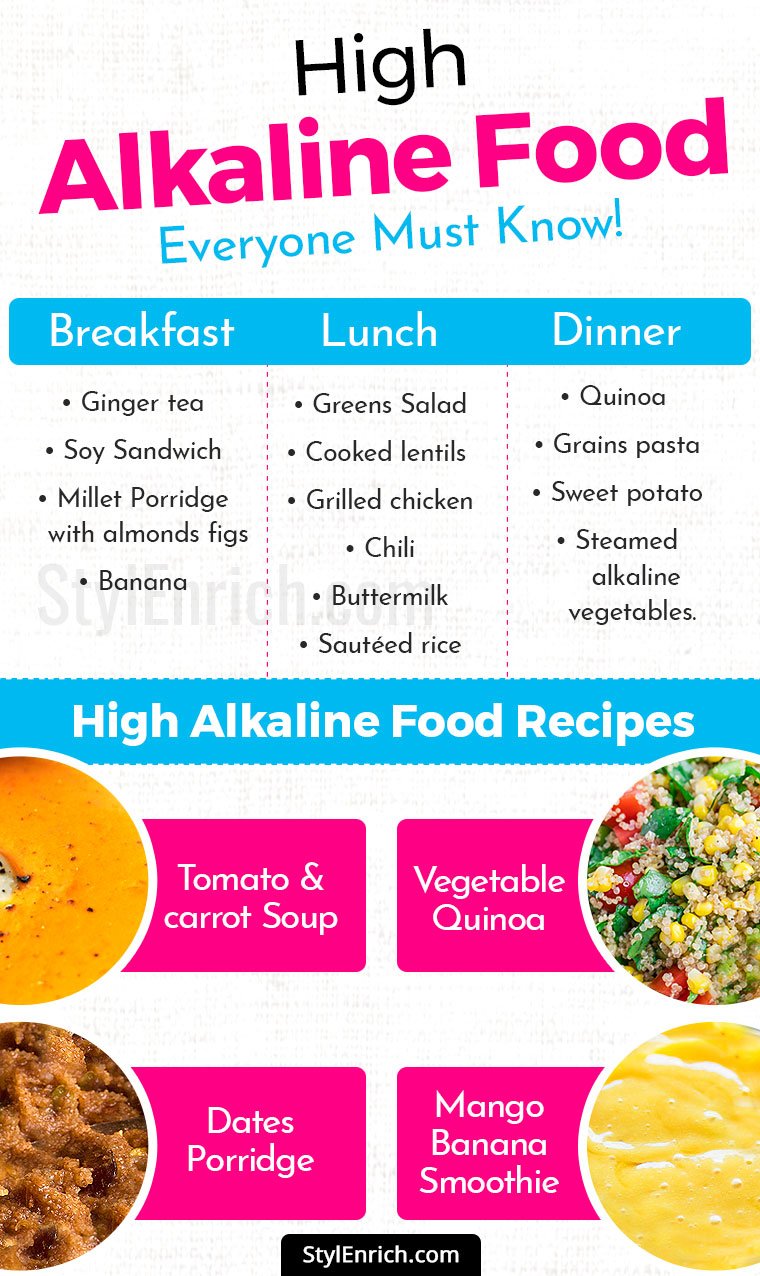 So, What Consists of Alkaline Foods?
The Alkaline food list basically consists of a diet which basically includes all foods that are healthy for our body and helps maintain a balance between the Alkaline-acid balances.
The list of alkaline foods includes whole grains, certain fruits and vegetables, and excludes processed food, dairy, meat, poultry, convenience foods etc. You can find more details of high alkaline foods in the food chart and diet plan given in this article.
How Will I Know If My Body is More Acidic?
If your pH balance is higher on the acidic side, there will be certain signs or symptoms pertaining to this. Those may include minor issues like:
Feeling of Fatigue and less energy.
Changes in bowel movement.
You will often feel bloated even if you did not eat a full meal.
Heartburn or Acid reflux
Frequent colds and infections.
Fluctuating weight and hair fall.
Including High Alkaline foods in your diet will address these symptoms, if they are related to the acidity.
Why Should I Eat High Alkaline Foods?
Maintains the pH balance in your body.
Protects your body from contracting a chronic illness.
Reduces risk of cancer
Helps in maintaining a healthy weight.
Flushes out the toxins from your body
Skin complexion becomes clear
Helps in growing good bacteria in the body and hence strengthens the immune system.
Alkaline Acid Food Chart
This Alkaline Acid Foods Chart will help you understand to differentiate between alkaline foods and acid foods and their intensity. Listed here are some of the Alkaline Food List and not a comprehensive one.
ALKALINE ACID FOOD CHART
ACID-FORMING FOODS
FOOD CATEGORY
ALKALINE FORMING FOODS
High Acid
Medium Acid
Low Acid
Low Alkaline
Medium Alkaline
High Alkaline
Nutra Sweet, Equal, Aspartame
White Sugar, Brown Sugar
Processed honey, Molasses
SWEETENERS
Raw Honey, Raw Sugar
Maple Syrup, Rice Syrup
Stevia
Blackberries, Cranberries, Prunes
Sour Cherries, Rhubarb
Plums, Processed Fruit Juices
FRUITS
Oranges, bananas, Cherries, Pineapple, Peaches, Avocados
Dates, Figs, Melons, Raisins, Grapes, Kiwi, Blueberries, Apples, Pears
Lemons, Lime, Watermelon, Grapefruit, Mangoes, Papaya.
Chocolate
Potatoes, Pinto beans, Lima beans
Cooked Spinach, Kidney Beans, String Beans
BEANS, VEGETABLES, LEGUMES
Carrots, Tomatoes, Corn, Mushrooms, Cabbage, Peas, Potato Skins, Olives, Tofu
Okra, Squash, Green Beans, Beets, Celery, Lettuce, Zucchini, Sweet Potato
Asparagus, Onions, Garlic, Parsley, Raw Spinach, Broccoli, Vegetable Juices.
Peanuts, Walnuts
Pecans, Cashews
Pumpkin seeds, Sunflower Seeds
NUTS AND SEEDS

 

Chestnuts
Almonds
 
 
 
Corn Oil
OILS
Canola Oil
Flax Seed Oil
Olive Oil
Wheat, White Flour, Pastries, Pasta
White Rice, Corn, Buckwheat, Oats, Rye.
Sprouted Wheat Bread, Brown Rice, Spelt.
GRAINS &CEREALS
Amaranth, Millet, Wild Rice, Quinoa
 
 
Beef, Pork, Shellfish
Turkey, Chicken, Lamb
Venison, Cold Water Fish.
MEATS
 
 
 
Cheese, Homogenized Milk, Ice cream
Raw Milk
Eggs, Butter, Yoghurt, Buttermilk, Cottage Cheese
EGGS/DAIRY
Soy Cheese, Soy Milk, Goat Milk, Goat Cheese, Whey.
Breast Milk
 
Beer, Soft Drinks
Coffee
Tea
BEVERAGES
Ginger Tea
Green Tea
Herb Teas, Lemon Water.
High Alkaline Foods Diet Plan
It is one thing to know the list of alkaline foods and another thing to actually incorporate it into our diet. It is a common habit among us that we gain the awareness but fail to implement.
Hence, for your convenience and to encourage you to start on a diet including alkaline foods, the following diet plan has been given based on the best alkaline foods.
ALKALINE FOOD LIST AND DIET PLAN
For Breakfast
For Lunch
For Snacks
For Dinner
·         Ginger tea sweetened Raw honey

·         Tofu Scramble with alkaline vegetables cooked in Olive Oil.

·         Soy Cheese Grilled Sandwich

·         Millet Porridge with almonds figs

·         Banana

·         Greens Salad

·         Cooked lentils or Lentil Soup

·         Grilled chicken or salmon

·         Chili

·         Buttermilk

·         Rice sautéed with choice of alkaline vegetables.

·         Alkaline fruits

·         Vegetable Juice

·         Almonds

·         Steamed Corn

·         Smoothie

·         Boiled Egg

·         Herbal Tea

·         Fresh fruit juice.

 

 

·         Quinoa cooked with alkaline  veggies

·         Pasta made with Alkaline grains instead of wheat

·         Sweet potato

·         Steamed alkaline vegetables.
The alkaline food list is just some suggestions to get you started. You can refer to the ALKALINE ACID FOOD CHART and experiment on various combinations from the Acid/ Alkaline food list.
High Alkaline Foods Recipes
Now that you know what is alkaline foods and how to incorporate them into your diet, I am sure it will be of great use if you can get your hands on some High Alkaline foods recipes! Well, here are some recipes you can try and get the diet going.
1. High Alkaline Tomato Carrot Soup
Ingredients
Tomatoes – 2
Carrots – 2
Onion – 1 finely chopped
Garlic – 2 cloves finely chopped
Clove – 1
Canola Oil – 2 spoon
Pepper powder- 1 teaspoon
Salt t taste
Coriander for garnishing
Preparation
Steam tomatoes and carrots until cooked.
Grind them in the mixer.
Put oil in a pan and add finely chopped onion and garlic
Sauté until onion is golden brown.
Add the clove and Tomato, carrot paste.
Add salt, pepper and some water to bring it to soup consistency.
Finally, garnish with coriander and serve hot.
2. Vegetable Quinoa
Ingredients
Cooked Quinoa – 1cup
Cooked Carrot – 2 (cut into cubes)
Cooked Potato – 2 (with skin cut into cubes)
Cooked Green Beans – 100 gms ( cut into small bite size)
Zucchini – sliced.
Onion – 2 finely chopped
Garlic – 4 cloves finely chopped
Almonds – 10 (blanched)
Oil – 4 Tsp
Coriander for garnishing
Salt to taste
Preparation
Put oil in a pan and sauté Onion, garlic.
Add the vegetables and almonds.
Add salt, Quinoa and sauté for 1 minute.
Finally, garnish with coriander!
3. High Alkaline Mango Banana Smoothie
Ingredients
Ripe Mango – 1
Ripe Banana – 1
Yoghurt – 1 cup
Preparation
Put Yoghurt in a strainer and let it sit for 1 hour.
All the excess will drain out
Grind in a mixer along with the fruits.
Serve chill!
(You can experiment with different combination of fruits from the alkaline food chart)
4. High Alkaline Dates Porridge.
Ingredients
Dates 20
Raw Sugar ½ cup
Coconut 1
Cardamom 5
Chestnuts 10
Clarified Butter 2 tbsp
Preparation
Remove seeds from dates and soak in water for 5 minutes.
Grind in a mixer.
Soak coconut pieces in warm water for 10 minutes and Grind them.
Take coconut milk from the paste.
Grind the coconut again two more times and keep the coconut milk taken from it each time separately. Now you will have three cups of coconut milk in different consistency.
Take a pan and add the thinnest consistency coconut milk to the groundwater.
After it comes to a boil, add the second cup of coconut milk.
Add the raw sugar and mix well.
Finally, add the coconut milk taken first which is thick and switch off.
Add cardamom and fried almonds.
Few Quick Questions and Answers About Alkaline Foods
1. Do Citrus fruits have high levels of acids?
Citrus fruits, though it may seem to have a tendency of acidifying, in reality, they have loads of Alkaline and help in the pH balance of the body. They strengthen the immune system and are in fact very good for the common cold. As you can see in the alkaline food list, lemon has high levels of Alkaline.
2. Does the diet plan reduce my weight?
Alkaline foods are meant to balance your pH level and not intended for weight loss. But incidentally, a planned Alkaline diet helps in losing unwanted weight and strengthen the body and keeps it energized.  If you are not planning to lose weight, but just want to gain strength, you can choose the best alkaline foods ideal for you from the alkaline acid food chart.
3. How does Alkaline diet help combat cancer?
Incidentally, it helps. Cancer cells survive easily when the pH level is low, that is when the acidity is more in the body. But if the alkaline level is high, the cancer cells do not thrive. Based on this simple logic, eating high alkaline foods discourages the growth of cancer cells and thus helps in combating cancer.
4. Is Alkaline water good for me?
It depends on the usage. If you choose to naturally make your water alkaline, it can be used safely without much side effect. Better to avoid bottled ones.  It is very easy to make your own alkaline water. Just add a slice of lemon and pinch of salt in your purified water and drink after some time.
We have seen what are alkaline foods and its benefits. Alkaline has become the latest trend in celebrity diets around the world, but not without its cause.  Being aware of the high alkaline foods and incorporating them into your daily diet is no more an option. It must be your way of life. Wish you happy and healthy eating!
Read Next – Best Diet Chart for Indian Women For a Healthy Lifestyle!
Related Posts