We all are aware of the importance of castor oil. But do you know the benefits of castor oil for eyebrow growth? Castor oil is a powerful element for getting faster and thicker hair growth. Hence we will go through the details of how castor oil will work for the growth of eyebrows.
Did You Know – Castor Oil Can
Thicken the eyebrows.
Strengthen the hair and hair follicles on the head.
Provide effective treatment from dandruff.
Act as a fantastic skin moisturizer.
Eyes are the windows to the soul. Don't we all agree to that? When one looks at a person, the first thing that is noticeable are the beautiful eyes and the shapely eyebrows. These days, thick eyebrows have become quite a rage. Most of the famous celebrities have deep and dark brows. But, how does one grow thick eyebrows, without undergoing any cosmetic procedure? Well, it is achievable, but requires a great deal of patience and efforts. One of the best home remedies is using castor oil for eyebrows growth.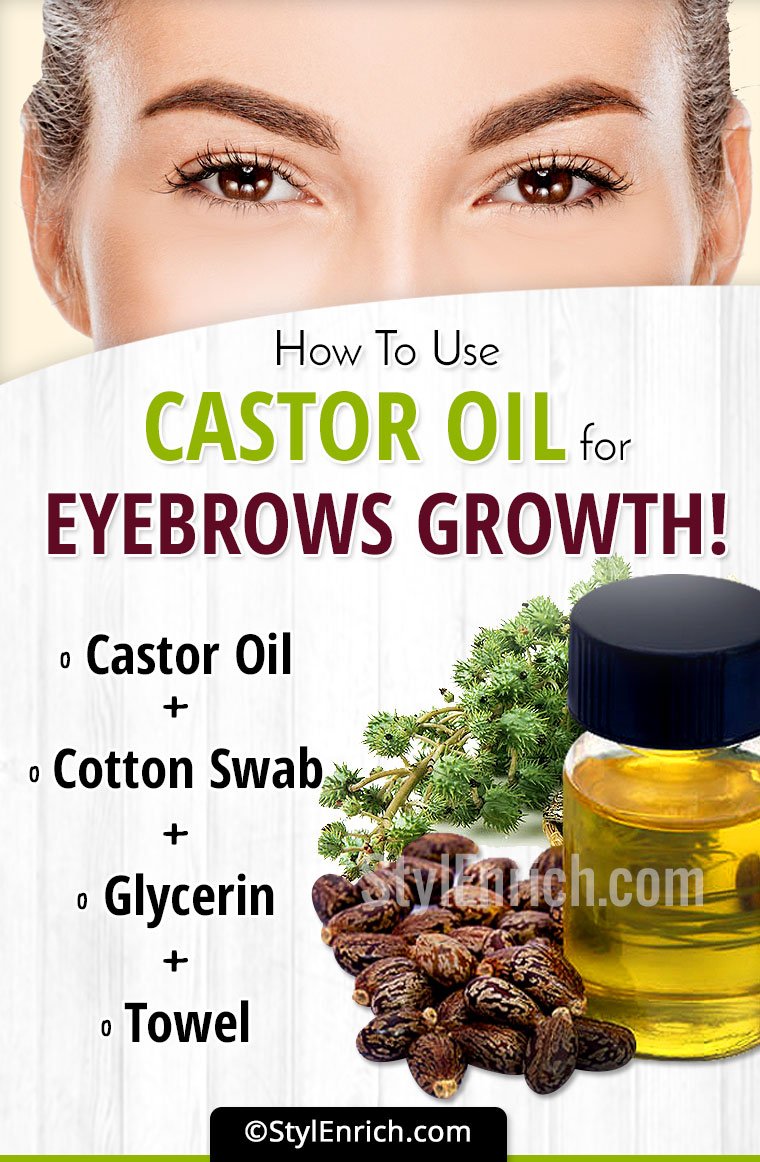 Women are quite fussy about how they look. They like their eyebrows to be shaped properly so that it gives a nice look to their face. But, if the eyebrows are too thin, it doesn't look great. Thick and lush eyebrows are more attractive to look at. And, for this, one can apply castor oil for eyebrow growth. The castor oil is quite effective in thickening up the brows while enhancing the appearance.
Why Use Castor Oil For Eyebrows?
1. Effective On Skin And Hair
Castor oil is quite beneficial, and is especially effective for skin and hair. It has a rich amount of fatty acids, which help in triggering the hair growth. Also, the best thing about this oil is that they are quite penetrative. They go deep into the skin, facilitating the growth of hair. The oil is also quite cheap and is very easy to procure. In fact, a lot of people apply this oil on the head and eyelashes of babies so that have thick hair growth and eyelashes, as they grow up.
2. Rich in Nutrients
Castor oil has been used as a natural hair growth remedy since time immemorial. People, suffering from hair loss problems, use this oil on the scalps to regrow the hair on bald heads. The oil contains nutrients, like Vitamin E, Oleic acid, ricinoleic acid, linoleic acid, Omega 6 fatty acids, which can nourish the follicles of hair, leading to hair growth. Massaging the eyebrows with castor oil is the most effective treatment for thick and deep eyebrows.
A majority of the women are not satisfied with the natural shape of their eyebrows, and they get it plucked off, to give it a nice shape. But, once the eyebrows get plucked, they do not grow up the way it used to, once. And, this can mean a lot of embarrassing moments for the women. They have to resort to eye brow pencils and markers to mask the missing brows. Though, it does try to give the desired effects, it is a time consuming process, and needs to be done on a daily basis. So, one should try to look at permanent solutions, which are natural, and are also quite effective.
How Does Castor Oil Work?
Castor oil works in 2 ways. It prevents the eyebrows from falling. And, it also helps in growing more hair in the eyebrows.
Castor oil for eyebrow growth is the best natural remedy. Getting beautiful and thick lashes will not be a tough task anymore. Castor oil has great medicinal and therapeutic benefits, too. Also, this oil can be used internally or topically.
Castor Oil – Different Variants
There are basically 2 kinds of castor oil that are prevalently used – Jamaican Black Castor oil and Regular cold pressed castor oil.
1. Jamaican Black Castor Oil For Eyebrows
Jamaican castor oil is dark in colour, and is manufactured after roasting the beans. It gets the colour from the ashes of castor beans that are roasted. When the castor beans are roasted, it creates impurities and mixes with oil and ash. This oil is rich in fatty acids and phytochemicals, which makes it more effective in treating hair and skin related problems. Being rich in nutrients, it helps in promoting faster hair growth on the eyebrows. This oil is especially useful for people who have thin or sparse hair.
2. Regular Cold Pressed Castor Oil
The regular and cold pressed castor oil differs from the Jamaican black castor oil in the colour and the way it is processed. Otherwise, both the oils have the same properties. This oil is purer than the other one, as it is colorless and organic. So, the choice between the two depends upon personal preferences.
Castor oil contains vitamins, proteins and fatty acids, which nourish the hair follicles and promotes the growth of hair.
How Can Castor Oil Be Used On The Eyebrows – Step By Step Process
As castor oil benefits is known to trigger the hair growth, it is mostly used as a tonic for enhancing the growth of thick hair. When it is applied to the eyebrows, it can accelerate the hair growth even in places, where they have been plucked off or shaved off.
Ingredients
Castor oil
Cotton swab or eyeliner brush
Towel
Glycerin
The Procedure Of Using Castor Oil On The Eyebrows
Clean your face with warm water. Spray water over the eyebrows also. Remove all the makeup from the face. Wipe it off using a dry towel.
Take cotton swabs or eyeliner brush. Dip this in castor oil. Ensure that you use clear and processed castor oil for this.
Squeeze off the extra oil, and then use the cotton swab or brush to apply oil on the eyebrows carefully. Gently massage it with the fingertips for about 2 to 3 minutes. You can also apply some glycerine on the brows for improving the effectiveness of the oil.
Use this procedure during the night. Leaving it overnight and washing it off in the morning will have the desired results. Repeat this process more often, to get wonderful results.
It is very easy to get beautiful eyebrows, and you only need to put in some efforts, and make it a daily routine. The results would be visible in a matter of 5 to 6 weeks, after starting the treatment.
How To Use Castor Oil For Eyebrow Growth?
If you want to have thick and beautiful hair, your diet should be good. But, due to the busy and hectic schedules, it is not easy for people to continue with a specific diet plan. And, this is the reason that natural oils such as castor oil, are more in demand. Castor oil is an excellent hair growth serum, which can lead to thick hair growth.
Who Should Be Using Castor Oil?
Now that we know how is effective castor oil for eyebrow growth, we also need to know who all should be using this oil, to take benefits. Given below are people who would find this oil to be truly beneficial:
People, who wish to fill their eyebrows with hair.
People, whose hair volume in eyebrows is scant.
People, who have lost a lot of hair from the eyebrows.
People, who have plucked off more hair from their brows.
Also, those people who have undergone treatments such as chemotherapy, etc.
How Does Serum Works?
As we discussed above, Castor oil is rich in Vitamin E, proteins and essential fatty acids. When this oil is applied on the brows and lashes, it leads to stimulation of blood circulation in the skin, especially near the eyes. This leads to improvement in hair growth. A few months down the line, the brows will start re-growing in a full-fledged manner. Persistence and patience is the key.
Can The Eyebrows Be Regrown?
If you have lost your brows due to hair loss problems, you might have to resort to eyebrow regrowth. And, for this, castor oil becomes an excellent and natural treatment so that the hair grows back thicker, quicker and fuller.
Given below are some tips which will lead to faster hair regrowth in the brow area:
Good Diet
Your diet should include foods which can trigger the hair growth in a natural way. Your food should be rich in Vitamins, Proteins and fatty acids. Some such food items include salmon and avocados.
Brow Enhancing Serums
There are some serums which are good at enhancing the brows. If these serums are added to castor oil, it will give a very good option for stimulating the hair growth. Other than castor oil for eyebrow growth, you can also add jojoba oil and almond oil, which are excellent for conditioning the hair and growing them.
How Long Does It Take – Do Eyebrows Grow Back?
If you wonder how long it would take for the hair to grow back, then it depends upon various factors. These include the severity of hair loss due to lifestyles and makeup used. The hair grows faster in eyebrows as compared to head. It takes around 2 to 3 months for the hair to grow. And, it also depends on the age and health of people. To accelerate this process, castor oil is applied so that the time taken is halved, and the regrowth is doubled. So, even if the eyebrows are thin, one would be able to get thicker brows within no time.
Want to grow your eye lashes using Castor Oil then you should not miss this!
Tips For Applying Castor Oil
Keep the castor oil on eyebrows longer, for better results. So, bedtime is the best time to apply the oil.
Do not go overboard on oil application, as it might make the face shiny and greasy.
Add a drop of glycerine on the brows for better results.
Try not to get the oil in contact with the eyes, as it might cause irritation, redness and intense pain.
Which Castor Oil To Buy?
There are many variants of oils available and you should ponder on these points before buying the right oil.
It is better to purchase 100% cold pressed oil, as these are organic and natural.
Purchase it from health stores or food stores. And, check the label before buying.
Using castor oil for eyebrow growth will definitely leave you with thick and lush eyebrows, which will not get broken easily. When used in moderation, the oil does not have any side effects. But, pregnant ladies and lactating mothers should try to avoid them. The castor oil can also be used on eyelashes to get fuller and longer eye lashes. So, you would be able to tackle the brows and the lashes together.
How To Prepare A Powerful Serum With Castor Oil? – The DIY Method
We give below an effective method of using castor oil for eyebrow growth & for creating a powerful serum, at home, in the most natural manner:
Ingredients Required
Coconut oil
Castor oil
Lavender Essential oil
Rosemary Essential oil
Empty mascara bottles
Process
Take the mascara bottles, and fill them half with castor oil.
Add a drop of all the essential oils to the castor oil, in the mascara bottle.
Fill the remaining space in the mascara bottle, with coconut oil. But, do not fill it up completely, and leave some space at the top.
Close the bottles, and give it a gentle shake, so that everything gets mixed up well.
Your magical potion is ready to use. Use the mascara wand to brush the eyebrows gently. A coat of this oil would be enough, and it will ensure that the serum does not get into the eyes. You can also use this serum for applying on the eyelashes, as well.
Now, getting nice and beautiful eyebrows is not a difficult task at all. You can be your own beautician and give yourself nice and effective home remedies, easily.
Castor oil is definitely a powerful element for getting faster and thicker hair growth. It not only enhances the growth of hair on the brows and lashes, but it also gives the safest and the most natural treatment, at the luxury of your home. So, now, you can say goodbye to all the cosmetic procedures and other cosmetics that are loaded with chemicals, and harmful elements. And, you can be on your way to rediscovering a beautiful you. Want to grow your eyebrows naturally? Use castor oil for eyebrow growth.
Related Posts