Summertime comes with the most relishing fruit – 'Mango'. This fruit is loaded with juicy pulp and tempting fragrance. It's not only the king of fruits but also enriched with amazing sustenance and antioxidants. We all know the benefits of eating mango but very few people are aware of the nutrition fortification of its seeds. The mango seed benefits are really speechless and amazing.
Did you know that with the help of Mango seeds your skin and body can look beautiful and young? Yes, it is very much possible.
Mango seeds are endowed with the essence of high nutrition which helps your body to fight from several diseases. The highly antioxidant quality of mango seeds helps your body to flush out the toxic waste and keep it healthy.
In this article we will explore the astonishing benefits of mango seeds.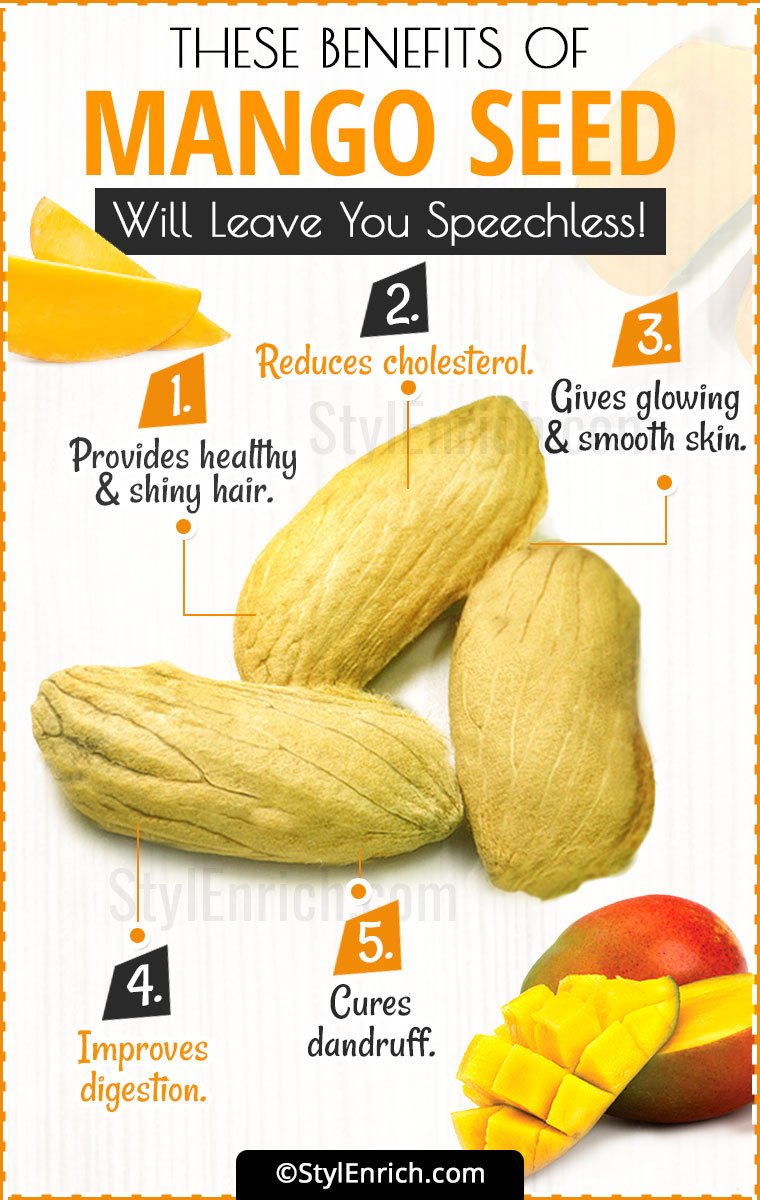 Nutritional Value of Mango Seeds
The mango seeds benefits are defined by the nutrition stored in them. Here are some nutrition facts you should know about mango seeds. (On the basis of 100-gram consumption of mango seeds)
The mango seeds intake provide 13gm total fat and 32.24 gm carbohydrate to your body.
The seeds are enriched with vitamins like Vitamin B6, Vitamin E, and Vitamin B-12.
Mango seeds are full of protein, fiber, magnesium and amino acid.
It also contains 8.4gm leucine, 2.31gm histidine, 3.8gm valine, 2.04gm threonine and 3.13gm lysine.
Benefits Of Mango Seeds
Mango is known for good fiber and nutrition. It is not only good for skin but also very useful for hair. The mango benefits for hair are really marvelous. Mango seeds are generally considered the waste and are discarded after eating the pulp. But the seed will give you a plentiful health benefit.
1. Mango Seed Benefit For Hair
It is not the products that make your hair naturally beautiful but it is the food intake instead. The nutrition stored in mango seeds like vitamins, protein, fiber, magnesium and amino acid helps the hairs to grow healthy and shiny. The right amount of intake on daily basis makes your hair shiny and silky naturally. Mango seed benefits for hairs are amazing. You will definitely get good comments about your hair from others.
2. Mango Seed For Weight Loss
Are you tensed with your excess weight and want to look slim and sexy? Try mango seed powder. The uses of mango seed powder help you to reduce the level of cholesterol and fat from your body. This simply increases the metabolism of the body and make it curvy.
3. Mango Seed For Skin
The flesh of the mango seeds contains an amazing skin benefit to make your skin glowing and smooth. It cleanses your skin from deep inside by simply removing the dirt and pores. It hydrates the skin and makes it beautiful. So apply mango seed for skin and get the glowing skin naturally.
4. Mango Seed Powder For Teeth
Mango seed powder benefits your tooth healthy and shiny. It is good for teeth as it gives you healthy and strong teeth. Simply use mango seed powder and brush your teeth thoroughly with the toothbrush. The uses of mango seed powder protect your teeth from the plague. So make your smile beautiful by using mango seed powder.
5. Best Antidandruff Remedy
The flesh of mango seeds is used to cure the dandruff problems of your head. Take a good amount of mango seeds flesh inside of them and turn them into a fine paste. Apply the paste on the affected area and leave for half an hour. Wash with clean water and pat dry. This simple procedure works as a best antidandruff remedy.
6. Helps To Improve The Digestion
The mango seed benefits by improving the digestion of your body. The highly antioxidant quality helps to improve the digestion system of the body. It is enriched with phenol which is known for good digestion. So it should be taken on the daily basis.
7. Helps To Cure Watery Stool
Take a plenty amount of mango seeds and keep them dry under sun rays. Then take the blender and grind them into a powdered form. This powder is used to cure diarrhea. Take one or two gram of powder of mango seeds with honey is a good remedy for diarrhea.
8. Good For Anemia
Are you anemic and looking for the natural remedy to enhance your red blood cells? Try mango seed powder to maintain the level of hemoglobin in your body. The regular uses of mango seed powder help to enhance the hemoglobin of your body and make it healthy.
9. For Dry Lips
Dry lips are very painful and flaky and become worse when you open the mouth. The flesh of mango powder is used to make a fine butter. This butter is used to cure the problem of dry lips. It deeply moistens your lips and makes it smooth. This is the best remedy to revitalize your lips naturally. Apply it at night when you are about to sleep and see the mango seed benefit overnight.
How To Take Mango Seeds?
Mango seeds can be taken in powdered form as it is easy to consume and digest. If you have acne, dandruff, and other skin problem then apply the mango seed flesh butter. Whether it is powder or butter every form of mango seed benefits a lot.
FAQ's Related To Mango Seed Benefits
1. Are mango seeds edible?
Yes, you can eat them in powdered form. This powder helps you to cure several problems like heart problems, teeth issues, heavyweight, anemia, etc.
2. How mango seed good for skin?
Mango seeds are good antioxidant properties and help to remove the filth or dirt from your skin. So try mango seeds for skin and make it smooth and fair. It also enhances your skin complexion and leaves a fair look naturally.
3. How can I apply mango seeds on the skin?
You can apply mango seeds butter on your skin. This is the flesh of the mango seed obtained by removing the hard shell of the mango seed.
4. I am anemic. Can I try mango seed powder to enhance my blood level?
Yes, absolutely you can go for it. It is a natural remedy to cure several problems. It helps to increase the hemoglobin level of your body. Mango seed powder benefits you to keep healthy.
Read more – Surprising Reasons For Adding Mango In Your Diet!
Related Posts