"Glowing skin is a result of proper skincare. It means you can wear less makeup and let skin shine through".  -Michel Coulombe (Global Makeup Artist)
Who does not lure for a glowing skin? Once in a while, many of you might have thought of overnight magic to happen which would make your skin glow. We got you! That is why today we are here with a few tried and tested methods to get a 'good' night remedies and nighttime skin care routine for the natural 'good' morning glow.
We wish you a very gleeful reading!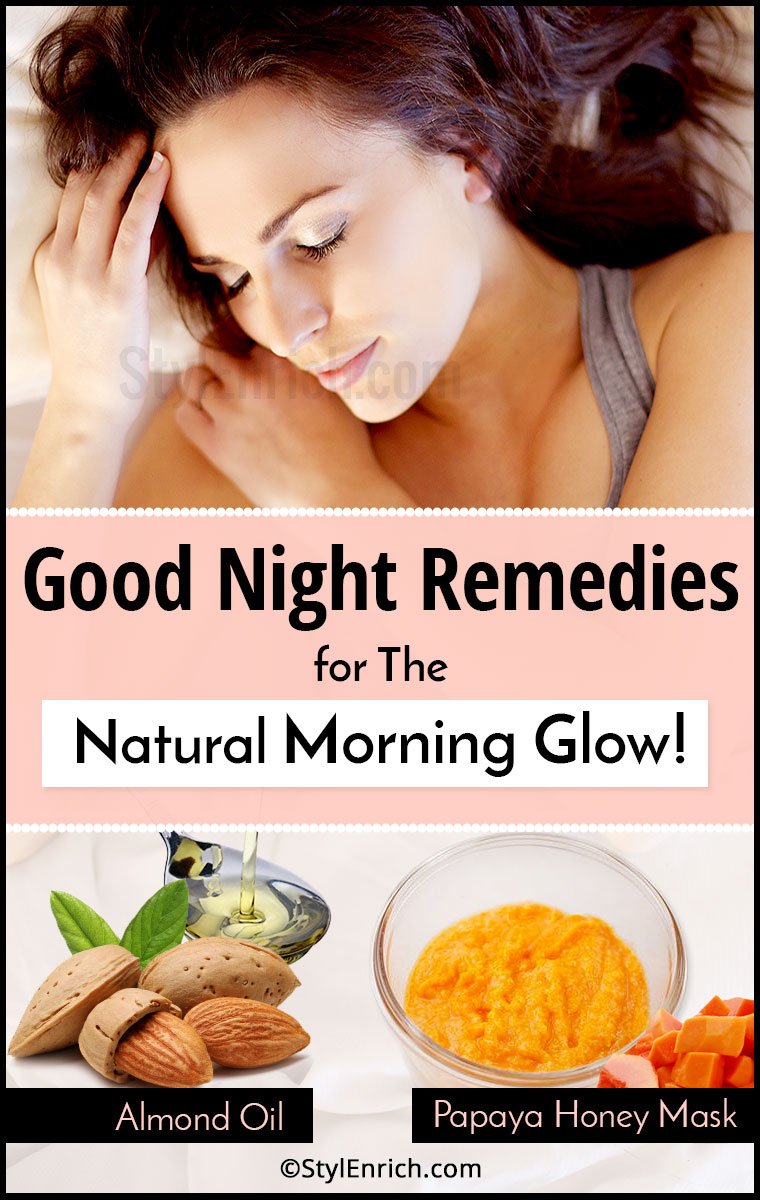 First of all, we shall discuss the basic elements for a glowing skin.
Basic Elements For A Glowing Skin
Do you remember your mother or your elder sister screaming at you and asking you to get a good sleep? Well, it was not because they wanted to see their favourite show! They always thought good for you and wanted your skin to glow. Your skin requires a proper rest. So always remember, skin glows from within if you have an accurate sleeping pattern.
Sustaining the right diet is another crucial requirement of your skin. It requires all types of minerals and vitamins in order to glow from within. All you require to do is eat everything which is healthy.
Doing good exercises or performing yoga is another way to attain a gleaming skin. Exercising or doing yoga on a daily basis removes the toxic substances within your body and helps in purifying the blood. Besides, it also keeps you healthy and fit.
You also require the right rejuvenating creams for your skin to glow. Various types of rejuvenating creams are available in the market as per your requirements. While buying it, just keep in mind that it should be the 'right' one for you.
CTM Routine: This is the most famous three-step process followed by almost every third person living. CTM Routine stands for Cleansing, Toning and Moisturising Routine.
Now, we shall tell the step by step method of using it.
Step By Step Method CTM Routine
1. Cleansing
It is the most commonly nighttime skin care routine followed step by everyone. Many of you cleanse your skin either after getting back from work or before going to bed. This step includes the complete removal of makeup from foundation to lipstick, everything. It eradicates all the breakouts which may develop blackheads.
2. Toning
Many people tend to miss out on toning and it is not a good thing. Toner helps the pore size to reduce and also cleans the dead cells which cause dullness.
NOTE: Those having oily skin can use tea tree oil as a toner.
3. Moisturising
Cleansing and toning tend to leave the skin pores open. Due to which the skin has higher chances of losing moisture, particularly in the drier months. A good moisturizer is very crucial or else your skin becomes dull, uneven and may have high chances of wrinkle.
NOTE: Those having dry skin should opt for a heavy moisturizer and the ones having oily skin should choose an oil-free moisturizer.
DO NOT skip moisturizer even in summers.
Nevertheless, it could not feasible for everyone to follow this routine flawlessly. The CTM routine is a long process which requires patience. Many of you might be looking for alternatives to get a naturally glowing skin overnight.
Hence, here are a few tried and approved nighttime skin care routine for getting a gleaming skin overnight.
Natural Ways For Nighttime Skin Care Routine
1. Apply Milk
Milk has always been one of the excellent ways to get a radiant skin naturally. All you need to do is apply an extremely thin layer of milk which is low in fats, on your face. Now gently massage giving upward strokes until the milk is completely consumed by your skin. Finally, in the morning rinse your face using a mild face wash and pat it dry. Milk not only nourishes your skin while you sleep but also is a great help to clear dark spots on your face.
2. The Rice And Sesame Scrub
The rice grains have been famous as the exfoliating agent, while the sesame is known for nourishing and moisturising your skin.
This scrub can be made easily at home and gives a glow to your skin instantly. All you need to do is, soak similar amount of sesame seeds and rice overnight. In the morning grind both the rice and the sesame seeds properly making a fine powder. Now the scrub is ready and you can apply it all over your face and body. Wash it off with normal water after 2 minutes. You will get a glowing skin instantly.
3. Glycerin And Vitamin E For Dry Skin
This home remedy is particularly for dry skin. For this treatment, you require one vitamin E capsule and 1 teaspoon of glycerin. Now prick the vitamin E capsule and squeeze it out completely in the glycerin. Mix both of them properly and use the pack to massage your face. Massage with your fingertips making a circular motion. Continue doing the process until the pack is entirely absorbed by your skin. Refrain washing your face and keep the pack overnight. The next morning you will wake up to see a glowing skin which cannot be overlooked.
In case you have a dry skin texture, then it is the perfect remedy for you to attain a glowing skin. Moreover, this mixture can be applied on your face every other day without causing any damage.
4. Almond Oil For Glow
This home remedy for nighttime skin care routine is also recommended for people having a dry skin texture. Dry skin usually is said to lack glow and dewiness that is why almond oil is considered as one of the best remedies for a glowing skin. Every night before going to bed make sure you massage your face with almond oil. You just need to take 4-5 drops of refined almond oil. By refined almond oil we the extra virgin almond oil and not the one that you apply on your hair. Massage the almond oil on your face and leave it overnight. Pure almond oil tends to increase the blood circulation on your face which automatically makes your skin glow overnight.
5. Honey And Papaya Pack
Either an oily skin or a dry skin or even a sensitive skin, This pack is the perfect pack for all the skin type!
All you got to do is take a small piece of papaya and mash it properly. now mix some honey in the mashed papaya.
NOTE: Make sure you use only the organic honey. Now apply the mixed pack on your face properly. You can also use a spatula to spread it evenly and let the pack dry. Rinse your face with normal water after 20 minutes and now you can go to sleep. In the morning you will see your face glowing.
6. Tulsi Leaves Paste
Tulsi leaves have many benefits when it comes to beauty and health. Tulsi leaves also make your skin glow naturally in a day itself!
All you require is some fresh tulsi leaves. Add some fresh water and churn them well until you get a thick fine paste. Now apply the thick paste on your face and leave it for the whole night. In the morning clean your face with lukewarm water. You will experience a naturally glowing and healthy skin overnight.
7. Turmeric And Sesame Seeds
This is also a great hack in getting a glowing skin overnight.
Take some amount of raw turmeric and sesame seeds. Add some water to it and make a thick paste. Now also add 2-3 tablespoons of raw cow milk and make sure you mix the paste properly. Apply the thick paste on your face and leave it for the whole night. In the morning wash your face with lukewarm water and pat it dry. Your skin will feel fresh and glowing thereafter.
8. Milk Creams
This is the most famous nighttime skin care routine and the simplest hack for getting a gleaming skin. Milk cream is the best remedy for a dry skin type but it can also be used on any type of skin texture. All you require is to mix few drops of the vitamin E oil to the milk cream. Massage the mixture on the skin in a circular motion until and unless the mixture is completely absorbed by the skin. Leave the mixture on your for the whole night. In the morning wash your face with a lukewarm water and pat it dry. You will feel your skin to be moist and shiny.
9. Bengal Gram (Chickpeas) Therapy
Take some Bengal grams (chickpeas) and soak them overnight in pure cow milk. The next morning add a pinch of raw turmeric in the soaked chickpeas and make a fine thick paste. Now apply the pack evenly on your face and let it dry properly. Wash your face with fresh water after 2 hours.
This home remedy removes all the dead cells your skin contains and also removes the dullness bringing an instant glow to your skin.
10. Use Sleeping Packs
Sleeping packs are specially created for nighttime skin care routine in order to nourish your skin while sleeping.
All you got to do is wash your face properly with a face wash which is mild by nature. Ensure that you use cold water to clean your face. Also, removes all the traces of your makeup before applying the pack. Take less than one teaspoon of the sleeping pack and gently massage it making upward strokes on your skin. Besides, sleeping packs won't leave a greasy feel on your skin as it manages to get easily absorbed. For the best results, in the morning use a mild cleansing agent and rinse your face with cold water. You will feel your skin to be healthy, nourished and glowing.
11. Scrub And Moisturise
Use an exfoliator which is mild in nature, to purify your skin and pat it dry. Also, ensure that you remove all the traces of makeup.
Now apply a pack which comprises of fullers earth and honey. Let the pack dry till 15 minutes. Now wet it by adding a very little amount of water and continue scrubbing slowly for at least 2 minutes, massaging it well. Finally, pat it dry after rinsing your face with cold water. Finish the process by applying a thin coat of a rejuvenating night cream. In the morning, you must use an exfoliator which is mild in nature, to clean your face.
Note: If you want to get an extra glow, use the honey pack again after the exfoliation.
So, this was all about the nighttime skin care routine to get a natural 'good' morning glow. You must take a good care of your skin making it healthy, nourished and glowing. Your skin will be thankful to you if you do it.
We hope that you find this nighttime skin care routine helpful. We would love to know your experiments and experiences. Also, share your valuable feedbacks in the comment box given below.
Cheers to flawless skin!
Related Posts