Shaving the skin is a very delicate and hectic process for the girls with sensitive skin. Sensitive skin is delicate to handle and with improper usage of tools and products on this skin type, it can create worse situations! All the girls with sensitive skin complaint to have ingrown hair, rashes, bumps and itchy skin post shaving. Women with sensitive skin can easily develop scars, itchiness and rashes over the skin and thus, it becomes very important to go for natural shaving tips for girls with sensitive skin.
The sensitive skin is one to allergies and skin reactions especially after shaving. Thus, here are some amazing shaving tips for girls with sensitive skin which will keep the allergies and itchiness at a bay. By following these natural and harmless shaving tips, your skin would be able to keep your skin cleansed, smooth and reaction free!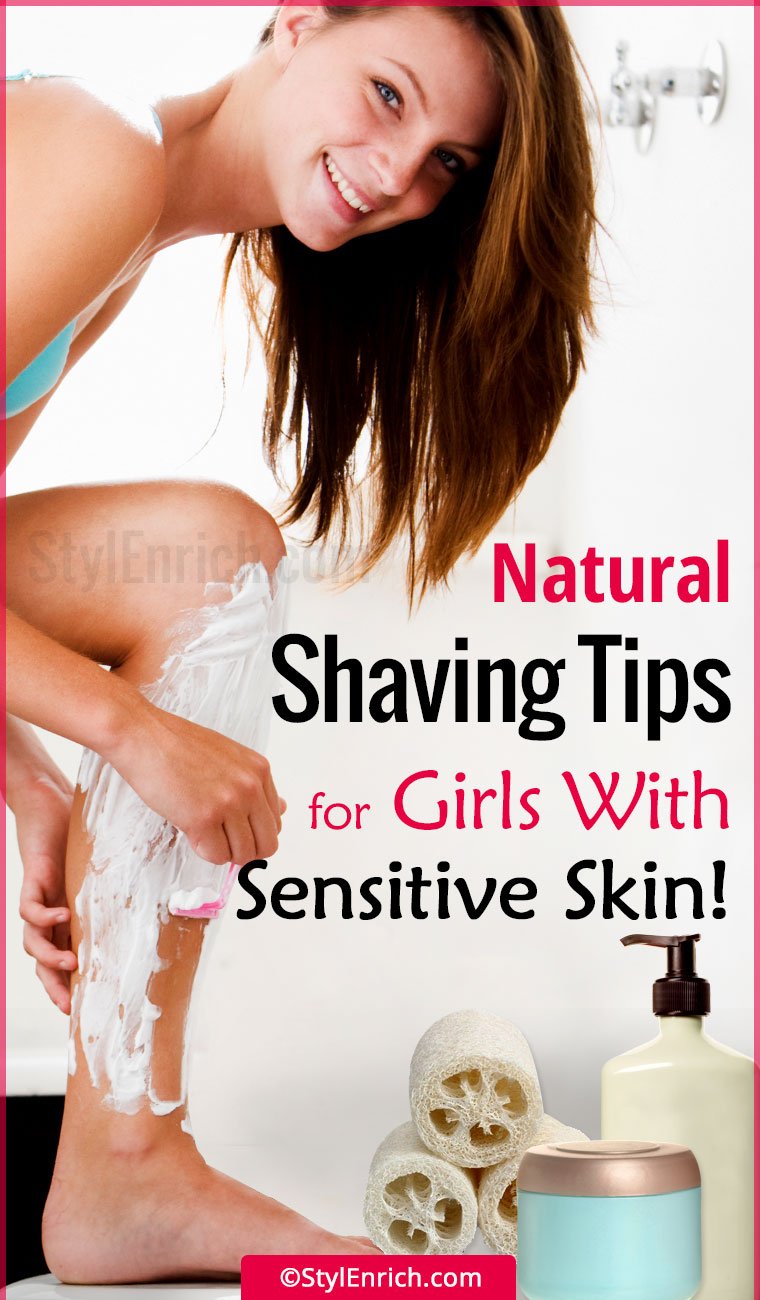 Go through this simple guide and make your shaving sessions more joyful and easy with these awesome shaving tips for girls with sensitive skin.
Shaving Tips For Girls With Sensitive Skin
1. Cleanse The Skin Three To Four Times A Day Regularly
Sensitive skin must be pampered daily. This skin is prone to flakiness, itchiness and infections with just a little mistake. Thus, daily cleansing your sensitive skin 3-4 times a day would help you in many ways.
The sensitive skin gets affected with dust, impurities and dirt while you step out.
This can make the dirt settles deep in your skin layers while developing pores and black heads.
These pores and black heads make shaving immensely troublesome. It can cause itchiness and rashes and cuts on your skin while preventing smooth shave!
Thus cleanse your skin daily 3-4 times to reduce the jamming of dirt and impurities in your skin.
You can use natural cleansers, cleansing wipes and such natural elements instead of cosmetic products which can make your skin irritated!
Learn how to make homemade wax for hair removal…
2. Moisturize Your Skin Twice A Day
Sensitive skin is generally very dry and lack proper hydration. This dryness and itchiness can make shaving very painful and you can also develop some skin reactions while shaving this dry skin.  Adding moisture to your skin would make it look softer, shinier and glorious and also keep the skin nourished anytime, anywhere! Thus, consider moisturizing your skin daily.
Women with sensitive skin complaint irritation, rashes and bumps after shaving and one of the reasons behind this is dry skin.
Sensitive sin requires pampering and also a pH balance which can make the skin nourished and smooth.
If you do not moisturize your skin sufficiently while shaving , the dry skin would become more itchy and flaky.
This can turn into allergic reactions and irritated skin.
Thus, every day after bathing and before going to sleep, moisturize your skin for avoiding such issues during your shaving session!
3. Get Your Skin Ready For A Shave
Shaving the sensitive skin while it is dry is the biggest shaving mistake you can ever commit! In general the sensitive skin is extremely dry and this is the prime cause of infections and skin issues. This gets your skin moist and humid to shave it perfectly!
5 minutes prior to shaving, go for a water rinse.
This would make the skin moist and cleansed and would help you shave smoothly.
The dry hair is extremely hard to shave and also they can make the sharp blades of your razor blunt! Thus wash your skin with water and make it moist.
Hydrate your skin and make it smooth and easy to shave with this amazing hack.
Thus, soften your hair with a splash of water and make it shave ready!
4. Exfoliate And Scrub Your Skin Before A Shaving Session
Exfoliating the skin can give you a magical and easy shaving experience. Your sensitive skin is studded with lots of impurities, dirt and hard shin which can be eliminated using scrubs and this would lead to super smooth shaving experience!
As you step out many elements like dirt and impurities can affect your skin and get clogged over the skin. This makes the skin harsh and thick.
In case you would start shaving on such harsh skin, it can result into bumps, cuts and blade injuries. Thus, go for scrubbing and make your skin super smooth.
You can use various exfoliating brushes which can remove off the flaky skin, black heads, pores and dust from your skin surface.
You can also experiment with various home ingredients for scrubbing your skin like sugar and turmeric powder if your sensitive skin gets irritated by using the cosmetic products.
5. Apply Homemade Shaving Gel Or Oil Before Shaving
Generally, shaving can develop skin rashes, bumps and such other skin issues. To battle these issues, you can use the homemade shaving creams or baby oils which would not only aid smooth shaving but would also make your skin velvety soft!
Essential oils and home ingredients like Shea butter are extremely beneficial for the skin. They are mild and gentle over the skin. You can apply these oils before shave
Considering a mild pre-shaving cream, you can also use baby oil or cream to make your hair smooth and weak for shaving
These ingredients and lotions would make your hair smooth and easy to trim
This would simply protect your sensitive skin from drying and would prevent skin irritation
The razors blades are quite sharp which can turn the sensitive skin dry and these ingredients act as a protective layer which can help in hydrating the skin and also would protect the skin from injuries!
6. Maintain Hygiene While Shaving
Sensitive skin can be prevented from skin infections and allergies by maintaining hygiene while shaving. There are various steps which you need to consider for avoiding germs and reactions to your delicate sensitive skin!
Blades are a very important tool while shaving and thus, you need to keep the blades clean.
Never use the same blade after 3-4 usages as it and become dull and your rough shaving technique can get you cuts and bleeding!
Always wash your blade with some effective and healthy cleansers which are sensitive skin friendly!
Remove the clogged hair, soak your razors in hot water and sanitize your razor for preventing infections and harsh shaving!
We bring here underarm hair removal guide. Click here to read more…
7. Never Shave In The Opposite Direction Of Hair Growth
Generally, women sue this technique to get rid of hair quickly but for those women who have sensitive skin, shaving in the opposite direction can get horrible and painful! This close shave would get your skin many problems!
Sensitive skin is considered as a very delicate skin type which can develop bumps and rashes quickly.
If you shave the hair in the opposite direction, say against the grain, it can pull your hair and can cause ingrown hair with redness, swelling , bumps and itchiness.
Though shaving in the opposite direction would get you a smooth and clean shave, the after effects of this condition are quite dangerous.
Instead, try shaving in the same direction of hair growth and get a single blade razor which can smoothly shave the hair off.
Get some high impact and mild on skin razors which won't harm your skin while shaving.
Once you use the shaving gels or foam, your hair would become smoother an easy to shave.
Do not shave your skin if it has cuts or wounds. Let them heal and then perform shaving to prevent more injuries.
Thus, do not go for opposite direction and get super smooth skin with this technique!
8. Be Gentle On Your Skin And Select The Right Time And Products For Shaving
We all understand the hurry to get to the parties and the trouble it causes while we notice some unwanted hair on the skin. In such hurry, women often shave quickly and end up having severe cuts and bleeding skin! Avoid this to keep your skin injury free!
Shaving is not a process to be carried in hurry. You would need some time and proper equipments to get that adorable and super smooth skin.
Invest in some amazing razors and blades. Spend some money to make your skin glow and healthy!
Get some high impact razors with super finish and the ones which won't hurt your skin.
Also select timings when you are free and you get enough space for shaving. This would let you focus on shaving and prevent any injuries.
Thus by following this tip, you would get a safe and effective shave!
Want to know how to keep underarms soft and smooth?  Here we bring you different ways…
9. After Shave Treatment
After have treatment is equally important as the before shave processes to make the skin smooth and painless. Women with sensitive skin complain of a burning sensation, irritation, rashes and such skin conditions. While following the quick shaving tips for girls with sensitive skin, your skin would get smooth and itch free for sure!
After shaving your skin completely, rinse it with cold water.
Tap dry and apply some aftershave gel.
If you don't rely on the cosmetic products, go for the soothing natural ingredients for preventing irritation.
If you have sensitive skin, baby oil and some soothing lotions cam simply get you relief.
You can also place some cold packs if your skin stings and feels extremely itchy!
Place a cold cloth around your skin also let it dry. This would get you relief in the pain and irritation soon!
10. Go Natural To Soothe Razor Bumps And Itchiness
Razor bumps and itchiness is very common part of shaving and can affect your skin. You can use the amazing natural ingredients and shaving tips for girls with sensitive skin to get your skin rid of these issues. The natural ingredients won't affect your skin sensitivity and would surely get you smooth skin to die for!
Though you use all the correct products and techniques to shave, your sensitive skin can develop bumps and irritation.
When you shave your skin, the hair gets trimmed and curled forming bumps and redness. In such cases the natural ingredients would get you instant relief from redness!
There are ingredients like aloe era gel, coconut oil, tea tree oil etc which are filled with soothing properties and would surely cure your skin
Loaded with anti-bacterial and healing properties, these ingredients would make your skin super smooth and irritation free! What can be a better option than these natural ingredients with zero side effects on your sensitive skin!
11. Apply Sun Screen Lotion Before Stepping Out
Generally, you must select a right time for shaving after which, you won't have to face much sun exposure. The fresh shaved skin feels itchy and horrible burning and thus, going out in the sun can also worsen the effects.
In case of hurry or emergency if you have to step out of your house immediately after shaving your skin, do not go for sunscreen directly
This would make your skin burn as hell. Firstly you need to apply a soothing gel
This soothing gel would calm down the itchiness and burning sensation and would get your skin normal
Then, you can apply some sunscreen to prevent sun damage and tan on your skin
Do not forget to carry a sun block or sun screen once you step out of the house as it can prevent your skin from getting dark and itchy!
These are some natural and effective shaving tips for girls with sensitive skin. By leasing and nourishing your skin daily, it would become super smooth. These techniques can keep your skin cleansed and nourished daily and thus, it would become easy for you to shave the skin in a painless way. Use the natural products to prevent any injuries, reactions and itchiness on your sensitive skin. Try these cool and high impact shaving tips for girls with sensitive skin and go confident with your glorious skin!
Related Posts