Before we explore how to even skin tone we need to understand what is meant by even skin tone. Having smooth soft skin like newborn babies which is healthy glowing is even skin tone. Very few people are able to maintain their newborn skin quality all through. As you grow many factors play a role which affects the tone of the skin. This makes the face look tired and skin with uneven tone. What is uneven skin tone? Uneven skin is characterized by bad texture and hyperpigmentation.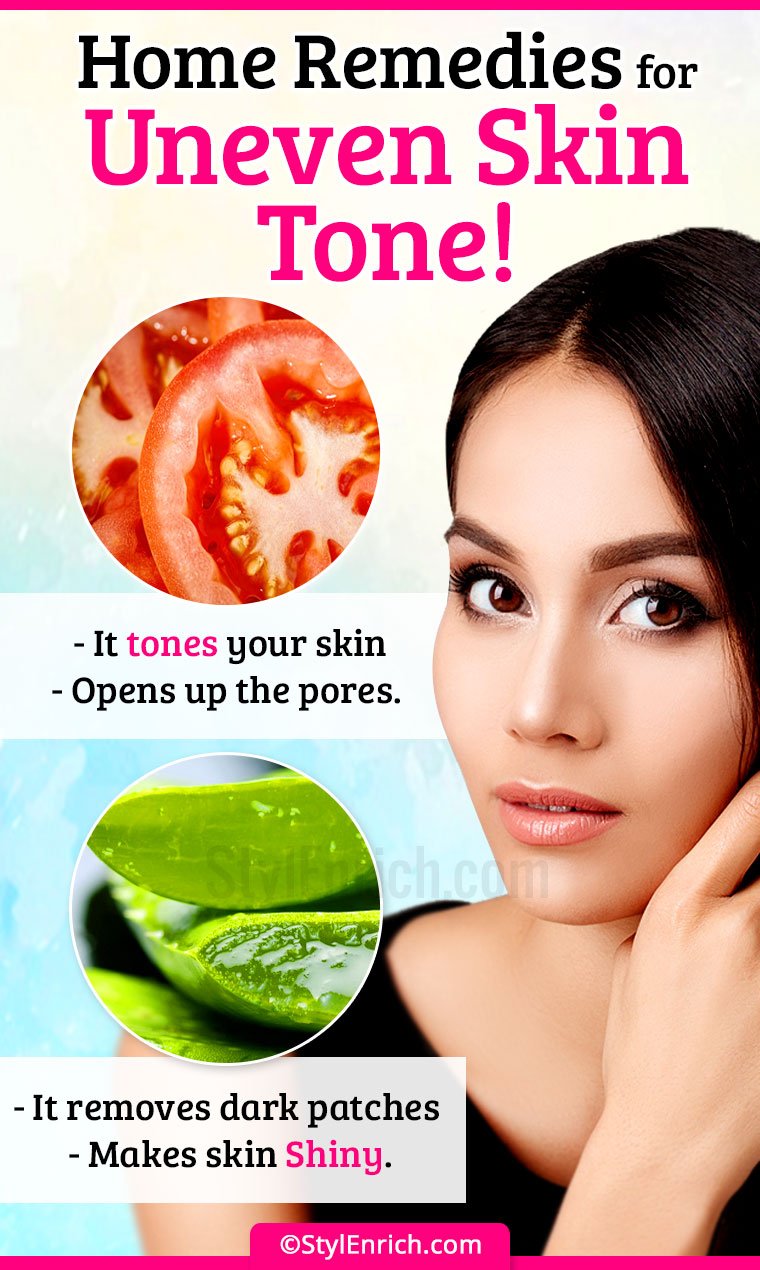 What are The Causes For Uneven Skin Tone?
There are a number of factors for uneven skin tone. Some of them are in your control while some are not.
Overexposure to sunlight causes darkening of the skin in some places. This is due to the strong UV rays coming from the sun.
Poor lifestyle habit is another big reason for bad skin.
Not drinking enough liquids and keeping your body hydrated could also be a cause for uneven skin tone.
Poor blood circulation in the body can also attribute to the bad quality of the skin.
Hormonal imbalances in the body upset the metabolism and the skin tone is likely to get affected.
The process of aging causes some amount of underperformance in the body which could change the skin tone.
Any injuries in the body could also be a reason for uneven skin tone.
So once we have faulted and ended with bad skin tone we can still try to rectify it. How to get even skin tone? There are a number of ways to achieve it. You could try some of the methods in the comfort of your home itself. The other option is to undergo specific treatments.
Home Remedies To Fix Uneven Skin Tone
1. With Lemon Juice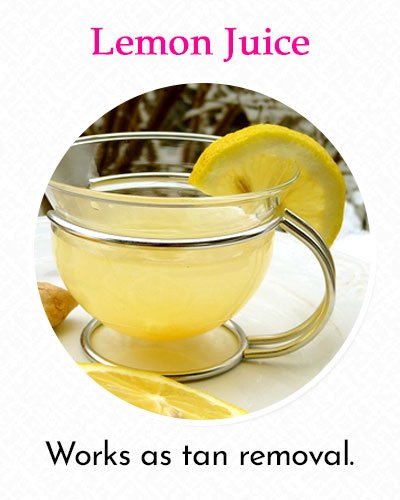 Lemon juice is a natural bleaching agent and contains vitamin C. It aids in the removal of dark spots and skin scars. To use it squeeze the juice out of the lemon in a dish. Take a cotton ball and dip it in the juice and apply on the skin area. Leave it to dry. Once it is dried up completely you can wash your face. This is also found to be effective for skin tan removal.
2. With Baking Soda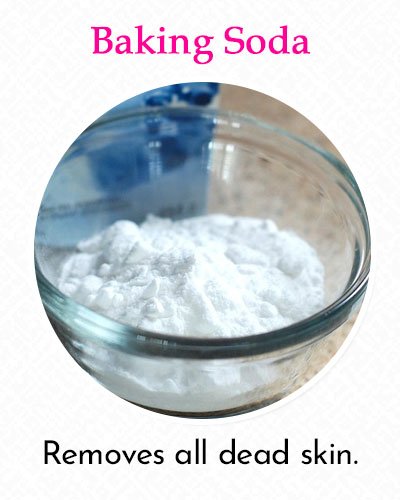 Baking soda is an excellent exfoliator. Since it does not damage the skin like other chemical products it can safely be used. To use it make a paste of baking soda with water and apply on the damaged skin areas. Leave it for a few minutes. Then just run your fingers over the area for 3 minutes and wash it off with water. It removes the upper surface of scarred and tanned skin. It removes all the dead skin cells and gets the skin to glow.
3. With Aloe Vera
Aloe Vera is very good for the skin and it is 100% natural. It removes the dark patches on the skin and gets it all shiny and glowing. For this you need to extract the gel out of the aloe vera leaf. Cut the two thorny edges of the leaf. The succulent part between the front and back side of the leaf is the gel. Take some of it in your hand and apply to the affected area of the skin. Leave it to dry for around 30 minutes. Later wash it off with water. To see effective results you need to do it on a regular basis.
4. With Orange Juice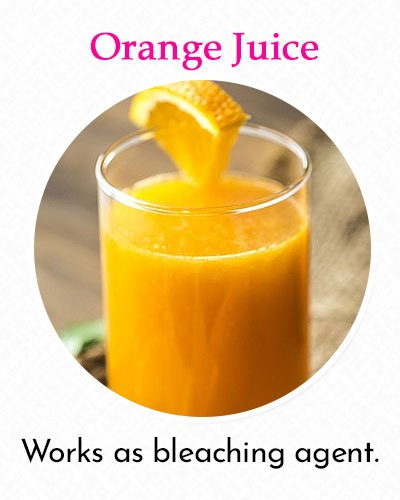 Orange is a citrus fruit and contains vitamin C. It acts like a natural bleaching agent and removes dead part of the skin. To use it, you need to extract juice from an orange in a bowl. Add one teaspoon of turmeric powder to it and make a paste out of it. If it is too watery add some more turmeric powder till it becomes thick. Take some of this in your palm and apply on the affected skin area before going to bed. It will get set during the night. Early morning wash it off with water.
5. With Honey and Oatmeal
Oatmeal is a very good exfoliator agent and is used in many of the commercial products.  It breaks down the dirt on the skin and clears the skin bumps making the skin smooth and soft. Combined with honey it makes a great combination since honey has antibacterial properties. It helps to remove acne blemishes and scars on the skin. Make a paste of oatmeal powder and honey. Apply it on the face and leave it to dry. Rinse your face once it is completely dried. Keep doing it regularly to get maximum benefits.
6. With Apple Cider Vinegar
Apple cider vinegar is a good skin toner. It helps to maintain skin pH balance of the skin. It aids in opening up of pores and removal of dirt and grime from the upper surface of the skin. It tightens up the pores and gets you a glowing complexion.  To make the solution take one part of apple cider vinegar and one part of water and mix it up well. Dip a cotton ball into this solution and apply it on the face once in the morning and once in the evening. Once the liquid dries off the smell of apple cider will also vanish. Rinse your face after that. For people who have very sensitive skin, can mix one part of apple cider vinegar to three parts of water and use. For even better results you can use green tea instead of water.
7. With Tomato Pulp
Tomato pulp works wonders on your skin. It tones your skin, opens up the pores and tightens them and maintains pH balance too. It lightens acne blemishes and scars which eventually disappear. Tomatoes contain antioxidants, vitamin A and vitamin C. It also contains lycopene which helps in getting rid of free radicals. It is very effective for oily skin. When you are out in the harsh sun and want to get rid of the sunburn, tomato pulp is the answer. Cut a tomato into 2 halves. Rub the inner portions of the tomato on the affected area and leave it to dry. Once it is dried wash your face with water.
8. With Raw Papaya
Raw papaya is very effective to get good skin tone. It contains vitamin A and antioxidants. It also contains papain which helps in removal of dead skin cells. It exfoliates the skin making it glow. To use it cut the papaya and use the inner fruit. The skin peels should be placed on the face such that the fruits side is on the skin. Leave it on the skin for 5 to 10 minutes. Remove it and rinse your face. For sensitive skin don't leave it on the skin for too long. It will end up making the skin dry and irritate it. You can also make a face wash with papaya and use it. For this, you need to grind papaya and milk and make a paste. Use it to cleanse your face in the place of soap. It aids in the removal of dirt and dead skin cells.
9. With Yogurt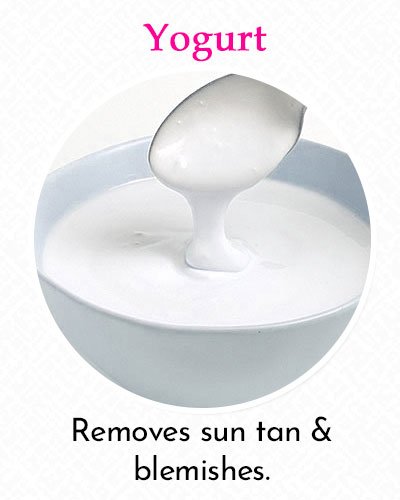 This is a very safe remedy and the ingredient can be easily found at home. Yogurt contains natural bleaching agent which aids in the removal of suntan, blemishes, and scars on the skin. It has to be used 4 to 5 times a week to see results. Apply the yogurt paste on the face and leave it to dry. Once it has dried up completely wash your face with water. It lightens the color of the skin and removes excess pigmentation.
10. With Sandalwood Paste
Sandalwood is commonly used in cosmetic products for both its aroma and cleansing property. It can be combined with turmeric too to get added benefits. Turmeric is anti-inflammatory and antiseptic. It aids in the killing of bacteria in the acne pus-filled cells. To make the paste, take sandalwood powder in a bowl. Add any one of the following liquids to it to make a paste. It could be water, honey, milk or almond milk. Mix the sandalwood powder with the liquid to make a nice paste. Apply the paste on the skin and leave it to dry. Once it has dried completely wash your face. Use it regularly 4 to 5 times a week to see the result.
11. Keep Yourself Hydrated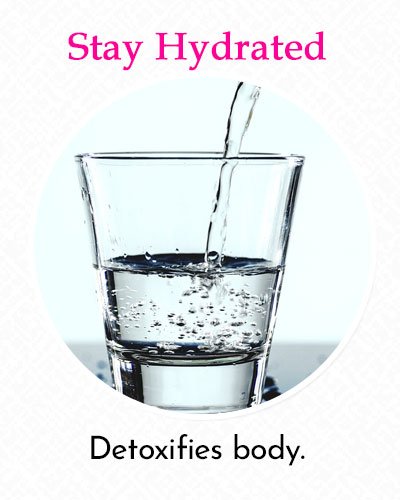 Drinking lot of water and keeping you hydrated is very effective in maintaining suppleness of the skin. The skin is made up of nearly 75% water. Water helps in washing out the toxins inside out. Thus it is advisable to drink 7 to 8 glasses of water every day for a beautiful complexion. So next time if your hand moves towards a sugary drink, cola or soda resist it.
Other Remedies
1. Use UV Protection Gel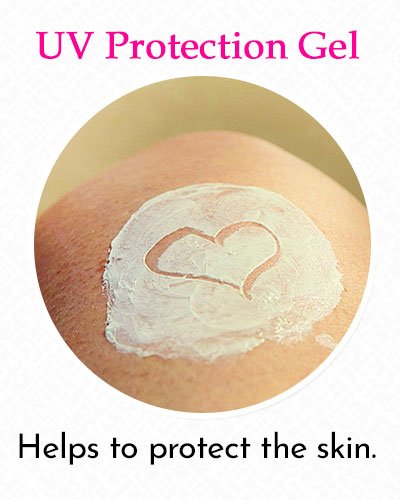 The strong sun rays are one of the major reasons to get the skin tone affected. They could cause aging spots and wrinkles on the skin. Thus using commercial sunscreen creams help to protect the skin to a large extent. The minimum you need to use is SPF15 sunscreen. Though using SPF30 would be a better option. Applying sunscreen on a daily basis before going out is a good way to keep your skin protected. You will need to use it on a cloudy day too because sometimes you have sharp sun rays peeping out from the sides of the clouds.
2. Exfoliate Your Skin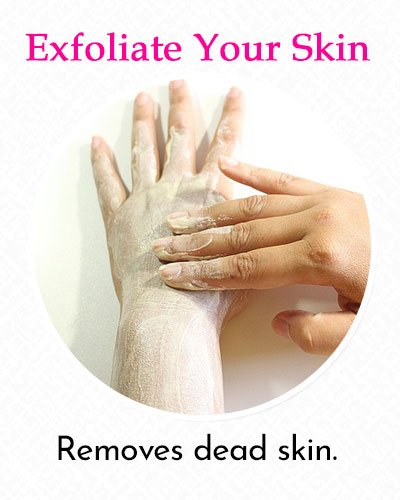 You could buy and use off the shelf chemical exfoliators to do the skin toning job for you. You could also visit the beauty parlor and have someone else do the skin toning job for you. There are varied treatments offered both herbal and non-herbal for exfoliating your skin. The third option is to invest in an electric exfoliator. This can be used twice a day to remove dead and grime from the surface of the skin.
3. Apply Ready to Use Face Masks
Off the shelves face masks also work on your skin tone and get the surface of the skin cleaned up. They help in removing dark spots and pigmentation too since they have bleaching agents in them.
4. Use Face Peels
Ready to use Face Peels from the shops contain healthy acids which work on removing dried up and dead skin cells from the surface of the skin. Thus the top layer of the skin which has some discoloration or acne scars can be removed with the Face Peels. You need to wash the peel away after a predetermined time. Else you might end up over exfoliating your skin which would make the skin dry.
5. Use a Spot Remover
Dark spots could be formed on the skin due to harsh sun rays or due to aging. Freckles are spots caused due to the harsh sun rays. Of the shelf dark spots remover work on the discoloration of the skin and break it down. It also helps in removing aging-related dark spots. You could also use a toner which consists of witch hazel.
6. Use Skin Moisturizer
Using moisturizer regularly on your skin makes it soft and supple. It keeps the skin hydrated with the right amount of moisture. For a uniform skin tone and complexion use a moisturizer. Many of the moisturizers add a color to the skin too. So need to select the right one for your skin type. You also need to select the moisturizer depending upon whether you have dry skin, oily skin or normal skin.
Conclusion
There are a number of ways to fix the uneven skin tone. You need to undertake the solution on a regular basis for a few months to really start seeing results. How to even skin tone? As a quick fix if you want your skin to look great you can always go for makeup. Applying foundation and concealers help in covering up blemishes and scars on the skin. Foundation provides for the required color and sheen to the skin. Thus if you need to look good and have a good complexion instantly this is a good option.
Read more – How to get a perfect skin tone on the face?
Related Posts