Acne, a problem most of us face on a frequent basis. Be it that one pimple that annoys you or that painful acne all over your face. You may have googled, bought recommended branded products and tried everything else possible but probably didn't realize that the one thing that could help you to get rid of this problem, was lying in your kitchen all this while – Tomatoes! Yes, the shiny glow is not just on the outside. You can use tomato for acne issues and get amazing results.
Have a look at tomato nutrition and it's amazing health benefits!
Tomato for Acne Treatment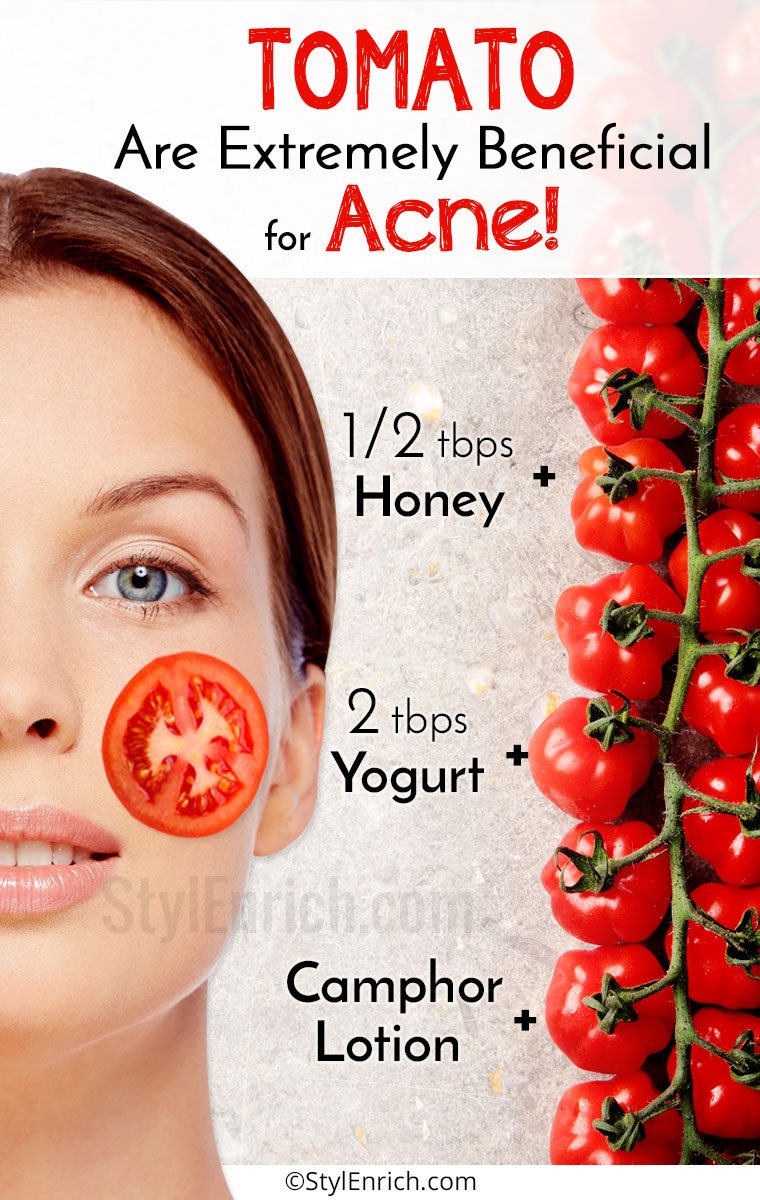 1. Natural Remedy
When your pores get filled up with all those high-end cosmetics, dead skin cells and other impurities,  the sebaceous gland in your body secretes an excess amount of the skin's normal defensive oil.  This oil gets caught under the skin resulting in bacterial contamination that ends up as pimples or acne. It usually happens due to stress, hormonal uneven characters, poor cleanliness, and numerous other reasons, and it typically shows up on the face, neck and back. With numerous skin inflammation cures available today, it's difficult to pick the best one. A large portion of these are costly, and they may cause undesirable reactions. However, natural remedies like tomatoes are a powerful cure for acne.
We bring for you the best acne treatment that you can try at home.
2. Tomatoes Everyday for Better Skin
Tomatoes on their own and when mixed with other natural components help avoid acne. Using tomatoes and natural tomato extract daily on the body, helps you get clearer and younger looking skin. Tomatoes help to remove the excess oil on the face and thus are most effective for those with oily skin. It also helps to clear and purify pores, remove blackheads and whiten the skin. The anti-bacterial properties in tomato make it a perfect solution for acne.The best way to get rid of an inflammation, most of the time, is to dry it out. The reason why tomatoes are perfect for oily skin is its drying nature when used on skin.
3. Antioxidant Quality
Lycopene present in tomatoes protects your skin and enhances regeneration of skin cells. It is the anti-oxidant that gives tomatoes it's red colour. It helps in increasing our skin's SPF, and protects us from UV rays. It accelerates the regeneration of skin cells and makes the skin look more even and young. Lycopene also produces collagen which helps skin to look brighter and vibrant. As red as its skin is, tomatoes help in reducing the redness due to acne on your skin. One of the easiest ways you can use tomato for acne is by cutting it in half and directly rubbing the open side on your face, especially the areas where you have acne. Continue gently `rubbing it on your face using your fingertips. Use warm water to wash it off. Results will be exceptional if you follow this once, everyday.
4. Tomato Face Masks
Even though tomato face masks are not an overnight remedy, the results are exceptional. The mask when applied gives an itchy sensation on the face but once you wash it away you will feel your skin become soft and tight. The pores begin to shrink and blackheads seem less obvious. The mask can be prepared by mashing a tomato into a pulp, either by using a spoon or a mortar and pestle.
5. Tomato Juice for Acne
Tomato juice is also a great remedy for preventing and curing acne and pimples.Tomato juice, when blended with honey, gives an amazing combination that makes your skin glow like never before. This will also help reduce the marks from acne. The element honey in it gives your skin radiance.
Mix one teaspoon of tomato juice and ½ teaspoon of honey. Use your finger to put this on to your face. The juice makes the honey less thick than earlier. Continue to give your face a massage for about 3-4 minutes and wash it off after 30 minutes.
Tomato juice, honey and camphor lotion, when mixed in right proportions, can be applied to the face, to get rid of pimples. It can also be used with turmeric powder for the same.
6. Tomato and Yogurt
In summer days, skin is more prone to sunburn and itchiness. This is when a simple mix of yogurt and tomato comes to your aid. It also helps to reduce acne.
Yogurt helps in tightening the pores on your skin. Thus when these two constituents come together, you've for the best. All you need for this is half a tomato and 2 tablespoons of Greek yogurt.
Mix these two together and apply it on to your face using just your fingertips. Wash your face after 30 minutes using lukewarm water. Make use of a mild cleanser following which you may pat dry.
7. Tomatoes as Part of Your Diet
Keeping aside these qualities, tomatoes can also be included in your diet, to treat skin inflammation. They can be used in salads and sandwiches. Drinking tomato juice and smoothie regularly also helps to get rid of bugging pimples. Tomato, kale leaves and stalks of celery can be used to make smoothies.You can now make use of tomato for acne and pimples and oily skin issues by adding it to your diet.
8. Tomatoes – Your Solution!
We would wonder why tomato is great to prevent and cure acne. It contains anti-oxidants that help to protect against the free radicals that cause acne. Its antioxidant qualities protect the skin from any damage. They moisturize the skin and make it soft and smooth. All the branded products for acne that you find in the market consist of salicylic acid. It is this ingredient that makes your pores toxin-free and restores the pH balance of your skin. This constituent which is most important in reducing acne is found in tomatoes as well!  It has iron and potassium that support general health.
It is quite surprising that this product that can be seen in every kitchen has a variety of uses that we are still unaware of. It also acts as a natural agent, very effective in bleaching your dark spots and marks caused by acne. You simply need to follow home-made remedies involving either fresh tomato pulp or tomato juice in order to get best results.
So, all these years we have been underestimating the power of tomato for Acne and pimples. They are not just meant to be thrown around at 'La Tomatina'. They are much more than that!
Related Posts