Low milk production in the breast is one of the most common issues nowadays. Also, it happens that in the initial period the mothers are not able to feed their babies with the desired amount of milk! There are different reasons of low breast milk production which can affect any woman.  This low milk production can affect your baby's nutrition and can deprive your baby of the nutrition. Here are some natural and traditional home remedies to increase milk production during lactation and major baby feed in a proper way! These remedies would surely get you some awesome results!
Here are some amazing home remedies to increase milk production during lactation.
Home Remedies To Increase Milk Production During Lactation
1. Warm Compresses
Sometimes, poor blood circulation in your breasts can result into low milk supply while you lactate. In this situation, the heat packs and warm compresses can while allowing blood flow in your breasts this is a wonderful remedy which can effectively fight low milk supply and regulate milk flow!
Here Is An Amazing Technique Which You Can Follow To Apply Warm Compresses-
Every morning, start with an oil massage. Massage our breasts with oil for few minutes.
Use a smooth and clean cloth and deep it into warm water.
Not place the cloth on your nipples and breast after squeezing excess water from the cloth.
Massage for few minutes and then, start breast feeding your baby.
This amazing technique would help you feed your baby with desirable amount of milk!
You can follow this technique more than once in your day if our baby is not able to get enough milk!
2. Fenugreek Seeds
Fenugreek seeds are amazing for boosting blood flow in the breasts. It helps in stimulating the milk producing ducts and produces a lot of milk in the breasts. The consumption of this awesome ingredient would simply allow more blood to get produced and regulated during lactation. This is an amazing spice which can boost.
Here's The Way To Use Fenugreek Seeds For Milk Production-
Get a small bowl of fenugreek seeds and soak the seeds in water overnight
Next morning, boil these seeds and water in a pan and strain the water
Every day, drink this water until you don't witness improvement in milk production ion your breasts this is an amazing way to boost milk flow which would never fail!
You can also use the nourishing fenugreek seed powder along with goat milk for more effective results!
3. Fennel Seeds
Fennel seeds are considered as one of the most effective and quick treatment for low breast milk. This amazing ingredient filled with herbs and organic elements can help in milk production and would keep your breasts full of milk. Consume fennel seeds to need your baby with your nutrition rich milk everyday!
Method To Use Fennel Seeds For Boosting Milk Production-
Soak 3 spoons fennel seeds in a bowl filled with water overnight.
Next morning, add this water in the blender along with the seeds and blend.
Drink this mixture daily to boost milk production.
You can also drink the lavish rink prepared from fennel seeds and milk which tastes .magical and would boost milk production.
You can also garnish various foods and your meal with fennel seeds and enrich your milk production!
4. Cumin Seeds
There are some awesome cumin seeds which can increase milk production in your breasts. There are many reasons of low milk production in your breasts while cumin seeds are magical in boosting milk. This amazing ingredient would not only help in boosting milk production but would also help in soothing the other side issues during breast feeding! Thus consume these seeds and make our breasts full of milk!
How To Use Cumin Seeds For Milk Production?
Add one cup milk in a pan and let the milk boil.
Add 2 spoons cumin seeds in this boiling water.
Add 1 spoon honey in the pan and mix these ingredients.
This is an amazing mixture which would improve blood flow in your breasts and let the milk flow get boosted!
This warm milk would sooth various issues you can face during lactation and would feed your baby with nourishing breast milk!
5. Cinnamon
Cinnamon is one of the delicious and amazing spices which can work magically on your low milk production issues. This natural and ayurvedic ingredient promoted milk flow and helps in feeding the baby. Within just little consumption, the breast milk would get stimulated. You can consume this amazing spice daily to improve blood flow in your breasts and also to improve milk in your breasts!
Method Of Using Cinnamon For Breast Milk Production
Add 1 glass full of milk in a pan and heat it.
Meanwhile crush some cinnamon and get fine powder.
Add half 1/4th spoon cinnamon powder in the milk.
Add little honey in this mixture.
Drink this amazing and healthy milk everyday.
After labor, drink this mixture for 2 months daily and fill your breasts with milk for your baby!
6. Garlic
If you want a multi benefit ingredient which can work magically on your breasts and improve blood flow, here is garlic to solve all your issues! Generally, women don't like the taste of garlic or don't consume it with milk this remedy makes the milk production awesome and even the baby loves the milk generated! Thus, drink this amazing nutritious milk with garlic and fill your breast with milk!
Method To Use Garlic For Milk Production
Get some fine grated garlic.
In a pan add one cup water and add this garlic in the water.
Let the water boil for 10 minutes.
The quantity of water would get educed and thus, you can add 1 cup milk in this pan.
Boil it again for few minutes.
Add 1 spoon honey in this mixture and let it get Luke warm.
Drink this amazing mixture after straining it.
Drinking this mixture daily would fill your breasts with nutritious milk!
7. Try Double Latching
Feed your baby with both the breasts. Sometimes, milk flow gets reduced due to the wrong technique of latching and nursing. Some changes in the nursing techniques can make your breasts produce more milk and help in feeding the baby.
Try to latch your baby from both the sides. It may happen that due to nursing from single breasts constantly can cause low milk flow in the breasts.
In such cases, if you use both your breasts turn by turn to nurse your baby, it would help in maintaining the milk levels and would boost milk production!
8. Try Pumping
Pumping is an effective method which has shown amazing results when women face the issue of low milk supply in the breasts. It is very important to pump between the breast feeding sessions.
This would help in boosting milk production in your breasts and would help you get some free time for napping and moving out!
9. Eat A Lot Of Oatmeal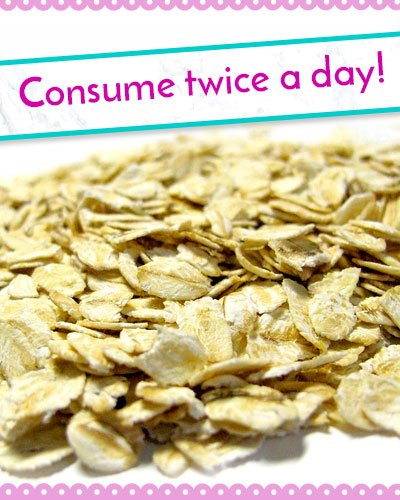 Milk production in the breasts is caused due to the nutrients and food the mother eats. If you want to increase milk supply in your breasts, eat this amazing nutrient loaded food which would fill your breasts with nourishment and more milk.
Oatmeal consists of protein, fiber, magnesium, folate, calcium and such amazing nutrients which can increase, milk production in your breasts and help in feeding your baby with nutritious milk.
Twice a day, consume a bowl of hot cooked oatmeal and nourish your body with essential nutrients. It is such an amazing and effective ingredient which can work quickly on your breasts. Also, if you eat a bowl of oatmeal in morning, you can get enough milk supply during nights!
Add some fruits and healthy ingredients in your oatmeal to add in the nutrition factor of oatmeal! This would give you digestive, metabolic and further more benefits than just milk production!
10. Be Available For Your Baby Whenever He Needs You
Don't look at the clock when your baby gets hungry. Feed your baby when he needs the food. Always be in front of your baby and nurse skin to skin. This would give your baby the warmth and let him latch properly.
Don't keep a routine but feed your baby when he needs you. Following routines can make you feed the baby at the wrong time and thus, you must follow your baby's action to make him feed!
These are some amazing home remedies to increase milk production in your breasts. If you want your baby to gets all the nutritious milk whenever he needs, follow these promising home remedies and get your milk producing ducts at work!
These are the techniques which would boost milk for without any side effects and would keep your baby healthy!
Related Posts