Nowadays, the term 'hacks' is all we find on the internet and why not? The magical impact of this amazing term has made human life more flexible! 'Hacks' is bringing some novelty in regular work while making it more efficient in less time. If you are the person who cooks for your family, you surely need the best kitchen hacks which can make your work easier and time savvy!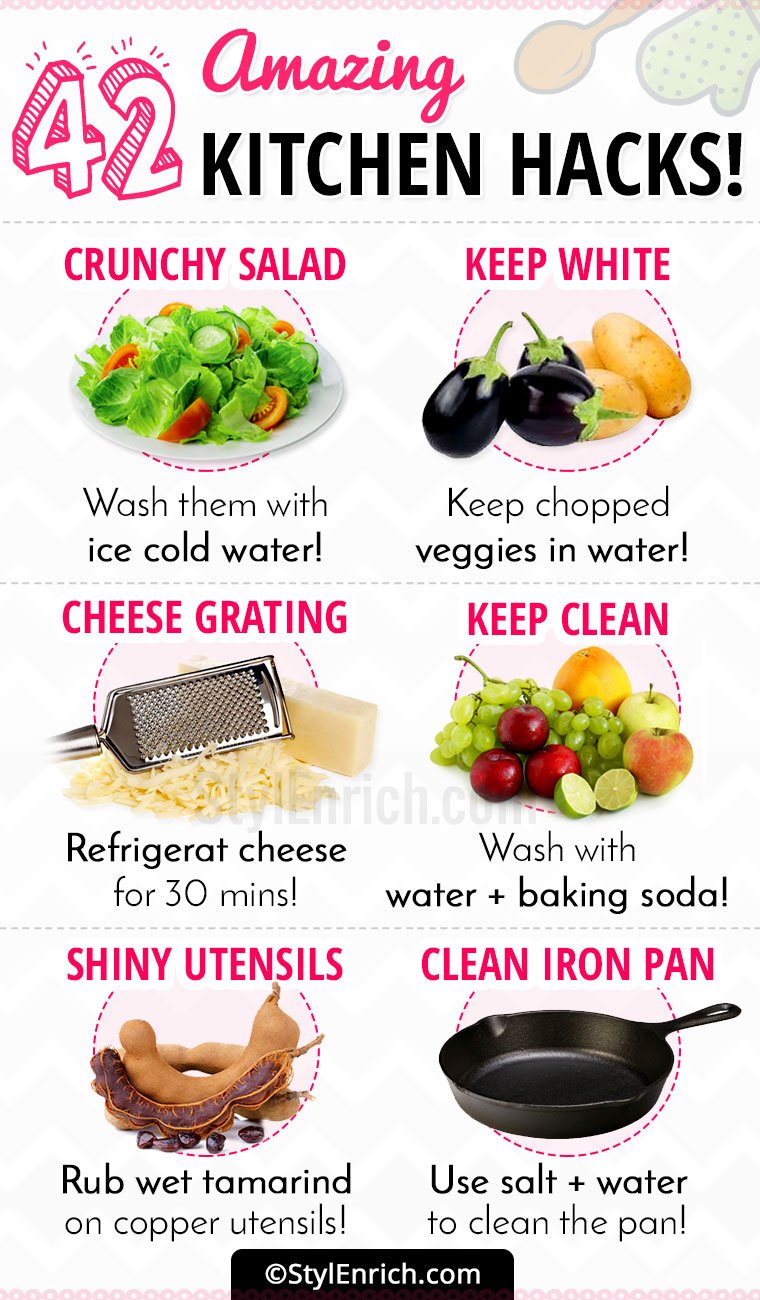 This session is dedicated to all those master chefs who love to spend their time in the kitchen and cook for others! These are some worth knowing hacks which will change your life forever! Here are the Best kitchen hacks you must try.
Quick And Easy Kitchen Hacks
1. Making The Salad More Crunchy
If you are using lettuce, spinach and cabbage leaves for salad, wash them with ice cold water. This will make the leaves more crunchy and tasty!
2. Easy Lime Juice Squeeze
For all those who do not have the lime juice squeezer, this is the best hack to squeeze lime juice from the hard lime. Soak the lime in Luke warm water or let it in the microwave for few seconds! Rub in between your palms. Squeezing lime juice will become easy as never before!
3. Worried Of Fat? Remove Fat From Your Soups
Soups or stews are considered very healthy and low-fat diet. If you are worried about the fat these dishes, drop 3-4 cubes of ice in the bowl of soup. Soon you will see some bubbles or globules which are fat globules. Remove these and drink the soup without any worry!
4. Stop The Boiling Water Fall From The Pot
We all multitask in the kitchen and it is tough when you have a pot of water on the gas. To prevent it from falling, place a huge wooden spoon. This will prevent the water from falling and creating a mess! This is one of the amazing kitchen tips which you will need regularly!
5. Keep Your Brinjal And Potatoes White
When you chop these vegetables early before cooking, the colour turns brown or dark. You can keep these veggies in water and it won't turn brown anymore!
6. To Make Paneer Super Yummy And Fluffy
If you are looking forward to make a paneer dish, here is an easy tip. If your paneer block is frozen and hard, get some warm water and place the paneer cubes in this water. Let it set for some time and remove. This will make the paneer super smooth and juicy!
7. Prevent Your Milk From Spoiling
Well, if your refrigerator is damaged milk is not going to wait for it to get repaired. If you want your bulk milk to stay fresh, this hack will help you! Pour the milk in the pan and set the flame. When the milk comes to boil, add some baking soda in it. This will prevent the milk from spoiling also if you do not refrigerate it!
8. Reduce The Bitterness Of Cucumbers
Not everyone gets the time to taste the cucumbers in market while purchasing and thus, we may carry some bitter cucumbers at home. To wipe off the bitterness slice the cucumber from middle, apply some salt on both sides and rub these slices. The bitterness will go away!
9. Avoid Smell Of Garlic And Onion From Your Hands
It is such a hectic thing to chop onion and garlic with bare hands as the smell is never going to leave you. Stainless steel has the amazing ability to fight pungent smells and thus, you can use it too! Rub the stainless steel spoon or utensil on the garlic cloves and on your hands to remove the smell!
10. Melt The Chocolate And Cheese Easily
When you want to melt the chocolate and cheese, grease the bowl with little oil. Now directly don't place the same bowl on the flame. Set a pan on the flame with water. Let the water boil and now place the chocolate/cheese bowl in it. This way, your chocolate/cheese won't stick to the container and will get melted in a delicious way!
11. Make Cheese Grating Easy
Some cheese types are extremely hard and rough to grate. To smoothen these cheese blocks, place them into the refrigerator for 30 minutes and you will be able to get clean and smooth grated cheese!
12. Let The Vegetables Get Cooked Quickly
If you are making a vegetable curry and want to use lemon juice or tomatoes, use the tomato puree/ lime juice when the vegetables are cooked. Lime juice and tomatoes will make the vegetables take long to get perfectly cooked.
13. Smoothen The Butter Quickly
No need to remove the butter from the refrigerator 20 minutes before you want to use it! We have a quick and logical tip for melting the butter quickly. Remove the butter, slice it into 8-10 pieces and your butter will melt quickly due to this segmentation!
14. Making The Pizza Moist When You Reheat
We all love to eat the pizza and pasta leftovers next morning but when we reheat it, the texture becomes hard and moisture less. For this, while you reheat the pizza or pasta, place a bowl of water in the microwave which will keep the food moist and fluffy!
15. Clean The Jammed Utensils
Some foods stick on the utensils and while you wash it after hours, the jammed food won't go away. For this, spray some Luke warm water in the utensils soon after using them. This will help you remove the food easily when you wash them after hours.
16. To Preserve Bulk Wheat For Long
To preserve wheat from bugs for a long period, use some mix some castor oil with wheat and store in any container. This will keep the wheat grains fresh and bug free!
17. Keep Your Fruits And Veggies Clean
To keep your fruits and veggies clean, wash them in the mixture of water and baking soda. This will clean all the germs and pesticides and will make the foods healthy to eat.
18. To Reduce Extra Saltiness
If you have added a lot of salt in the food and want to reduce the saltiness, get some wheat flour and make dough. Dip this dough in the curry or salty dish for few minutes. This will reduce the saltiness of the food!
Lets learn the benefits of Curry Leaves for Hair!
19. For Non Sticky And Loose Noodles
Do you always wonder how the chefs get those perfect non sticky noodles? Well, cook the noodles in a broad vessel or pan and drain them with hot water. Then add some chilled water which will get you perfectly smooth and non sticky noodles!
20. To Get Shiny White Rice
While we cook rice, we want it to come out bright white instead of yellow. For this, add some lime juice in the water before it boils. When the rice will boil, it will come out white! Serve the fine white rice on your table!
21. Get Rid Of The Food Odour In Your Kitchen And Oven With Lemongrass Air Purifier!
If you don't like the extreme smell of foods in your kitchen and oven, get some lemongrass and place it in the microwave oven. Let it get little warm and open op the oven. The amazing odour fighting properties of lemon grass will purify the air in the oven as well in the kitchen!
Kitchen Storage Hacks
If you are running out of space or are tired of arranging the kitchen equipments in a handy way, here are some amazing kitchen storage and organization hacks which you must try:
22. Label All Your Jars And Storage Items
Won't it get easy to move out the ingredients if you get them labelled? Label the tops of all the storage jars which you use frequently. This will save time of finding the ingredients and will also help you organize your kitchen better!
23. Use Containers No Longer In Use To Store Your Spoons, Forks And Spatulas!
We have a lot of jars, containers, bottles which we no longer use. You can make a great storage use out of it. Place your spatulas, wooden spoons, forks and knives in these containers to save space and to save time! This is one of the best Kitchen organization hacks you can get!
24. Make Your Own Storage Bags
There are many veggies and fruits which last long and fresh if you seal it in a tight plastic bag. For making this at home, you will just need a knife and a plastic bag. Put the food inside the plastic bag, sea it with your hands and get the knife heated. Use the edge of the hot knife to seal the edges of the plastic bag and it will get packed! Make sure you use a thick plastic bag and keep away from flame!
25. Use Your Waste Cabinet Or Drawer To Prepare A Kitchen Cabinet
If you have some wooden cabinets or storage drawers in your store room, use them, make a DIY cabinet pantry with storage layers and use it to place the jars, spices and such important kitchen elements at one place! You can also use the bookcases!
26. Make A Storage From Soda Tin And Cans
If you have little or no space for your spoons, forks and knives, here is another use of the soda tin cans which are almost thrown in dustbins. Cut the lids of the can and place it on the floating rack! This hack will space time and space!
27. Make Your Biscuits, Cakes And Cookies More Moist
If you love your biscuits and cookies less hard and moist, here is a simple trick to get the best texture. Place some apple wedges in your microwave when you place the baking dough. This moisture in the oven will simply make your cookies come out perfectly crunchy and moist!
28. Make A Cool Chopper Board Storage
If you want a chopping board along with storage, get a small wooden cabinet with a wooden lid with a hole. Chop the veggies or fruits and let them into the cabinet while you chop! You can also get all the leftovers from the fruits and veggies in this cabinet and throw it all together!
29. Use The Inner Side Of Your Storage Drawer
You can smartly use the inner space in your storage drawer. On the door of the drawer, you can hang all the measuring spoons along with the chalk board to make measuring easy and the magnet studded herb jars! Make it a multipurpose shelf door while also hanging the napkins and necessary kitchen equipments.
Kitchen Cleaning Hacks
Hate the stains and messy kitchen? Here are some magical kitchen cleaning tips which you can try and make your kitchen shine in minutes!
30. Tired Of Sink Clogs?
Sink clogs can get really messy and here is a way to avoid the sink getting blocked. Every 2-3 days pour some hot water in your sink. This will fight the little clogging which can create a huge mess later!
31. To Clean The Brass And Copper Utensils
If you have those amazing brass and copper utensils in your kitchen, clean the utensils while rubbing wet tamarind on them. This will give a perfect shine and amazing look to the utensils.
32. Get Germ Free Cleaning
If, you are a hygiene freak and love to keep your cleaning equipment germ free, this tip will surely help. After you wash your utensils and sinks, place the cleaning sponge in the microwave for few minutes when it dries out. This will fight the germs and will get you healthy cleaning!
33. Get Sharp And Clean Knife Blades
To get sharp and clean blades of the knife, clean the knife with lemon juice frequently. Also rub some common salt on the knives to maintain its sharpness!
34. Remove Stickiness And Smell From The Utensils
To clean the utensils which are sticky and smelly, you can use baking soda. While cleaning the utensils, add some baking soda in the cleaner and get rid of the smell and stickiness of food easily!
35. To Get Rid Of The Smell In Your Kitchen
Wonder how it would feel if you have made a lot of food with garlic, onions and foods which have an extreme smell and you also have some important guests visiting your home! To fight the smell, place any essential oil or mixture of aromatic essential oils in your kitchen and dining area. The smell will soon fade away!
36. Cleaning Tip For The Blenders
When you blend anything in your blender, pour it and add some baking powder, dish cleaning gel and water and turn it in the blender, remove it and clean with water. Immediately wipe and dry the pitcher. This will keep the blender clean and rust free!
37. To Clean A Non Stick Cast Iron Pan
If you thin cleaning a cast-iron pan is hectic, this tip will help you a lot! Do not use harsh soaps and cleansers on the pan. Use some salt and water to clean the pan which will maintain the stainless nonstick layer of the pan for long!
38. To Remove Stains Of Oil And Coffee From Utensils
We all have some crockery in our house which is studded with coffee or oil stains. You can mix some vinegar and salt and clean the utensil with this mixture. The stains will soon go away!
39. To Clean The Kitchen Sink Vent Hood
If your vent hood has become dull, yellow and oily, here is a tip to clean it. Get some water in bowl, add some water and borax. Soak the vent hood in this water for few minutes and your vent hood will become shiny and clean as a new one!
40. Make Your Butcher Board Or Wooden Super Clean
If you want your butcher board or wooden board to get cleaned, clean it with vinegar which helps in fighting germs and bacteria. You can also use lemon juice to fight the strong odour of the foods. You can use the universal cleaner, baking soda to get it antibacterial!
41. Clean Stove Grates Quickly
If you want to clean the oily, greasy and messy grates of the stove, use ammonia. Soak it in ammonia water for the entire night and next morning you will get the shining grates cleaned easily!
42. Clean Your Dirty Sink In Minutes
If you have a stainless steel sink which gets dirty and greasy frequently, get some baking soda, sprinkle it on the sink. With a brush, rub the sink with this brush and leave it for few minutes. Drain with Luke warm water and your stainless steel sink will shine as ever!
Hope you enjoyed reading this article. Indeed these quick, useful and handy kitchen hacks will help make your life easy. Please share this article with your friends on social media. Also if you have some more suggestions or tricks that can help others then please share them in the comments section.
Have a nice time!
Related Posts