"Invest in your skin. It is going to represent you for a very long time" – Linden Tyler.
Having read that phrase, there is actually a lot that your skin represent of you and your personality. But taking care of your skin takes a lot more than all the beauty products available in the market. Time and patience are the primary areas of concern and sometimes it's just inside the cabinets of your kitchen. One such food element that we have relished so far is Yogurt or Curd. Use curd for a great outlook.
But have you been taking curd just because it tastes good with food? Maybe you are yet to see the other side of the coin. Perhaps once in a while, your mother talks about how you can use curd for your hair and skin as well. If yes, you heard it all right because there are many benefits of curd for health and hair care. To start with, curd can be used in various beauty therapy to benefit our skin and hair as it is an excellent source of vitamins, proteins, and calcium. Moreover,  There are various health benefits of curd such as it helps in the digestion and cooling down of the body.
Apart from the digestion, there are many beauty related remedies that curd is used for. In this article, you will be taken across various benefits of curd in your regular skincare and hair care routines in different ways. Take out your pen and paper and get ready to make note of some of the tips that you find feasible for yourself. These remedies are quite simple to prepare because the ingredients are easily available in your kitchen.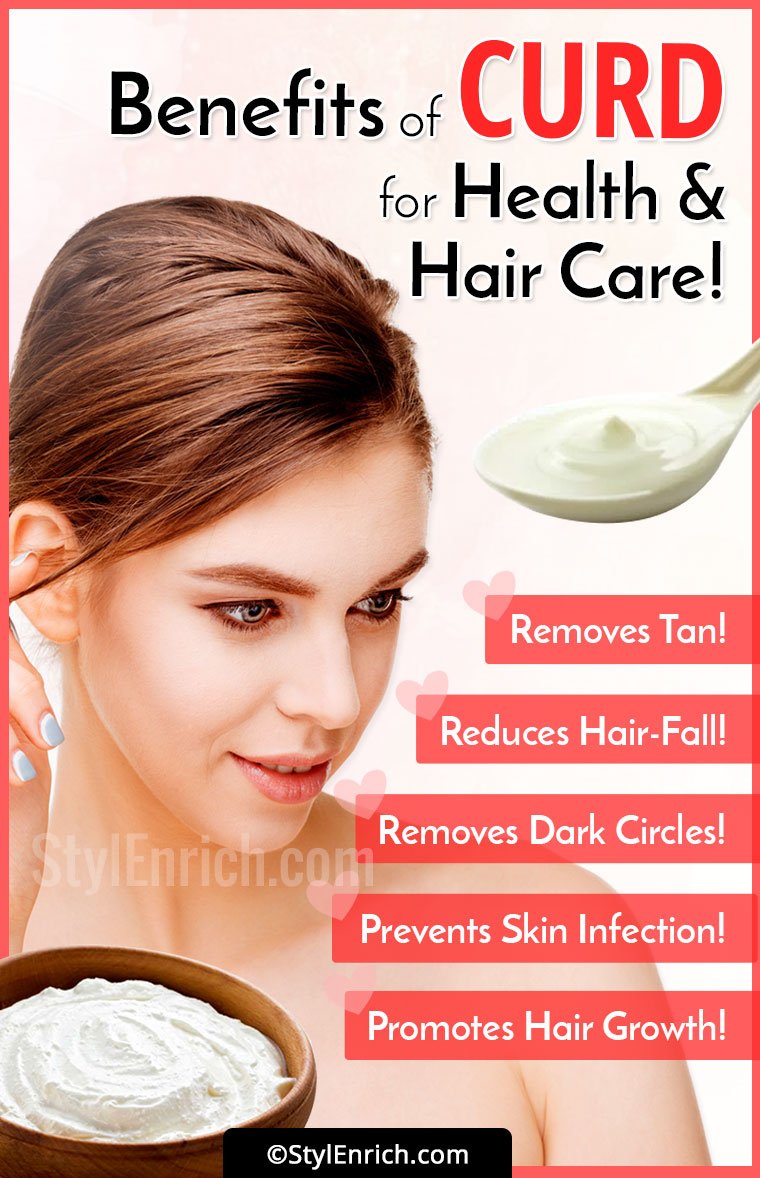 Benefits of Curd for Health and Hair Care
1. Cleaning and Scrubbing of Face with Yogurt
Take 2 tablespoons of yogurt and one tablespoon of oats or rice flour in a bowl. Mix it well till it becomes a paste.
Once the paste is ready to massage it gently in a circular motion on your face scrubbing away dead skin cells and all the impurities containing in your skin.
Wash it off with cold water after ten minutes. Later on, you can also apply some amount of honey to this if your skin is oily. Basically, the paste plays the role of cleanser and exfoliator at the same time giving you double the benefits of curd.
Another method to use make a face scrub would be by diluting it with water. Apply gently with a sponge on the skin to relax from dark circles and acne scars.
2. Treatment For Dandruff Removal
Take 6 to 7 black peppers and grind them thoroughly.
Mix the black pepper power with a small cup of fresh yogurt. Apply it gently on your head and leave it for at least an hour till it dry. Wash it with luke warm water for the best results.
Make it a habit for at least twice a month of following the routine and staying dandruff free. You can also try mixing the cup of curd with the lemon juice and gently massage it on your scalp.
The mixture of lemon juice and curd will help remove dandruff and will also prevent it happening it again and again in the long term.
3. Use Curd as Hair Conditioning Mask
Pour a cup of curd and add little amount of olive oil along with the egg.
Apply it to your hair and cover your head with the shower cap.
Wash it thoroughly after an hour to get shiny and soft hair.
Follow the process repeats every once in a week to make your hair strong, healthy and controllable.
As a matter of choice, you can try a mixture of curd and almond oil that too just a teaspoon to deep condition your dry and extremely frizzy hair.
4. Use Curd To Remove Tan
You recently went to a beach and got badly tanned and now you are shy to go back to school or college. Leave your worries outside the window. To remove tan, apply little amount of curd and few drops of lemon juice on your skin. This will effectively set your skin free from tan.
There is another way to remove tan from your skin by applying the paste of curd and orange peel.
The curd is not only used for removing the tan, the mixture of the plain curd with turmeric works effectively at treating and soothing the extreme sunburn. Make a paste by whipping some curd and apply it directly on your body.
Allow it to dry for at least 15 to 20 minutes and wash it with the cold water. Repeat the process every alternate day till your see the results. Curd has been known to be one of the best tan removing methods for years.
5. Prevent Skin Infection
Take a gauze and soak it in the curd. Apply it on the affected area. You can also add little turmeric to the mixture. Do this repeatedly for at least 5-6 times a day to treat skin infections.
The same method can be applied for the treatment of dry skin condition as well. All you have to do is simply mix curd and honey and soak the cloth into it and gently use it on the affected portion.
6. Use Curd as A Moisturizer
You can use curd to moisturize the facial skin. The benefits you will get from applying curd on your skin will give the required upgrade to nourish your skin.
Take some curd and 2 tablespoons of Fullers Earth.
Mix it thoroughly to make a smooth paste and apply it on your skin. ( Recommended for oily skin)
Keep the paste for at least 20 minutes on your skin and then wash it off with warm water.
7. Use Curd to reduce hair fall
If you are tired of using hundreds of hair products for growing hair loss issue, it's time you look into your kitchen where the king curd is waiting for you to lay your hands on it.
Take three tablespoons of fenugreek seeds and nothing more than the half cup of curd.
Make a paste of it and apply it to your hair with the help of a brush.
Wash it off after an hour by washing it with the mild amount of shampoo. This mixture of curd and fenugreek for hair contains the amount of vitamin B5 and Vitamin D that gives you better results with the continuous use.
8. Condition Your Dry Hair
The curd hair mask helps in treating the dry hair concerns and makes it shiny and soft.
You can easily prepare an easy hair mask with some curd and add an egg yolk.
It softens your hair as the nutrients in the curd and egg yolk helps in the deep conditioning of the hair. Applying curd on your hair is not a difficult task. You can use a brush for it or simply do it with your hands.
9. Benefits Of Curd To Remove Dark Circles
Dark circles could be really irritating especially when you don't end up getting rid of them after continuous remedies. At times, you may get really exhausted by trying various beauty products from the market with no results. But lose no hope, because curd could be what you are looking for years to get rid of dark circles.
All you need to do is simply take a small bowl of curd and dip a ball of cotton in it and dab it softly around the eyes.
Leave it to dry for 10 minutes and wash it off with lukewarm water. Follow the routine every alternate night to see the results.
10. Promote Hair Growth
Another major benefit of the curd is to promote the hair growth.
Mix the little amount of curd with Amla powder.
Make a smooth paste out of it and apply the mixture on the hair scalp. Also apply the paste throughout the length of the hair.
Wait for at least 30 to 35 minutes and wash it by applying the mild shampoo.
After some time you will surely see the positive effects on your hair because the mixture contains vitamin B complex which is healthy for the hair growth.
Summary
There are numerous benefits of curd for your health and hair. From skin care, hair conditioning, hair growth to removing the skin tan, there's lot more that you can do. So, from next time whenever you see the cup of curd lying next to you, find a way to utilise it. Who would know that cup of curd can help you with many of hair and skin woes. Give it a try and see the results by yourself.
An unsweetened curd is a great diet choice and makes an excellent hair care and skin care product. The curd is also used as a mild astringent which has the high amount of lactic acid and zinc making it a natural hydrating skin treatment for your hair and skin. Using curd will result in the soft and supple hair and leaving it well moisturised all the time.
Note
Always use home based curd while using it for skin related face packs. Remember not to waste the stale curd as it helps in the treatment for skin discoloration and dark spots. Consuming curd daily helps in excellent digestion and to keep your intestine clean.
We hope this article helps you understand different ways of using curd to give you not only beautiful face but hair well. Feel free to share your experience of using the curd as a beauty treatment in the comment box and let us know what did you use it for and how beneficial it proved it to you. All the best for using the natural and cheap remedy for your homemade skin and hair care treatment.
Related Posts