Shiny, smooth and straight hair is every girl's wish as they look good on all types of faces. Girls who are not born with naturally straight hair struggle a lot to get their tresses to a sleek looking style with the help of harsh chemicals and heating iron rods. Many salons offer services like rebounding, hair straightening service which gives you immediate results which can last for maximum one year. But, do you know how to straighten hair with home remedies?
However, a lot of people don't know about home remedies that can help in getting straight hair naturally. Yes, you heard it right. If you want to get straight hair without giving much trouble to your hair with damage, there are many home remedies that work wonderfully and also prevent you from using straightening irons and chemical treatment. The best part about these home remedies is that all the ingredients are easily available in your kitchen.
So, let's start how to straighten hair!
How To Straighten Hair With Home Remedies?
1. How to Straighten Hair With Milk?
Milk is well known for its moisturizing properties which can also help in straightening your hair. The protein found in the milk also forties the shafts and make them smooth and frizz free.
Take half cup of water and half a cup of milk in a bowl. Store it in spraying bottle. Comb your hair properly and make sure all the tangles are removed.
Start by spraying the mixture all over your hair and then comb your hair again.
Leave the mixture as it is for nearly 30 minutes to let the milk get absorbed into your hair.
Wash after 30 minutes followed with hair conditioner. Try this method at least twice a week for effective results.
Do you know how to keep long hair tangle free? Click here to read more…
2. Fuller's Earth
Another name for fuller's earth is MultaniMitti and this earthy looking product can help in the straightening of your hair naturally. Fuller's earth also helps in preceding frizzy hair and act as a mild cleanser.
Mix an egg white, one cup of Multan mitis and two to three tablespoons of rice flour. Pour water and mix it well until your fine consistency of the mixture
Comb your hair and apply the mixture to your hair.
Leave it to dry for almost one hour and then wash it with water
Spray milk all over your washed hair. Leave it for almost 15 minutes followed by shampoo and conditioner.
3. Coconut Oil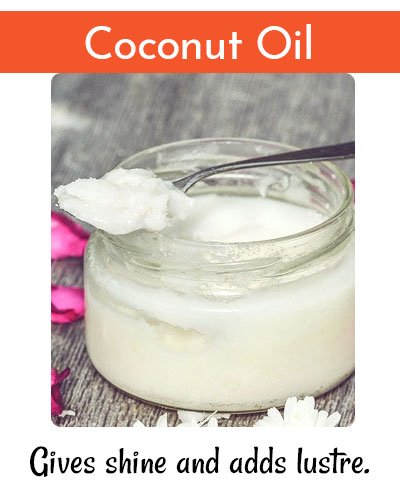 Coconut oil is famous for its deep penetrating properties which help in straightening of the hair. The moisturizing ability of coconut milk gives shine and add luster to your hair. Coconut oil also has antiviral, anti-fungal and antibacterial properties which keep the scalp free from infection.
An easy DIY hair remedy needs one cup of coconut milk, a glass jar, and juice of two lemons. Mix the ingredients and place it in the fridge for a couple of hours until it becomes little creamy on the top.
Massage the mixture into your scalp and leave it to dry for almost 20 minutes.
Use a shower cap to cover the head and wrap it up with a warm towel around the cap. Wait for 30 minutes and then hit the shower and use a mild shampoo followed with conditioner.
4. How to Straighten Hair With Aloe Vera?
There are several enzymes in Aloe Vera that helps in promoting the healthy hair growth and gives you soft and smooth hair. The gel also penetrates easily into the hair strands to keep them moisturized. The moisturizing property of aloe vera gel helps in to straighten the hair naturally.
Take one-half cup of warm olive oil and half a cup of aloe vera gel.
Add few drops of sandalwood and rosemary oil. Mix well
Massage it on your hair and also on the scalp
Cover your head with a shower cap and leave it for 1-2 hours.
Rinse the mixture completely and wash your hair with mild shampoo and conditioner. Try this home remedy almost every week for desired results.
5. Hot Hair Oil Treatments For Hair Straightening
Regular massage with warm hair oil is the best way to get well-hydrated hair. The saturation and heat of warm oil help in relaxing the curly patterns and waves of your hair. The best option to do the hair oil massage is with olive oil, coconut oil, sesame and almond oil. Try to make a habit of oiling your hair at least once a week. It will nourish your hair and penetrate deep into roots to add shine and softness.
Take any oil of your choice and warm it for about 10-15 seconds.
Gently massage your head with the oil by applying it on scalp for almost 15 to 20 minutes in circular motions. Thoroughly comb your hair and distribute it evenly.
This will also prevent the hair breakage during the wash.
Wrap a wet and hot towel for almost 30 to 40 minutes.
Use a mild shampoo to wash your hair and gently comb using a wide-toothed brush. Allow it to dry naturally and see the difference.
6. Castor Oil and Soyabean Oil
Castor oil is known for its amazing healing properties which help in moisturizing and maintaining the ph balance of the skin. It also prevents frizzing of the hair whereas Soya-bean oil will make your hair smooth and straight.
Take two tablespoons of castor oil and one tablespoon of soybean oil. Mix both the oils and heat the mixture until its little warm.
Allow it cool for a while and then massage it into your scalp for few minutes.
Leave it for almost 30 minutes followed by wash and most important condition. To see the effective result, allow your hair to dry naturally.
7. Apple Cider Vinegar For Hair Straightening
Your kitchen cabin has a magic ingredient which is not only used for skin related concerns but also highly used for hair care as well. It is one of the best natural hair straightening product. The product helps in fighting the scalp infections and also restores the ph level.
For this home remedy, simply take 2 tablespoons of Apple Cider Vinegar in one cup of water. You need to use this conception after you are done washing the hair.
Gently spray or spill it on your hair. Allow the mixture to dry naturally on your hair. You will see the difference as your hair would feel soft, smooth and more importantly straight.
8. How to Straighten Hair With Eggs and Olive Oil?
The goodness of egg protein and olive oil nourish your scalp and help your hair get straight naturally. While egg works as a great conditioner for your hair, olive oil has deep moisturizing properties which help in keeping your mane well hydrated.
This homemade DIY treatment is quite easy. All you need is two eggs and some olive oil. Mix both the ingredients and give it a good whisk.
Apply the mixture to your scalp and massage your head for 5-10 minutes.
Leave it on your head for almost an hour and rinse it off. Shampoo your hair and ensure that you get rid of the egg from your hair.
Let's see here various egg benefits for hair and how it can be used in hair masks.
9. How to Straighten Hair With Almond Oil and Conditioner?
Among all the hair oils, almond oil is considered to be the best one for your hair. Therefore, simply add few drops of almond oil with the conditioner you use per wash. This will make your conditioner bit oily and will help your give straight and sleek result. Follow the treatment at least twice a week for desired results.
Summary
We all want straight hair without damaging them. The above-mentioned home remedies are some of the easiest treatments that can be easily followed at home. However, please do understand that the final result is not as straight at you get when you use an ironing rod but by following these methods you will be able to improve your texture which will provide you straightening effect permanently.
Your hair will shine and will look naturally silky not made up or ironed hair. Try these methods for a month or so and feel the difference. If you have tried any other method feel free to share your experience so that other readers can also benefit with them.
Read more – How to Get Fabulous Haircuts for All Types of Face Shapes!
Related Posts