It wouldn't be totally inappropriate to say that eye makeup is a separate field in the makeup world. The complete face, the lips, the cheeks are fine but the eye makeup, if done properly, can spice up your look in unbelievable ways. Eyes are one sensual feature of a woman. A subtle liner, the perfect eyeshadow or the right kind of kohl can enhance the beauty of the eyes. While some people like to go for a heavy eye makeup, a natural eye makeup is preferred by most women. It must be subtle yet noticeable. Either way, it is meant to enhance the beauty and the sensuality of your eyes.
Eye makeup can be a little tricky. One little mistake can ruin everything, whether you are a newbie at this or a professional. I remember my days of applying eye makeup as a beginner. The eyeliner would always get smudged and I would be running around washing the eye and starting it all over again. Took double the time for me to get ready. It can be intimidating at times. But worry not! We have got you covered with some brilliant natural eye makeup tips to make the job a lot easier for you.
Why the Eye Makeup?
As a newbie, facing difficulties with the eye props, you may start to question the importance of eye makeup. But believe me, it is very important if you really want to complete your look. With the right set of instructions, you can easily go for natural eye makeup for every day.
A good eyeliner gives your eyes a definite shape. Lining your eyes brings attention to your eye shape and you can shape it the way you like. Winged, simple or cat eye. It is in your hands.
A good eyeshadow enhances the eyes and forms up a great base for the eyeliner. A matching eyeshadow with your outfit will completely elevate the look.
Mascara is life. Because who wouldn't love those cute lashes to be shiny and raised up?
A well-defined eyebrow is a sign of a beauty goddess. That is what a subtle eyebrow liner lets you do. No one can say no to beautifully shaped eyebrows!
Well, the name is enough. Kohl is that wonder makeup equipment that can make your eyes enchanting. It can give smaller eyes an illusion of being bigger and definitely more noticeable.
Some Tips Before We Start Applying Eye Makeup
Eye makeup for beginners as well as professionals requires a couple of rules that need to be followed. This is because adhering to these rules will not only get your eye makeup game right on point but will also keep it smudge-free and lasting longer.
Go with the primer. Before starting to apply your eye makeup, make sure that your eyelids are cleaned properly and then the primer is thoroughly applied. This will ensure the durability of your eye makeup.
Applying the eyeliner close to the lash-line can give an effect of denser lashes, in case you are going a little short of them.
The brushes must be to the point. For an eyeliner, the tip of the brush must be thin and blunt. For an eyeshadow, it must be wide, but not too wide.
For an eyebrow pencil, usually, the brown colour is preferred. But you can experiment to see which one looks more natural. One of the best eyebrow tips is to avoid harsh lines while drawing. Instead, actually blending it will give a more natural look.
What All You'll Be Needing
There are a lot of things you must get your hands on before you start applying the eye makeup. It is recommended that all of these things must come from a trusted and renown brand. No compromise must be made in this case since it is your eyes you're dealing with here. They are delicate and therefore, take no chances before putting anything on them.
Here is the list of items you need to collect to get started:
A good moisturiser to get rid of dry skin around the eyes.
Eye primer for making the eye makeup last longer.
Eyeshadow palette
Eye makeup brushes (types mentioned below)
Eyeliner (liquid or pencil)
Classic mascara
Kohl pencil
With these things in your basket, you're all set to follow the eye makeup tutorial. Let's get down to business ladies!
How to Apply Eye Makeup?
1. Start With Moisturising And Primer-Ing.
You want the base of your eye makeup to be just right. So, you must start by applying a good quality oil-free moisturiser. Take a little drop on your forefinger and gently massage over your eyelids, below the eyebrow, and around the eyes. Then follow up by applying primer. You need a primer to make your eye makeup stay on longer. If you have some uneven skin tone patches on the eyelids, or around them, you can use a concealer to cover them up. At last, just use a transparent powder to fill up any visible creases and form a smooth base.
2. Get Working On The Eyeshadow
Your eye makeup can be divided into 3 parts. The eyelid, the crease and the brow bone. Various textures of eyeshadows are available now and they are meant for the specific area of the eye. Here are some eyeshadow tips.For example, the shine or shimmer texture eyeshadows must be applied to the eyelid and the brow bone. While the crease must always be covered with a matter textured eyeshadow. For the crease section, go for darker eyeshadow shades. While for the centre, go for lighter shades. If you are looking for natural eye makeup for brown eyes, then light brown coloured shades will be perfect.
Use a flat eyeshadow brush and use a patting or a sweeping motion on the centre of the eyelid. Then expand it sideways with the sweeping motion.
3. Cover Up Crease Using Dark Matte Textured Eyeshadows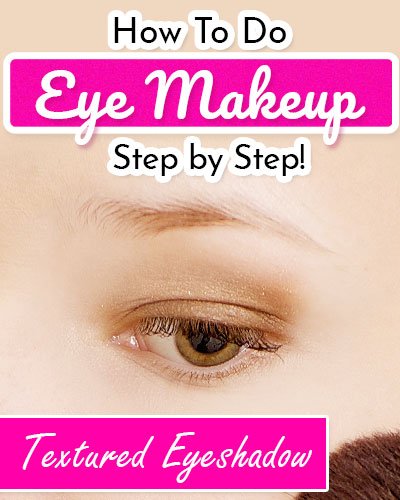 While a lighter shade was recommended for the eyelids, use a dark matte textured shadow for the crease area. Use a fluffy eyeshadow brush and start from the corner of the eyes. Then gradually blend it up to half of the eye. Continue till it completely blends. Use a lighter shade to highlight underneath the eyebrow area.
4. Swoop In The Kohl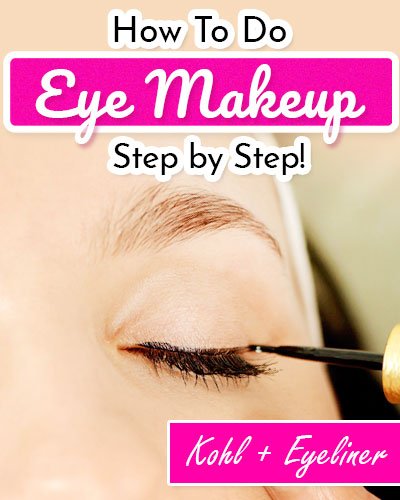 Get those dramatic eyes working. For a black kohl, start from the inner corner of the eye and work it outwards making a smooth line along the lower eyelid. If you are going for a smoky effect, gently smudge this line using a thin pencil brush. You can also go for a while Kohl for more open and bright eyes.
5. Define The Eye Shape With The Eyeliner
Finally, use a liquid eyeliner to draw a line along the upper lid. Apply the liner starting from the outer corner of the eye. Using soft strokes, draw it inwards to reach the inner corner of the eye. You can keep it simple or wing it for a dramatic effect. Keep your eyes closed and let the liner dry out completely.
Voila! Your beautiful eyes are ready to mesmerise everything in their way!
Frequently Asked Questions
1. How To Remove Eye Makeup?
For removing eye makeup, the usual makeup remover works fine. You should not directly wash up your eye makeup with water. Instead, use soft cotton swabs and pour some makeup remover on it and swipe gently over the makeup. If you are out of makeup remover, you can also use water on the cotton swab to gently wipe away the main makeup and then wash off with water. However, you can go for the coconut oil which is a natural makeup remover. Just rub some on your palms and massage over the makeup and clear off with a cotton ball.
2. How To Cover Up Under Eye Bags?
If your under-eye bags are not getting covered by a simple concealer, then you can use some red lipstick to cover them. Simply use a red lipstick and make a line on the under-eye over the dark circle. Blend it gradually with the skin. Now apply simple concealer and blend it with using a cotton swab. The eye bags will disappear like they were never there! For a long-term, eat a healthy diet, get enough sleep and load up on water.
3. How To Make The Eye Lashes More Denser And Fuller?
For an instant denser look, try using the eyeliner to line the eyes as close to the lids as possible. Or an eyelash curler can be used to lift them up. However, for a long-term natural fix, you can apply castor oil or olive oil over your lashes to make them fuller over time.
4. How To Make The Eyeshadow Last Longer?
Using a primer before you start applying any of the eye makeup will help in keeping your eyeshadow smudge free and will ensure that it lasts longer. A primer will also form a good base for the eye makeup.
So, these were some of the best eye makeup tips for all the makeup lovers out there. Follow up and get your set your captivating eyes today!
Read Next – Eye Makeup Guide: Step by Step Eye Makeup Tutorial!
Related Posts