Some Interesting Facts About Ginger And Honey
Ginger has been used in Ayurveda as well as Homeopathic treatments since ancient time.
Ginger is much benefit in the digestion process.
Honey contains around 80 percent of sugar and 20 percent of water.
When stored in airtight containers, honey would never spoil.
Honey is one of the ingredients that come with every important nutrient for increasing the lifespan.
When the equal portion of ginger, honey and vinegar is mixed with water, it helps in cleaning the body.
Honey is also used in making wine and beer, which is popular by the name honey beer and honey wine.
Feeding infants below 1 year with honey may lead to a disease known as botulism.
Ginger comes from the family of cardamom and turmeric, known as Zingiberaceae family.
You can cultivate ginger at your own house with the help of rhizomes.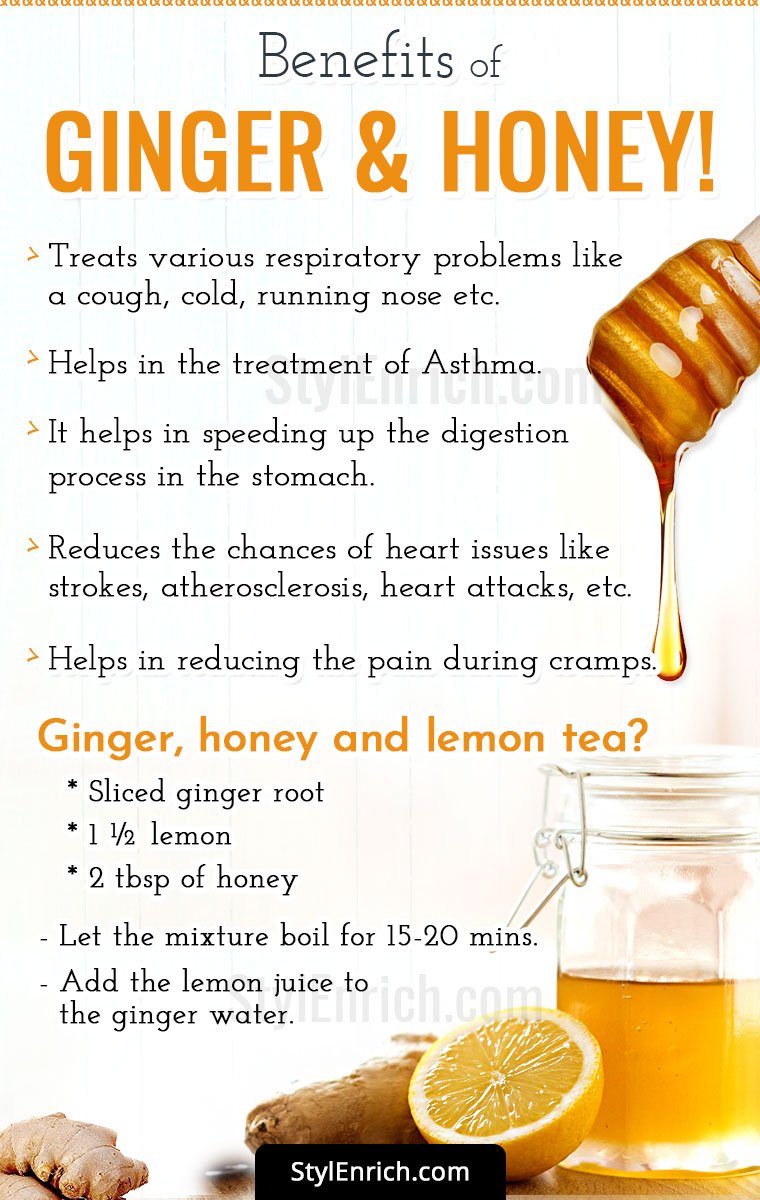 Ginger And Honey –A Healthy Ingredient For Healthy Life
Natural herbs have been used since ancient times in the effective treatment of various diseases. Among them, Ginger and Honey hold a vital role in the treatment of various health issues and symptoms. It is used in various ways like by making tea, boiling with water, and much more for promoting good health. From respiratory health issues to strengthening immunity, their combination brings magical results to the health issues. Ginger and Honey come with various nutrients like Vitamin C, minerals, manganese, and much more that helps in the treatment naturally.
Why Should Honey And Ginger Be Used Together?
Both the ingredients that are Honey and Ginger come with various components like anti-bacterial, anti-fungal, antioxidant, anti-microbial, anti-inflammatory, and much more that helps in fighting against various health issues. They come with the capability of fighting against bacterial infections that lead to a cough and cold, flu, throat infection, and much more. The combination is mostly used in making ginger honey tea which helps in a number of health benefits.
What Are The Health Benefits Of Using Ginger And Honey?
Both Ginger and Honey are natural ingredients that promote health in various ways. Adding honey to tea would not only give you a soothing effect but would also add some antioxidant benefits for fighting against pollution and chemicals. While ginger would play the role of a painkiller reducing pains and other infections.
Here are some of the popular Ginger Honey tea benefits.
1. Having Respiratory Problems? Try The Combination Of Honey And Ginger
Ginger honey tea benefits also include the treatment of various respiratory problems like a cough, cold, running nose, sore throat, and much more. The combination is a perfect expectorant which provides with instant relief from respiratory infections effectively. For making this magical mixture, you simply need to add some ginger honey paste to some water and add some clove and cinnamon powder to it. Drinking this mixture would bring quick relief from a cough and cold.
2. For The Treatment Of Asthma Naturally
Are you or any your near one suffering from Asthma? Treat it in a natural way with the help of a mixture of Ginger and Honey. They both help in providing you with a smoothing impact along with properties like anti-inflammatory that works in reducing stress and tension, as well as, promoting required oxygen to the lungs which help in relaxing the blood vessels. Hence, having a good amount of Honey and ginger along with some black pepper would surely help in the treatment of Asthma.
3. Aids In The Treatment Of Cancer
This might shock you, but the fact is that having honey and ginger during the treatment of Cancer like Chemotherapy. The patients going through the treatment of cancer or Chemotherapy face issues like vomiting and nausea for which ginger along with honey would be helpful. It helps in speeding up the digestion process in the stomach and provides with a balanced property that helps in reducing effects like nausea and vomiting. The anti-oxidant enzymes the mixture comes with also helps in reducing the growth of cancer and metastasis.
4. Having Digestion Troubles? Try The Honey And Ginger Tonic
The benefits of ginger and honey with lemon also includes digestion issues in the list. Both honey and ginger come with anti-oxidant properties that improve the immune system of the body. For the individuals having weak digestion issues, consuming a syrup of honey and ginger provides a good amount of proteins that aids in stimulating the digestion issues. Along with this, it also helps in stimulating the bile secretion and dissolves unwanted fat in the body. The tonic has a good impact on the flora of the intestine which helps in improving the digestion process along with accurate bowel movements. It also reduces irritation of the stomach by absorbing the nutrients from other food ingredients.
5. Want To Gift Your Heart Good Health? Take The Aid Of Honey And Ginger
As mentioned above, the tonic of honey and ginger come with anti-oxidant properties that help in moderating the prostaglandin levels in the body. The prostaglandin levels are mentioned in every organ of the body, along with the heart. This magical tonic moderates the stress levels on the blood vessels and help in reducing the blood pressure levels too. This also reduces the chances of heart issues like strokes, atherosclerosis, heart attacks, etc. The tonic of honey and ginger for weight loss is also beneficial in reducing the cholesterol levels in the body, which indirectly benefits the heart.
6. Beneficial In Menstruation Problems
One of the ginger honey tea benefits includes the treatment of menstruation problems. Ginger comes with the elements that help in reducing pain that irritates during menstruations in a natural way. Regular intake of the tonic has given best results in reducing the symptoms of painful menstruations. They lower the sufferings from menstruation cramps. For this, can either have the tea made from honey and ginger or, use warm ginger tea soakings on the lower abdomen. This provides relaxation to the muscles which help in reducing the pain during cramps.
7. Best As Mood Boosters
The benefits of ginger and honey with lemon also includes mood boosters. Lemon is widely used in various kind of aromatherapies, while ginger helps in reducing stress and tension. Hence, the mixture of ginger, honey and lemon would help in boosting your mood and make you feel relaxed and happy. This helps in controlling your emotions, in a healthy way.
8. Want To Get Rid Of The Belly Fat? Try This Mysterious Tonic
Honey and ginger for weight loss is a widely accepted therapy. The tonic not only helps in reducing belly fat but also helps in maintaining weight. Ginger is much popular for increasing metabolism in the body, while honey and lemon would look over the hormonal changes and reduce the chronic stress. The tonic also helps in making the immune system strong. Hence, as the tonic works well on metabolism, hormonal changes and immune system, it is best for reducing weight and that unwanted fat from the body, giving you that desired slim look.
Apart from all this, the list of ginger honey tea benefits includes fighting against infections, treatment of joints and arthritis, motion sickness, migraine, diabetes, improving vision, and much more.
What Are The Side Effects Of Using The Ginger And Honey Mixture?
No doubt ginger honey tea comes with a number of benefits it still has some side-effects that have been observed by some people. The side-effects include gas problem, pain in stomach, soreness in the mouth, sore throat, irritation of the mouth or tongue, acidity, etc. This is some mild side effects that can be easily treated by discussing the dosage of honey and ginger with him. As it provides you with healthy nutrients, there are no serious side-effects of the mixture.
What Is The Process Of Making The Ginger, Honey And Lemon Tea?
The process of making the ginger honey tea is very simple and quick. For making the tonic, you require:
Sliced ginger root
1 ½ lemon
2 tbsp of honey
The ingredients would increase if you are making the tonic in bulk and storing in the refrigerator.
Take the sliced ginger in a saucepan and add some water to it.
Let the water boil for around 15-20 mins.
Wait for the water to simmer down.
Add the lemon juice to the ginger water.
Let the water boil again for the next 15-20 mins on low heat.
Add honey while the water is simmering down.
Your tonic is ready with a delicious taste and bulk of nutrients.
So, what are you waiting for? Prepare this health booster tonic and use it on daily basis for improving your health or maintaining it in a natural way.
Frequently Asked Questions
1. What health benefits does ginger help with?
Ginger is a rhizome that helps in health issues like fatigue, arthritis, digestion, cough and cold, headache, nausea, muscle pain, etc.
2. Can ginger and honey tea be taken along with other medications?
Ginger may not be advisable with some of the counter drugs or medications, and hence, it is important to consult your doctor before you begin with the tonic or tea.
3. Is ginger and honey tea consumable for lactating mothers?
Yes, honey and ginger tea is much beneficial for the lactating mothers. Ginger helps in healing the womb quickly as well as it also in improving the flow of the breast milk with complete nourishment. However, it is still good to ask the doctors about the dosage.
4. Is ginger tea recommendable to pregnant women?
Till date, consuming ginger and honey tea is found to be safe for pregnant women. But consulting once with doctors or gynaecologists is surely recommended.
5. Which are some extra ingredients that can be added to the ginger and honey tea?
Some other ingredients that can be mixed with making the tea include mint, turmeric, tulsi, cinnamon, Echinacea tincture, cayenne pepper, lemon, etc.
Read Next – Health Benefits of Honey: Natural Health Drink To Strengthen Your Body!
Related Posts