Are you also facing the problem of Obesity? Having a wardrobe full of clothes yet nothing to wear? In other words, you face the problem of how to lose belly fat. This is because nothing fits you and you are searching for ways on how to burn stomach fat fast. There are a number of ways to lose belly fat fast, but the lack of time stops you from gaining a flat stomach.
If you also wish to know how to reduce belly fat then you need to keep a strict eye on what goes in your mouth. And one thing that we bring to you is how to lose belly fat with barley.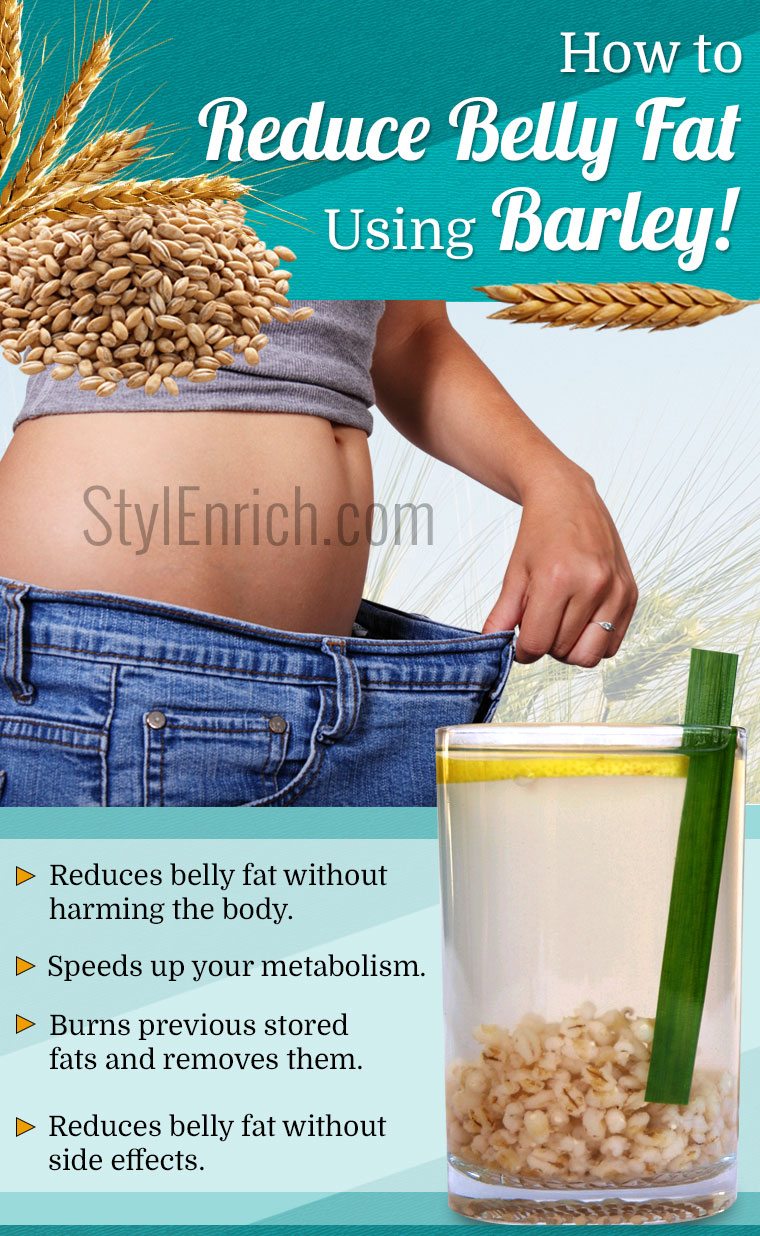 What is Barley?
Barley, very simply, is a hard textured cereal grain, with a chewy texture, the nutty flavour just like rice. It is a whole grain that proudly encompasses high levels of protein and fibre. Barley is significantly beneficial for weight watchers and aids a big deal in losing stomach fat. It has been lately discovered that barley is considered a great food that makes u feel fuller, simultaneously helps you to lose Belly fat.
How to Use Barley For Weight Loss?
It has been proven by studies that barley produces significant changes in the appetite of a person and takes it down reducing the chances of between meal binging. You can lose tummy fat and make use of the ingredients to lose weight around your stomach.
Here's how to reduce belly fat using barley. You can easily make a Weight loss drink in the form of barley infused water. It is very simple. Have a look.
Where and How to Buy Barley?
Whole grain barley is widely available in many forms like flour, rolled flakes and the basic barley kernels. It also comes in colours of Purple, black and white. Go to your nearest store or supermarket. Prefer to buy organic barley as it ensures safety and good quality. If not feasible, buy the wholesale one.
Check for uniformity in the seeds and grainy texture.
Want to know how to get a flat tummy in just one month? Read on…
How To Make The Barley Water To Lose Belly Fat?
Ingredients for Barley Water
½ kilogram of Barley grains
3 litres of water
Procedure to Make The Barley Water
Wash the barley grains well so as to cleanse it from the dust and dirt.
Take a large cooking pot and add the 3 litres of water to the pan.
Turn the flame and keep it on high till the water reaches a boil.
When the water starts boiling add the barley grains to it.
Let the grains open up with the heat of the water. By this stage, there is approximately half the quantity of water remaining.
Switch the flame off and cover the liquid. Let it cool down to room temperature.
Strain the water with a sieve to attain a clear liquid.
Know the amazing Benefits of Drinking Water that you did not know before!
When and How Much of Barley Water Should be Taken?
Barley water provides the clear answer to how to reduce belly fat but that doesn't mean you jump on it and keep drinking it like crazy! Everything is good and works well when taken in moderation.
Advised intake for barley water is to drink a cup of this water before each of the basic and main 3 important meals of the day i.e 1 cup before each of breakfast, lunch and dinner. Continue to follow this procedure religiously for 30 days.
What are The Benefits of Barley Water?
Reduces belly fat without harming the body
Speeds up your metabolism
Burns previous stored fats and removes them
Being rich in soluble and insoluble fibres, Barley reduces cholesterol
Helps to balance glycemic levels
Reduces belly fat without side effects
Safe for diabetic weight watchers
Know the amazing Health benefits of coconut water that we generally are not aware of!
Stop worrying about how to lose belly fat and get your desired body shape with this weight loss drink called barley water.
So when are you starting to drink the fabulous barley water to lose belly fat?
Loved this article? Why not share it with your friends on social media. Also please leave your valuable feedback in the comments section.
Have a great day!
Related Posts